Dr. D.Y. Patil Vidyapeeth, Pune (DPU) is a private (deemed to be) university which got the status of a University in 2003. It is a non-profit organisation that started as an excellence centre with a focus on medical education. However, the organization has expanded into Management programs with the establishment of Dr. D.Y. Patil Vidyapeeth's Centre of online learning (COL) with an aim to impart education in diverse disciplines to enhance development.
Before deciding whether it is good or not, let us first know a little more about the university.
Dr. D.Y. Patil Vidyapeeth Online University
Dr. D.Y. Patil Vidyapeeth's Centre of Online Learning (COL) offers online learning by blending traditional teaching methodologies with modern ones. In the online mode, DPU offers courses in the Management domain. The courses offered at DPU-COL have been designed in a way that caters to modern learning community needs. These courses are equipped with requisite and relevant academic and practical knowledge and skills which are in demand in the industry.
Important Factors for Online Education
Now that we have some idea about the university, let us see if Dr. D.Y.Patil Vidyapeeth Centre of Online Learning (COL) is worth it for you to pursue your online degree. Now the question is how to check if a university is good or bad.
Since we are talking about an online university here, there are certain factors that determine whether an online university is good or bad. So, let us see if Dr D.Y. Patil Vidyapeeth's online university fulfils the criteria set by these factors and if it is equipped with all the facilities necessary for online education or not.
#1 Accreditations and Affiliations
Dr. D.Y. Patil Vidyapeeth Centre of Online Learning (COL) has been recognised by University Grants Commission (UGC) to offer online education. The institution has been accredited and affiliated by the following associations and organisations that are responsible for checking the credibility, academic standard, quality of education imparted, etc at a higher education institution.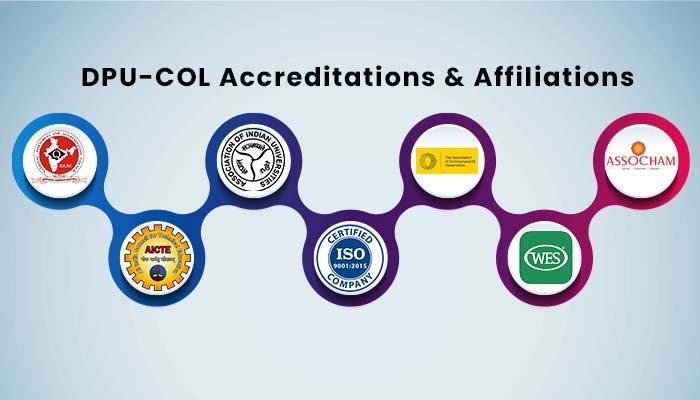 National Assessment and Accreditation Council (NAAC)

Association of Indian Universities (AIU)

All India Council for Technical Education (AICTE)

ISO 9001:2015

The Association of Commonwealth Universities

World Education Services (WES)

Associated Chambers of Commerce and Industry of India (ASSOCHAM)
The National Institutional Ranking Framework (NIRF) ranked Dr. D.Y. Patil Vidyapeeth 49 in the University Category.
#2 Fee Structure
Affordability is one main reason why students are now opting for online education. An online university is good if it offers courses with a fee that is pocket-friendly without compromising on the quality of education imparted.
Now, if we talk about DPU-COL, so yes, the fee structure is pretty affordable. There are fee waivers as well for some particular sections of students. The quality of education is also up to the required standard as per the accreditations and affiliations offered to the university.
The management programs offered through the online mode are carefully crafted by a panel of business professionals, industry veterans, and prominent academicians. The courses consist of a curriculum that apart from the requisite subject topics also extensively focuses on business case studies and real-world examples.
Given below is the detailed fee structure for the various online courses at Dr. D.Y. Patil Vidyapeeth Online University
#3 Scholarship
The aim of the university is to offer quality education to students from all sections of society. Hence, the university decided to offer fee waivers to a few sections of society.
For the online BBA and Online MBA courses, there is a fee waiver if the learner pays the entire fee in just one instalment. Apart from this, there is a scholarship for learners from Indian Defence, Differently abled people, and DPU staff and alumni.
Given below are the detailed scholarship distribution for all the courses and categories.
Online BBA
Category
Scholarship
Total Fee

Indian Civilian

NA

₹1,02,200

One-time Payment

3% on Tuition Fee

₹99,950

Indian Defence/Differently Abled

5% on Tuition Fee

₹98,450

DPU Staff/Alumni

15% on Tuition Fee

₹90,950

International Students

NA

$2,790

Online MBA

Indian Civilian

NA

₹1,30,000

One-time Payment

3% on Tuition Fee

₹1,27,000

Indian Defence/Differently Abled

5% on Tuition Fee

₹1,25,000

DPU Staff/Alumni

15% on Tuition Fee

₹1,15,000

International Students

NA

$2,700

Certificate Programme in Digital Marketing

Indian Civilian

NA

₹28,000

Indian Defence/Differently Abled

5% on Tuition Fee

₹26,750

DPU Staff/Alumni

15% on Tuition Fee

₹24,250

International Students

NA

$625

Certificate Programme in Hospital & Health Care Management

Indian Civilian

NA

₹28,000

Indian Defence/Differently Abled

5% on Tuition Fee

₹26,750

DPU Staff/Alumni

15% on Tuition Fee

₹24,250

International Students

NA

$625
The university offers easy payment methods in the form of online payments as well as through a demand draft which is payable at Pune in favour of the DPU Centre for Online Learning.
#4 Faculty
Many people overlook the faculty details while selecting a college. However, in the case of online education, knowing your faculty is very very vital. This is because in online education the teaching pedagogy is completely different from the traditional one.
The teacher must have an experience teaching in the online mode which includes knowledge of the online platform used for teaching, as well as other latest technologies.
The faculty at DPU-COL is not just highly qualified but all of them have good experience of teaching in the online environment. Most of the professors have industry and corporate experience in business management and administration. Some of the faculties have even worked internationally and can help the students get exposure at a global level.
This is one of the best qualities of Dr D.Y. Patil Vidyapeeth's online university because in the end, a good faculty plays a major role in shaping your career. So, from the faculty point of view, Dr D.Y. Patil Vidyapeeth Centre of Online Learning is a great university for online management courses.
#5 Placement
Dr D.Y. Patil Vidyapeeth COL offers placement assistance to all their online learners. They extend the maximum possible support for their students to get into good organizations. Many leading organisations, businesses, industries, and corporations are associates/partner recruiters with DPU.
The university organises placement drives where these companies come looking for prospective candidates for their organisations. These drives are a great kick-start for students as they do not have to go out searching for jobs as they already have the opportunity at hand.
The list of D.Y. Patil's Associates / Recruiters is given in the table below
| | | |
| --- | --- | --- |
| HDFC Bank | ITC | Butterfly Edufields Pvt. Ltd. |
| Capgemini | Talent Corner HR Services | Angel Broking |
| LIVEHealth | Fab India | Bandhan Bank |
| Marketyers Consulting | Dr. D.Y. Patil Hospital | Bajaj Capital |
| Jaro Education | Global Logistics Solutions | Bestla Group |
| Byju's Learning | Fleet Ocean Maritime Academy | Path Finder |
| BVG Group | Bajaj Finserv | Capital Aim Advisory Services |
| American Express | KPIT | Rubi con |
| AU Small Finance Bank | CC Wilson India | Kantar Operations |
| ACPL Group | Kotak Bank | RSPL Ltd. |
| Apollo Munich Health Insurance | Kurl-on | Ruby Capital |
| Absolute Reports Pvt Ltd. | Karvy Broking | Reval Analytics |
| Ascentrik Research Pvt. Ltd. | Samruddhi Distribution Channel | Spiro Lifecare Private Limited |
| Aquaspade Pvt. Ltd. | Lexi Pens | Rustomjee Developers |
#6 Learning Pedagogy
The learning pedagogy plays a major role when it comes to online education. Actually, it is one of the most important factors since everything happens remotely on a virtual platform.
Things like how the study material is distributed, how the classes are conducted, their provisions for peer discussions, are there doubt sessions, etc. make a big difference. These are the things that make you feel like you are actually attending college.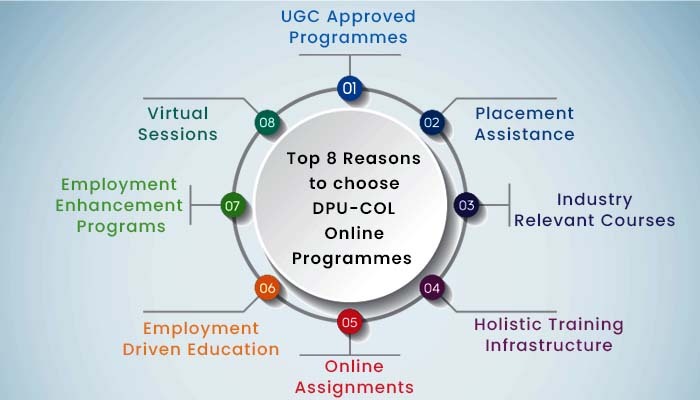 The learning pedagogy of Dr D.Y. Patil Vidyapeeth Centre of Online Learning (COL) includes the following characteristics
E-Tutorial Toolkit-

The e-tutorial kit consists of course video and audio content, simulations, and animations. This online kit makes it easy for learners to access the study material at any time and from anywhere. This toolkit is an integral part of DPU-COL's course delivery as it is best suited for a smooth online learning environment.
Self-Assessment Kit-

This self-assessment kit is an amazing way for students to continuously and simultaneously test the knowledge that they have been gaining.

This kit comprises MCQs, quizzes, problems and solutions, and assignments. The kit also clarifies general misconceptions by setting up the FAQs.
Digital Library-

Apart from the course syllabus, students are also entitled to access study material beyond their respective course material. Learners can access extensive journals, online articles, case studies for in-depth knowledge and analysis of their subjects.
Case-based learning (CBL)-

Since DPU-COL offers Management courses, learning becomes of value only when it can be applied in actual real-world situations. Hence, CBL becomes a vital part of the programs at DPU-COL. With CBL, the university promotes a higher level of versatility, cognition, and effective self-guided learning methodology.
#7 Learning Support
Since the entire learning process takes place online and the learners do not have the chance to actually meet the mentors whenever for support and guidance. Hence, the learning support management of an online college must be extremely robust and smooth to extend as much support to the learners as possible.
Another reason for a strong learning support system is that not each and every learner is proficient in the online learning environment. For most of them, the entire online learning process is new and they are not really aware of the technology. So, it becomes the responsibility of the university that each and every learner is comfortable with the learning management system to entail maximum benefit.
Given below are the key features of the learning support at Dr. D.Y. Patil Vidyapeeth Centre of Online Learning
Program Orientation Sessions –

Before commencing any topic, there are regular program orientation sessions to give the learners an overview of the subject that is going to be taught.

Academic Calendar Planner –

For every week, the learners will be given a schedule of lectures, assignments, presentations, exams, etc. This is to ensure flexibility to the learners so that they can plan and manage their time accordingly.

Live Interactive Online Classes –

Apart from the recorded audio and video lectures, there are live virtual classes as well. The aim for live classes is to introduce interaction among students. Students can ask questions and have discussions. Interactions and discussions are a key to networking and networking is very very crucial in Management studies.

Webinars –

The university conducts regular webinar sessions with industry veterans, renowned academicians, and business leaders. This is a great way for learners to find exposure as they can connect with experts to understand problems and scenarios of the real world.

Counselling Sessions –

Apart from queries regarding the course or college, DPU offers the services of counselling sessions where students can resolve other queries regarding their career path and future scope. There is dedicated faculty for counselling sessions which can be reached at any time.

Revision Sessions –

The students will be given the last-minute revision sessions before the examinations so that they know where they stand and then prepare for the exams accordingly. This is quite a helpful practice for the students as it helps them prepare better for examinations and thereby gain better grades.

Discussion Forums –

There are discussion forums where all the classmates can chat and interact at any time to share knowledge and build networking. This feature is especially important when we are talking about Management courses as communication, interaction, and networking are much more important than classroom lectures.
Online Student Grievance
If any student at DPU-COL faces any sort of issue or has any grievance, then they can write to the university directly through the official website of Dr. D.Y. Patil Vidyapeeth Centre of Online Learning (COL). On the website, there are toll-free phone numbers and email id dedicated for student grievances.
The university addresses student grievances in the following two ways
Web-based Support Systems :

The web support by the university is available 24×7. The university ensures bilateral communication as students can send in their complaints, requests, or queries via mail/feedback form. The student is given a window of 48 hours within which the concerned authorities will reply to the student and resolve their queries.

Student Success Managers :

The students will be provided with success managers. The learners will be able to connect with them at any time during working hours via a given toll-free number. To ensure the queries get resolved with optimal efficiency, each query is recorded as well as tracked.
Also Read | How Universities Conduct Online Degree Exams In India
Conclusion- Is DPU-COL Good or Bad?
If you have read this far then you probably already know the answer. So yes, Dr. D.Y. Patil Vidyapeeth Centre of Online Learning (COL) is definitely a good choice if you are willing to pursue online management degree courses (BBA/MBA) or short-term certificate courses in Digital Marketing and Hospital and Healthcare Management.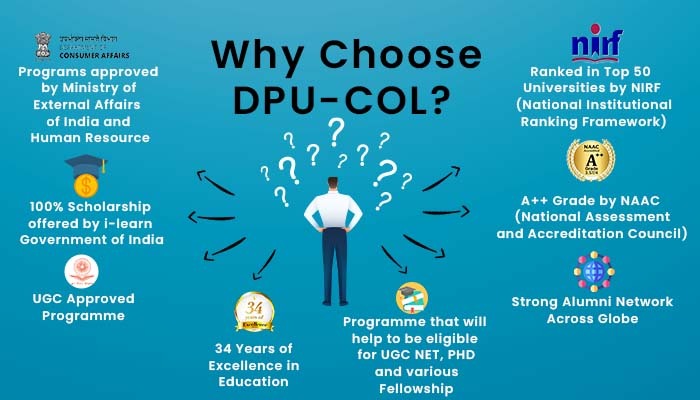 The university provides a holistic training infrastructure and employment-driven education. The 34 years of excellence in education and a strong global alumni network makes DPU-COL a great online college to pursue online education from, especially management education.
Other Online University Reviews