Hindustan-Centre for Open and Digital Education (Hindustan-CODE) offers a full-time postgraduate level course in MBA in the Open Distance Learning (ODL) mode, along with a blend of digital academic support and the convenience of obtaining a degree in the distance mode of learning. The course is divided into 4 semesters and offers specializations/electives to students in 17 domains of Business Administration.
Given below is a detailed overview of the distance MBA course that Hindustan-CODE offers to students, with details about fees, course structure, curriculum, and more.
Distance MBA Course in Hindustan University-CODE
Masters in Business Administration or MBA from Hindustan CODE is a professional management course that is offered to students in the Online Distance Learning (ODL) mode as a postgraduate course. It is a full-time course with a duration of two years, with specializations in 17 professionally relevant areas.
Carefully designed to meet the needs of a professional business environment, the course renders the students capable of evolving and adapting in a highly competitive professional and industrial domain.
Overview of MBA Course offered at Hindustan University-CODE
Given below is a summary of the details related to the MBA course offered at CODE:
Online MBA Programs Overview 2022 – Hindustan University CODE
Course

Master of Business Administration (MBA)

Level of Course

Post Graduation

Approvals and Accreditations

Recognized by

Ranked by

NIRF (In top 100 Universities)

NAAC (Graded A with grade 3.3)

With other major rankings and awards

Duration

2 Years

Mode

Open Distance Learning (ODL)

Specializations

Human Resource Management (HRM)

Marketing

Finance

Aviation Management

Logistics and Supply Chain Management

Healthcare Management

General Management

Operations Management

Sports Management

Digital Marketing and e-Commerce

Analytics and Data Science

FinTech

Information Technology Management

Project Management

Human Resource Management and Finance

Marketing and Finance

Marketing and Human Resource Management

No. of Semesters

4

Course Structure

18 courses with Project Work in Semester IV

Eligibility

A Graduate student from any Disciplinary Background with a Bachelor's Degree from a Recognized University

Minimum Aggregate 50% (for Unreserved Categories) and 45% (for Reserved Categories) at the Graduation level

Fee Structure

INR 1,20,000 (INR 30,000/Semester)

Scholarships and Concessions

Scholarship Options Available for Students with a Police background, Belonging to Armed Forces, or Frontline Healthcare Backgrounds

Academic Pedagogy

Facilities for attending Live lectures, Access to Prerecorded Learning Material, Physical Learning Material if desired, Digital Library, Interactive Sessions with Professionals and Industry Experts
Why Choose the MBA Course from Hindustan-CODE?
The demand for an MBA course is growing each day in professional spheres and today, a number of educational institutions and online educational domains are offering online programs in MBA.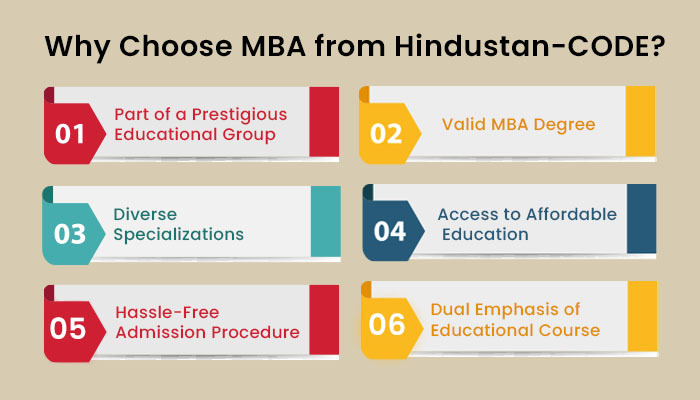 While a number of options in distance and online MBA may be available to interested students, here are a few reasons why the course from Hindustan University-CODE may be the best choice for you:
Branch of a Prestigious and Recognized Educational Group
The Centre for Open and Digital Education (CODE) is an extension from the umbrella group- Hindustan Group of Institutions (1985) and is a prestigious educational group with many accreditations, recognitions, and accolades from renowned bodies including UGC-DEB, AICTE, NAAC, NIRF to name a few. Thus, at the end of two years, one obtains an MBA degree from a prestigious and reputed university.
While selecting an online or distance group, it is very essential to ensure the credibility and professional validity of the course to protect oneself from fraudulent organizations. Hindustan-CODE is a reliable and credible university with all required accreditations and additionally, many rankings and awards. So, the degree in distance MBA offered here is credible and recognized, and completely valid for one's future professional pursuits.
Blended Educational Support
The educational support offered for this course is both digital and physical. Students are given access to high-quality digital learning facilities including recorded and live lecture sessions, a digital library, e-learning materials, and tools along with provisions for delivery of physical learning material to the student's location if needed by the student. Such a blended approach to course completion and pedagogy ensures that students can learn at their own pace, and form a greater knowledge about the nuances of business administration through discussions and interactions with peers, industrial experts, and practical exposure (through case studies and elective-based projects).
The MBA course offered at CODE has eight main electives along with dual specializations, which offers students a wide variety of choices of professionally relevant and demanded courses that would provide a quick and efficient boost to their careers.
Access to Affordable Education
The MBA course at CODE is not only carefully structured and designed but the course fee has also been decided keeping in mind the affordability of students from a variety of backgrounds, as one of the primary goals for the development of CODE was to make higher and professional education accessible to all learners and professionals. Thus, the course is more affordable than a number of other online or distance universities.
Easy and Hassle-Free Admission Procedure
The application and admission procedure at Hindustan-CODE is completed virtually, with easy and simple-to-follow steps that allow candidates to easily and conveniently register to get admitted to chosen courses.
Dual Emphasis of Educational Course
The course has been designed with a dual focus on both a strong knowledge base and practical exposure and skills of learners. This makes the learners better suited for various job roles and professional ventures as they are already accustomed to the professional nature of the field by the time of graduation.
So if you are looking for a credible, affordable distance online degree in MBA, Hindustan University-CODE may be a good choice for your career growth.
Key Features of Distance MBA from Hindustan-CODE
Some of the main features of the distance MBA offered at CODE are listed below, which may make the course a suitable choice for you:
Two years courses at Postgraduate level

Provided in the blended Open-Distance Learning Mode

Presence of an effective LMS to provide pedagogical support to students

4 semesters with project work

Following a four-quadrant educational structure

Availability of professional and placement assistance to students etc.
Specializations in MBA Distance Online offered at Hindustan-CODE
There are 17 areas of specializations offered in the online MBA course to students, listed below. There are single and dual specialization options for candidates: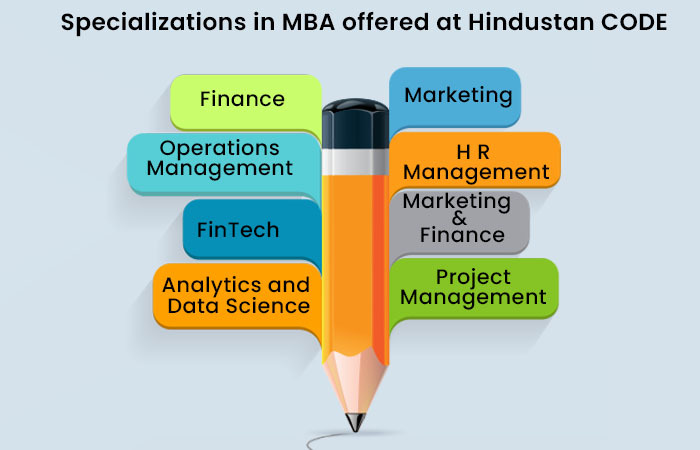 MBA Specializations 2022 – Hindustan CODE

Human Resource Management (HRM)

Marketing

Finance

Aviation Management

Logistics and Supply Chain Management

Healthcare Management

General Management

Operations Management

Digital Marketing and e-Commerce

Sports Management

FinTech

Analytics and Data Science

Project Management

Information Technology Management

Marketing and Finance

Human Resource Management and Finance

Marketing and Human Resource Management
Curriculum/Syllabus Details for MBA Distance Course at CODE
The university offers 7 main specializations (listed below) to students along with provisions for dual specializations (HRM+ Marketing, HRM+ Finance, Finance+Marketing, etc.).
The curriculum for the distance MBA course has been divided across a period of four semesters (over two years) in which the first two semesters have a common curriculum across all specializations. These are mandatory courses for all MBA students. The third and fourth semesters are dedicated to specialized courses for each elective, along with project work in the last semester (Semester IV).
Given below is a detailed overview of the curriculum details for the distance MBA:
1. Semester I Syllabus
| | |
| --- | --- |
| Organizational Behaviour | Managerial Economics |
| Legal And Business Environment | Corporate Governance And Business Ethics |
| Financial Reporting, Statements And Analysis | |
2. Semester Ii Syllabus
| | |
| --- | --- |
| Analytics Foundations For Business | Operations Management |
| Marketing Management | Human Resources Management |
| Corporate Finance | |
3. Semester Iii Syllabus
| | |
| --- | --- |
| Security Analysis And Portfolio Management | Bank Management |
| Project Appraisal And Finance | Financial Markets And Services |
| Mergers, Acquisitions And Corporate Restructuring | |
| | |
| --- | --- |
| Consumer Behaviour | Retail Management |
| Integrated Marketing Communication / Promotional Strategy | Sales And Distribution Management |
| Digital And Social Media Marketing | |
Human Resource Management (Hrm)
| | |
| --- | --- |
| Recruitment And Selection | Employee Relations |
| Hr Metrics And Analytics | Compensation And Benefits Management |
| Performance Management Systems | |
| | |
| --- | --- |
| Airline And Airport Management | Airline Operations And Scheduling |
| Airline Finance | Aviation Law |
| Air Cargo Management | |
| | |
| --- | --- |
| Health Environment | Hospital Architecture Planning Design And Maintenance |
| Hospital Materials Management | Hospital And Patient Relations Management |
| Hospital Supportive Services And Facilities Management | |
| | |
| --- | --- |
| Logistics Management | Materials Management |
| Total Quality Management | Project Management |
| Services Operations Management | |
Logistics And Supply Chain Management
| | |
| --- | --- |
| Fundamentals Of Logistics | Warehousing & Distribution Operation |
| Freight Forwarding (Ocean And Air Cargo) | Surface Transportation |
| Mis For Logistics | |
4. Semester Iv Syllabus
| | |
| --- | --- |
| Derivatives Management | International Finance |
| Taxation | |
| | |
| --- | --- |
| Product And Brand Management | Service Marketing |
| International Marketing | |
Human Resource Management (Hrm)
| | |
| --- | --- |
| Strategic Human Capital Management | International Human Resources Management |
| Cross-Cultural Management | |
| | |
| --- | --- |
| Airline Economics | Supply Chain Management |
| Crew Resource Management | |
| | |
| --- | --- |
| Medical Records Environment | Medical Tour Operations Environment |
| Quality Management And Hospital Accreditation Systems | |
| | |
| --- | --- |
| Supply Chain Management | Lean Six Sigma |
| Maintenance Management | |
Logistics And Supply Chain Management
| | |
| --- | --- |
| Courier, Express & Parcel Services | Inplant Logistics |
| Documentation For Exports And Imports | |
For a detailed curriculum structure, students can visit the official website of Hindustan-CODE at: https://code.hindustanuniv.ac.in/mba.php
Eligibility Criteria for Distance MBA from Hindustan-CODE
To be eligible to apply for the distance MBA course at Hindustan-CODE, the candidate must fulfill the following criteria:
The candidate is a graduate, i.e. has completed a Bachelor's level course in any discipline from a recognized university.

The candidate should have scored at least 50% (for unreserved categories) or 45% (for reserved categories) aggregate marks in graduation.
Fee Structure for Distance MBA offered at Hindustan-CODE
A brief overview of the fee structure for Indian students and students from SAARC countries is given below:
Semester
Semester Fee in INR
Annual Fee in INR
I

30,000

60,000

II

30,000

III

30,000

60,000

IV

30,000

Total Fee

1,20,000
In addition to the tuition fees, students need to pay INR 1000 (with added application bank charges) as a one-time application fee (non-refundable) and INR 3000 charged annually as examination fee.
Scholarship and Concession Options for Students At Hindustan CODE
There are provisions of scholarships and concessions of course fee for the following cases:
Student having an Armed Forces background
Student having a Police background
Students having a Frontline Healthcare Background
Students can get details pertaining to the terms, eligibility criteria, percentage of scholarship etc. by contacting the admissions and administration departments of Hindustan-CODE.
Admission Procedure for Distance MBA Course at Hindustan-CODE
The process of enrolment and admission to the distance course on MBA from Hindustan CODE occurs on the online mode, and interested candidates can easily apply for the same to register for the course.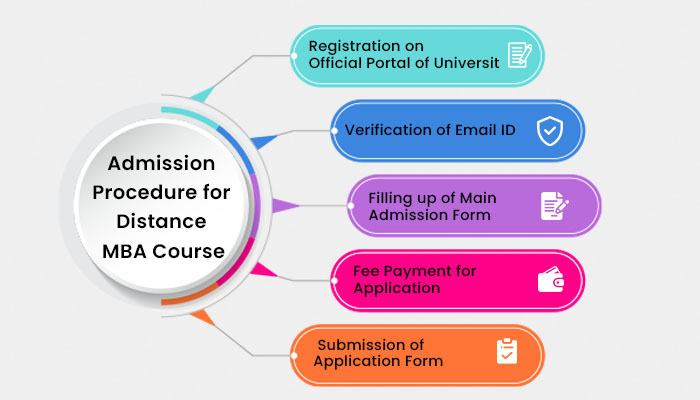 The details for the same are provided below:
1. Registration on Official Portal of University: the first step for the candidate is to initially register themselves with the university's official portal by visiting their admission portal and filling in basic personal details including the name of the candidate, contact number, email id, etc. as tabulated below:
| | |
| --- | --- |
| Candidate Name | Contact Number of Candidate |
| State of Residence | City of Residence |
| Course Name | Specialization in Course |
The candidate needs to fill-in their email-id carefully, as there won't be any changes made in this after the registration and this email ID will be used for all main correspondence with the student upon admission.
2. Verification of Email ID: the student needs to verify their email ID for correspondence with the university. This email ID must be verified carefully, as it would als be used in the future to communicate through correspondence with the student. Changes are not allowed later and so students must verify an accessible and personal email ID.
3. Filling up of Main Admission Form: after registering oneself on the official gateway of the university, the student is then required to fill out the main application form which shall be considered for the admission of the candidate to the course of their choice. The student at this stage needs to fill in their important personal details, educational qualifications, required documents etc.
4. Fee Payment for Application
After the candidate has filled their application form, they are required to pay the application fee of INR 1000 (with additional bank charges for application) which is non-refundable. The payment has to be made online.
5. Submission of Application Form
After the student has completed steps 4 and 5, they can submit their application.
After all these steps have been completed by the student, the university then considers the candidate's application along with reviewing their submitted details and documents to evaluate their eligibility for the course. If the candidate is deemed suitable and eligible for the course, their application would be approved and their admission confirmed to the student.
In order to address student queries they also have a Query Management System (QMS) that is solely dedicated for quick problem and query clarification of the applicants.
Learning Management Support Available to Students Hindustan CODE
Hindustan-CODE has a variety of learning assistance tools for the students. They have access to the efficient LMS of the university that allows for efficient blended learning, with both digital and physical copies of learning materials at the student's disposal. Some of the major features of the learning pedagogy offered for the distance MBA course are:
Availability of both pre-recorded and live lectures that allows students to learn at their own convenience

Provision of physical copies of learning materials for learners if desired

Digital learning materials for Students' reference

A digital library that allows students access to a diverse range of books, journals etc in the digital mode.

Interactive sessions with professionals and industry experts experienced in the domain of business administration and management

Various projects and Case studies that allow the learners to experience practical problem-solving

Tools for effective self-evaluation and assessments such as quizzes, assessments etc.
4-Quadrant Learning Approach At Hindustan CODE
The course has been designed to enable the students to pass through the four quadrants of learning and gain in-depth knowledge and understanding of the taught courses and topics: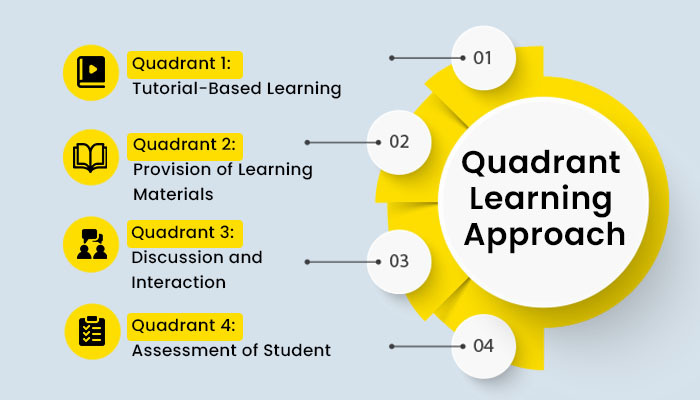 Quadrant 1: Tutorial-Based Learning

This includes the lecture sessions, which may either be live faculty lectures or pre=recorded lectures.

Quadrant 2: Provision of Learning Materials

This stage is mainly concerned with the learners making themselves familiar with the learning material and content of the course, including textual content, MOOCs, open source information related to one's topic of study etc.

Quadrant 3: Discussion and Interaction

Apart from learning through course materials and learning materials, the course also ensures that students get sufficient scope for learning through discussions, dialogues with peers and working professionals in the relevant fields

Quadrant 4:Assessment of Student

The last stage of the learning process is the assessment and evaluation of learning, which is done through a variety of methods including self-assessments, quizzes, assignments etc.
Examinations and Evaluation at CODE for Distance MBA Course
The evaluation procedure for the course blends both self-assessment measures with external assessments to evaluate the learner's education in a holistic manner.
There are two main areas of the examination and evaluation of the student:
Type of Evaluation
Aspects

Formative Assessment or Continuous Internal Assessment (CIA)

Online Assignment (2)

Online Quiz Assessment (2)

Online Assessment (Consisting of MCQs, Short and Long-Answer questions)

Summative Assessment or End-Semester Exam (ESE)

Invigilated Physical Examinations at the HITS centre or Online Proctored examinations in some Exceptional Cases
The main weightage is on the summative assessment and a student will be considered as qualified in the exam only if they obtain a minimum 50% marks combining the formative and summative assessments in each course.
Professional Assistance and Job Prospects for the Distance MBA Course
The university enables students to gain skills and professional knowledge which helps them get an edge over others in domains of professional ventures. The main aim is to make the learners job-ready and industry-ready at the end of course completion.
It has placement assistance for students and has tie-ups with The Indus Entrepreneurs (TiE), Chennai, the Confederation of Indian Industries (CII), the MMA etc.
Job Prospects, Salary after MBA Course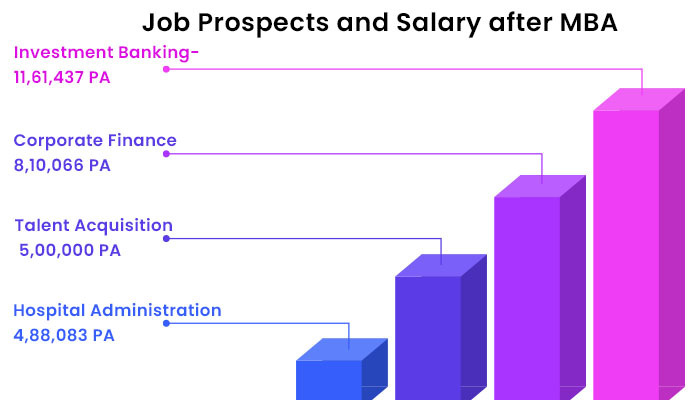 Specialization Area
Job Prospects and Salary INR

Finance

Finance Analysis-431687 PA

Corporate Finance-8,10,066 PA

Investment Banking- 11,61,437 PA

Portfolio Management-11,24,104 PA

Marketing

Brand Management- 13,00,000 PA

Marketing Executive- 2,80,000 PA

Market Research Analysis- 3,50,000

Market Consultancy- 8,90,000 PA

Human Resource Management (HRM)

HR generalist- 5,00,000 PA

HR Analysis-5,00,000 PA

Employment Management- 12,00,000 PA

Talent Acquisition- 5,00,000 PA

Aviation Management

Flight Dispatchment-10,70,000 PA

Flight Planning-3,00,000 PA

Purchasing Management- 9,30,000 PA

Airport Management-8,00,000 PA

Hospital Management

Hospital Administration- 488083 PA

Human Resource Management in Hospitals- 3,00,000 PA

Hospital CEO- 57,58,565 PA

Logistics and Supply Chain Management

Inventory Supervision and Management- 4,00,000 PA

Supply Chain Design, Planning and Management- 5,00,000 PA

Commercial Management- 12,63,982 PA

Purchasing Management- 9,30,000 PA

Operations Management

Business Operations Management- 9,70,000 PA

Operations Analysis- 4,00,000 PA

Deputy Operation Management- 8,00,000 PA

Operations Executive- 2,70,000 PA
Online & Distance MBA Course Review from Hindustan-CODE
Course review- the course is well-structured, with 4 semesters, 18 courses and spaced assignments, assessments and evaluations. The papers and specialisations have been selected keeping in mind the needs of the industry and professional fields.
Infrastructure Review- the LMS assistance is well-designed to help students learn effectively and assess their own learning through measures for self-evaluation.
About Hindustan-CODE
Hindustan CODE is a branch of the Hindustan Group of Institutions and is specifically dedicated to providing distance and digital courses to students that can be pursued easily from the convenience of one's home. The university is approved by bodies such as NAAC, NIRF, AICTE, UGC-DEB, etc., and has been recognized and awarded by many others. It is specialized in providing technical and professional courses to students. It has its own LMS software and is an educational institute of good repute in educational circles.
Similar Distance & Online MBA Universities
Some other best online colleges that offer an MBA in the distance and online mode are:
Similar Online distance MBA Colleges 2022 In India

University
Location
Mode
Accreditations

NMIMS ODL

Mumbai

Distance MBA In Blended Mode

UGC-DEB, NAAC A+

Manipal Online

Jaipur

Online MBA

UGC, AICTE, NIRF

Chandigarh Online University

Chandigarh

Online MBA

UGC, NAAC A+

D. Y. Patil-Centre for Online Learning

Pune

Online MBA

UGC-DEB, NAAC, NIRF, AICTE, AIU, ACU etc.

IGNOU

New Delhi, Ahmedabad,

MBA In Distance and Online

UGC-DEB, NAAC