Cyber security is a specialized domain within the field of Computer Science and Information Technology. While there are only a few offline courses available in the cyber security domain, there are numerous online courses that delve deep into the subject and offer in-depth knowledge of cyber security as well as its other important domains. So, it's a great advantage to pursue online cyber security courses if you wish to build a career specifically in the cyber security domain.
Best 10 Colleges for Cyber Security In India 2023
However, what is more, important is that you choose the right college to grow your career. By right college, we mean a college that has been approved by the government of India to offer online education.
It has recently come to the light of the UGC that some colleges have been offering online education even after the expiry of their UGC-DEB approval. This has left thousands of students stranded as UGC has taken strict measures.
The future of these students has been compromised as even the UGC is not willing to take any responsibility for the scam. Therefore, you must be very careful while choosing a college for yourself. This is an irreversible decision as the time that goes by never comes back.
To help you with this crucial decision, we have come up with a list of good colleges that offer online cyber security courses. We have also described all the other parameters so that you can compare and choose the best college that meets your subjective demands. Read: What Is Cyber Security and Why It Is Important?
Best Colleges for Cyber Security Online Courses India
Given below are some of the colleges that offer the best online services for cyber security courses.
SI. No
Cyber Security College
Cyber Security Course
Cyber Security Course Fee

1

IIT Delhi

Certificate Program in Cybersecurity: Foundations and Pragmatics

₹1,18,000/- (including GST)

2

IIT Kanpur

Certificate in Cyber Security

Comprehensive Ethical Hacking certificate course

Using Python for Ethical Hacking certificate course

Azure Data Lake course

₹4237/- (including GST)

3

Amity University Online

BCA in Cloud and Security

₹2,20,000/- (semester- wise payment)

₹2,00,000/- (year- wise payment)

₹1,95,000/- (one-time payment)

MCA in ML & AI

₹1,76,000/- (semester- wise payment)

₹1,64,000/- (one-time payment)

4

IIIT Bangalore

Advanced Executive Program in Cybersecurity

₹1,85,000/- (+GST)

5

BITS Pilani (WILP)

M.Tech Software Systems

₹16,500/- (one-time admission fee)

₹60,500/- per semester

Postgraduate Program in Internet of Things (IoT)

₹2,45,000/- (including GST)

6

Jain Online University

Essentials of cyber Security certificate course

Python for Data Science certificate course

₹12,000/- (National)

$250/- (International)

MCA in Cloud computing

MCA in Cyber Security

₹2,00,000/- (National)

$4,200/- (International)

7

Manav Rachna Centre for Distance and Online Education

BCA in Cyber Security

BCA in AI & ML

₹1,56,000/- (semester- wise payment)

₹1,46,250/- (year- wise payment)

₹1,36,500/- (one-time payment)

MCA in Cyber Security

MCA in AI & ML

₹1,44,000/- (semester- wise payment)

₹1,35,250/- (year- wise payment)

₹1,26,500/- (one-time payment)

8

National Forensic Sciences University

MBA in Cyber Security Management

₹60,000/- per semester

9

IIBM Institute of Business Management

Master Program in Cyber Security

Master Program in Cloud Computing and Devops

₹55,000/- + GST (semester-wise)

₹50,000/- + GST (one-time Payment)

10

ICASR

Postgraduate Program in Cloud Computing

Postgraduate Program in Internet of Things (IoT)

₹1,25,000/-
Online Cyber Security Course Fee & Duration
Cyber security is a sub-domain of Computer Science that has yet not been explored much in the traditional regular mode. However, many colleges are coming up with cyber security discipline-specific courses in the online mode.
The USP of these online courses is the level of in-depth knowledge they offer in such an affordable fee structure. These courses are designed with keeping in mind both academic and practical aspects to make you job-ready. Hence, the fee that they demand is the bare minimum when we see the ROI.
For instance, a regular B.Tech makes you job-ready at the end of 4 years of the program but a good college demands around ₹8-10 lac. However, an online undergraduate course in cyber security (like BCA) costs less than ₹2 lac.
Different Types of Cyber Security Courses
There are different types of cyber security courses based on your requirements.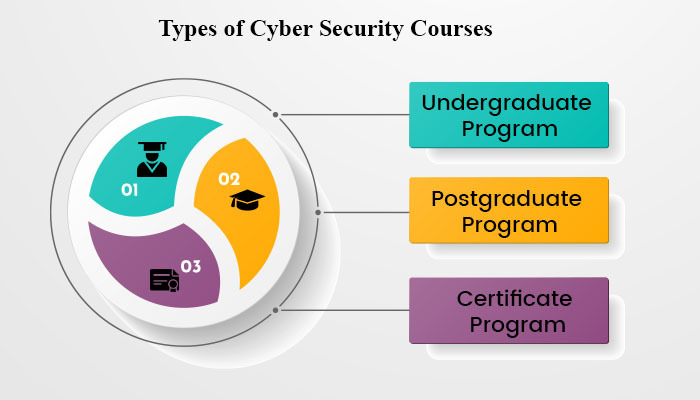 If you have no prior knowledge of the subject and you are really interested in pursuing it as a career, then you must opt for an online bachelor's course in cyber security.
If you are from an IT or CS background and are now interested in pursuing Cyber Security for in-depth knowledge can go for an online master's course in cyber security.
Those who are already from the cyber security field but lack knowledge in one or more particular subdomains can go for subject/topic-specific certificate courses. These courses educate you only about a specific topic for example a particular programming language or some specific branch within cyber security like penetration testing or cloud computing.
Average Fee for Different Online Cyber Security Courses
The fee for the different types of cyber security varies greatly. It is so because of the difference in the curriculum, the university brand name, and the time period of the course as well. Some courses last for a few hours or a few weeks to some that last for 2-3 years. Hence, the difference in the fee.

Given below is the average fee for these courses as the exact fee might vary across colleges.
| | |
| --- | --- |
| Cyber Security Course Type | Cyber Security Course Total Average Fee in INR |
| Certificate Courses | 4,000 – 12,000 |
| Undergraduate Courses | 1.5 lac – 2.5 lac |
| Postgraduate Courses | 1.25 lac – 2.45 lac |
Duration for Different Cyber Security Courses
Since we are talking about online courses, there is no strict time duration for these courses. This is because flexibility is one of the main reasons for learners to go for an online mode of learning.
However, there still is a duration set for every course and some flexibility is offered around this set time. For instance, if the duration of a course is 2 years, then the college might offer you the flexibility to complete the course in 3-3.5 years.
Given below is the duration of these courses.
| | |
| --- | --- |
| Cyber Security Course Type | Cyber Security course Duration |
| Certificate Courses | 6 weeks to 6 months (varies depending upon the length of the course curriculum) |
| Undergraduate Courses | 3 years |
| Postgraduate Courses | 2 years |
Online Cyber Security Course Career Prospects
Cyber Security is a vast as well as a young professional that has been growing rapidly. With the increasing problem of cyber attacks around the world in the recent decade, there has been a dire need for high-level cyber security professionals.
The demand is high but the need is for highly-skilled professionals. This means the competition in the field is immense. Just academic knowledge of the subject is not enough.
However, with the right academic knowledge and top-notch industry-relevant skills, the career prospects in the cyber security domain are absolute.
We say the career prospects are absolute because of the type of employers that cyber security professionals get. All of the government organisations and private corporate industries- big or small, recruit cyber security professionals at many levels.
World-famous and some of the richest businesses like Facebook, Microsoft, and Amazon among others, hold the confidential information of millions of users.
How do you think they keep all of this information safe? Well, of course through cyber security practices.
Some of these corporations have still been victims of nasty and terrible cyber attacks in recent times despite all the cyber security measures and protocols used.
For example, the Wannacry Ransomware of 2017 was targeted on computers using the Microsoft windows. In 2009, Chinese hackers gained access to one of the databases in Google containing classified information regarding terrorists, spies, and agents that were under the US Govt. surveillance.
These examples are for you to understand how much each and every business that has digital assets needs cyber security. And there's no doubt that these corporations are willing to spend tons of money on cyber security to get the best professionals out there.
Not just private corporations, but all the government organisations need robust cyber security. The data that government organisations hold is even more crucial as it is of national importance including defence, economy, healthcare, etc of a country.
In the past three years, there has been a series of more than 25 attacks on Sri Lankan national websites including .gov, .com, and Google.lk domains. These attacks prove the acute need for cyber security in each and every sector.
Hence, the future in cyber security has amazing opportunities. There are numerous vacancies in both the government as well as the private sectors. The career is secure and guarantees longevity as with every new technology comes new cyber challenges for which cyber experts will always be needed.
Cyber Security Jobs & Salary
If you're still doubtful, you can refer to the table below for the cyber security job roles and their average salary in cyber security in India and abroad to get a clearer idea of the career scope.
| | | |
| --- | --- | --- |
| Cyber Security Job | Salary in India | Salary in the US |
| Security Architect | ₹21,44,029 | $1,28,118 |
| Chief Information Security Officer (CISO) | ₹22,13,695 | $1,68,543 |
| Information Security Specialist | ₹10,23,357 | $77,093 |
| Penetration Tester (Ethical Hacker) | ₹6,17,313 | $88,056 |
| Security Engineer | ₹7,43,743 | $95,929 |
Online Cyber Security Course Placements
Placement assistance is offered by many universities for their online Cyber Security course learners. However, the placement support is usually for the degree courses.
Universities have tie-ups with brands and various companies. Universities help learners by introducing them to these industries and also sometimes by organising virtual job fairs.
Cyber Security Placement Services Offered by top Colleges
There are numerous kinds of career support and placement services offered by universities for their online courses. These services usually include the following: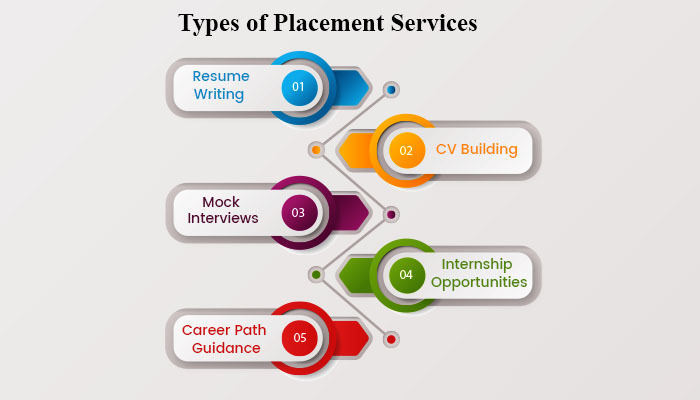 Resume Writing-

This is a very important aspect when you go for job hunting as it is your first impression on the recruiter. Your resume must stand out so that the recruiter notices you among the crowd.

CV building-

The recruiter will be more interested in your skills than your degree. Hence, you must be able to build an outstanding CV. The university helps the learners to build a strong CV right from the beginning of their course in case they do not have prior experience.

Mock Interviews-

After the first few stages of the placement procedure, which is selection through a Resume followed by written tests, comes the interview phase where you face the recruiter for the very first time. The college organises one-on-one mock interviews to help learners get a gist of what placement interviews actually feel like.

Internship opportunities-

Many universities help their students in getting internships through their connections with their industry partners. This helps learners establish themselves in the industry as an onset to their career.

Career Path Guidance-

There are industry veterans and experts as well as career counsellors that offer guidance to students who are unaware of the opportunities available for them.
Big Recruiters for Cyber Security Colleges
Almost all organisations and businesses that consist of one or multiple digital assets have cyber security job vacancies. However, some of the biggest recruiters are as follows.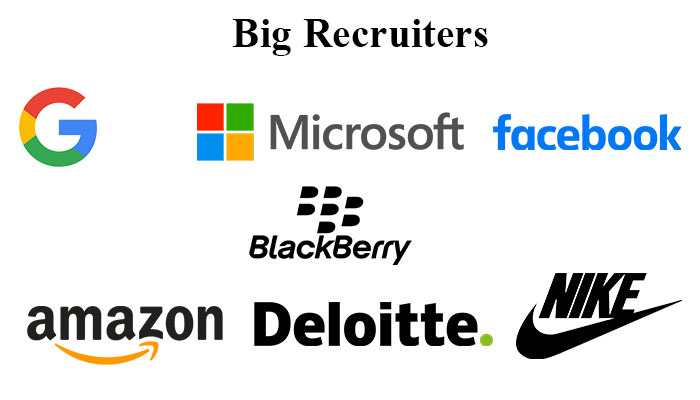 | | |
| --- | --- |
| Google | Microsoft |
| Facebook | Amazon |
| Deloitte | ManTech |
| Nike | Scientific Research Corporation (SRC)- US |
| McAfee | BlackBerry |
Factors to Consider for Best Online Cyber Security College In India
Online education is a lot different from the traditional offline mode of education that we know of until now. So, because we are talking about online education and online colleges, it is indeed important to know what are the factors that you must consider before taking admission.
Approvals-

The college/university must have government approval for offering online education. Some universities have UGC approval but it is only for regular offline courses and not online courses. Such universities might scam you with an invalid degree. Hence, you must check the university for

online education approvals

.

LMS-

Learning Management System or LMS is the online platform for the delivery of education. It is good if the university has its own LMS for easy and efficient communication between professors and learners.

Program Fee-

You might find online colleges having different fee structures for the same course. So, according to your budget, you can choose the college.

Curriculum-

Cyber Security is a vast subject with lots of sub-domains and branches. Therefore, you must check the course curriculum to ensure that the topics you wish to learn are a part of the syllabus.

Flexibility-

This is another vital aspect of online education. Different online colleges have different rules regarding flexibility and the mode of examination. The examination might or might not be in the online mode. Also, the flexibility to complete the selected course varies depending upon the university.
Cyber Security Offline Colleges In India
There are a very few but prestigious colleges that offer degree courses in the Cyber Security Specialisation and these are:
Colleges for Cyber Security Regular Courses
Cyber Security Course Name

IIT Delhi

M.Tech in Cyber Security

IIT Kanpur

M.Tech in Cyber Security

MS by Research in Cybersecurity

BT-MT Dual Degree in Cybersecurity

NIT Kurukshetra

M.Tech Cyber Security
If you want to know more about the online cyber security colleges, then you can visit College Vidya where you can easily find all the online colleges that offer various types of Cyber security with just a click. Then you can even compare them all based on various relevant parameters. If you feel confused about whether to pursue the course or not then you can also connect with the counsellors for guidance. All of this at a single platform! Click here for an expert opinion interview question!