Many people passionate about their career in management have the lofty goal of attending one of the esteemed Indian Institutes of Management (IIMs). This is a goal that is highly sought after. However, the procedure can be intimidating, particularly when confronted with a Common Admission Test (CAT) score that is lower than expected. Even though admission to IIM is extremely tough, it is not the end of the path. Let's look at how it could make your goal of getting into an IIM with a lower CAT score a reality.
Understanding the CAT Scores Requirement for IIM
The admissions procedure for IIMs places a significant emphasis on candidates' CAT scores. They act as a standard against which a candidate's abilities in various areas, such as quantitative ability, verbal ability, reading comprehension, and data interpretation, may be measured.
Typical CAT cut-offs for admission to the prestigious Indian Institutes of Management (IIMs) vary between the 95th and 100th percentiles for each category of applicants. The CAT cut-off percentile typically falls between the 98th and 100th percentile range. This is the case for students in the General category who have their sights set on the best IIMs.
MBA without CAT Available!
On the CAT 2023 test, it is anticipated that the same pattern will continue to appear. Not just IIMs but also other renowned MBA institutions such as FMS, MDI, SPJIMR, IMT, and MICA follow a trend that is analogous to this one. These universities provide preliminary CAT cutoffs for the shortlisting candidates for the Written Ability Test and Personal Interview far in advance of the announcement of the exam results.
The final CAT cut-offs, on the other hand, aren't revealed until after the results have been announced or during the selection process for personal interviews.
A low CAT score does not necessarily rule out the possibility of admission, even though a high score unquestionably improves one's prospects.
Top IIMs and their 2023 CAT cut-offs (Final)
The expected CAT 2023 cut-off percentiles for students in the General group who want to get into one of the top 20 IIMs are shown below. These predicted cut-offs are the final cut-offs that will be used to decide which candidates can go to the interview round. Notably, the CAT cut-offs for students in the General group stay high year after year, usually between 90 and 100 percentiles.
On the other hand, students in the restricted group get a big break on the minimum percentile requirements they need to meet to get in. (interlink all university-only for radhika)
| | |
| --- | --- |
| IIMs | CAT cut-offs 2023 (percentile) |
| IIM Ahmedabad | 99-100 |
| IIM Bangalore | 99-100 |
| IIM Calcutta | 99 |
| IIM Lucknow | 97-98 |
| IIM Indore | 97-98 |
| IIM Kozhikode | 97-98 |
| IIM Amritsar | 95-96 |
| IIM Nagpur | 95-96 |
| IIM Sambalpur | 95-96 |
| IIM Trichy | 94-95 |
| IIM Raipur | 94-95 |
| IIM Ranchi | 94-95 |
| IIM Kashipur | 94-95 |
| IIM Vizag | 92-94 |
| IIM Rohtak | 92-94 |
| IIM Udaipur | 92-94 |
| IIM Bodhgaya | 92-94 |
| IIM Shillong | 90 |
| IIM Sirmaur | 90 |
| IIM Jammu | 90 |
Final CAT Cut Off vs Qualifying CAT Cut Off
The Qualifying CAT Cut Off and the Final CAT Cut Off are the two separate rounds of shortlisting that are used to get people into IIM MBA schools. The Qualifying CAT cut-off, also called the IIM qualifying or shortlist cut-off, tells candidates what number to get an interview call for the Written Ability Test (WAT) or Group Discussion-Personal Interview (GD-PI) round at IIMs.
Meeting this level does not, however, guarantee selection for the next steps. The Final CAT cut-off, sometimes called the IIM call cut-off, on the other hand, is the lowest percentage that the IIMs use to choose candidates for the WAT/GD-PI round. Making this last cut-off doesn't guarantee entry, either.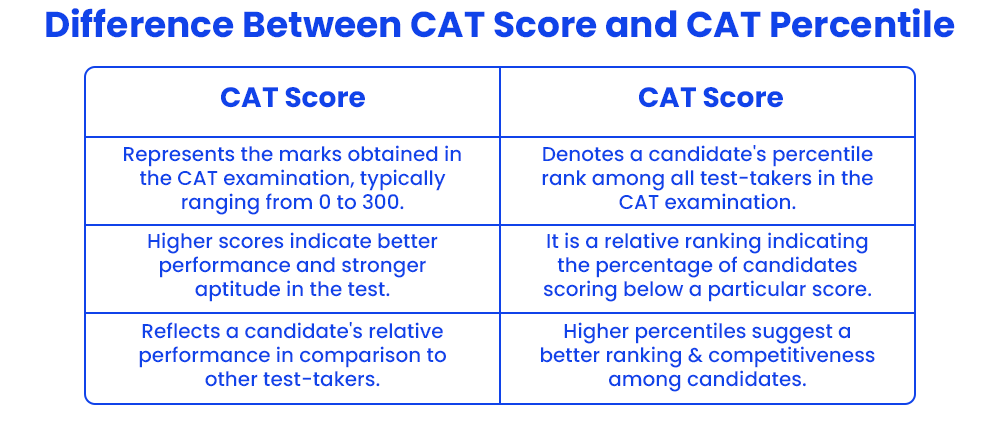 The Qualifying CAT cut-off is set before the CAT result is released. Each IIM school makes it public as part of its admissions requirements. In the meantime, the Final CAT cut-off is set after the CAT results are released. For most IIMs, the Qualifying CAT Cut-Off is above the 90th percentile.
However, IIM Ahmedabad has set its cut-off at the 85th percentile in recent years. On the other hand, the Final CAT Cut-Off is usually much higher, at 99+ percentile for top IIMs and 95+ percentile for new IIMs. The qualifying and final CAT cut-offs have regional and total cut-offs.
Still, they are set differently for each category, with the general category and some groups getting more points because of their background or gender.
Process of Holistic Review Used at IIMs
In contrast to the widespread perception, IIMs take a holistic approach to the review process. It does not only rely on CAT scores; rather, they consider the applicant's profile as a whole. Additional layers are added to the selection process by considering factors such as academic performance, employment experience, extracurricular activities, and diversity.
Even with a low score on the CAT, an impressive academic history can considerably impact the admissions committee's decision. Your potential and aptitude in the management field might be demonstrated by your exceptional academic success in degrees or certificates you have earned in the past.
What If Your CAT Score is Still Not Metting the Cut-Off Score
If your CAT score is lower than the minimum required to get into an IIM, it may seem like a loss at first, but there are other options you can look into that could help you reach your goal of getting into an IIM.
For General category kids, the CAT cut-offs for IIMs are very high. They are usually between the 90 and 100 percentile, and for some IIMs, they are even higher. Candidates often feel stuck when their CAT score exceeds the required cut-off. They don't know what to do next. Here are two ways to get around Low CAT Scores.
Taking the CAT exam again
If the CAT score doesn't meet the requirements, one option is to study for the CAT test the following year. You should spend more time and effort studying to be better prepared in the main areas that the CAT tests: quantitative ability, verbal ability, reading comprehension, and data interpretation. Plan and study carefully to get better grades on the next test based on what you've learned from previous tries.
Taking IIMs' online classes is another option, especially for people who want to work with IIMs but could have done better on the CAT. IIMs have many online programs, from short-term certificate classes to full-fledged executive programs. These programs cover various topics, such as IIM online programs in leadership, business management, data analytics, and more. These IIM online programs allow students to interact with IIM teachers, learn new things, and improve their skills and knowledge in many areas.
Going over the pros and cons
If you want to choose between taking the CAT test again and taking online IIM classes, you need to weigh the pros and cons of each.
Retaking the CAT Exam

Pros

Cons

Opportunity for score improvement

Demands more time for preparation

A chance to meet IIM cut-off scores

No guarantee of achieving higher score

Enhanced chances for IIM admission

Delay in entering the IIM academic cycle

Enrolling in IIM Online Courses

Pros

Cons

Access to IIM resources and faculty

Might not directly lead to IIM admission

Skill enhancement and knowledge gain

Financial investment in online courses

Flexibility in learning

No assurance of compensating for low CAT score
The choice comes down to personal tastes, circumstances, and goals in the end. Those who want to get into IIM right away might choose to study hard for the CAT. People who want to improve their skills and knowledge might choose online IIM programs as an option that is more enriching and informative.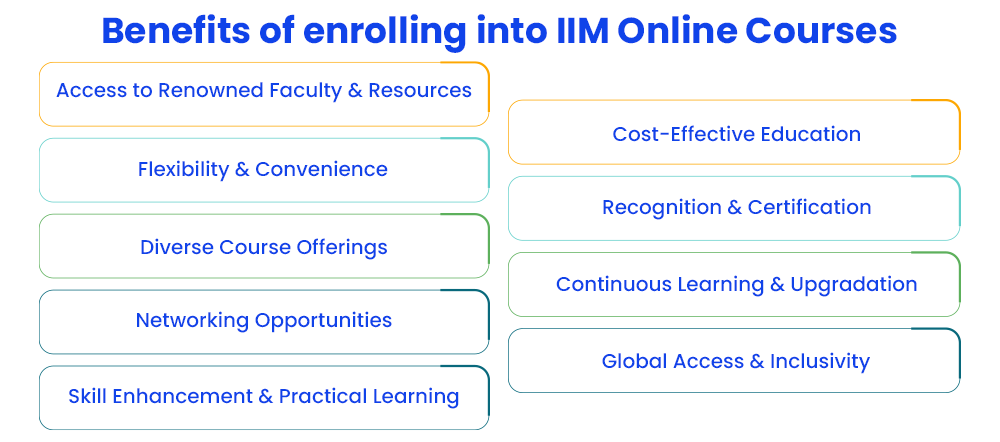 When a candidate's CAT score is below the cut-off, they are at a crossover point where several routes can be taken. Reevaluating personal goals, tastes, and promises strategically is important for figuring out the best way to move forward.
Whether someone spends time studying for the CAT exam again or starts an educational journey through IIM's online courses, the goal is the same: to get ahead in life, whether that means getting better scores on the CAT or learning more and improving their skills through IIM's online courses. Seeking greatness in management is an ongoing process, and the path a person takes to reach their goal is only affected by the way they choose.
Is it Possible To Be Admitted to IIM with a Low CAT Score?
Yes, it is possible to get into some IIMs even if your CAT number isn't very high. The cutoffs for newer IIMs like IIM Sirmaur, IIM Bodhgaya, IIM Amritsar, IIM Nagpur, and IIM Shillong are usually lower, between 85 and 95 percentile. There are a lot of things that affect these IIMs' cutoffs, such as the total number of people who took the CAT exam, the CAT cutoffs from the previous year, the number of seats open at each IIM, and how hard the test was overall. People who want to get into IIMs but have lower CAT scores should look at these younger IIMs and their cutoffs.
These schools might have openings for people whose scores are lower than the requirements for more established IIMs. To get a full picture of all the IIMs' cutoffs and to look into other options, you should read the piece given to learn about the admission requirements and cutoff trends of different IIMs.
Obtaining a desired place at an IIM is possible even with a low CAT score, even though this may appear as an obstacle. There are a variety of paths to take. Your chances of being accepted into the program can be increased by putting more of a focus on having a multifaceted profile, as well as by taking smart actions and writing an engaging story.
It is important to keep in mind that the route you take to attend the institution of your dreams requires not just patience and commitment but also a proactive attitude.
List of MBA Colleges Accepting Low CAT Scores
Besides the Indian Institutes of Management (IIMs), many other well-known business schools in India also accept applicants with lower CAT scores. Quality management education is available at these schools, and candidates with various CAT scores can get in.
You can get into well-known business schools in India with lower CAT scores. These schools are known for their high academic standards, close ties with the business world, and high job hiring rates.
This makes them good options for applicants whose CAT scores are lower than the minimum requirements for some of the best business schools in the country. Applicants with lower CAT grades who want to get into a good management school can consider these choices.
| | |
| --- | --- |
| Name of the College | Expected CAT Cutoff |
| FORE School of Management Delhi | 85 |
| LPU Jalandhar | 80 |
| Amity University | 75 |
| Manipal University | 85+ |
| JIMS Rohini | 75 |
| UBS Mumbai | 75 |
| GLIM Chennai | 80 |
| SAGE University, Indore | 80 |
| LPU | 83 |
| JAIN University | 85 |
| Jaipur National University | 81 |
| ICFAI Business School, Hyderabad | 79 |
| Lingaya's Vidyapeeth, Faridabad | 83 |
| Shiv Nadar University | 70 |
Eligibility Criteria for MBA Colleges Accepting Low CAT Score
Many applicants fail to meet the strict requirements set by the best MBA schools in India, even though these schools prefer applicants with good CAT scores. As a result, many business schools in India accept applicants with low CAT scores, knowing that a lower number only partially reveals a candidate's ability or skills. It is known that the best MBA schools in India have admissions requirements that go beyond CAT scores, so several other factors are also looked at.
Some of the different requirements for qualifying are:
The applicant must have an undergraduate degree from a well-recognised university. The total marks earned in a 3-year undergraduate program or an education program equal to 10+2+3 are a big part of figuring out if someone is eligible.
How well a candidate does in group talks, written tests given by the college, and personal interviews are all important parts of deciding if they are qualified for entry.
Many MBA schools look favourably at people with a lot of work experience because they see it as an advantage in the admissions process.
In India, the selection cut-off marks may differ for candidates from reserved and unreserved groups. This makes sure that all candidates have the same chances of getting in.
These broad qualifying requirements let MBA schools look at more than just a candidate's CAT score. They also look at their academic results, skills, and personal traits to get a full picture of their potential. This method helps applicants with poor CAT scores show what they can do and their skills, which opens doors to many B-schools in India.
How do you apply to MBA colleges accepting low CAT exam scores?
There are a few important steps you need to take to make sure you get into MBA schools that accept low CAT scores. People who want to get into these schools should follow this organised plan:
How to Apply to MBA Schools That Take Low CAT Scores
Check your CAT percentile: To find out what your CAT 2022 percentile is, use tools like the CAT percentile prediction, answer key and response sheet. This helps you figure out your status and narrow down the list of good MBA schools.
List your top college choices: Using your CAT score as a guide, list the MBA schools that fit your goals and chances of getting in. Look at each college's MBA admissions requirements and how they choose students.
Learn About the Rounds of Admission: Learn about the rounds of admission for MBA programs, which usually include a Group Discussion (GD), a Written Ability Test (WAT), and a Personal Interview (PI). Get ready for these games the right way.
Track Admissions Dates: Check the websites of your chosen MBA schools regularly to find out when the application window opens for each school. As soon as the application process starts, fill out the form immediately.
The cut-off for CAT Decision: The MBA schools will decide what the CAT cut-offs are for 2022 and only consider applicants who meet these standards. Keep an eye on any changes or messages from the schools about shortlisting.
Take Part in Admissions Rounds: Colleges will call candidates who made the shortlist to invite them to the MBA admissions rounds. You can improve your chances of getting in by doing well in the GD, WAT, and PI rounds.
Final Decision on Admission: The schools will make the final choices on admission based on how well the applicants did in these rounds. Those who are chosen will be sent acceptance offers accordingly.
By carefully following these steps, people who want to get into MBA schools that accept lower CAT scores can plan their way through the admissions process and improve their chances of getting into these prestigious schools.
Top Trending Articles