Indira Gandhi National Open University (IGNOU) is India's famous distance learning university and offers more than 227 courses in different disciplines. Indira Gandhi National Open University was the second university in India to deliver distance learning courses after Dr. B.R. Ambedkar University. With over 227 programs available both inside and outside India, IGNOU is now India's leading distance learning university.
IGNOU july 2023 Session: Registration started; Check out the steps to apply and more. The last date to apply online for this session is 20th October 2023. Click here! Students can apply for various bachelor's, master's, diploma, postgraduate diploma, and certificate courses (both program and honours courses).
What Are the Benefits of Doing M.Com from IGNOU through Distance Education Mode?
IGNOU offers more than 227 courses, as well as more than 30 Master's degree programs, including a Master's in Commerce (M.Com).
IGNOU offers both M.Com and B.Com programs, allowing students to pursue both a Bachelor's and a Master's degree in Commerce at the same place. There are certainly major benefits that you will get after completing the distance M.Com from IGNOU:-
The program provides in-depth knowledge of commerce and business.
Study material is available at IGNOU education portals like eGyanKosh and IGNOU e-content mobile app.
The M.Com degree is valid and valuable across the world.
IGNOU provides an affordable distance M.Com program.
The program is available in both Hindi and English language.
The university helps in providing placement assistance to M.Com students.
In 1985, the Indira Gandhi National Open University (IGNOU) was established under the Indira Gandhi National Open University Act. However, IGNOU is a central university and hence it is run and controlled by the centre. All the distance learning courses of IGNOU have been approved and recognized by the University Grants Commission-Distance Education Bureau (UGC-DEB) and the degrees are also recognized by all the employers.
Also Read | Can I do MCom in Distance Education?
What is the Eligibility for IGNOU Distance M.Com Courses?
In order to accept qualified students, the university establishes entry requirements for each course. To be eligible for admission to IGNOU's M.Com program, a student must meet the following requirements:
Students must have at least a bachelor's degree in any discipline or equivalent.
The bachelor's degree must be issued from a recognized university.
How to Apply for Distance M.Com in IGNOU? – Admission Procedure 2023
Students have the choice of registering both online and offline at the university. Students who wish to enrol in an offline distance M.Com program should visit their regional centre to complete the application process.
Students must apply for the application form, as well as the academic fees and other necessary documents, in the offline mode. Students may apply for admissions in the online mode as well, which is one of the most convenient options since it eliminates the need to visit any regional IGNOU centre.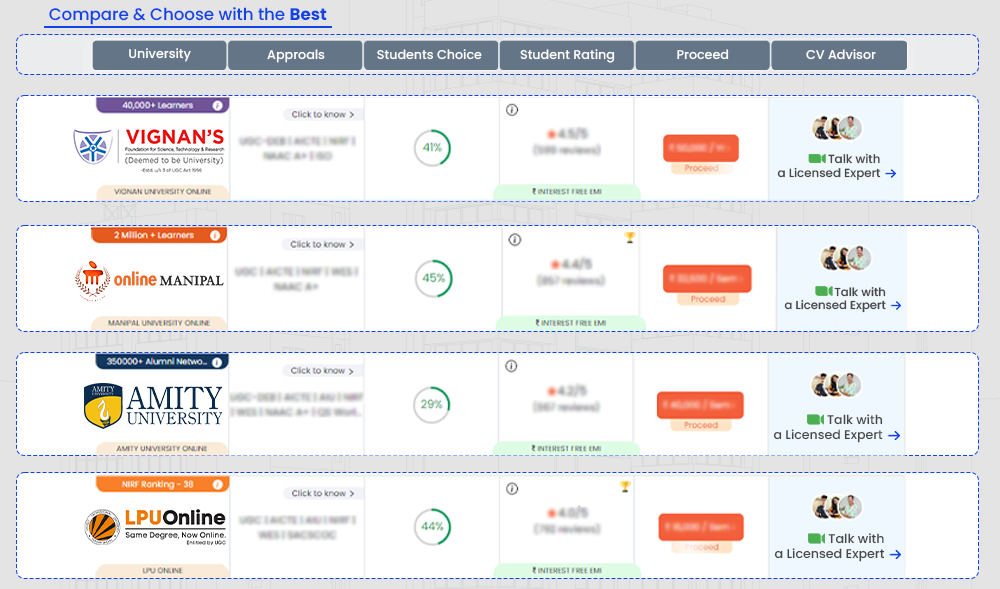 Students simply need to go to IGNOU's official website and fill out the application form. Students need to submit their personal and educational details in the application form along with the necessary documents and fees. Students must use any digital payment method to send their academic fees.
Students will receive a confirmation email with their enrollment number and other information at the end of the process. After checking all of the documents submitted by students, the university will send a confirmation email to them. Click here for the detailed guide!
IGNOU Distance M.Com Fees Structure 2023
The program's fee structure is determined by the program's structure. IGNOU's Distance M.Com program is offered on a yearly basis, and the program's academic fees are often based on a yearly basis.
As a result, students must apply their fees in advance each year either by issuing the bank draft from any scheduled bank in the name of IGNOU or pay in the online mode by using any digital payment method.
The aggregate fee of distance M.Com of IGNOU is Rs. 15,600 and this program fee is to be paid as Rs. 7,800 per year. IGNOU is famous for offering affordable courses to students and makes education accessible to a large chunk of society. Hence, students across the world can take admission in this course without much difficulty.
Also Read | Which university is best for distance MCom?
IGNOU Distance M.Com Prospectus 2023
The university's common prospectus can be found on the IGNOU's official website. On the IGNOU website, students can see the choice for a common prospectus 2023, which they must choose in order to receive the full prospectus, which includes all of the specifics about the courses offered, the fee structure, and the Eligibility Criteria, and other pertinent information.
Students who are willing to enrol themselves in M.Com of IGNOU need to look at the M.Com section of this prospectus in order to scratch the information related to the eligibility criteria, syllabus, academic fee of M.Com.
Students will learn about the university's achievements, noteworthy features, basic facts about the university's programs, eligibility criteria, and IGNOU's online lecture apps, such as the IGNOU e-content mobile app, among other things. Also Read | Highest Paid Jobs In India In Commerce Field
IGNOU Distance M.Com Syllabus
Distance M.Com of IGNOU provides comprehensive knowledge of concepts like trade, business, Finance, International Business, Accounting, and other major concepts of entrepreneurship.
The program distance M.Com is in the yearly mode instead of semester mode. Hence students are going to study according to this curriculum. Get the entire syllabus of distance M.Com of IGNOU in the table below.
| | |
| --- | --- |
| Subjects of 1st Year | Subjects of 2nd Year |
| International Business Environment | Organization Theory and Behaviour |
| International Marketing Management | Research Methodology and Statistical Analysis |
| India's Foreign Trade | Business Environment |
| Export-Import Procedures and Documentation | Accounting for Managerial Decisions |
| International Marketing Logistics | Marketing Management |
| International Business Finance | Financial Management |
Note: The program distance M.Com is available in both January and July admission cycles.
IGNOU Distance M.Com Study Material
Indira Gandhi National Open University (IGNOU) offers both printed and online study material for students who have enrolled in any program of the university. IGNOU makes research resources available to students and teachers on a variety of websites.
Students can access study materials and other program-related information through repositories like eGyanKosh and IGNOU mobile applications like IGNOU e-content mobile app. Students can find enormous options of learning material on the IGNOU mobile application and at the eGyanKosh portal.
Students can use the IGNOU e-content application to access every program's curriculum. Students can access study materials for over 2500 courses on the eGyanKosh portal, as well as the curriculum for the distance M.Com program.
Also Read | How Much an Investment Banker Earns In India?
IGNOU Distance M.Com Placement
In 2005, the Indira Gandhi National Open University (IGNOU) formed a Campus Placement Cell. The placement cell is in charge of all placement-related activities and supports students in finding suitable jobs.
The cell was formed to provide on-campus placements for all students in all courses and to resolve placement-related issues. IGNOU's campus placement cell organizes job fairs, placement campaigns, and other events in regional centers in order to help students improve their employability.
Distance universities like IGNOU motivate students in pursuing their higher studies if they are unable to attend regular college for any reason.
Also Read | Highest Paying Jobs In The World In the Future
IGNOU M.Com Assignment 2023
IGNOU updates its assignment for every academic year and for every course, including distance M.Com. Students can visit the official site of IGNOU and download all the questions of the M.Com assignment from the assignment page. The university timely releases the last date of assignment submission and other instructions along with the assignment questions. Students have to submit their assignments by visiting the concerned regional centre of IGNOU. Students can only appear in the term-end exam if they have submitted all their assignments.
Also Read | Which College Is Best for Distance MCom in Hyderabad?