IGNOU M.Sc admission for the January session opens in February and the June session opens in July. The admission will be taken on a merit basis for the distance M.Sc course. M.Sc or Master of science is a postgraduate course designed for students who want to get advanced knowledge of science and the research field. The course can be joined through distance as well as the full-time mode of education.
IGNOU July 2023 Session: Registration started; Check out the steps to apply and more. The last date to apply online for this session is 30th September 2023. Click here! Students can apply for various bachelor's, master's, diploma, postgraduate diploma, and certificate courses (both program and honours courses).
IGNOU M.Sc Highlights
| | |
| --- | --- |
| University Name: | Indira Gandhi National Open University (IGNOU) |
| University Type: | Central University (Public) Distance Learning |
| Course Name: | Master of Science |
| Basic Admission Criteria: | Merit-Based |
| Application Mode: | Online |
| Scholarship: | Yes |
| Minimum Duration: | 2 Years |
| Maximum Duration: | 5 Years |
| Course Fee: | Rs. 15,600 |
| Minimum Age: | No bar |
| Maximum Age: | No bar |
| Medium of Instructions: | English |
Indira Gandhi National Open University is one of the famous universities for offering distance courses to students. M.Sc is among the courses offered by the distance mode of education. The duration of IGNOU M.Sc is 2 years which can be completed in 5 years. There is a mass competition among students for getting admission to the best college to pursue this course and IGNOU is the best option for them.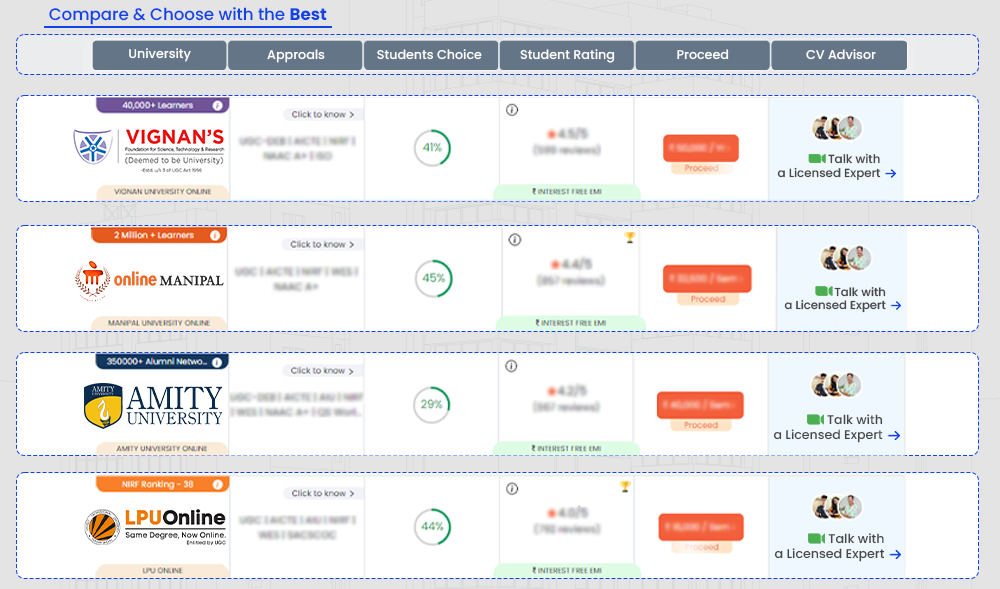 The university provides the best faculty and education to distance students. In this article, we are going to discuss how to get admission to the distance M.Sc course.
What Are the Benefits of Doing Distance & Online MSc Program from M.Tech?
IGNOU has an M.Sc. course in a distance learning mode for interested students. The IGNOU M.Sc, which is based on the UGC-CBCS program, mostly aims to provide higher education, in line with the M.Sc, for graduates seeking employment, advanced higher education, and career growth (including poor students in remote and rural areas).
IGNOU is recognized worldwide in terms of competitiveness and compatibility. The MSc course of IGNOU provides an in-depth program to help you get work in various fields with leading companies. The University Grant Commission and the Distance Education Bureau have both recognized the IGNOU Distance M.Sc course. Therefore, the students have been granted an IGNOU MSc. Read: Distance M.Sc In Mathematics!
The students are qualified for further studies and some positions at various businesses after graduating from IGNOU with M.Sc. The course also helps certain professionals interested in such business activities and who wish to complete or encourage their career by completing their master's degree.
The study materials of the University are also comprehensive in that the course content is produced by the university's specialist faculty under the leadership of business professionals, in order to enable students to learn expertise and skills in compliance with current society needs.
What is the Eligibility & Fee Structure for IGNOU Distance & Online MSc Course?
Eligibility Criteria: The eligibility criteria of the M.Sc course are different for different specializations. Although the general eligibility criterion is that the student must complete a bachelor's degree from a recognized university.
Fee Structure: The fee structure of the distance M.Sc depends on the specializations taken by the student. The fee structure of different M.Sc courses offered by IGNOU are listed below:-
| | | |
| --- | --- | --- |
| Courses | Code | Fees |
| Master Of Science (counseling And Family Therapy) | MSCCFT | Rs. 33600 |
| Master Of Science (Environmental Science) | MSCENV | Rs. 15000 |
| Master Of Science (food And Nutrition) | MSCDFSM | Rs. 32400 |
| Master Of Science (hospitality Administration) | MHA | Rs. 10000 |
| M.Sc (Mathematics With Applications In Computer Science) | MACS | Rs. 26400 |
​
How to Apply for a Distance MSc Course in IGNOU? – Admission Procedure 2023
Step 1: Visit the official site of IGNOU which is www.ignou.ac.in.
Step 2: Click on the option "Register Online".
Step 3: Choose "Fresh Admission" from the drop-down.
Step 4: then, click for a new registration on the next landing page.
Step 5: Then, a student enrollment form will appear on the screen which you need to fill. You have to fill in all the details in the application form correctly.
Step 6: Then, proceed to upload the documents in the application form. Students are required to upload the following documents:
A scanned copy of the photograph
A scanned copy of the signature
A scanned copy of the educational qualification
A scanned copy of the ID Proofs
Step 7: After uploading all the documents students are required to submit their academic fees online.
Step 8: Students will receive an update of payment confirmation on the website after the successful payment.
Step 9: The university will send a confirmation mail to students after the verification of documents and it generally takes 2 months and sometimes less than 2 months.
IGNOU Distance & Online MSc Course Prospectus 2023
The university updates its prospectus on the website timely and students can find all sorts of information in the prospectus related to their curriculum, fee structure, admission procedure, and so & so forth.
Students will find a common prospectus 2023 in the download section of the university where they can browse information related to any course. Read: Why Education Online?
However, management students are advised to check information in the management prospectus because that includes the courses like MBA and PGDM.
Placement After IGNOU Distance & Online MSc Degree
IGNOU offers distance M.Sc in different subjects like Food Nutrition, Counselling, and Family Therapy which can help students in gaining coth societal and employment perspective. The university even helps students in gaining campus placements by organizing placement drives in its regional centres.
IGNOU has its own campus placement cell (CPC) to assist students in getting jobs at reputed firms. Students can approach anyone in the placement cell of IGNOU to take assistance in getting a job anywhere. Read: Best Courses Job Oriented!