M.Tech WILP is a two-year integrated engineering program with four semesters. The full form of this program is the Master of Technology Work Integrated Learning Program. It's one of the most demanding programs after a bachelor's and many students choose this course while their professional work.
Why M.Tech Work Integrated Learning Program (WILP)?
Many working professionals want to make their engineering dreams come true because while working you don't have much time to take regular classes and maintain a work-life balance. There are many reasons for the popularity of this course. Some of them are technical exposure, high salary packages, top-class technical knowledge, and good career growth. So, if you want to make your career in the technical domain, then M.Tech for working professionals will be the best option for you.
There are many specializations provided in this course. Some of them are:
M.Tech in Civil Construction

M.Tech in Electronics and Communication

M.Tech in Computer Science

M.Tech in Embedded System

M.Tech in Mechanical Production

M.Tech in Civil Construction

M.Tech in Mechanical design
One can easily choose a particular specialization based on their area of interest. Every specialization is packed with a specific set of knowledge and skills. The complete program of M.Tech (WILP) is designed to offer top-quality education in the technical domain with theoretical and practical knowledge.
M.Tech for working professionals is completely approved and authorized by the University Grants Commission (UGC) and All India Council for Technical Education (AICTE). The course provides top-level flexibility to the students as students can easily manage their work-life balance along with their professional careers. With M.Tech WILP, you will get career-oriented skills and understanding. These days, candidates prefer M.Tech WILP over general engineering degrees because it provides a perfect platform to advance their careers in a very fruitful way.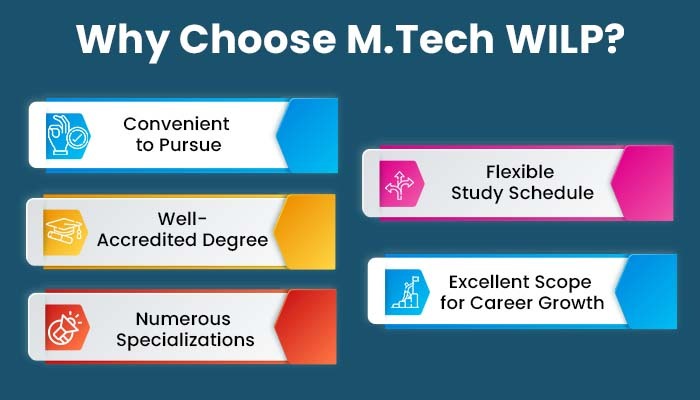 Eligibility Criteria for M.Tech WILP Program
The eligibility criteria for a program are very important for every student who wants to take admitted. M.Tech for working professionals or WILP has its eligibility criteria. Some of the tops are provided below:
Students must have passed 3 years of BE or BTech from a reputed organization.
The last qualifying examination must be UGC and AICTE approved.
Candidates should check whether there is an entrance test for admission or not. However, some universities don't hold an entrance test, while others provide direct admission.
Specialization for M.Tech Working Professionals
M.Tech (WILP) or M.Tech for Working Professionals is offered in various specializations that provide a specific set of skills. Some of the top M.Tech specializations are:
M.Tech Computer Science

M.Tech Mechanical Design

M.Tech Electronics and Communication

M.Tech Civil Structure

M.Tech Embedded Systems

M.Tech Mechanical Production

M.Tech Civil Construction
Fee Structure for M.Tech for Working Professionals
The fee structure for a particular program may vary from the other providing the same degree value because the tuition fee sometimes depends on the popularity and weightage of the course, career and skill-based training, and more. However, if we talk generally about the M.Tech program fee for the WILP program, then we find that the fee ranges between 60,000 to 2 lakh per annum.
You can apply for various types of scholarships and financial aid. Some are provided by the state government while some are offered by the central government. You can also take loans for completing your education at M.Tech for Working Professionals. You can read the prospectus of the university to get more details on the scholarship and financial aid.
M.Tech WILP Admission Procedure 2022-2023
Admission to the M.Tech Work-Integrated learning Program is done through online mode. Candidates need to visit the website of the respective university or institution to where he/she wants to be admitted. The complete admission guidelines are provided below:
First of all, candidates need to hit the Apply Now button. It will be available on the homepage of the website they have opened for fetching details and to take online admission.

Now, candidates need to enter all the details into the registration form there.

After that, students will receive security passwords and login details in their respective mail.

Then, they need to log in with their account and need to fill out the application form as per their desired specialization opted.

Complete all the steps like personal details, academic details, fee payment, and printing of acknowledgment form.

After successful completion of the application form, a successful form submission intimation mail and message will be sent to the candidate.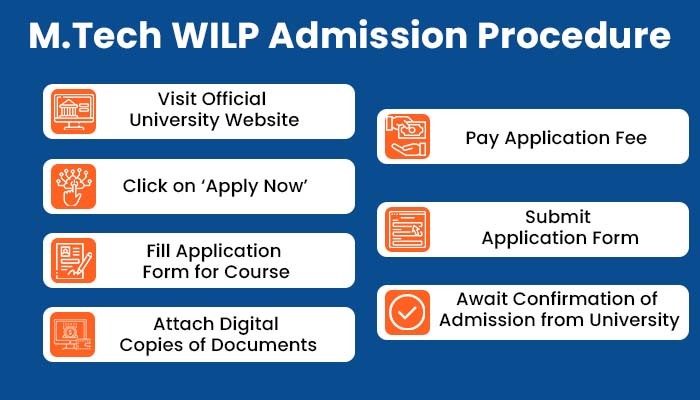 M.Tech (WILP) Entrance Test
The admission procedure for an M.Tech for Working professionals course varies from one course to another. Some private universities take their entrance test and require a GATE score for admission while some take admission on merit for M.Tech for a Working professional course.
There are many government colleges and universities that demand cut-off marks followed by an interview. Both the eligibility criteria help the colleges to prepare the list of qualifying candidates based on the number of available seats. Therefore, it is recommended to check the complete details of the admission criteria and entrance test using the prospectus of the course and the official website of the respective varsity.
Syllabus/Subjects of M.Tech WILP
In every M.Tech degree course for Working Professionals, there are four semesters with two years of duration. In the first semester, candidates need to learn four subjects. In the second, they have to cover four topics. In the third semester of the M.Tech program, learners need to complete electives in all. Finally, in the fourth semester, candidates need to attend dissertation and project training works with company visits. Placement rounds are also done at the end of the program.
Students need to complete all the semesters to be eligible for the award of a degree. The course structure and topics in a particular course will differ from the other because every set of programs provides complete training related to what makes a good engineer.
Top Career Options and Job Opportunities
M.Tech is a career-oriented program that offers multiple benefits to students. Once they complete the course in online mode, they can easily become a good engineer in the particular field in which they have opted. Candidates are offered the highest salary package in the industry with a good reputation. There are many job opportunities arising in the government, private, and PSU sectors.
After completing the course of M.Tech WILP or M.Tech for Working Professionals, students can easily become executive engineers, project heads, and R&D Executives in many organizations.
Candidates can also become good teachers or lecturers if they are interested in the teaching profession in various engineering colleges.
If you are also searching for the best college or university for a bright future, it is recommended to compare online institutions on College Vidya compare portal. It's reliable and convenient and offers tons of offers.
Students get top-quality corporate perks with many benefits because the course helps them get the right platform for their bright future.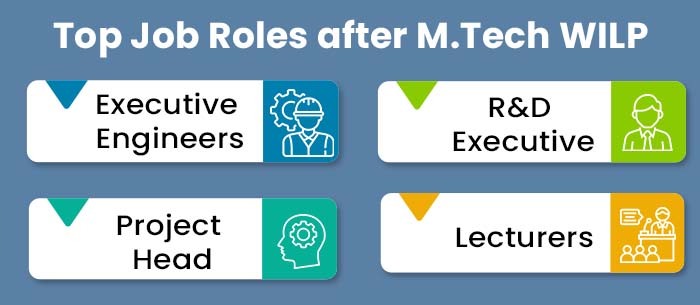 Colleges Offering M.Tech WILP
Many colleges and universities offer top-class education in the engineering domain. Every engineering university needs to be accredited by AICTE and the Ministry of Education to impart their training and education to the candidates. Here, we are providing some top universities that offer M.Tech for Working Professionals: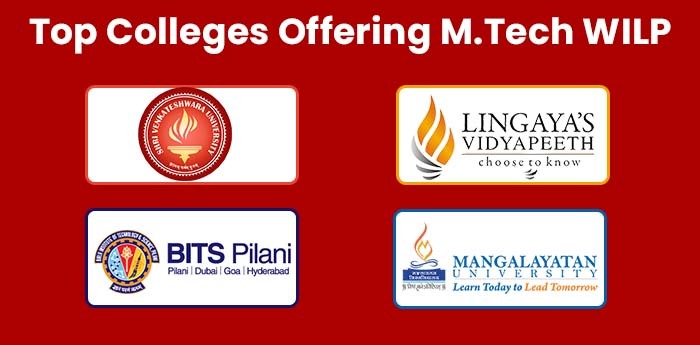 Sri Venkateswara University
SVU or Sri Venkateswara University is one of the highly acclaimed institutions for higher learning located in the Gajraula district in Uttar Pradesh. The varsity provides M.Tech through quality education and training to make working people good engineers. The varsity is AICTE approved and got many accreditations and recognitions like BCI, UGC, and PCI. The mode of education is online blended in which you need to visit the varsity for practical classes only. All other course materials will be delivered online.
The fee for the program is 188200 INR and it's very affordable to pay in installments.
Semesters: There are a total of 5 semesters in all and candidates need to complete the program with all the topics included in the course.
Eligibility Criteria: At least 50% marks in aggregate with a BTech degree or three years of engineering diploma
Admission procedure: online
Lingayas Vidyapeeth
It's a NAAC-approved university situated in Faridabad (Haryana.)The varsity is one of the best that offers good quality education for working professionals too along with the regular courses. M.Tech is one of the best courses you can choose to make yourself a good engineer in a particular specialization.
Approvals: NAAC, AICTE, and UGC
Mode of education: Online
Specializations: Mechanical Engineering, Civil Engineering, Electronics, Communication Engineering, Computer Science, and Engineering
Semesters: 4. Candidates need to complete various topics related to the specialization they have opted for.
Eligibility Criteria: Working people who know BE or BTech with 50% marks in aggregate.
Mode of application: online
BITS Pilani
It's another name in the field of higher learning and quality education. BITS Pilani is situated in Rajasthan and offers many courses. One of them is M.Tech for working professionals. After completing a bachelor's degree, one can easily take admitted to this institution as it is delivered by experienced professionals and teachers. The course prepares the candidates for becoming good engineers in the particular specialization they have opted for.
Details are provided below:
Approvals: UGC, AICTE
Mode of Education: Online
Duration of the course: 2 years
M Tech specializations: Automotive Engineering, Environmental Engineering, Manufacturing Management, Quality Management, Sanitation Science Technology, and management.
Semesters: 4
The fee for the Course: is 260000 INR
Criteria of Eligibility: BE/BTech from a recognized and AICTE-approved institution
Mangalayatan University
This institution is situated in Beswan of Uttar Pradesh. There are many courses offered here. M.Tech provides quality education to working people to make them more skilled for a good future as an engineer.
The course curriculum is very friendly and all of them are delivered by experienced professionals and teachers.
Duration: 2 years
Specializations provided in M.Tech: Civil Engineering, Mechanical Engineering, and Computer Science Engineering
Eligibility Criteria: holding a BTech or equivalent engineering degree with at least 45% in aggregate.
Mode of education: online
Fee structure: 72500 INR annually
Mode of application: online