The online and distance MA course is a PG course that is specially designed for students who want to pursue higher education in humanities after their bachelor's level education but want to do so remotely i.e. either online or in distance mode. There are many colleges that are providing online and distance MA courses. Some of them are IGNOU, the University of Delhi, Chandigarh University, etc.
Online and Distance learning in Master of Arts is the study of Humanities, Arts, and Liberal Arts. If you are interested in studying literature, history, political sciences, psychology, or other subjects related to the discipline of humanities through correspondence in the online or distance mode, then an online/distance MA is the right educational choice for you. This course is cost-effective and helps students from every background to effectively pursue higher education. It can be completed within a budget of approximately INR 20,000 to INR 40,000 if pursued from a government university/institution. If taken up from a private online or distance university, this course can include a total fee of INR 70,000 to INR 1,50,000.
Key Highlights of Online and Distance Learning MA
The online and distance MA course is a PG degree in Arts that is offered in a number of specializations.
The duration for completing the online and distance MA course is 2 years which is subdivided into 4 semesters.
Students don't need to take regular classes for completing the online and distance MA course, as the classes are conducted either through Personal Contact Programs or through virtual lectures.
The MA degree will help you enhance your knowledge and lift up your career and credentials.
The online and distance MA course will give you the time flexibility to learn the subjects of the course at your own pace.
For application to online and distance learning MA courses, students must have a bachelor's degree, preferably in Arts but those from other streams can also apply.
Subjects Of Online/Distance MA Programs
The subjects of online MA vary as per the subject of specialization you choose. In these MA specializations, you get in-depth knowledge of the subjects in addition to both theoretical and field experience. You can check the syllabus of MA specializations at College Vidya by selecting the particular specialization you wish to pursue and explore the curriculum in a span of a few clicks.
Eligibility Criteria Of Online/Distance MA Program
Online MA is a postgraduate-level degree course in which most universities conduct admissions on the basis of their eligibility criteria and that's why students must have proper qualifications to take admission to the program. The eligibility criteria to take admission to the program is as follows:
The candidates must be graduated with a minimum percentage in any stream (ranging between 45% to 50% aggregate marks).
The candidates must be graduated from a recognized university.
Duration Of Online/Distance MA
The minimum duration of online and distance MA courses is 2 years and the curriculum is divided into 4 semesters. Each semester includes both practical and theoretical subjects. The maximum period of completing the course is 4 years.
Admission Process of Online/Distance MA
Here is a short brief to give an overview of the admission process for the online MA course:
Visit the official website of the university to which you are willing to take admission for your online/distance M.A.
Register yourself as a new user and proceed to fill out the application form.
Fill out the application form with the necessary details such as your personal details, academic details, professional details (if any), etc.
Upload the required documents in digital format and submit the form.
In the end, proceed to submit the academic fee.
Then the university will send you a confirmation mail along with the enrollment number after which you will be on-boarded with the university for the course.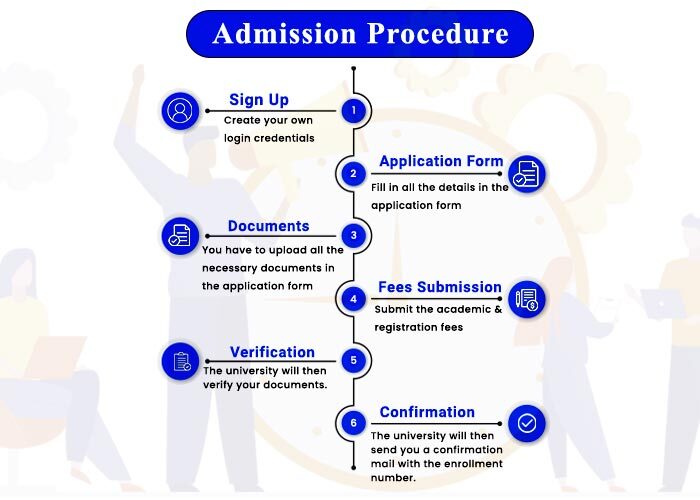 Course Specializations of Online and Distance MA
Job Opportunities After MA Online and Distance Education
There are many job opportunities that students can explore after finishing an online/distance MA course, some of which are listed here:-

| | | |
| --- | --- | --- |
| Teacher | Professor | Archaeologist |
| Editor | Civil Services | Insurance |
| Communications Officer | Journalism | Politics |
| Human resource | Social services | Content Writer |


Conclusion!
A Master in Arts (MA) opens the best career opportunities for students as they can apply for both private and government jobs. Generally, students who are planning for government jobs for posts such as IPS, IAS, Teacher, Lecturer, etc can also apply for the online and distance MA degree as it helps in conveniently managing studies and preparation for entrance exams. That will make it easy for them to prepare for the entrance examination for government jobs.