Polytechnic education equips students with valuable technical skills, laying a strong foundation for their future careers. However, many polytechnic graduates aspire to expand their knowledge and enhance their career prospects by pursuing a Bachelor of Technology (B.Tech) degree. B.Tech after polytechnic offers a unique pathway for these individuals, providing them with diverse career opportunities and opening doors to advanced job roles in various sectors. In this blog, we will explore the wide array of possibilities that await those who choose this educational route.
Overview of B.Tech After Polytechnic
B.Tech after polytechnic or B.Tech Lateral Entry is a three-year undergraduate program designed to offer an extended learning experience to polytechnic diploma holders. It allows them to delve deeper into their chosen field. This program helps bridge the gap between diploma-level skills and advanced engineering concepts, nurturing students' technical acumen and paving the way for a successful career.
The course is for a duration of 3 years instead of 4 because the polytechnic holders are eligible for B.Tech lateral entry admission directly to the second year of the engineering program. This is because the polytechnic course gives students foundational knowledge of engineering with which they can skip the entire first year of the course.
Pursuing a BTech Lateral Entry opens up a world of possibilities for diploma holders. It equips them with advanced knowledge, specialised skills, and diverse career opportunities across industries. Whether in engineering services, IT, manufacturing, research, or construction, B.Tech after polytechnic graduates are well-positioned to excel in their chosen fields. By embracing this educational pathway, individuals can unlock their potential, contribute to technological advancements, and carve a successful career path in the dynamic world of engineering and technology.
Career Opportunities for B.Tech Graduates After Polytechnic
Upon completing a B.Tech after polytechnic, graduates can explore a multitude of career opportunities across various sectors. The diverse skill set acquired through B.Tech after polytechnic programs equips individuals to excel in various roles, contribute to technological advancements, and shape the future of their chosen industries. Also Read: What to Do After BTech?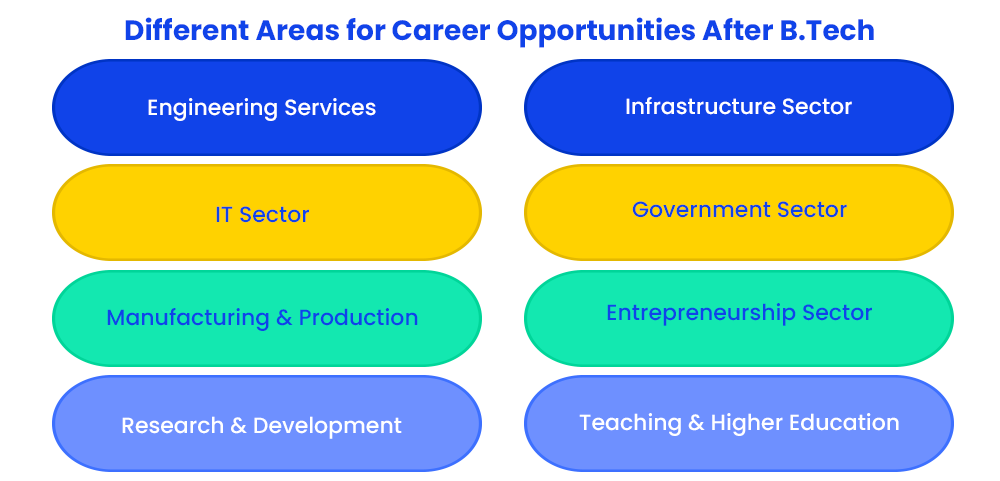 Some of the prominent fields that welcome these professionals include:
1) Engineering Services
B.Tech graduates are highly sought after by engineering service providers. They can work as design engineers, project engineers, or engineering consultants. These roles involve conceptualising, designing, and executing engineering projects, both in the public and private sectors.
2) IT & Software Development
The booming IT industry offers numerous job opportunities for B.Tech graduates. They can work as software developers, systems analysts, database administrators, or IT consultants. With their technical skills and engineering background, they bring a unique perspective to software development and IT infrastructure management.
3) Manufacturing & Production
The manufacturing industry requires skilled engineers for production planning, quality control, and process optimization. B.Tech after polytechnic graduates can find employment as production engineers, quality engineers, manufacturing managers, or supply chain analysts. They contribute to enhancing productivity and streamlining operations.
4) Research & Development (R&D)
Those inclined towards innovation and problem-solving can pursue careers in research and development. B.Tech graduates play a vital role in R&D departments of various industries, exploring new technologies, conducting experiments, and developing prototypes. They can work on cutting-edge projects, pushing the boundaries of scientific and technological advancements.
5) Construction & Infrastructure
Infrastructure development is a thriving sector, offering abundant opportunities for civil engineering graduates. B.Tech after polytechnic graduates can work as site engineers, project managers, or structural designers. They contribute to the construction of buildings, bridges, highways, and other critical infrastructure projects.
6) Government Sector
B.Tech after polytechnic graduates can secure jobs in the government sector through competitive exams and recruitment processes. They can join public sector organisations such as defence establishments, public works departments, research laboratories, and engineering services in government agencies. These roles offer stability, attractive remuneration, and opportunities to contribute to the nation's development.

7) Higher Education & Teaching
For those inclined towards academia, B.Tech after polytechnic graduates can pursue higher education and teaching careers. They can enrol in master's or doctoral programs, specialising in their field of interest. They can become professors, lecturers, or researchers in engineering colleges, polytechnics, or research institutions. Teaching roles offer the chance to share knowledge, mentor students, and contribute to the next generation of engineers.
8) Entrepreneurship
B.Tech after polytechnic graduates can leverage their technical skills and entrepreneurial spirit to start their own ventures. They can establish engineering firms, IT startups, or consulting agencies, offering specialised services to clients. Entrepreneurship allows individuals to showcase their innovative ideas, take risks, and build successful businesses.
Job Roles & Salary
Pursuing a B.Tech program after polytechnic enables professionals to take up advanced job roles with greater responsibilities and higher remuneration. As they gain expertise in their respective fields, they can aspire to positions such as the ones described in the table below.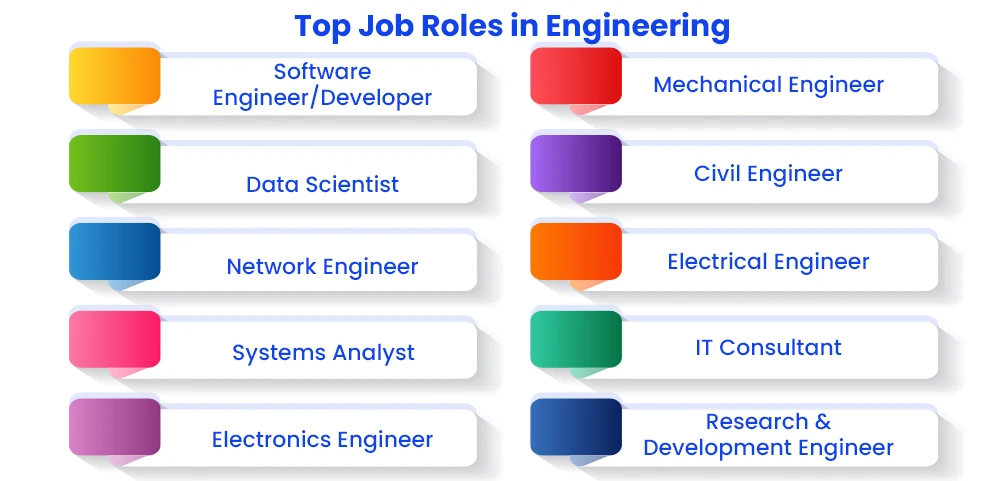 | | | |
| --- | --- | --- |
| Job Role | Job Description | Average Base Salary |
| Software Engineer/Developer | This is one of the most popular job roles for B.Tech graduates in India. Software engineers or developers are responsible for designing, coding, testing, and maintaining software applications. They work across various domains such as web development, mobile app development, software testing, and software maintenance. | INR 6-10 LPA |
| Data Scientist | With the rise of big data and analytics, the demand for data scientists has significantly increased. Data scientists use their technical skills and statistical knowledge to extract meaningful insights from large datasets. They analyse data, build predictive models, and develop data-driven strategies to solve complex business problems. | INR 9-12 LPA |
| Network Engineer | Network engineers are responsible for designing, implementing, and managing computer networks within organisations. They ensure the smooth operation of network infrastructure, troubleshoot network issues, and implement security measures to protect data and systems. | INR 3.5-6 LPA |
| Systems Analyst | Systems analysts bridge the gap between business requirements and technology solutions. They work closely with stakeholders to understand their needs and translate them into technical specifications. Systems analysts analyse existing systems, propose improvements, and oversee the development and implementation of new systems. | INR 6-9 LPA |
| Electronics Engineer | Electronics engineers work in various sectors, including telecommunications, consumer electronics, and automotive industries. They design and develop electronic circuits, components, and systems. They also conduct testing and troubleshooting to ensure the functionality and efficiency of electronic devices. | INR 4.5-7 LPA |
| Mechanical Engineer | Mechanical engineers are involved in the design, development, and maintenance of mechanical systems and equipment. They work in industries such as automotive, manufacturing, energy, and aerospace. Mechanical engineers are responsible for designing machines, analysing prototypes, and optimising production processes. | INR 4-8 LPA |
| Civil Engineer | Civil engineers play a crucial role in the construction and infrastructure sectors. They design, plan, and supervise the construction of buildings, bridges, roads, and other infrastructure projects. Civil engineers also ensure compliance with regulations, perform site inspections, and manage project budgets and timelines. | INR 4-7 LPA |
| Electrical Engineer | Electrical engineers work with electrical systems and equipment. They design, develop, and maintain power generation, transmission, and distribution systems. Electrical engineers also work on projects related to renewable energy, electrical machinery, and automation. | INR 4-7 LPA |
| IT Consultant | IT consultants provide expert advice to organisations on technology-related matters. They analyse business requirements, evaluate existing systems, and propose solutions to improve efficiency, security, and productivity. IT consultants also assist in technology implementation, change management, and IT strategy development. | INR 10-14 LPA |
| Research & Development Engineer | Research and development (R&D) engineers are involved in innovation and product development. They work in industries such as pharmaceuticals, automotive, and technology, conducting research, designing experiments, and developing prototypes. R&D engineers contribute to the advancement of technology and bring new products to market. | INR 6-9 LPA |
It is important to note that the job market and demand for specific roles may vary over time. It is advisable for B.Tech graduates to stay updated with industry trends, acquire relevant skills, and pursue internships or certifications to enhance their employability.
If you have completed your polytechnic diploma and are now thinking of pursuing B.Tech to expand your knowledge base, then one of the best ways is to gain knowledge and real world exposure at the same time. You can do so with the help of a work integrated learning program like a B.Tech for working professionals course.
B.Tech for Working Professionals After Polytechnic
A B.Tech for working professionals program is an educational program specifically designed for individuals who are already employed or have work experience but wish to pursue a Bachelor of Technology (B.Tech) degree. However, some universities offer the course to unemployed polytechnic diploma holders as well. It is structured to accommodate the schedules and commitments of working professionals, allowing them to continue their education while balancing their professional responsibilities.
These programs are often offered by universities or institutions of higher education and are designed to provide flexibility in terms of class timings and course delivery formats. They typically include evening or weekend classes, online learning options, and condensed course schedules to accommodate the needs of working individuals.
The curriculum of these programs is often tailored to the needs of working professionals, focusing on practical knowledge and skills that can be applied directly in the workplace. The coursework may include advanced topics, industry-relevant projects, case studies, and opportunities for hands-on learning.
By pursuing a B.Tech for working professionals program, individuals can enhance their technical expertise, expand their career opportunities, and acquire the necessary qualifications for higher-level positions in their respective fields while continuing to work.
Top Specialisations for B.Tech for Working Professionals After Polytechnic
B.Tech programs offer a wide range of specialisations across various engineering disciplines. The choice of specialisation depends on individual interests, career goals, and the demand in the job market. Most importantly it depends on the subjects you study during your polytechnic diploma course.
This is because B.Tech for working professionals is a B.Tech lateral entry program where students skip the first year of engineering. So it is essential that the students have foundational knowledge of the specialisation that they are pursuing in their B.Tech for working professionals program.
While it's challenging to identify the "top" specialisations definitively, here are some popular and in-demand specialisations for a B.Tech program:
Top Colleges for B.Tech for Working Professionals After Polytechnic
B.Tech for working professionals is not just another regular program, it is a specialised program and so you must be really careful while choosing a university to pursue this course. It is very crucial to select a recognised and government approved university because if the university is not government approved, then your degree will not be valid.

Some of the top government approved universities that offer the B.Tech for working professionals program include:
BITS Pilani WILP
Apex University
Mangalayatan University
Mewar University
Top Trending Articles
Conclusion
Career after a B.Tech for working professionals program is definitely gonna help you reach heights in your career. A good university becomes a really important factor in this career journey of yours. Especially when you talk about a B.Tech for working professionals program, it becomes crucial to see if the university is good enough or not.
Sometimes a university is approved by the government to offer regular courses but not part-time courses. To avoid such universities, you will need thorough research. To save time and the hassle to find an approved university, you can just visit College Vidya. It is an online platform that has listed only approved universities on their portal and there are details about all the approved online/distance universities along with the courses that they offer. The content on this portal is authentic and has been gathered after extensive research.
The best feature on the portal is that there is a compare tool using which you can compare several universities for a particular course. This will save you a lot of time and the hassle of surfing through several different websites to gather information. You also get the facility to connect with academic counsellors who will guide you with unbiased opinions regarding your course and the universities available for you. On this portal, you will also find the direct link to the official website of the university. In all, College Vidya is a one stop solution for all your university admission related needs.