In rural areas, people face a variety of problems associated with the education system, healthcare, and many more. The major problem that is associated from the old times and present till now is the efficient healthcare services and their providers.
There is a lack of healthcare providers in rural areas. People in rural areas had to travel miles away from their homes to get basic medical treatment. This sometimes becomes serious in case of emergent situations, when no one is present there to give primary health care services.
So, for solving this problem our Supreme Court of India has given validity to a course that is CMS & ED. It is an 18 months diploma course divided into 3 semesters. This course is specially designed for training people to impart primary healthcare services for common ailments in rural areas. It has provided accreditation to those who want to serve the people through medical services. The CMS & ED has proved to be a blessing for rural people in terms of necessary medical requirements.
The question here arises what is CMS & ED, how it helps people to impart primary healthcare services in rural areas, where can we pursue this course, what is the eligibility, and many more? So let us find out the answers to all of our questions in this blog.
What is CMS & ED? - Full form of CMS & ED
The CMS & ED stands for Community Medical Service and Essential Drugs. The name very specifically implies the meaning of the course. The term CMS stands for "Community Medical Service" which clearly implies a medical service that is for a community of people i.e. our rural community. Another term ED stands for "Essential Drugs" meaning an individual after pursuing this course should have knowledge about the essential medication required to treat basic-level diseases.
The word CMS ED stands for Community Medical Services – Essential Drugs. It is generally a diploma course of about 18 months that is usually divided into 3 semesters. It is mainly for those who want to serve rural people in terms of medical services.
The individual who pursues this course can become a primary healthcare provider in rural areas. They can open their own primary healthcare center, give medical assistance, and prescribe medicines to people recommended by World Health Organisation (WHO).
The advantage that this course provides is that if you wish to pursue a career in medicine then you can pursue it without doing the whole MBBS struggle. For doing an MBBS, we must first clear tough entrance exams and then enroll in the college and complete a 5-year-long course. But in CMS & ED, there is no hustle of clearing entrance exams and long-year course duration. Although this does not mean that this course is equivalent to the MBBS degree course, it provides exposure and accreditation if you want to serve medical services to people.
Explorer Some Other Diploma & Certificate Course
CMS & ED Courses-Eligibility, Curriculum, Scope, and much more
CMS & ED is a diploma course of about 18 months or we can say 1.5 years for individuals who want to serve people in rural areas with regard to healthcare services. It is majorly a course for individuals who want to open their own first-aid treatment center or impart primary healthcare services to the people around them.
It is beneficial for those who don't want to pursue a full-time MBBS degree but want to serve people through the medical profession. This program majorly trains people in the basics of medicine, first-aid treatments, treating basic infectious diseases, etc.
If serving healthcare services to the people is the thing that interests you, then this course is definitely for you. This program will not only help you learn about the basics of medicines and the treatment of diseases but also help you in becoming certified and accredited professional.
Key Highlights of CMS & ED Diploma Programs
Particulars
Details
Course name
CMS ED stands for Community Medical Service and Essential Drugs
Course Level
Diploma Level
Course Duration
18 months usually divided into 3 semesters
Mode of Education
Online Mode
Eligibility

Passed 10th or 10+2 with any discipline from a recognized board of education.
Along with 1 or 2 years of work experience in the relevant field.

Course Fee
Approx Rs. 50,000-Rs. 60,000
Approvals
UGC, MCI, INC, and PCI are some mandatory approvals required for this course.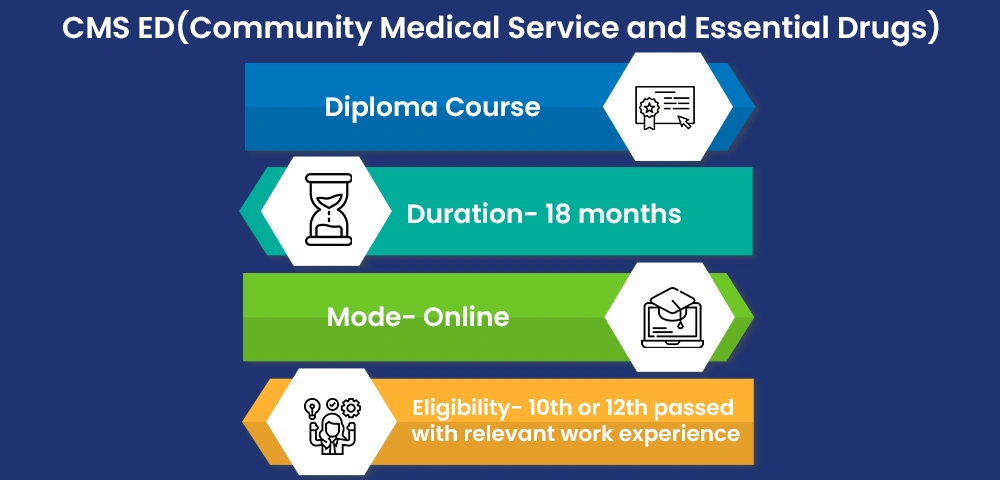 Eligibility Criteria for CMS & ED Diploma Courses
If this course interests you then you must know about the eligibility criteria for doing this course. These are-
The minimal eligibility is that candidate must be at least 10th passed for doing this course.
12th-passed candidates are also eligible for this course.
Relevant work experience is required for doing this course i.e. in case you are 10th passed then 2 years of work experience is required in the relevant field and in case you are 12th passed then 1 year of work experience is required in the relevant field.
Any specific stream specialization is not required for this course.
Duration of CMS ED Diploma
As we know that it is a diploma course of short duration, so the duration of the CMS & ED course is of about 18 months or 1.5 years.
These 18 months are usually divided into 3 semesters of about 6 months each.
In the first 2 semesters, you learn about the basics and grab the acquired skills needed for this course.
In the last semester, the student had to undergo an internship of about six months for acquiring and becoming professional in the practical applications of this course.
Explorer Some of Our Recent Articles
CMS & ED- Mode of Education
This course is for those who have relevant work experience in this field as mentioned above. That means this course is strictly for working professionals in this field. So for working professionals, the best mode of education is online learning.
But what about the practicals how we can learn the practical applications of this course online?
And that is why this course is provided in a blended format. This means that this course is provided in a hybrid learning format that is both offline and online sessions. The theoretical knowledge is acquired through online mode by the candidates and practical knowledge is acquired through offline practical sessions.
Academic Fees of CMS & ED Course
The academic fee for this course usually ranges from Rs. 50,000- Rs. 60,000 including registration fee, tuition fee, etc.
This is the total fee that is mentioned above, the per semester fee is about Rs.20,000 (Approx).
Candidates can pay the fee in one go or even can pay in breakup mode like semester-wise payment.
Those who want to pursue this course can also pay the fee through easy EMI options. These options are available by several universities.
Detailed fee descriptions can be different depending on the university offering the course.
CMS & ED Course Syllabus and Curriculum
The individuals will learn about the basics of human anatomy and physiology and mainly about the science of drugs, their reaction to the body mechanisms, and their application in the treatment of various diseases. The course curriculum is divided into 3 semesters each of 6 months. The first two semesters are theory-based learning and the 3rd-semester internship offered is practical-based learning. Let's learn in detail about the curriculum of this course-
Semester I Subjects

Detailed Syllabus

Anatomy and Physiology

Introduction
The Cell
The Tissue
Organs and System
Skeletal System
Joints of the Skeleton
Blood
Lymphatic System
Cardiovascular System
Respiratory System
Urinary System
The Muscular System
The Physiology of Muscle
Central Nervous System
Autonomic Nervous System
Organs of Special Senses
Skin and Regulation of Body Temperature
Digestive System
Endocrine System
Reproductive System

Pathology

General Pathology
Systemic Pathology
Infection
Clinical Pathology
Introduction of Microbiology

Community Health and Hygiene

Concept of health disease and prevention
Nutrition and balanced diet
Communicable and Non Communicable disease
Health Education and Personal hygiene
Occupational Health and Hazard
Human Sexuality

Pharmacology

General Pharmacology and Definition
Pharmacy-Source of the Drug
Form of drugs
Route of administration
Various types of drugs –Classification
Dose definition, minimum and maximum dose, calculating of dose
Injection –definition, the purpose of injection, common dangers of injection
Different routes of Infusion
Infections-Definition
Sterilization –Disinfection
Methods of Transmission Diseases
Immunization-Definition, Bacteria types, Different viruses
Definition of toxicology, General Principal of Clinical Toxicology
Classification of Poisons, General treatment of Poisoning

Semester II Subjects

Detailed Syllabus

Medical Jurisprudence

Criminal Courts in India
Indian Legal System
Procedures in Court
Medicals Ethics
Injuries
Rape, Indecent assaults, Battery
Medical Examination and Consent

Obstetrics and Gynaecology

Obstetrics - a) Antenatal Care b) Safe Delivery c) Postnatal Care
Gynaecology - Common Diseases
Family Welfare - Family Planning Methods (Temporary & Permanent)
Sterility: Investigations of Sterility, Failure of Sterility & What is Sterility?
Reproductive and Child Health [RCH]
National Family Welfare Programme
Complications of Pregnancy
Complications of Labor

Practice of Medicine

Communicable diseases: Prevention, Control, and Treatments
Nutritional Deficiency diseases
Hormonal diseases
Home remedies
Home nursing
Drug addiction
Mental diseases and Introduction of Psychology

Primary Health Care

Sterility and Infertility
Temporary and Permanent Contraception
Common Viral and Bacterial Infection
Primary Health Care
First Aid and Referral
In the 3rd semester the student will be required to complete an internship to excel in their skills learned during the course. These internships are usually offered by the universities in which the student is enrolled.
CMS & ED Program Scope
"Necessity is the Mother of Invention" we all know this phrase correctly, so what does this phrase state? When there is a critical situation that needs to be solved, at that time birth of innovative solutions takes place.
So, here is the problem that rural area people are facing, the lack of effective primary healthcare services in their area, the accessibility of effective medical services in rural areas, and also the need for efficient medical professionals in rural areas. And, the solution that has been invented due to this necessity is this course i.e. CMS & ED. This course has been validated by our Supreme Court of India for training individuals to become a professional in imparting medical services, providing medical assistance, and opening their primary healthcare centers.
After completion of this course, an individual becomes an accredited, approved, and recognized medical professional. This course also enables individuals to open their primary healthcare or first aid centers in rural and semi-urban areas especially. Post completion of this course an individual can treat basic ailments and also prescribe drugs recognized by WHO (World Health Organization). Individuals get job opportunities that are available in both private and government sectors.
Approvals Required for CMS & ED Programs In India
For pursuing a course some necessary university approval should always be checked by the student to prevent oneself from fraud.
But in the case of technical, medical courses, and some specific domain courses a set of different approvals should also be checked otherwise your degree will not be marked as accredited and valid.
So for CMS & ED courses, a set of approvals and recognition is required if not present then the degree will not be valid as per the norms. These are-

University Grants Commission (UGC) approved
Pharmacy Council of India (PCI) approved
Medical Council of India (MCI) approved
Indian Nursing Council (INC) approved
UGC-DEB (Distance Education Board) approved
Association of Indian Universities (AIU) approved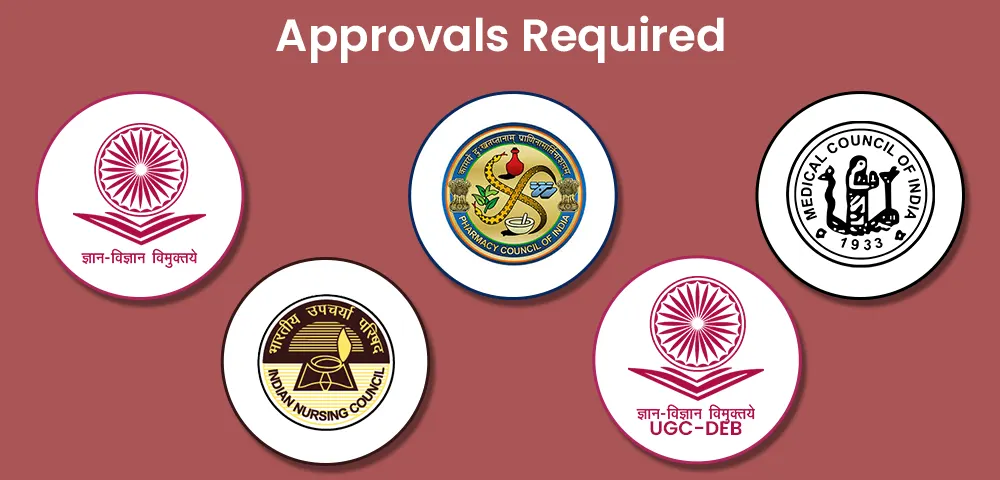 Explorer Some Career Oriented Article
Why CMS & ED?
An excellent question isn't it why this course, why don't we pursue a regular medical program course instead of this? Does this course have several benefits that make this course more eligible to choose over the others? So, the answer is yes this course has various benefits that make it stand apart. Let us know in detail about these benefits-
Short Duration: Though we know that this course is of about 18 months, we can say that it's the shortest duration course for becoming a trained professional in the medical industry. The other courses' duration usually ranges from around 3 to 5 years minimum. So it could be a benefit for those who want to skip this long duration of time employed in completing a course.
No specific stream specialization: For pursuing this course individuals do not require any specific stream specialization like in many medical courses the main eligibility is that the individual should definitely be from a science background, especially a biology background. But this is not the case with the CMS & ED course.
Allopathic Medicine Specialization: This course specifically trains individuals about diseases and their treatments through the use of several essential drugs. The individual pursuing this course will become specialized in the branch of allopathic medicine. That's why individuals who have specialized in the homeopathic branch can also pursue this course in order to gain another medical specialization.
Approved Medical Professional: The major benefit that this course provides is that it accredits a person to become an authorized and approved medical professional. After doing this course one can become a medical professional who can give people medical assistance, open medical aid centers, and much more.
Primary Healthcare Centers: The major problem that is faced in rural areas is the lack of healthcare centers and medical professionals. So this course provides a solution to this problem that is if someone pursues this course one can open their own primary healthcare centers in rural and semi-urban areas.
Learn while Earning: The main eligibility of this course is that one should be a working professional in the relevant field, so it provides an opportunity to learn while earning. While pursuing your profession you can make a career in this field and upskill yourself with this course.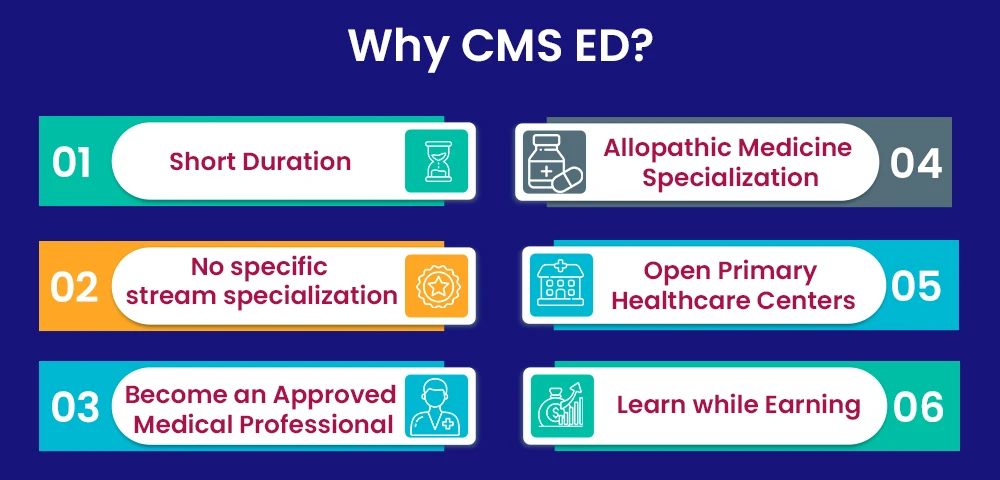 How to Apply for CMS ED Course?
If you are interested and find yourself eligible for this course so, for applying to this course one need to follow some set of steps as mentioned below:
Register Yourself: First register yourself on the respective university website simply by entering some required information that is required. After this, the login credential will be sent to you through the respective contact information provided, use this login credential to complete the entire application process.
The Application Process: Let's start the application process by entering your login credential. Fill out the application form and provide accurate about the information asked. Don't provide any wrong information otherwise, the chances of getting admission canceled might be increased.
Documents Upload: After providing all the requested information, the documents and other things should be uploaded in the required format and size as mentioned in the form.
Submission of fees: After filling out the application form carefully review all the details and submit the required fee as mentioned.
Admission Confirmation: After the process, the specific university will check and verify the information provided along with the documents uploaded. And following a successful verification, the university will send you an email confirming your acceptance, along with all other pertinent details you'll need for the duration of your academic journey.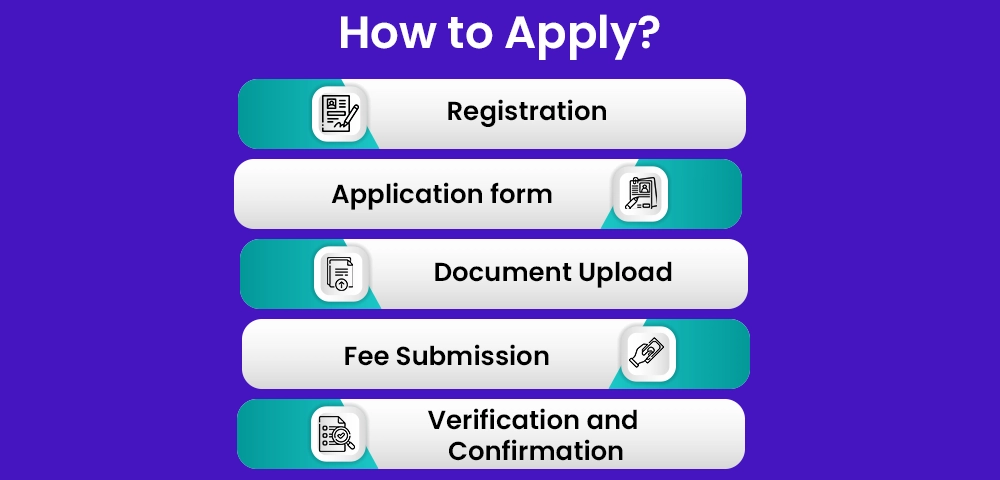 Universities Offering CMS & ED Courses In 2023
Various university scams are going on under CMS & ED courses:
Currently, various frauds and scams are going on regarding this course. Like various institutes and NGOs are claiming that they are offering approved and accredited courses. But that is so not true as this course is provided by only several universities only the degree of those is valid. Doing this course from any other unrecognized university is invalid and illegal, it will not help you in becoming an accredited medical professional.
So the question arises where to pursue this course from?
Only UGC-approved universities are eligible to offer this course. So don't become a victim of this scam be alerted and check all the information about the university before enrolling in this course. Still confused about where to do this then check the CollegeVidya portal to find and compare the best and approved universities for this course.
The valid and authorized university that provide valid CMS & ED course is-
Shri Venkateshwara University(SVU)
SVU is a state-private university established in the year 2010.
It is situated in the state of Uttar Pradesh.
It offers various courses in hybrid mode a combination of distance and online.
It provides the student with placement assistance and also assists them financially by providing them with EMI or loan facilities to submit the course fee.
It offers 18 months of CMS & ED courses in the hybrid format.
Approvals: UGC, MCI, INC, PCI, BCI, Govt of UP approved
Education Mode: It offers the courses in a blended format of learning that is distance and online.
Learning Management System(LMS): The LMS of SVU is upgraded with the latest technology onboard that helps smooth the educational learning journey of the student. Some of the features are:
Live Classes
Learning in blended format
Practical sessions for practical-oriented courses
Like for CMS & ED courses, online sessions are conducted for completing the theoretical part but offline sessions are conducted for completing the practical sessions.
Offline and virtual labs are available for student accessibility.
CMS & ED Course Fee in SVU: A total of Rs. 60,000/- is charged by this university for this particular course. This fee includes all things that are a registration fee, examination fee, tuition fee, etc.
Possible Job Opportunities
If you are interested to work in this field, there are several job opportunities available to work after the successful completion of this course. Some of these are mentioned here:
| | |
| --- | --- |
| Community Health Worker | Rural Medical Officer |
| Generic Medicines Allopathic Practitioner | General Physician |
| Assistant Pharmacist | Primary Health Care |
| Emergency Health Physician in Rural Areas | Assistant Doctor |
| Dietician | Health Physician |
Conclusion
At last, I could say that CMS & ED is a great changes in the field of community services and medical industry. But also inform all the readers that don't compare this course with the strict MBBS degree course as this course is not equivalent to this. Always check the approvals if want to pursue this course otherwise will become a victim of the scam going on nowadays due to a lack of awareness among the people around you.