What Is Upskilling? Meaning, Importance & Courses [2023]
Jan 30, 2023 1.6K Reads
In a world that is continuously evolving and where technologies and newer innovations are taking up an ever-important role in virtually every domain of our lives, it has become essential to acquire new skills and refine our existing skills and competencies. Upskilling yourself is rooted in the idea of lifelong learning through which a person goes through a continuous process of education.
If you are wondering about how upskilling and reskilling are beneficial to your personal and career growth and how you can work towards achieving it successfully in today's productivity-driven world, then this blog will clear all your doubts!! Continue reading to find a detailed guide about effectively upskilling yourself below.
What is Upskilling? Definition of Upskilling
Before one begins the quest of upskilling, it is essential to know what upskilling actually is. In the simplest terms, upskilling can be defined as the process of a person learning new skills pertaining to an existing area of knowledge.
So for example, if you are an enthusiast of computer coding, and you take up an educational course to learn a new coding language like Python, then you are engaging in upskilling because you already have some knowledge and understanding of computer coding knowledge and are now learning newer skills related to it.
What does Upskilling Mean?
So, from the above definition, it can be understood that upskilling is the process involving the acquisition of new skills and knowledge in an area. But the meaning of upskilling as the term is frequently used today, covers a larger perspective than individual learning.
Often in the professional context, upskilling is used as a term to define learning of new skills and competencies by an employee which is required to perform their current job responsibility efficiently.
For instance, many companies may provide their employees with access to a number of free technical courses in the relevant domain so that employees can pursue those courses and enhance their existing skills and knowledge to perform their work responsibilities more efficiently.
So, understandably, upskilling is an extremely important process in today's professional world, as it is crucial to enable employees to keep on upgrading themselves to efficiently perform their job and be an asset to their company.
Levels of Upskilling for a Professional
Learning is a continuous process that starts from directed instruction for students and continues until the end of one's life. Upskilling has a similar role to play in one's life. It can start at the most basic level when an individual decides to learn a new topic in their area of interest. In the context of professional upskilling as well, one can focus on personal and individual upskilling to become better equipped to handle one's job or one can take on a company-provided skill and training program to grow one's expertise in that area.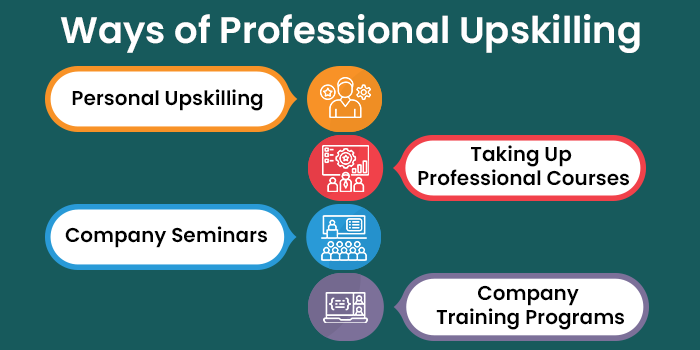 Upskilling can be considered to operate at the following 3 levels or domains:
1) Personal Upskilling: In many instances, an individual can be personally motivated to upskill themselves in order to be better equipped at handling their job responsibilities. The motivation behind this could be to simply learn and be more knowledgeable in the relevant area, or to be able to handle one's existing job responsibilities better or to be able to explore better professional opportunities.
With the wide variety of available options for education and learning today, whether online or offline, you can effectively grow your skills and knowledge in the area of your interest.
2) Job-Oriented Upskilling: In some cases, a company may provide support features to its employees in the form of free access to upskilling courses and programs. This can be done from the company with the aim of allowing the employees to enhance their knowledge base and effectively put it to use in the job they are performing.
Sometimes, an employee may voluntarily take up some form of upskilling course or training to be able to perform the job better.
3) Company-Supported Upskilling: This is the type of upskilling that is involved when a company adopts a newer system of functioning or introduces some new technology in their operations which requires the employees to mandatorily upgrade themselves in order to adopt the new system of functioning and working.
In this case, the company often arranges for various seminars and sessions with industry experts, mass employee training sessions and training periods which allow the employees to take up and acquire the skills efficiently over time. This type of upskilling is becoming very common today as more corporate companies are shifting to new technologies, softwares and equipment for smoother functioning and company operations.
Upskilling and Reskilling
Upskilling and reskilling are two common terms that are often used interchangeably. However, these are two distinct terms and processes. Here we have broken down the same for you with examples.
Upskilling refers to acquiring knowledge and skills in an area of work in which a person usually has some prior expertise. So, as the name "up"-skilling suggests, it involves growing one's skills in that particular area and enhancing those skills from time to time.
For example, when an accountant trains themselves by acquiring skills about using a new accounting software being introduced by the company, it will be an instance of upskilling.
Reskilling refers to a process where typically an employee learns entirely new skills which help them to function and handle job responsibilities in a new area. So, in the case of "re"-skilling, a person acquires new skills in a previously unknown area to handle work responsibilities in a new domain.
For example, if an accountant of a company is being trained by the company to learn about a book-keeping software for employee grievances (job role in the domain of HRM), then it will be an example of reskilling.
Therefore, the major difference between upskilling and reskilling is that the former involves growing one's existing knowledge and skills while the latter involves acquiring new skills altogether.
Examples of Upskilling and Reskilling
Some examples of upskilling include:
Apprenticeship:

This involves a person working and learning under a mentor to acquire new insights, knowledge and skills in a particular job area. This is an example of upskilling because the apprentice typically has some prior knowledge and understanding of the domain in which they are seeking further skilling.
Pursuing Certificate, Diploma and Degree Programs:

When you choose to pursue a degree, diploma or a certificate course in a domain you already have some expertise in, it is an example of upskilling since it allows you to gain greater skills and knowledge in that domain.
Company-Supported Training Programs:

In the case when a company/organisation adopts new technologies and operative tools and logistics, it provides employees with company-supported training and upskilling programs that allow them to acquaint and adjust to the new operations and working of tools and software.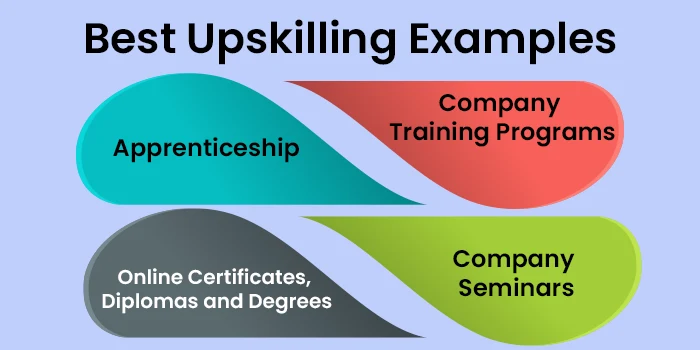 Some examples of reskilling include:
Job Rotation:

This is one of the practices followed in many companies to enhance their agility of the workforce and diversify their areas of expertise. In a job-rotation system, employees experience a periodical shift in their job responsibilities and manage different job roles over different periods. This allows them to not only understand the job roles and functioning of the other teams and departments but also gain new skills and knowledge about them so that they can handle the job responsibilities in case the situation arises.
Job Expansion:

As companies grow and adopt newer technologies and software, in some cases it may result in job expansion of certain job roles, which means new job responsibilities get added to an already existing job position in a company. In such a case, an employee may need reskilling to get trained in those work areas and perform them efficiently.
Change of Job Role:

In case the job role of an employee in an organization changes due to reallocation or shifting of departments, the employee would need to be reskilled in the new job domain to be able to fulfill the job responsibilities efficiently.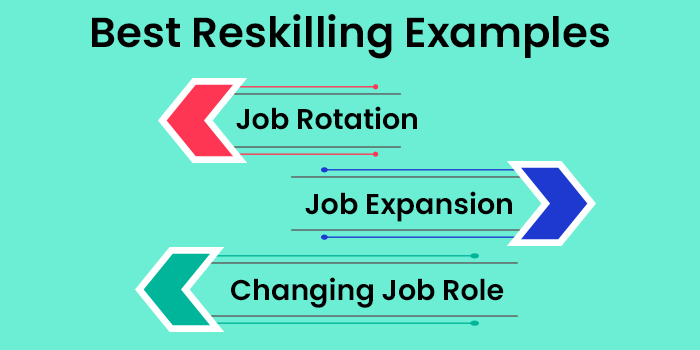 Upskilling Top Courses
In today's world, where the landscape of professional work is shifting each day, students and working professionals must continuously upskill themselves to stay updated with the relevant changes in their fields. Moreover, with the vast variety of options and career domains available today, you should choose the upskilling course which is best suited to meet your academic and career needs.
Here we have listed some of the top ways to upskill through various courses for you.
Online Certification Courses
These are one of the best ways to grow your skills in specific areas today. Online Certification courses are short-term, focused on a specific area of study and convenient for both students and working professionals to pursue. With the advent of the internet today, one can find a large number of short-term certification courses in the online mode in their area of interest.
These courses, when pursued from a recognized university/academy/online learning platform, are usually taught by experts in the fields who have comprehensive knowledge and experience in their domains. Added to that is the flexibility of learning that accompanies a fully online course.
You can learn and complete the course at your own pace, study at the hour you are comfortable in, and continue working or pursuing other engagements alongside upskilling yourself.
You can find a number of short-term as well as detailed online certification courses after 12th with integrated theoretical and training facilities on College Vidya. College Vidya curates the top online certification and upskilling courses in highly demanded and popular areas like management, data science, IT, digital marketing and so on.
Online Diploma Courses
Online diplomas are one of the top options for upskilling today especially when it comes to getting a qualification credential for higher education but with limited time to devote to the course. A diploma course in the area of your interest will acquaint you with the knowledge in the core areas of the subject. However, it is relatively shorter than a full-fledged degree course.
An online diploma can be a great option for students and working professionals who wish to upskill themselves and get a valid credential for it for the future. Online diploma courses are sufficiently flexible in the learning mode, they incorporate various lectures and training activities to ensure holistic learning as well as do so in a shorter period of time.
Online Diploma Courses to be pursued after grade 10, after grade 12 or after graduation in the form of Post-graduate diplomas, are available which are offered by renowned universities and educational institutions these days in popular subject areas like IT and computer science, management, data science, liberal arts and many more.
Find the best fit for an online diploma that meets your needs of upskilling for a bright academic and future career at College Vidya. We provide you options in various domains of diploma in the online mode with the portal to compare your chosen options as well.
Online Degree Courses
Today, with companies demanding highly qualified professionals and more students turning to higher education, online degrees are a boon for upskilling. Online degree programmes today are not only completely valid and recognised, but hold the same value as regular degrees when obtained from an accredited HEI.
Added to that is the rigour of learning and training they provide with the help of internet and AI tools that simulate classroom learning from the facility of your home. These online courses are designed to be ideal for both working professionals as well as freshers and students and enable them to attain a credential of higher education conveniently whilst upskilling themselves and continuing to work on other projects.
These courses are not only useful for excelling at your current job but can become the stepping stone for your future prospects and career growth.
Today, you might come across many universities and colleges that allow you to pursue online degrees with them, however, it is necessary to be wary of many websites that claim to be the representatives of top universities and educational institutions.
For instance, many universities are not accredited by the UGC-DEB to provide valid online degree courses. Many others are fake universities and an online degree from such a university will be held invalid.
So, if you want to pursue an online degree course for upskilling, you must select the right university and the right course that meets your individual academic and professional needs.
College Vidya makes your task easier by providing you with all the options for top online degrees that are provided only by the valid and duly accredited universities for online education by UGC-DEB. Additionally, we provide you with individualized career support and guidance and help you compare all your options for online education so that you select the best option for you.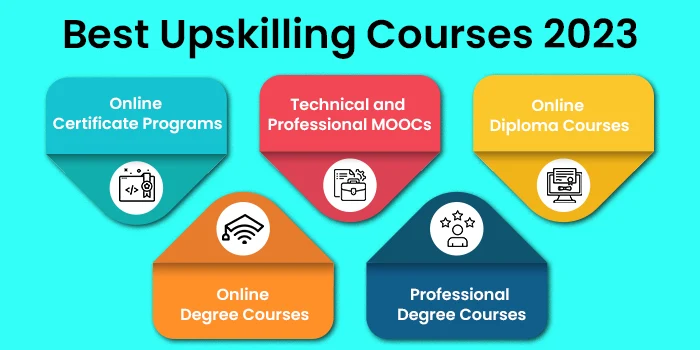 So, as we already discussed, if you want to upskill yourself to be updated with latest developments in a particular field or to upgrade yourself for a better career, then you can either go for short-term online certifications, diploma courses or even full-fledged degrees that are provided in the online mode so both students and working professionals can pursue them effectively.
Top Subject Areas for Upskilling in 2023
When it comes to upskilling, focusing on certain areas can help you develop a more successful career or explore a brighter career scope than others. Some skill and subject areas are highly in-demand in the professional and corporate sectors, and growing your expertise in those areas can help you to effectively escalate your career.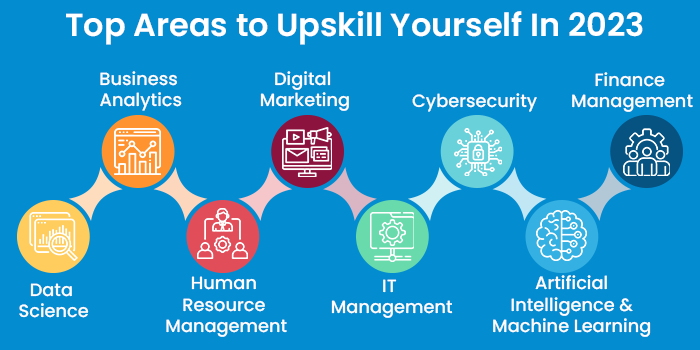 Here we have listed some of the raging areas of upskilling which are highly in demand today and which can provide you with good scope of growing and enhancing your career.
Data Science
Data science is an area with growing popularity, as more and more companies are now utilizing data science insights and technologies to drive corporate functioning, company strategies and decisions as well as business growth steps. Data scientists can explore their job options and career pathways in large MNCs and corporate companies as it is highly in demand today. It covers a number of topics and tools such as probability and statistics, data science and algorithms, decision modeling, R Language, Python etc. There are a large number of online certification courses, online diplomas as well as online degrees to explore in this field.
Business Analytics
Business analytics as a field is concerned with the use of data and systematic information to drive business decisions and strategies and achieve business growth. Closely related to data analytics, business analytics is highly demanded by large companies and firms and professionals with adequate skills and experience in this field can develop a successful career in it.
Business analytics includes subjects such as database management, data visualization, R Language and Python, deep learning and mining etc.
Many top universities and institutions provide online courses in business analytics either in the form of short-term certifications, diploma programs or online degrees. Students or working professionals can take up such courses if they wish to develop a career in business analytics.
HR Management
Human Resource Management is one of the most popular areas in management studies and is a highly prosperous career option since all large and small companies require human resource managers to handle the various aspects related to human relations in the organization. HRM includes areas of study such as talent acquisition, human relations, grievance redressal, labor laws etc.
If you want to upskill in HRM, you can either pursue an online MBA with a specialization in human resource management or conversely, you can take up short-term courses in it such as certificate programs or online diploma courses.
Marketing and Digital Marketing
Marketing and digital marketing are domains that are highly popular with famous brands as well as all business-oriented companies. Effective marketing is one of the cornerstones of business growth and hence, upskilling in marketing, and specifically, digital marketing can be a very fruitful career decision for you since most companies are now relying increasingly on digital and virtual means for marketing.
Both short-term certificate courses or online diploma and degree courses can give your marketing career the necessary boost by refining your knowledge and skills in this field.
IT Management
Technology and software are evolving by the tick of the clock today. There are endless avenues and directions in which this growth can be seen. Hence, when you choose to upskill yourself in the field of IT Management, you are essentially opening the door to a large multitude of career prospects for yourself.
IT Management courses equip you with the necessary skills and training that is important to stay relevant and updated with the latest developments in the field.
After completing a course in IT management, you can explore your career options in top MNCs, IT firms, business-driven companies, infotech and ed-tech companies and even the public sector in the field of IT. Hence it is understandably one of the highly sought areas of upskilling in 2023.
Artificial Intelligence and Machine Learning
Artificial Intelligence and Machine Learning, abbreviated as AI and ML, is an area of IT and technology that focuses on machine-based learning and tools and software. A large number of services, software and tools are now available that work on AI-driven technologies and ML principles. As a result, this field is growing in career scope as well as innovation each day.
If you want to develop an understanding and grow your skills in AI and ML, you can take up top online certificate courses or diploma and degree programs that provide you with rigorous training and knowledge of the field.
Cybersecurity
Cybersecurity is another field of IT that has a good career scope. Students and working professionals in the field of IT and computer science can explore this field and take up courses that help in effective upskilling in cybersecurity.
Cybersecurity as a field has jobs to offer in the public cyber sectors as well as private IT sectors as well and upskilling yourself in this domain can provide you with a good competitive edge over your contemporaries.
Finance Management
Finance management involves managing the financial and monetary resources of a firm/company as well as supervising the flow and operations pertaining to them. Financial management is a well-developed field of management in India and there are ample career opportunities in this field.
However, with newer technologies and software being put to use to handle the financial aspects of a company, it is a good choice to upskill oneself in this domain now because it will definitely provide you with an edge in the professional domain with better and upgraded skills to offer to your company.
There are short term diploma programs in fields related to financial management as well as diploma and degree courses available for students to pursue. Additionally, they can take up these courses either in the regular offline mode, fully online mode or distance mode of learning.
Cloud Computing
Cloud computing is an up-and-coming domain of IT which is related to cloud technologies, cloud communication, security assistance etc. This field is also growing in scope in India and if you wish to obtain specific skills in this domain, then an online short-term certification course, or a more detailed diploma/degree program may be a good option for you.
Upskilling in cloud computing can be highly beneficial for your career in the long run since it is a continuously evolving field with many changes and keeping yourself updated with the new changes and developments will be helpful to successfully deliver your best to a job in this domain.
Benefits of Upskilling
Upskilling is a need of the hour in contemporary times. The world, and especially the professional domain, is turning increasingly volatile, uncertain, complex and ambiguous (VUCA).
With the continuously emerging changes and developments in the field, professionals may find their skills and knowledge areas growing obsolete at very short intervals. So, the solution to this approach is to be on the constant path of learning and continuing to upskill yourself accordingly.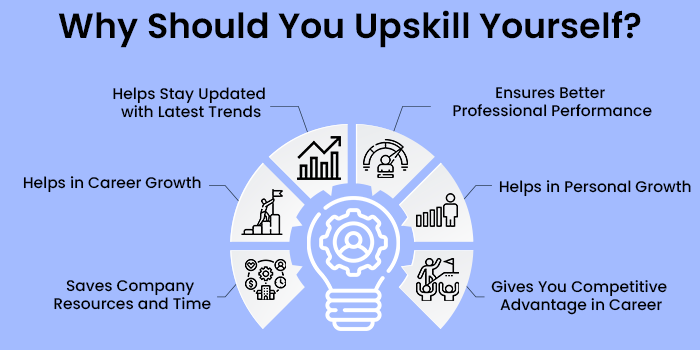 Here we have listed some of the many ways in which upskilling can be beneficial for you
1) Staying Updated and Well-Informed
Upskilling on a regular basis helps you to stay updated and well-informed with the latest trends, technologies and developments in a field. Hence, it is definitely helpful for individuals to upskill themselves so as to prosper at a personal, academic and professional level.
2) Better Professional Performance
An employee who is sufficiently upskilled and equipped with the knowledge to handle various aspects of a job role will deliver better professional performance and enhance production in comparison to one who is not well-versed with new technology or the operations of the company. Hence, upskilling yourself helps you to deliver better professional outcomes and fulfill your job responsibilities in a more efficient manner.
3) Career growth
Upskilling is not only helpful to deliver well at your current job, but also extremely important for you to explore better career options and future job prospects. When you are acquainted with the latest technologies and new developments in a field, it provides you leverage over your competitors in the professional job domain. Hence it can be beneficial for career growth for you as well.
4) Saves Resources and Time of a Company
Since upskilling an employee who already has some level of expertise and knowledge in a field is much less costly than upskilling a newly hired employee from the grassroot level, upskilling drives and initiatives are highly useful from the perspective of a company as well. It saves a company's time and resources as well as helps the company to thrive and grow as it enhances the collective skills set of the employees and consequently ensures better functioning.
5) Personal growth Not only from a concretely tangible and professional perspective, upskilling is also very useful for your personal growth. It helps to boost your morale and self-confidence and at the same time fosters the practice of lifelong learning in you.
It improves and refines your knowledge and skills in a domain of your interest which helps you to explore newer avenues in that field, all of which can add to the sense of overall growth and achievement. Hence, not only from a professional lens, upskilling helps you to grow from a personal lens as well.
Explorer Top Articles Releated to Upskilling
Conclusion
Upskilling and reskilling are two inevitable aspects of learning and growing oneself today. Not only is it conducive to personal growth, it also helps you to establish your ground professionally. With numerous facilities available at one's disposal such as online learning, internet facilities, MOOC courses etc. individuals have a large number of options today to effectively grow and enhance their skills. There are endless areas one can venture into and find their niche area of interest.
FAQs (Frequently Asked Questions)
Upskilling can be defined as the acquisition of skills and knowledge in an area in which the person already has some prior experience. It refers to growing one's skills and expertise in a relevant area.
A typical example of upskilling is when a working professional in the domain of IT pursues a training program to learn a new coding software. This is an example of upskilling since the employee already has education and experience in the field of IT and is now learning and growing these skills by learning another coding language in addition to the ones they are equipped with.
Professional upskilling refers to the process in which an employee learns and develops skills and expertise in an area which will help them to perform their existing job role better. It is often initiated and managed by the company for which the employee works, based on the new technology that they wish the employee to get trained in.
Upskilling involves the component of training in addition to theoretical learning and understanding of a concept. The aim of upskilling is essentially to grow one's tangible and concrete skills, so yes, it involves thorough training as well.
Yes, the main idea behind upskilling is to enable an individual to learn in a lifelong and beyond-institutionalised manner. So, if you are interested in a particular domain, you can grow your knowledge and skills in that domain right from your school life. Online learning platforms, online universities as well as many MOOC platforms such as SWAYAM, Coursera, edX etc. offer a large variety of online learning courses in various domains which are suitable for school students to take up so as to become better trained in that domain.
Upskilling and reskilling are important because they help an individual to grow personally as well as on the professional and academic front. They help a person to perform their job duties better and more efficiently, explore better career options as well as save the time and resources of a company.
A few of the top areas of upskilling in today's times include management (human resource management, marketing management, financial management etc.), digital marketing, data science, business analytics, SEO Marketing and operations, cybersecurity, AI and ML, IT management etc.
Today, with multiple facilities available for learners, you can upskill yourself individually as well as through the initiatives taken by your company. For instance, you can upskill yourself by taking up various online courses- short-term certification programs or long-term degrees and diplomas, you can pursue MOOC courses online, many of which are free of cost, you can take up apprenticeship training, or you can attend the training sessions and seminars arranged by your company for upskilling. The methods and techniques available to upskill yourself are numerous today.
Recommended for you
Home
Search
Suggest
University
Categories
VideoCounseling