MCA Distance Education course or Master of Computer Application for distance education is now emerging as the most valued and demanding degree in the market. The whole world is getting on the computers and the language of the computer in the future.
The ease of accessibility of distance education at MCA opens up new horizons for those who craved to study but couldn't due to the restriction posed by the regular mode. The online accessibility of distance education MCA has helped many professionals, dropouts, and housewives to fulfil their unfinished dreams. The relevancy and affordability of distance MCA have enabled many candidates to enhance their education.
MCA Distance Education In India 2023
MCA distance education course is a 2-year professional course that is designed for students who have an interest in learning about computers in theory as well as practical. Distance education course for MCA provides you with specialized knowledge of computer language, programming in a different language, database management, networking, and others.
MCA distance learning is a viable option choose for those who are already working but want a master's degree on their back. Distance education in MCA opens up great set opportunities for the professionals who are interested in computers and working on their own without a postgraduate degree.
With their technical aptitude, they are working as coders, backend developers, and IT professionals but are without any postgraduate degrees in computer education. MCA distance learning is a boon to them. By pursuing distance MCA in India they can attain a master degree in computers without leaving their job.
The agenda of the distance education MCA program is fabricated according to the needs of working professionals. The course is structured in such a way that it imparts an advanced level of theoretical and practical knowledge and makes them competent in this world. Read: MCA Full Form with Detailed Guide!
Best University for MCA Distance Education In India 2023
Distance education MCA program has gained popularity in the past decade. There are ample government and private institutions that award the degree of MCA. Here are some best distance learning institutes that provide distance education MCA degrees:-
| | | | | |
| --- | --- | --- | --- | --- |
| SI No | Distance MCA Colleges Name | Location | Average Fees | Duration |
| 1 | Indira Gandhi National Open University (Click here) | New Delhi | ₹72,000/ | 3 – 6 years |
| 2 | Manav Rachna | Faridabad | ₹1,80,000/ | 3 years |
| 3 | Hindustan Institute of Technology & Science | Tamil Nadu | ₹90,000/ | 3 years |
| 4 | Jain University | Bangalore | ₹1,00,000/ | 3 years |
| 5 | Manipal University (Click here) | Jaipur | ₹1,50,000/ | 3 years |
| 6 | Lovely Professional University (LPU) (Click here) | Punjab | ₹57,000/ | 3 years |
| 7 | Chandigarh Distance University (Click here) | Chandigarh | ₹57,200/ | 3 years |
| 8 | Amity University | Noida | ₹3,00,000/ | 3 years |
| 9 | Tamil Nadu Open University | Chennai | ₹44,100/ | 3 years |
| 10 | Mumbai University | Mumbai | ₹48,800/ | 3 years |
| 11 | Jaipur National University | Jaipur | ₹64,400/ | 3 years |
Read: MCA Distance Learning Kolkata!
MCA Distance Education Fees 2023 and Duration
MCA Distance Education Program is one of the most chosen programs these days as students are now keener to make their careers in the field of technology as it comes up with a high package and more career opportunities.
Keeping that in mind now many universities are offering distance MCA with a generous amount of fee structure. So just to give it an idea here is the lowest to highest fee scale for distance MCA programs in different universities.
MCA distance education fee actually varies from Rs 20,000 to Rs 50,000 per semester on an average. Different universities have different fee structures and the duration of the program remains the same.
As I've already mentioned that the duration of the distance MCA program remains the same in each university. So for details, it is a post-graduate degree and its duration is 2 years which includes 4 semesters of 6 months each.
MCA Distance Education Admission Open 2023
The MCA (Masters in Computer Application) for a distance education program for session 2023 is open now. And if you want to pursue this 2 years post-graduate degree here are a few steps that you need to take:-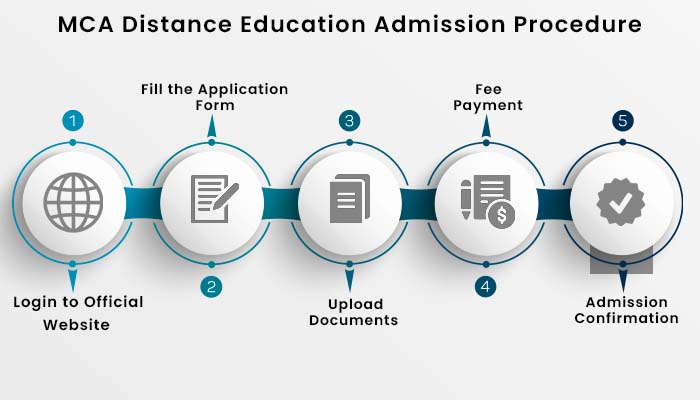 Visit the online page of the university you want to pursue this program from.
Login to the website after which you will have to fill in the details of the application form for that course (containing your name, contact details, educational qualification etc)
Then the university will ask you to submit your documents like aadhaar card, pan card (if required) and your certificates after which you will reach the next step.
After submitting your documents you will have to pay the fees, now the fees structure might differ for different educational institutes. Some may ask you to pay the entire sum, some might ask you to pay semester fees only. Some even have EMI facilities.
After you are done with paying your fees you will receive a confirmation email or text message from the university with your enrollment number. Make sure you take a screenshot or a print copy of that as a proof of your payment.
MCA In Distance Education Eligibility and Entrance Exam
The only eligibility criteria to go for distance MCA is that the candidate must have completed a Bachelor's degree with 10+2 in Mathematics. A few MCA distance learning universities require BCA as graduation to enrol in the MCA distance learning programme. There are no such entrance exams taken by any university in India be it government, semi-government or private to enrol in the distance education MCA degree.
Distance Education MCA Specialization 2023
Distance education MCA is a master's degree so it provides specialization in a particular area.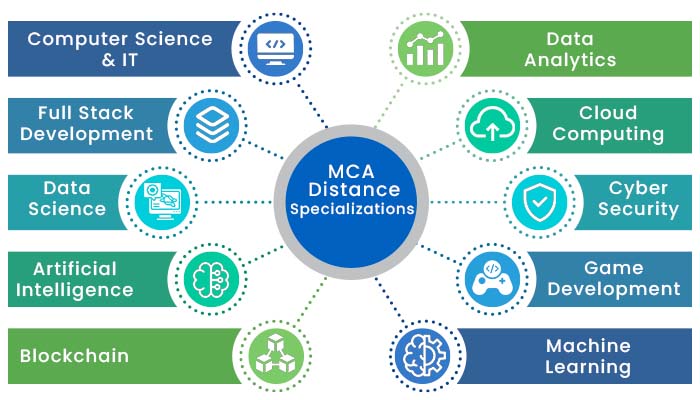 The candidate can choose from the following area of specialization:-
| | |
| --- | --- |
| SI NO | Distance MCA Specialization |
| 1 | Computer Science and IT |
| 2 | Data Analytics |
| 3 | Full Stack Development |
| 4 | Cloud Computing |
| 5 | Data Science |
| 6 | Cyber Security |
| 7 | Artificial Intelligence |
| 8 | Game Development |
| 9 | Blockchain |
| 10 | Machine Learning |
Read: Best Distance MCA Colleges In India​!
MCA Distance Education Syllabus 2023
The distance education MCA course is divided into 3 years to 6 years over six semesters. The whole curriculum of MCA distance learning is meticulously planned to inculcate the advanced level of knowledge of computers.
Distance Education MCA courses are constructed to provide a wide knowledge of database management, electronics, mobile technologies, Cloud Computing, financial accounting, programming, and computer languages.
Here is the list of subjects spread over six semesters of the distance MCA course.
There will be a minor difference in subjects according to the specialization pursued by the candidate:-
Programme Structure
Semester 1
Semester 2
Introduction in IT
InfoSystems Analysis Design & Implementations
Computer Organisation & Architecture
Operating Systems
Programming & Data Structure
Oral and Wireless Communications
Introduction to Management functions
Accounting and Management Control
Mathematical foundations
Probability & Combinatorics
IT Lab
Business Programme Lab
Programming Lab
Unix & Windows Lab
Semester 3
Semester 4
Database Management Systems
Network Programming
Computer Communication Networks
Software Engg. I
Object Oriented Analysis and Design
Elective I
Management Support System
Organizational Behaviour
Statistical Computing
Elective 2
DBMS Lab
Network Lab
Statistical Computing Lab
CASE Tools Lab
Semester 5
Semester 6
A.I and Applications
Project
Software Engineering II
Seminar
Elective 3
Elective 4
Optimisation Techniques
AI & Application lab
Optimisation Techniques Lab
Industrial Lectures Seminar, Project
Is MCA from Distance Valid?
Yes, MCA form distance mode is completely valid if you get the degree from UGC & DEB-approved universities & colleges. Distance education MCA is as valuable as regular MCA, after completion there is a vast field for you to explore. The IT sector is getting bigger and bigger every day thus is a pool of opportunities for you. Distance MCA graduates get handsome packages after completing their degree.
The best part of distance education at MCA is that you can apply the knowledge you gained in the job that you are pursuing. Distance MCA also opens up chances to pursue higher positions in your job.
One can pursue a managerial position in the top IT sector companies after completing distance education MCA and amplifying his career in the rapidly growing IT sector in India.
If you are a programmer in a company or a freelance coder and want to pursue a higher degree, distance education MCA is the perfect choice for you. The flexibility of distance MCA enables you to be a computer graduate without hampering your job and earnings.
Why Distance MCA Course?
Distance education MCA courses are including the deep study of computer applications. The course studies several topics that enhance both hard and soft skills. We study computer language, hardware, software, programming, networking, operations, etc. These are the courses that work on the technical skills of the candidate, the courses of distance education MCA will be studied thoroughly from the basics to the advanced level.
Distance education MCA also has got numerous certification courses. Some of the certification courses in MCA are as follows:-
| | | |
| --- | --- | --- |
| Ethical Haker | Business Analyst | CDAC |
| Big Data | Hadoop | as400 |
| Data Science | Machine Learning | Blockchain |
Benefits of MCA Distance Education
The key benefits of pursuing distance education MCA in India are as follows for reference.
Without a halt, in your career, one can easily pursue a distance MCA course with the current job they are doing. In distance education, there is no need to attend regular classes and there's no need to leave the job.
You can gain experience in both educational and work profiles at the same time.
In India Distance education MCA enables you to attend the classes anytime and anywhere you want be it in the evening, morning, or on weekends without affecting your professional life.
You can join two courses at the same time as per the new guidelines. So in parallel with distance education MCA you can do a regular or distance course too, be it a degree course, certification course or diploma course.
Distance education MCA in India inculcates the knowledge of computer science which has become a part of work culture and life now.
Distance MCA even opens doors for job opportunities abroad as there are many projects running around foreign that need computer application specialists.
MCA distance in India degree allows you to learn computer languages and programming that play a vital role in your career perspective.
one can even opt for a doctorate programme after doing distance education at MCA to become a professor or to do research.
​Career Opportunities After Completing Distance Education MCA
have an idea of what is the scope of MCA in India. The scope of distance education MCA is increasing day by day and with IT hubs developed in Bengaluru, Hyderabad, Noida and Pune it is now at its peak.
With a distance, MCA degree and relevant work experience and skill set MCA graduates lucrative packages in top MNCs in India.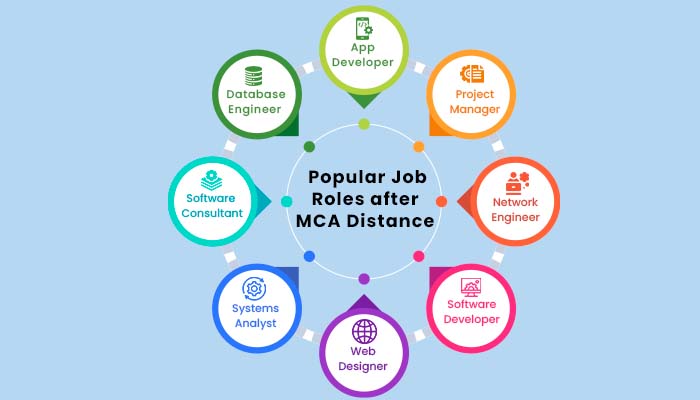 An MCA graduate works on the following profiles:
| | | |
| --- | --- | --- |
| App Developer | Quality Analyst | Social Media Handler |
| Business Analyst | Software Programmer/Developer | Web Designer/Developer |
| Database Engineer | Software Application Architect | Network Engineer |
| Ethical Hacker | Systems Analyst | Project Manager |
| Hardware Engineer | Software Consultant | Technical Writers |
| Manual Tester | Trouble-shooters | — |
There are many MNCs which hire distance education MCA graduates such as TCS, HCL, WIPRO, Infosys, Microsoft, Cisco, Cognizant, Mahindra, Polaris, ORACLE, ADOBE and many others.
For a fresher, the salary offered is between Rs. 35,000 to Rs. 50,000. But due to the ever-growing IT sector in India there is an easy way up for the MCA distance learning holders.
Not only in private firms but in distance education MCA graduates are also required in the government sector. Every year the government releases vacancies of MCA graduates in PSUs such as NTPC, PowerGrid, BHEL, Indian Air Force, Indian Navy, and Banks.