The MBA programme offered at ICFAI Foundation for Higher Education (ICFHE) is an online programme provided as a 2-year postgraduate degree across 4 semesters. The university offers the course in five specializations. The university has approvals from bodies like UGC, AICTE, AIU, NAAC (A+), NIRF (27th overall ranking) among others. So their MBA course is credible and valid.
ICFAI Online MBA Course in India 2023
ICFAI Centre for Distance and Open Education (CDOE) offers an online MBA programs for students to pursue after graduation. It is a full-time course of 2 years duration that is completed in 4 semesters. The course is credible and valid as the university has all major accreditations including UGC, NAAC (A+), NIRF, AIU, etc.
The university gives 4 specializations: marketing, finance, human resource management, IT, and Operations. There are a total of 22 courses in addition to practical and project work that the student is to continue. The mode of course completion is online.
There is good academic support available for students and the academic pedagogy has been designed to enable students to easily understand concepts as well as apply them in their own surroundings. There are online learning facilities such as audiovisual learning materials, case studies, quizzes, recorded lectures, discussion sessions, etc.
Online MBA Overview 2023 at ICFAI
The basic details of the course provided by ICFAI in MBA is given below:
Online MBA Overview 2022 – ICFAI
Course

Master of Business Administration (MBA)

Level of Course

Post Graduation

Approvals and Accreditations

University Grants Commission (UGC)

National Assessment and Accreditation Council (NAAC)- Rated A+

National Institutional Ranking Framework (NIRF)- Ranked 27th

Association of Commonwealth Universities (ACU) etc.

Duration

2 Years

Mode

Online

Specializations

Finance Management

Marketing Management

Human Resource Management

IT and Operations Management

No. of Semesters

4

Course Structure

22 Courses along with Practical and a Project

Eligibility

Candidate having Completed Bachelor's in any stream from a Recognized University

Graduated with At least 50% Marks

Having English as medium of education (for students with other media of teaching, TOEFL/IELTS/NELTS score needed)

Qualifying the University Selection Process

Fee Structure

INR 1000 as Application Fee

INR 20,000 as Admission Fee

Total INR 2,00,000 for Complete course

INR 90,000 per Year OR

INR 45,000 per Semester

Scholarships and Fee Concessions

Facilities for Merit Scholarship

Facilities for Fee Concession to students from defence/ Paramilitary/ Military backgrounds

Learning Management System (LMS)

Recorded Video Lectures, Experiential Learning-Through Case Studies, Quizzes, Project and Practicals, Discussion Sessions, Digital Learning Content, University Blogs etc.
So it can be seen that the MBA online offered by ICFAI has been carefully designed to enable students and working professionals to cultivate more industry-relevant skills and principles and expand their professional horizons. The online delivery mode ensures that working professionals or even entrepreneurs can pursue the course comfortably without having to compromise their professional front. The degree is UGC approved and the university has been recognized by bodies like NAAC and NIRF, and so the course and degree are completely valid and credible.
Why Choose an Online MBA from ICFAI?
Although many options for an online or distance MBA are offered by various universities, the choice should be made very carefully since starting a degree course is an irreversible career decision.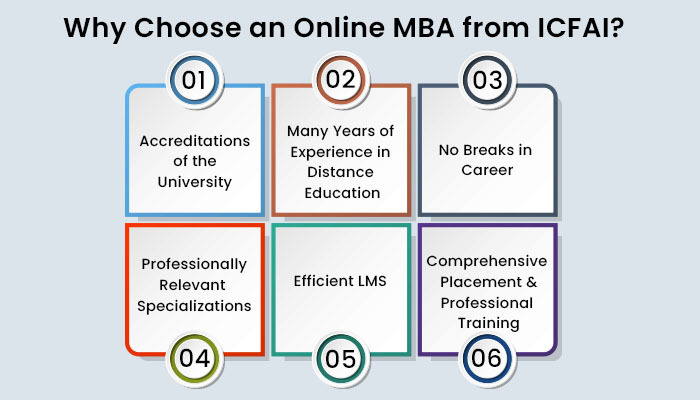 One should consider the various factors including learning support, the credibility of the degree, accreditations of the university, etc.
The online MBA by ICFAI has been described based on these factors below:
1. Accreditations of the University
This is one of the mts essential factors while choosing any online or distance course, since one can end up with an invalid or unrecognized degree otherwise. ICFAI is a well-accredited university with approvals from UGC, ACU, NAAC (Rated A+), NIRF (Ranked 27th in India) etc. along with other awards and recognitions. So the degree from this university will be valid in professional domains.
2. Many Years of Experience in Distance Education
ICFAI has provided distance and correspondence education to students over many years and combining this experience with the innovative features of technology, ICFAI brings to students an efficient educational framework that enables them to complete their postgraduate degree effectively without having to come physically to the campus while experiencing the same educational and learning quality.
3. No Breaks in Career
Being an online course, the online MBA degree has been aimed at self-paced learning by the students. This means that you don't need to compromise your career pursuits or current professional engagements for completing the course. One can easily complete the course over a period of two years through self-paced learning, while simultaneously working.
4. Professionally-Relevant Specializations
The specializations offered at ICFAI are few of the most highly demanded ones in the professional world, namely financial management, human resource management, marketing management and IT and Operations management. These courses can help the students explore careers in many professional domains.
5. Efficient LMS
The learning management system (LMS) at ICFAI offers academic support to students in many formats, including audio-visual learning materials, textual learning materials, case studies and projects for practical and application-based learning, discussion sessions with peers and faculty for doubt-clarifications as well as university blogs, quizzes and practice exercises.
6. Comprehensive Placement and Professional Training
One of the main areas of emphasis at ICFAI is to make students professionally competent. To enable this, they provide various facilities such as student career counseling, industry interface (which provides students with industrial learning experiences), online career guidance and mentorship, partnerships with various companies for industrial activities and workshops. This helps students to learn about the functionings of the professional organizations, gain insights as well as develop professional networks.
So, it can be seen that the course offered by ICFAI is a good choice for an online postgraduate degree in MBA as it has a good LMS, has useful specializations, a well-experienced faculty, focus on theoretical and professional skills development and is well-accredited and recognized.
Key Features of the Online MBA at ICFAI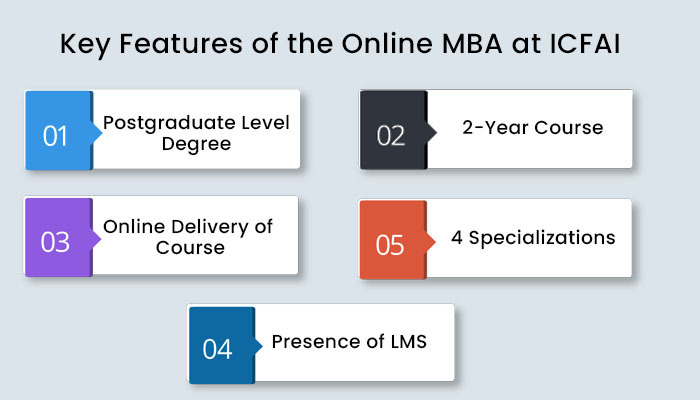 The major features of the course offered by ICFAI are listed below:
This is a

two-year

MBA course

It is offered in the

Online

Mode

It is a

Postgraduate level Degree Course

The course is completed in

4 Semesters

There are

4 Specializations

– Finance, Marketing, Human Resource Management, IT, and Operations.

The medium of teaching is

English

The complete course fee is

INR 2,00,000

. The fee payment can be done through online modes or a demand draft.

Graduates, professionals, and entrepreneurs

wishing to grow their careers in Business Management are ideal for this course.

It has a well-formed and

efficient LMS.

There is a focus on

career-oriented growth

as well as

strong foundations

of business management.

Placement training and professional guidance

and training are provided to students.
Specializations Offered in Online MBA at ICFAI
The online MBA course offered at ICFAI is covered over a period of 4 semesters through 2 years. There are a range of electives offered to the students based on their area of specialization in the third and fourth semesters.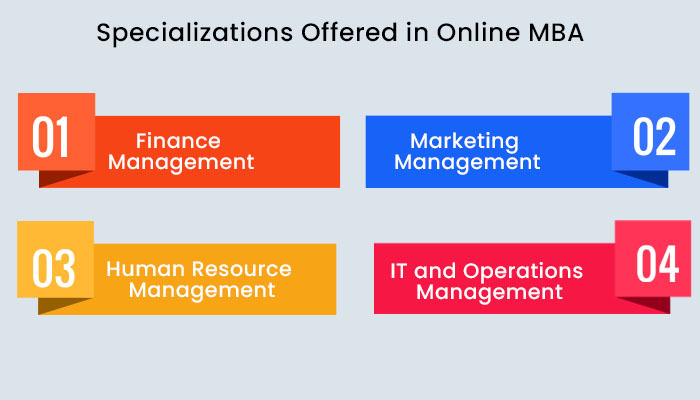 There are 4 specializations offered at ICFAI for their online course in MBA, which are:
| | |
| --- | --- |
| Finance Management | Marketing Management |
| Human Resource Management | IT and Operations Management |
The offered specializations have been chosen with consideration of the industrial and professional needs of contemporary organizations and firms, which would help the students to be well-groomed and well-equipped with the professional skills and knowledge needed to grow one's careers in their area of specialization.
ICFAI Online MBA Syllabus/ Curriculum 2023
The course is for 4 semesters (i.e. 2 years) and the first two semesters have a common curriculum irrespective of the specialization. The specialization-specific courses are offered to students in the third and fourth semesters.
The student must complete 22 subjects in total, along with practicals and project works. The course structure is as follows:
Semester
Course Structure

I

II

III

3 Core Courses

3 Electives

IV

2 Core Courses

3 Electives

1 Practicum/ Research project
The curriculum details for the course are given below:
The curriculum for the first semester is common for all courses, which is as follows:
| | |
| --- | --- |
| Management and Organization Behaviour | Quantitative Methods |
| Foundations of Accounting and Finance | Business Environment |
| IT for Managers | |
The curriculum for semester II is also a common course for all specializations, with 5 core courses:
| | |
| --- | --- |
| Economics for Business | Operations Management |
| Human Resource Management | Marketing Management |
| Business Communication | |
For this semester, there are 6 courses, of which 3 courses are core and 3 are elective:
| | |
| --- | --- |
| Business Policy and Strategy | International Business |
| Leadership and Change Management | Elective I |
| Elective II | Elective III |
The choices for the elective are as given below:
| | |
| --- | --- |
| Financial Management (Compulsory for those with Finance Specialization) | Global Financial Markets |
| Strategic Finance and Corporate Restructuring | Services Marketing |
| Strategic Marketing Management | Sales and Distribution Management |
| Recruitment, Training and Development | Performance Management and Reward Systems |
| SMACS Technologies for Business | Services Operations Management |
For semester IV, there are two core courses along with 3 electives and one practicum and research project:
| | |
| --- | --- |
| Management Control Systems | Business Ethics and Corporate Governance |
| Elective IV | Elective V |
| Elective VI | Entrepreneurship Practicum OR Business Research Project |
The elective choices offered to the students are:
| | |
| --- | --- |
| Financial Services | International Finance |
| International Marketing | Retail Marketing |
| Integrated Marketing Communications | Strategic Human Resource Management |
| Organizational Development | Human Resource Management and Audit |
| Big Data, Cloud and Analytics | Supply Chain Management |
To gain a detailed understanding of the syllabus, provisions for practicals and projects, one can check the official brochure of the course at ICFAI.
Eligibility Criteria for Online MBA at ICFAI
This course is ideally for students or freshers (minimum graduates) interested in business management, working professionals and entrepreneurs.
The candidate must fulfill certain basic criteria to be able to apply for the MBA course at ICFAI.
The eligibility criteria for the MBA course are listed below:
The candidate must at least have a Bachelor's level degree from a recognized university.

Graduates from any stream/ discipline are eligible to apply for the course.

The candidate must have at least 50% aggregate marks in graduation.

The medium of instruction is English so students applying for the course must have English as their medium of instruction at graduation level.

If a student did not have English as their medium in graduation, they need to submit a valid score record for English examinations such as IELTS or NELTS or TOEFL.

Apart from these eligibility requirements, the university will also conduct its own screening process to select candidates based on their knowledge and understanding of business administration and the decision of the selection committee will be all-binding.
Fee Structure for the Online MBA Course at ICFAI
The total course fee for MBA at ICFAI is INR 2,00,000 inclusive of the admission fee.

The university also charges INR 1000 as an application fee to students which get readjusted and accommodated during payment of the admission fee.

The tuition fee is INR 1,80,000 and the admission fee is INR 20,000. The examination fee is not included in the course fee and must be paid separately by the student each semester.

The university provides two payment timelines:

Semester-Wise Payment

Year-Wise Payment
The fee structure for the MBA course is tabulated below:
Payment Mode
Fee Structure

Yearly Payment

INR 1,10,000 for Year 1 i.e.

INR 20,000: Admission Fee

INR 90,000: Tuition Fee

INR 90,000 for Year 2

Semester Mode

INR 65,000 for Semester I i.e.

INR 20,000: Admission Fee

INR 45,000: Tuition Fee

INR 45,000 for the remaining semesters.
There are two modes of payment for students to pay their fees:
Online Payment Mode (Debit Card/ Credit Card/Online Banking)

Demand Draft
a. In favor of "IFHE Fee Collection A/c Online MBA"
b. Having Student details at the back including Name, Candidate No., Semester and Contact Number
Scholarships and Fee Concessions at ICFAI for MBA
There are a number of provisions for scholarships or fee concessions for students aiming to complete an MBA from ICFAI.
Scholarship Type
Details

Scholarship for Military or Police Background

Candidates having full-time service record in the military, paramilitary, or police.

Candidates having parents/spouse employed in military, paramilitary, or police forces

Scholarship for Merit Category

Semester-wise Scholarship based on Marks obtained in Graduation

Scholarship facilities for Formative Assessment top scorers for the course.

Scholarship Facility based on Semester-wise Performance of students
The details of scholarship and concession percentages can be enquired from the official admission committee of the university.
Admission Procedure for the Online MBA Course at ICFAI
The admission procedure for the selection to the MBA course at ICFAI involves three main steps, all of which are conducted online. So students don't need to visit the campus physically to seek admission or apply for the course.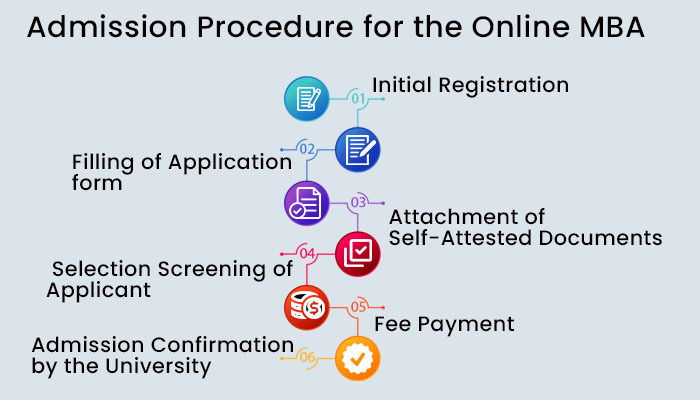 The details for the same are described below:
1. Initial Registration
To apply for the course, the candidate must register themself at the official portal of the university: https://online.ifheindia.org/ifhe-online-mba.asp by filling-in details such as :
| | |
| --- | --- |
| Name | Contact Number |
| Email ID | Date of Birth |
2. Filling of the Application form
After registering with the university website, the student is required to fill the application form or the registration form of the university. This form has all the various personal, educational and professional details of the candidate that will be considered for admission to the course.
3. Attachment of Self-Attested Documents
Talong with the registration form, there are a number of documents which the candidate must self-attest and attach digital copies of. These are listed below:
| | |
| --- | --- |
| Certificate of SSC level (Grade 10) | Certificate of HSC level (Grade 12) |
| Certificate of Bachelor's Degree | Copy of Aadhar Card |
| Copy of Passport (for Foreign Nationals) | Copy of IELTS/ TOEFL/ NELTS Exam Result |
| Scanned Latest Photograph | Scanned Signature |
4. Selection Screening of Applicant
The university has its own selection process in which the applicant is to successfully complete two rounds- the micro presentation and the personal interview. Both the rounds will be held virtually., and the fee of INR 1000 is to be paid. The candidate can choose their slot for the selection process.
The personal interview will be of a few rounds where the admission committee evaluates the applicant's understanding of the concepts of business and management.
The micro presentation topic can be chosen by the students and they need to present their insights on the topic for five minutes in English.
The decision of the admission committee about the applicant's admission is final and binding.
5. Fee Payment
If the admission committee approves the candidate's application, they need to pay the course fee of the program based on the mode of payment chosen (semester-wise or year-wise). The payment can be made online or through a demand draft depending upon the student's convenience.
6. Admission Confirmation by the University
After completing the payments, submission of the application form and documents, the final admission of the candidate is confirmed by the admission committee, along with other details such as their credentials, orientation, or commencement of classes.
Learning Pedagogy and Academic Support
The university has its own LMS and offers academic support to students through multiple ways. There are a number of components of the LMS at ICFAI which are unique as compared to other LMS software. The major academic principles at the university are:
Micro-learning Approach to Education

: the university has a micro-learning take on education, in which students are presented with small units of information at a time instead of large amounts to ensure that students have a deeper understanding and focused attention on the learning material.

Application-Orientation:

there is an emphasis to enable students to apply the course principles to real-life situations. To promote this approach in students, the information and course connect is also presented to students in the context of real-life situations, (C-2-C or Concept inContext).

Self-Practice:

students are encouraged to practice and learn content at their own pace. To facilitate this, there are a number of self-exercises, quizzes, engagement exercises, etc. provided to the students.
The major features of the LMS of the university are
| | |
| --- | --- |
| Weekly Live lectures | Discussion Forums |
| Engagement Exercises | Case Videos |
| Recorded Video Lectures | Blogs |
| Social Media Engagement | Workbook |
| Quizzes | Digital Learning Material |
Evaluation and Examination Procedure for MBA
There are 2 main types of assessments for the online course, the details of which have been listed below:
Type of Assessment
Evaluation Methods

Formative or Continuous Assessment

30% academic weightage

Participation in Sessions

Results of Engagement Exercises

Discussion Forums

Workplace Narrations

Summative or Semester-End Examinations

70% academic weightage

Proctored Mode

Completely Online
To qualify for the examinations, the students must score at least 5.5 grade points on all the courses within 2 years duration (maximum within 4 years), and should not have more than a combined total of four 'D' or 'E' grades.
Students can find more details about the same at the official website of the university: https://online.ifheindia.org/
Placement Assistance and Professional Support for MBA Students
Although ICFAI does not provide direct placements to students, it has a comprehensive and well-formulated placement and professional support system that has been designed to evaluate the students' complete professional competency, and aptitude and provides them with appropriate training, guidance, and mentorship for the same. Moreover, in addition to the support system, ICFAI has designed the LMS keeping in mind the application of the course materials in real-life settings (through quizzes, social media engagement, case studies, practicum, projects, etc.)
The following is an overview of the professional support system at ICFAI for the online MBA course:
The initial profiling of the student is done at the beginning of the course session to evaluate the student's current professional standing (whether a fresher/working professional or entrepreneur) and professional goals. The university prepares an e-Map of the student's career plans.

The university also offers a semester-wise evaluation of the student's goals and career counseling accordingly.

There are provisions for student clubs, and industry-relevant workshops in collaborations with renowned corporate firms, which enables students to gain direct exposure to professional organizations and their nuances. The students can interact with industry professionals and cultivate knowledge about their areas of interest.

Mentorship facilities through digital media are also provided at ICFAI.
Some of the well-known and established corporate firms that ICFAI has collaborated with to provide industry-related workshops to the students are listed below.
| | |
| --- | --- |
| Bajaj Capital | CRISIL |
| HDFC Bank | ICICI Bank |
| Kotak Securities | Tech Mahindra |
Career Prospects and Jobs after an Online MBA from ICFAI
According to new guidelines by the Ministry of Education in India, both online degrees and offline degrees hold equal value and importance provided they are accredited. Since ICFAI provides an accredited and approved MBA degree to its students, there are a number of job sectors in areas of finance, human resource management, IT, marketing, etc. that the students can explore or seek careers in.
Some of the best job prospects for the students after completion of the online MBA degree are mentioned here:
| | |
| --- | --- |
| Job | Approximate Salary in India (INR) |
| Sales Manager | 5,00,000 PA |
| Market Research Analyst | 4,50,000 PA |
| Digital Marketing Manager | 7,00,000 PA |
| HR Consultant | 5,00,000 PA |
| Recruitment Executive | 4,00,000 PA |
| Stock Broker | 4,00,000 PA |
| Investment Banker | 9,00,000 PA |
| Project Manager | 14,00,000 PA |
| Supply Chain Manager | 12,00,000 PA |
| Product Manager | 17,00,000 PA |
| Portfolio Manager | 12,00,000 PA |
About ICFAI CDOE
The Indian Chartered Financial Analysts of India (ICFAI), is an educational institute providing higher education to students in areas of commerce, business, management etc. It has been ranked 27th in the overall category of universities by NIRF and rated A+ by NAAC.
The Centre for Distance and Online Education (CDOE) was established by ICFAI, Hyderabad as an initiative to provide online and distance education to students. The university has accreditations and approvals from various statutory bodies such as the UGC, NAAC, NIRF, ACU, etc. along with a number of awards and recognitions. The faculty at the university is highly qualified and has years of experience. The academic infrastructure is well-structured and efficient, with a unique LMS, facilities for student counseling, professional training, mentorship, etc.
ICFAI Online MBA Course Review 2023
Course review: the university offers a full-time two years postgraduate course in MBA and offers 4 specializations- finance, marketing, human resource management, and IT and operations. The course is well-structured, divided across a period of 4 semesters in which students must qualify in 22 courses along with a project and practicum. Lastly, the course has been approved by UGC and hence is valid across India and abroad.
Infrastructure Review: the academic support and learning pedagogy is robust and diverse, providing educational materials to students across audio, visual, and textual media as well as through social media, gamification portals, interactive engagement exercises, and quizzes in addition to conventional lecture videos and sessions.
Faculty Review: the faculty is highly qualified, with multiple years of experience in not only university teaching but also providing online and distance education efficiently. They are cooperative and reachable through the live lectures that are held weekly.
ICFAI Online MBA Course Prospectus
A student can find the complete details of the online MBA course on the official website of the university: https://online.ifheindia.org/
The brochure for the course can also be downloaded from this website.
Similar Online/Distance MBA Universities
Some other accredited and recognized universities that also offer MBA courses in distance or online mode are listed below:
| | | |
| --- | --- | --- |
| University of Online MBA | Location | Accreditations |
| NMIMS Online MBA University | Mumbai | UGC-DEB, NAAC A+ |
| D. Y. Patil Centre for Online Learning (DPU-COL) MBA Online | Pune | UGC-DEB, AICTE, AIU, ACU, ISO etc. |
| Manipal Online MBA | Jaipur | UGC, AICTE, NIRF |
| LPU Online MBA | Phagwara | UGC, AIU, NIRF |
| Hindustan University-Centre for Open and Digital Education (CODE) MBA Online | Chennai | UGC, AICTE, NBA, NAAC, NIRF etc. |
| Chandigarh Online MBA University | Chandigarh | UGC, NAAC A+ |
| Amity Online MBA University | Noida | UGC, AICTE, NAAC, NIRF, AIU etc. |
| Jain Online MBA University | Bangalore | UGC, AICTE |