MBA Known as Masters in Business Administration program that is leading in current time and around 3 lakh students are pursuing MBA which is a huge number. The highest-pursued program MBA has created a boom in the industrial market. Students who have strategic skills as well as want to contribute in growing a business can engage themselves in MBA program study.
Entrepreneur, Business Specialist, Marketing Analyst turns out to be fascinating career profiles and that's what MBA provides. The program is entitled for the professional journey where students can adopt and adequate business tactic skills. The educational stage is the initial one and for the beginning students should research all the possible points in relevance of MBA.
For the accuracy and the confirmed satisfaction students are in a genuine search, majorly positive points and attractive journeys are easily figured out but the crucial points and some facts about MBA are important to know. Is an MBA Degree Program Worth it? - this query is a primary focus of today's article.
The MBA program is definitely worth it, but just adding a line that yes it is worth it will not be enough for the students who are searching for a detailed blog with all important information, so we have brought some interesting explanatory pointers which can give you a better overview below for the future selection. Read the article below and analyse .
Quick Facts on MBA
1) MBA is Globally Recognized for obtaining top Management Level Positions
2) 10% MBA Graduates are successful in Originating their Start Ups / Business
3) Each year the MBA enrollment number is increasing the current is 3 Lakh
4) Distance/ Online MBA & Executive MBA in last 2 years have been a popular approach for resuming educational journey
5) There are total 355 accredited Online MBA programs right now in India
6) MBA is considered to be on number 4th for Industrial Revolution
All About MBA Degree
Masters of Business Administration is a degree that deals with business, entrepreneurship, organisation management learning. Program contains interpersonal, communication, and organising skills. Throughout the course students can experience the fundamentals of business and can analyse the organisational functioning through profit, shares, equity, annual revenue and marketing methods.
Networking, Arrangements, Strategies and a Motive is something which a student learns once they begin with the studies. Degree of MBA adds the value of a qualified graduate who began with practical exposure by inventing some business methods and techniques. The fantastic part is that students from any background can indulge themselves with an MBA degree and can experience sustainability.
Business Administration studies include case studies and approaching techniques. The 2 years of duration has multiple topics and subjects which are industrial related concepts. Examinations, Assignments and Presentations boosts students skills.Advanced training helps for leading a professional journey.
Degree completion for a student is not only an educational achievement but students can take a first step towards career prospects. Degree of MBA is an access to the global world exposure where an individual can expand or originate a business with a unique purpose and ideation.
Demand for MBA Degree In 2023
MBA is a well known Degree and above it the demand for the program is unremarkable. Individuals who are searching lucrative options for management studies. Students who want an innovative journey than an MBA program can be a blessing for them because the business strategies and tactics can help them master Management & Business Studies.
It's Quite visible that the management degree is turning out as the best experience for achieving a certificate, also the active participation zone in educational theory method gives an industrial exposure to the students. For a start -up or Re- Building of a business students are getting a positive approach.
Also a very interesting point which should always be kept in mind is that students should maintain and prepare themselves in a way where their skills and degree are valued and you can achieve a good hike in career because the degree is in demand for sure but the skill showcase is the job of an MBA graduate.
Useful Terms One Should Note for MBA Worthiness
Our observation says that in the coming times there are some useful terms which will be useful for students' advance growth in Business & Management. The Modification & Dynamic method is a must in any growing sector and the individuals who are still in a confusion about what can be an effective feature of pursuing MBA should definitely read this section without skipping any pointer.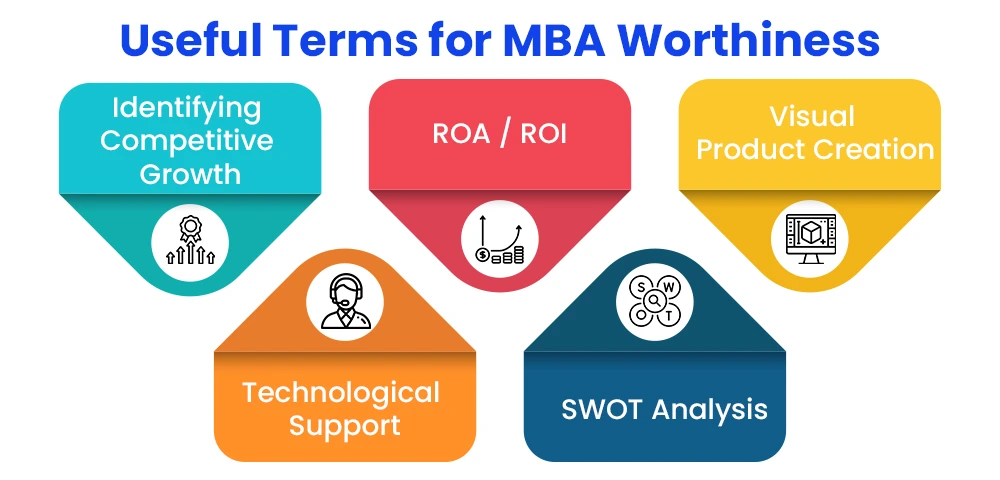 Identifying Competitive Growth
Product Creation, Production & Distribution should be cost effective in nature in comparison to the competitor with similar products. The motto should be crystal clear which leads to bulk sales and the production. Marketing and Management skills utilisation requires an active participation.
Study or Business the Return on Assets (ROA) or Return on Investment (ROI) should always be in a profit. The costing which is used upon a product should have a huge or double the return or else the production will be expensive and the distribution numbers will be less which again can harm the business growth.
The rough model or a visualisation is essential for the pre planning of the business, as it will give a sense of ideation on how to give it an attractive packing seal. Shifting the traditional approach methods to the newest and the latest form can help for unique attention.
Tech Support is the major term which should be the primary focus of entrepreneurs who want to have a trending and profitable business. Websites, Apps are the one modern equipment which are helping to reach out for a sustainable business graph.
Strength, Weakness, Opportunities & Threats is very useful for the initial business set up. Analysing the strength, overcoming weakness,recognising the opportunity and identifying the threats can help for a long run in business.
These are some of the terms which surely can help you for innovating a bright business for the future resistance.
Is an MBA really worth the money?
Worthiness is all dependent on the students ability to attain and grab the concept details. For the general prospect, yes the MBA program is worth the money because the investment it takes can repay an individual in double the amount once the educational journey finishes. Jobs are not ordinary because the roles and responsibilities for sure are essential.
The demand which is considered to be the highest carries a little expensive amount but definitely it is worth it because the management and business studies are on top when it comes to professional learning and educational programs in india.
Importance of MBA Entrance Exam
MBA Program entry in some top business schools is possible only when students qualify the entrance test and grab good marks. The true value of an MBA is observed by which management institute degree is held by students. The examinations are quite challenging but good grades can confirm students' seats in Top IIM Institutes.
Popular Known Entrance Examinations are like CAT, MAT, XAT, CMAT, GMAT. Students who have completed their graduation degree from a relevant stream. The entrance includes basic management questions and some of the graduation studies concepts.
The Main purpose of the entrance examination is to evaluate the skills and the knowledge of the students for the management studies. The examination scores will give students a self -determination that at what extent they can grow and what is their actual calibre.
To get a well recognized B-School requires some good scores which can help them to secure their masters degree seat. Scoring Good can lead towards the professional journey step where students will be facilitated with career building skills.
Have a look on entrance pattern that a student need to follow before applying for the entrance entrance test :
- Language Comprehension
- Quantitative Techniques and Data Interpretation
- Logical Reasoning
- General Awareness
- Innovation and Entrepreneurship
MBA Best Specialisation for Future
MBA programs have a variety of subjects that are available for the students. Also for the management studies there are a variety of specialisations in marketing, finance, HR, Information Technology and many more. In future students can have successful careers if they choose any of these subjects for their educational learning.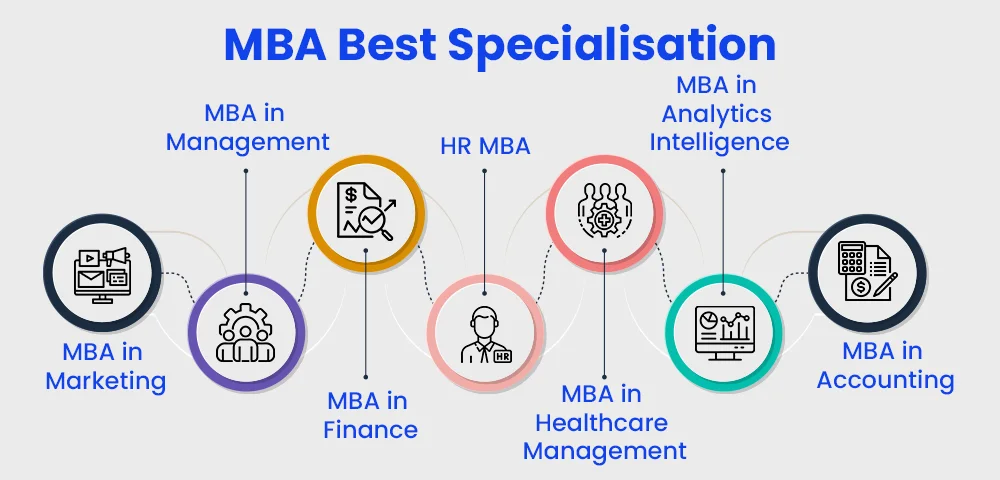 1. MBA in Marketing
2. MBA in Management
3. MBA in Finance
4. HR MBA
5. MBA in Healthcare Management
6. MBA in Analytics Intelligence
7. MBA in Accounting
The Long-Term Value of an MBA
Long Term involves the activities and the modification in MBA and understand one thing that long value is only possible if you have updated yourself as the industry demands. Take a example of a Mobile phone - Why is Nokia not in less Valued– the answer is it never changed or modified the mobile feature and the results were obvious it was out of trend, so no long term value is stayed if an update is stopped.
Traditional Knowledge remains the same but some modern solutions require to be learned by MBA graduates even if they are in the working profession. The core value can never be less but upscaling will be also highly valued in the rapid changing market pace.
Top MBA Trends in 2023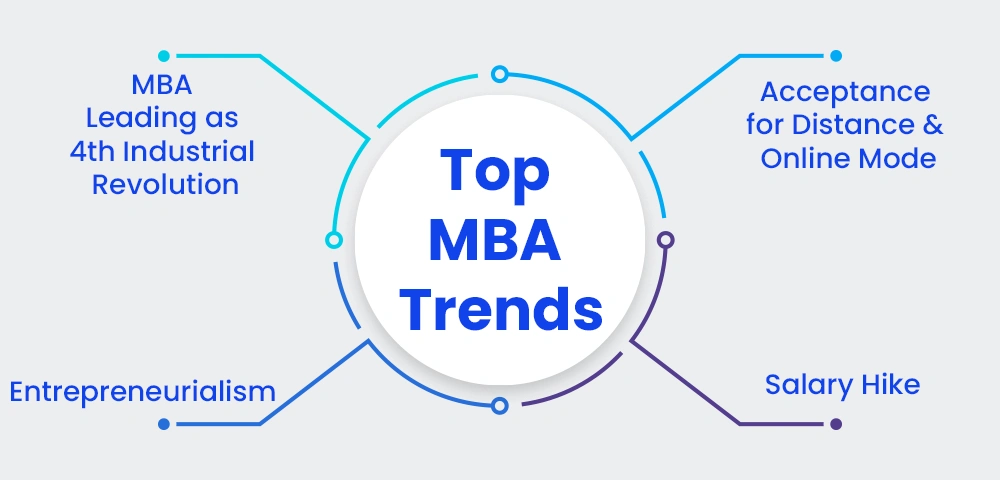 1) MBA Leading in the 4th Industrial Revolution
MBA being a popular enough field study which is impacting the Industrial Revolution where the new concepts and strategies are changing the market value. Definitely it is a trend which is proving to be the successful journey of the business specialists. Educational and Training fields have combined their hands to just uplift the management and business strategies. Graduates are not only seeking jobs but they are shifting their interest towards innovation.Ideation and Marketing strategies are recognised in the market and hence MBA is considered to be on 4th level for Industrial Revolution.
2) Increase of Entrepreneurialism
Individuals after finishing their studies are working for the new set up with very unique concepts. In recent 2-3 years there are so many cool businesses which are started by the young MBA graduates. The mixture of technology enables them to earn a good revenue. The youth is having a different approach for the business studies. The interest towards business learning is helping students to grow organically step by step with brief insights of leading a business.
3) Acceptance for Distance & Online Mode
Students in recent times have given a positive thought towards the alternative mode of MBA learning and that's what is helping for the conventional growth. Distance & Online both modes are useful for flexible study and through these modes students are able to manage their job as well as studies without any hectic schedule. Due to such flexibility professionals are exploring and grabbing dual skills for the career prospect.
4) Salary Hike and Forward Approach
The best trend is the monetary benefit which has been experienced in recent years. According to profile ability and proficiency professionals are getting a satisfactory amount . The approach is positive and cognitive as the profile delivers the best outcome for organisational growth. For the future also the earning scale will be fantastic for the professionals who are capable enough to gain a growth graph in any organisation or firm.
Pros/Advantages & Cons/Disadvantages of MBA
Pros/Advantages of MBA
Most Asked section is the Pros/Advantages of MBA. The positive side of the program will help to decide if an MBA is actually a good fit for your career or not. In this section below we have tried to add some interesting Pros that can boost your learning and through which you can get details of the bright side of MBA Program.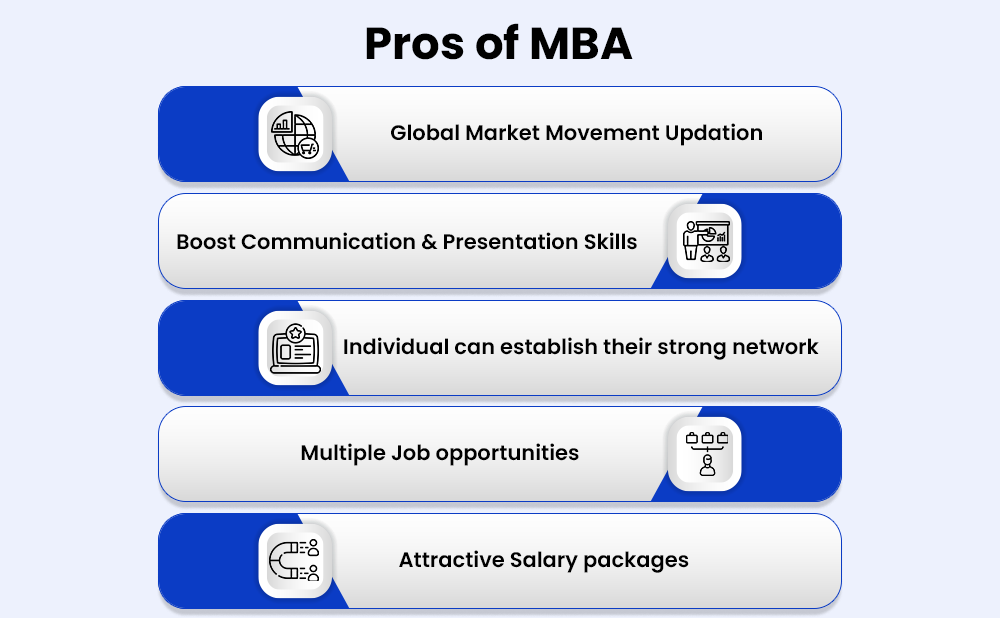 MBA Pursuing Students can grab information on Global Market Movement
Students will enhance their Communication & Presentation Skills
MBA graduate can establish their strong network for business chain and support
Individual learns to be organised and creative according to the industry demand
Multiple Job opportunities & attractive Salary packages can give professionals a fantastic & conventional growth
Uniqueness and Activeness will be built for new innovations and set -ups
Organisational growth credit can be achieved and can help for bright future opportunities
Cons/Disadvantages of MBA
The brighter side can also have some drawbacks or negative observations and for accurate information we will be providing some key pointers on MBA Cons which can prove to be a time waste or time consuming program.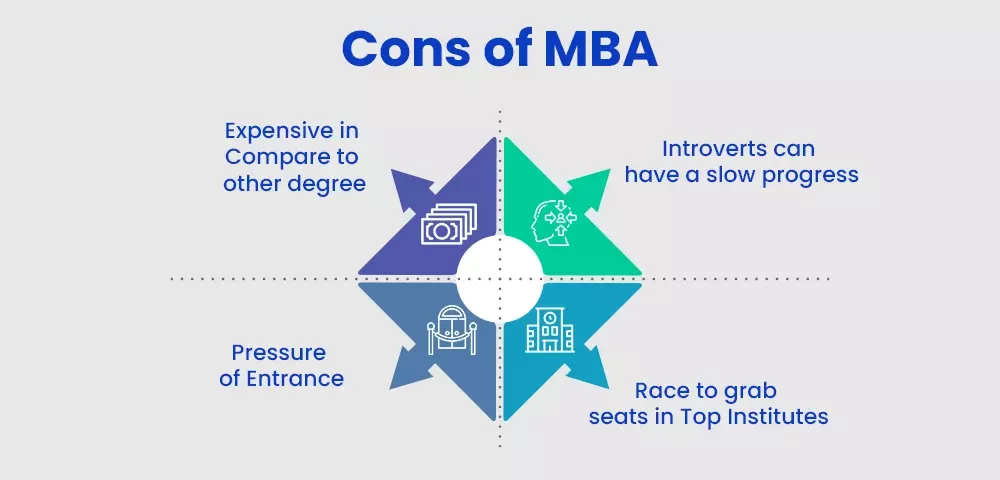 MBA is not a common degree and so the cost is not affordable for everyone
Entrance race has a huge competition and not all can sustain & achieve good scores
Introverts or the shy personality cannot have a good scope in MBA
Language Proficiency can block students who are not so fine in it
A Full time commitment is not possible for all students
Normal university MBA has a limited scope compare to the top institutes
Growth is Performance based, so there is no such guarantee for MBA graduate successful career
MBA Graduates Experience
Generation Loop is something which can give individuals the clarity of what is best or good for the educational journey. Of Course the alumni experience reflects but also one should match their situation and skill pattern so that a fact check is self identified.
The observation and the experience of the MBA graduates is still a positive approach and the degree is considered to be the worth it degree. Specialist and professional experience is gained through practice and that's the key tool of successful life.
A survey indicates that the specialisations subjects in recent times have helped for the meaningful study for the business insight growth and earlier the generalistic overview was based on traditional strategies and methods, so somewhere down the line the learning methods have changed and are helping more with exploration patterns.
Job options have increased in some new domains where the management tricks are more relatable. The business ratio and start-up increment is one of the innovations which has evolved the entrepreneurship learning which was not possible for the earlier graduates.
Students back in 2000 had a very different approach towards business & strategies which is now totally modified according to the market demand. Internship options were not even existing which are now easily available for the students' betterment.
MBA Future Scope
Scope is relevant to the achievements which can be remarked for the growing journey. The calibre of an individual can be maximised by implementing the strategies and the plans and taking it to an upper level with continuous modifications. Future Scope lies where the efforts are crystal clear. The industrial dynamics are giving hope that there is much more to come and achieve and for that the research method should never be stopped. The scope is wider and MBA will have a great future.
MBA Alternatives
Masters of Business Administration has some of the options which a student can choose for their educational training. Alternative programs are some of the choices which students can choose if they are not willing to select the MBA program. The best part of recent time is that students are getting so many options to explore. This exploration is helping students to have an ongoing mode of going which is helping for learning alternative topics.
Below is the list of these programs which students can readout :
Master of Financial Management (MFM)
Master in Management Studies (MMS)
Master of Business Administration (Retail Management)
Master in Marketing Management (MMM)
Master in Risk Management
Post Graduate Diploma in Management
PGDM in International Business
Project Management Professional Certification
MBA Future Opportunities
Options and Opportunities are the never ending process in the Business Management field. Through the various new areas in the management area one can expand their profile designation which covers a lot of variant fields. In all sectors may it be Private or Government the options are wide in range also the international opportunities can be higher in today's comparison. Job Options and Entrepreneur Steps with more unique and new ideas will always be in the field through a chain of flow and accordingly the growth will be expanded with a rapid demand which is still in comparative to other fields.
Importance of Online & Distance MBA
Online & Distance Mode of learning is helping students to have flexible learning, the major relaxation and benefit is experienced by the working professionals who are thinking to pursue MBA but are not having time to invest for the full time educational journey.
Post Covid the situations have just changed for students as the distance and online mode is considered to be one of the popular and accessible modes for the learning purpose. The popular universities have started with the new modes of learning and the degree is proved to be an achievement for the career hike.
The Elephant Of The Room: Online Education
Online education in the Indian market is driven by demand, supply, and macroeconomic factors. Nearly 48% of the population in India 15-40 years age group with higher aspirations are going to be potential students of online education. These are just numbers that are published pre-COVID era. Obviously, the numbers are certainly going to increase post-COVID-era.
Here is the figure that will tell you the growing size of the distance education industry in the Indian Market
In the employability as per the online MBA, the domain increased 54% in December 2022 against 40 the previous year. In these contemporary times, the distance MBA is picking up pace as it gives an edge over the regular MBA as it gives a cutting edge of industry experience to you.
The study conducted by the Graduate Management Admission Council (GMAC) which administers business school admission has revealed that you will expect an average hike of 39% after graduating from a business school.
As per the study in the GMAC survey here is the expected increase in the salary after doing an MBA:-
Products/Services: 59% increase
Nonprofit/Government: 45% increase
Technology: 35% increase
Manufacturing: 34% increase
Finance/Accounting: 34% increase
Health Care: 33% increase
Consulting: 32% increase
Energy/Utilities: 24% increase
College Vidya: Stats Of Distance/Online/PGDM MBA
College Vidya conducted a survey on the scenario of distance education. As the survey was conducted pan India we compiled data. As India is a geographically vast country we created a data taking demographic region as a major deciding factor. The graph below shows the trend of distance PGDM in Indian demographics:-
The graph above shows the percentage of students accepting online/distance MBA/PGDM all over India. The declining technological barriers and the flexibility gained from distance education is the reason that the distance MBA is seeking a surge in the acceptability of students.
The study of College Vidya also revealed the stats for the reasons people go for the online mode of MBA rather than the conventional one.These studies by College Vidya revealed that distance mode or online education is rapidly growing and soon will be the mammoth in education as the technologies are advancing.
So, a distance/online MBA or PGDM degree skyrockets your career while you are still in your job. The certification holds equal value in the market. An MBA with experience is in demand and a distance MBA is the best you can get while you work. You can literally go from place to place after pursuing a distance MBA.
Now, if you are wondering why your colleague got promoted to the managerial level out of blue, that must have been the distance MBA degree hidden in his portfolio. It's time that you also become a manager.
These Are Best B-School With Distance/Online MBA
Why College Vidya?
College Vidya is an unbiased education only dedicated to the distance and online mode of education. A dedicated educational platform that aims to bring clarity to distance education in India.
College Vidya provides online career counselling and provides free consultation about any query related to distance without any bias. We are not the sellers of any university so what we provide is the information based on facts, stats, and market research.
Thus, every consultation provided by College Vidya is truly factual and information-driven, unlike others driven by the commissions per admission given by various universities.College Vidya is the link between student and distance university and helps you choose the best. We cut the middleman between you and your preferred university and provide you with a hassle-free experience.
Conclusion
MBA is a never ending term and for the explanation guide the above article was straight about the topic with the reality of market culture and the worthiness. Students definitely will have a fascinating approach towards the business studies due to its reach and industrial learning concepts. Article will be useful for the one who is thinking of pursuing an MBA and wants an unbiased overview with some real facts. Not only learning but clearing the basics can help to gain a hike. There is no such particular professional platform which a student can go in and start their professional journey because the program is giving a way to go beyond traditional working methods and create your own space with a better vision. Do share our Blog with your friends who can find this piece of writing useful.