If you are hesitant to opt for an online MBA, then this blog is to bust your myth and prejudice against an online MBA. An online MBA has its own amazing benefits if you look at it clearly. Online MBA offers flexibility, affordable fee, an excellent return on your investment, a boost in your career, salary, designation, confidence and what not!
So if you are doubtful of whether to go for an online MBA or not or if you are thinking if an online MBA is really worth your time, money, and effort, then continue reading as we explore all the benefits and career scope in detail.
Online MBA Advantages 2023
There are a myriad of benefits that come with an online degree. Online MBA, specifically, has been doing wonders over the years in the online education industry. Without further ado, let's check all these benefits in detail.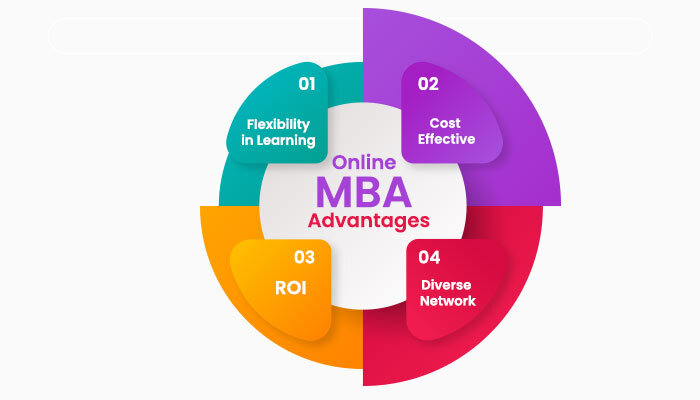 Flexibility in Learning
Flexibility is one big reason why students are resorting to online education even after the world is free from pandemic restrictions. In fact, the pandemic has made people realise about the perks of online education.
Flexibility in learning means that you can study and learn from your home or anywhere you like and at any time of the day or night. You do not have to necessarily attend lectures at a specified time. This gives you control over the pace of your learning. Many colleges have the provision where you can complete your degree in 2-5 years at your own pace.
Online MBA has proven to be a great asset to working professionals as they do not have to leave their jobs to attend lectures. The provision of not taking a break in the career and completing the MBA degree at the same time helps them greatly to boost their career with hikes in salaries and promotions.
The classes you attend for an online MBA degree will be completely online. However, there are two types of learning structures offered by colleges to cater to different needs of their students. The two online MBA learning structures are:
Synchronous Learning Structure
In this type of learning system there are live lectures. There is a scheduled time for each lecture and the students must be present for the lecture at that time. There is live interaction and discussion among the students and the professor.
However, it is still flexible because these lectures are recorded so that anybody who misses the live class can access the lecture later on. The only drawback is that the person who misses the live class also misses the live interactions which are a key part of an MBA program. To make up for this drawback, most colleges offer the second type of online learning structure- asynchronous learning structure.
Asynchronous Learning Structure
In this type of learning system there are no live lectures. The students are provided with recorded video as well as audio lectures along with other study material on their online student portal. These recorded lectures can be accessed as many times as the user wants and at any time.
This helps the students to study at their own pace, irrespective of how and at what speed their peers are studying. For peer discussions in such a learning structure, the student portal is equipped with discussion forums where you can interact with your teachers and peers at any time.
Cost-Effective
The tuition fee for an online MBA in most of the top universities is comparatively far less than a full-time MBA program. A less tuition fee however does not affect the quality of the MBA curriculum at all. You get to study the same curriculum as the offline MBA program. The only difference being everything happening virtually.
With an online MBA, you not only save on the program fee but also on other major expenses that accompany an in-person MBA course. For instance if you opt for an in-person MBA course and the college is in some other city or state.
In such a case you will have to spend a good sum of money on relocation, followed by living expenses. You will have to travel to and from the college every day. Not to forget the enormous tuition fee ranging from ₹10-20 lakhs. An online MBA relieves you from all of the above expenses.
ROI
ROI is the Return On Investment. This means what and how much you are getting in return after investing in something. An online MBA degree ensures a great ROI but only when you choose the right college. Based on your specialisation and requirements, if you choose a decent college with a good placement record, then you can be rest assured about your career.
For example, if you take admission in a college with a tuition fee less than 3 lakh rupees and get a placement package of CTC 6 lakh rupees, then you are getting double the return on your investment within the very first year. Getting such a great ROI within the first year is rare in offline full-time MBAs as the program fees are as high as 20 lakh rupees while the average placement packages range between 15-20 lakh rupees.
It is really crucial to understand the concept of ROI because people only look at the final placement and not about the amount they have spent initially. As you can see from the example above, the average placement after a full-time MBA is around 15-20 lakh rupees which is the same as the fees of the program you have already. So the return on your investment is the same or a little less or more. Only in very rare cases can the ROI reach double for regular MBA. On the other hand, with an online MBA degree in hand, you get almost double the return on your investments. You can check the list of universities giving the best ROI in India at the end of this blog.
Read: MBA for Working Professionals In India
Diverse Network
If you are preparing to build a career in Management then surely you must be aware of the vital importance of Networking. To be successful in the field of Business Administration, you need to have a strong network. The bigger and diverse the network, the more opportunities it entails.
Most people opt out of the online MBA course thinking that they will not have opportunities to build a network. However, they are not aware of the splendid benefits of virtual networking.
An online MBA curriculum gives the opportunity to connect with industry experts and veterans from all across the globe. You are not restricted to meeting people of your own city, state, country, or ethnicity via webinars, online guest lectures, and virtual interactions with industry bigwigs.
Read: What Is Part Time MBA?
There is diversity not only in terms of educators but you also have a diverse batch with students from varied backgrounds bringing in diverse perspectives to the plate. The alumni network of the college also matters a great deal. It is an added advantage if you have the opportunity to connect to alumni of both offline and online MBA programs of that particular college.
Online MBA Career Scope
There is no difference between full-time and online MBA in terms of career opportunities. The job roles are similar irrespective of your degree being online or offline. Since management and business administration is an integral part of every industry, be it technical, medical, media, entertainment, fashion, banking, and retail of course.
From small to big, companies in every sector are hiring management graduates today to maintain a robust management in their firms. For instance, if you are a software engineer and you have your own company. No matter how good you are as an engineer, you might not be able to manage the company as well as a management graduate would.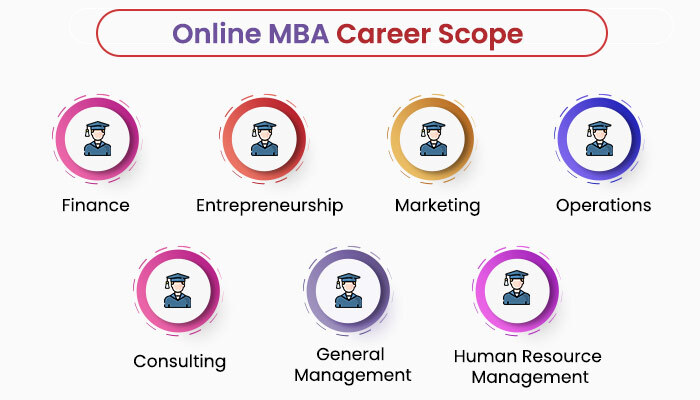 The reason is there are multiple aspects to managing a company including operations, finances, human resource, sales, marketing, and more. A professional in the particular field will only be able to bring about better results.
Read: Career After MBA In India
Hence, whichever industry you look at, you will find career scope for MBA graduates. The job role however will depend on the specialisation you opt for while pursuing your online MBA degree. Given below are some of the MBA specialisations with great career scope in future:
| | |
| --- | --- |
| Finance | General Management |
| Entrepreneurship | Consulting |
| Marketing | Human Resource Management |
| Operations | |
Online MBA Salary
The salary package after an online MBA varies depending upon your MBA specialisation. The table below shows the average base salary for the different job roles of online MBA graduates.
| | |
| --- | --- |
| Job Role | Average Base Salary |
| Business Operations Manager | Rs. 9,76,913/- |
| Financial Manager | Rs. 7,90,957/- |
| Business Analyst | Rs. 5,70,320/- |
| Project Manager | Rs. 12,98,003/- |
| Marketing Manager | Rs. 6,77,465/- |
| Human Resource Manager | Rs. 6,95,501/- |
Read: MBA Salary In India
Online MBA Top Universities- Key Features
In India, various prestigious universities have begun providing online MBA degrees owing to the growing popularity of flexible online education. Given below is a list of such universities along with their program fee and other key features.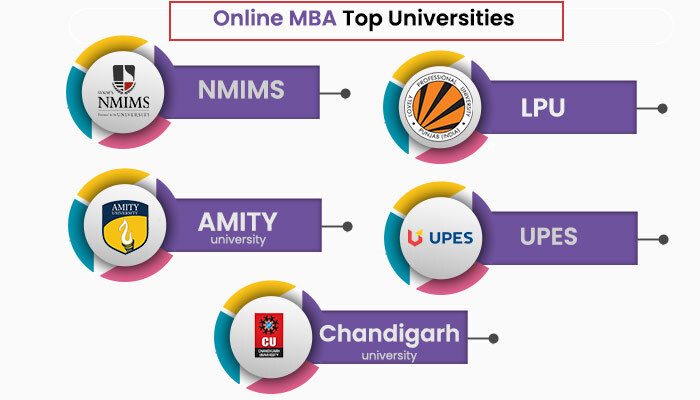 University
Program Fee (in INR)
Key Features

Narsee Monjee Institute of Management Studies (NMIMS)

1,44,000/-

3500+ e-learning modules

One of the best learning management system (LMS) in the country

One-on-one sessions and mock interviews with career coaches for personalised attention during placement drives.

Extraordinary career assistance services like help in making CV, Cover Letter, LinkedIn profiles etc.

Excellent Alumni base

Amity University

2,64,000/-

2,55,000/- (if paid lump sum)

Top industry leaders providing personalised mentorship.

Placement assistance and dedicated career services

Live industry projects for portfolio building

100+ hiring partners

UPES

1,45,000/-

A Grade accreditation by NAAC.

33 corporates as partners

24X7 support from dedicated program managers

Top-tier faculty and mentors with industry expertise

Lovely Professional University (LPU)

1,56,000/-

1,42,000/- (if paid lump sum)

Top grade industry oriented curriculum and professors

Excellent Learning Management System (LMS)

Career Support and recruiting partners providing amazing placements

Personalised mentorship

Chandigarh University

2,00,000/-

Extremely affordable program fee

Industry led course curriculum that is globally accepted

Relative grading evaluation system

A brilliant state of the art technology interface
There are students who can afford a larger fee structure and their only requirement is flexibility in learning. Such aspirants must consider IIM Ahmedabad's e-Mode Post Graduate Program in Management (ePGP). IIM Ahmedabad is the number 1 B-school in India. The e-PGP course is a 2 year hybrid program with online as well as offline lectures conducted at IIM Ahmedabad Campus. The fee structure is as follows:
| | | |
| --- | --- | --- |
| Course | Fee Per Semester (in INR) | Total Program Fee (in INR) |
| e-Mode Post Graduate Program in Management (ePGP) | 5,00,000/- | 20,00,000/- |
Conclusion
To conclude, an online MBA degree has much more benefits than you think. The career scope is great with high salary packages thereby increasing the ROI. However, all these advantages stand as long as your online MBA degree is from an authentic college. To help you choose the college which is best according to your specific needs, College Vidya has come up with a Compare Feature to compare universities providing online and distance education based on various parameters for different UG, PG, and Diploma courses.