Are you an entrepreneur or business professional who is continuously striving to improve your business growth? You must be familiar with the term "consumer behavior." If yes, you have developed a true business sense but if you have not paid attention to this term then you should get an understanding of the topic for a growing business.
In this blog, we are going to discuss this very important aspect of the business, i.e., Consumer Behavior. After getting a brief of this topic you will get to know about your customers or consumers in a better way & will be able to deliver the products or services as per their requirement that will ultimately benefit your business or start-up.
What is Consumer Behavior?
Customer satisfaction is the key to a long life of a business in any domain or sector & for this, you need to understand your target consumers closely. Consumer behavior is the customer response to a service or product & this response decides the progression of your business in the market. An analysis of customers' responses towards the services or products launched by you will help you understand their needs & make you improvise your services to bring in new customers or retain the old ones.
Explorer Top Trending (UG & PG) Online Courses
Suppose you run a business based on some products, the consumer response toward these products is termed consumer behavior & it includes the analysis of the below-mentioned points.
Whether the customers will purchase the product or not.
Whether it is useful for them or not?
Will they repeat the order in the future or not?
If you have accounted for these basic concerns from the customer's point of view, you will have a clear idea of a better consumer approach.
To get an understanding of customer responses, consumer psychology is included in the study of business or management. It is one of the important subjects for business professionals & gives an idea of the factors that affect the decision-making patterns of customers.
Buying Behaviors of Consumers
The decision-making process of any particular product or service involves a number of factors that revolves around the buying behaviors of customers. There are different types of buying behavior specific to the emotional & financial conditions of the customers.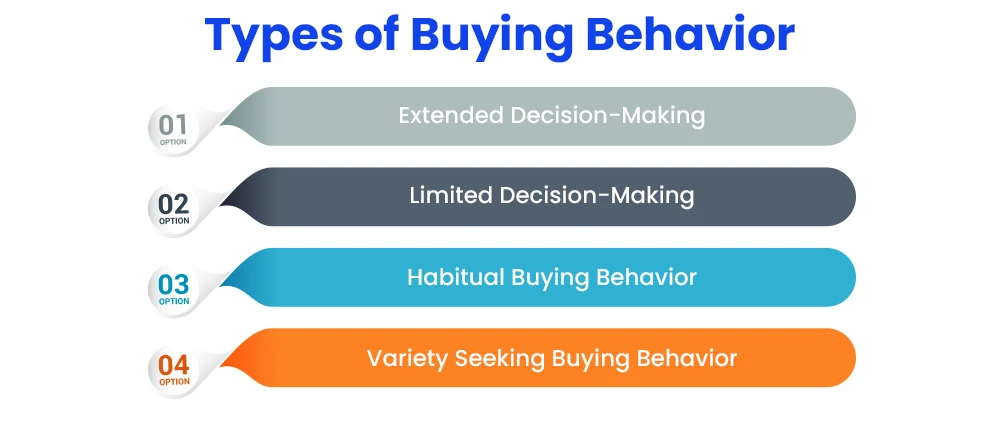 Extended Decision-Making: This process is involved buying an expensive item for which consumers do some research, compare the options available in the market, and then finalize the best one as per their needs. E.g., buying a car.
Limited Decision-Making: This process involves comparative research of the prices for the product to be bought & the final decision is based on the most economical range & quality. E.g., buying a dress.
Habitual Buying Behavior: This behavior reflects the trust of customers in a specific product or brand. This buying behavior shows that the customer is completely satisfied with the product & does not want to go for any other options. E.g., buying a beauty product.
Variety Seeking Buying Behavior: This behavior shows the continuously changing needs of a customer. In this, the customer keeps on buying & trying new products & is not concerned about a specific brand or company. E.g., buying grocery items.
Steps Involved in Buying a Product
Before investing money in any product, consumers do spend a lot of time doing research about that specific product. There are a number of factors that are involved in the buying procedure of an item. Some of the factors have been listed here that brief the thought process of the consumers while purchasing an item.
| | |
| --- | --- |
| Recognize the Problem | Research on Finding a Solution |
| Comparison of Options | Brand or Service Selection |
| Post-Purchase Satisfaction | - |
Recognize the Problem: This is the very basic step before buying a product. A customer will only look for some products or services if there is a need for them. This step is basically aimed at the need for a product for solving the problem related to actual (food/shelter) or perceived needs (car/new house).
Research on Finding a Solution: After feeling a need for some product, customers will start researching the companies or brands providing it.
Comparison of Options: After shortlisting the companies providing the needed product, consumers will do a comparison of different options available in the market.
Brand or Service Selection: A comparison between different options will provide a detailed knowledge of the quality & prices offered at different companies to the customers. The selection of the final product is completely based on the lifestyle & thought process of the consumer.
Post-Purchase Satisfaction: After buying a particular product, consumers do an assessment of whether the product was worth their money or not. This step decides if the customer would repeat the specific order or not.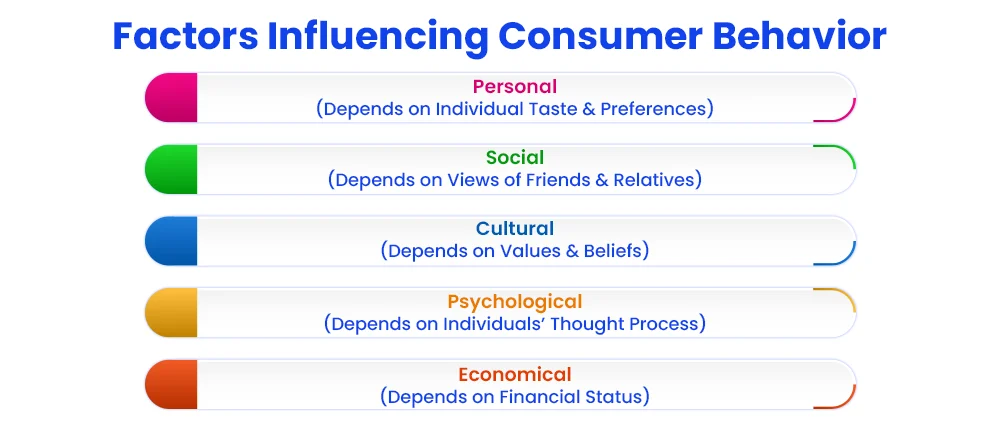 Seven Principles of Consumer Behavior
There are 7 principles through which business professionals & marketing specialists can get an in-depth understanding of consumer behavior.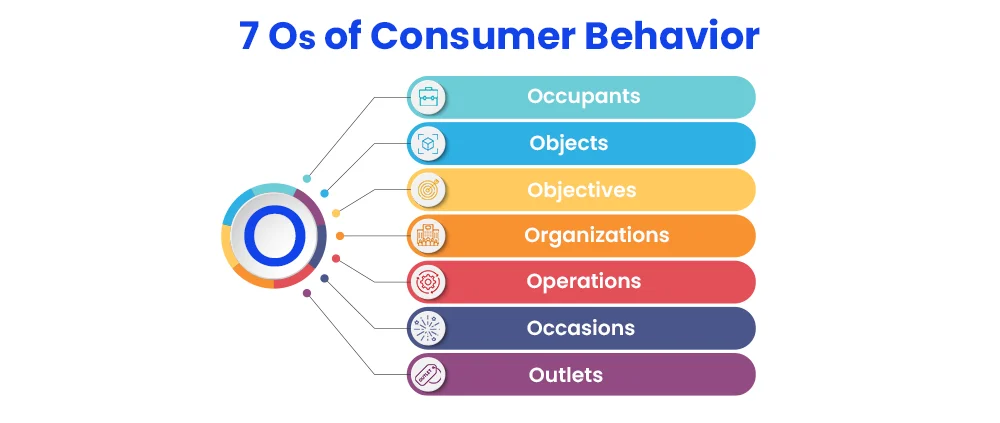 Occupants: This term is used for the users of a product or service.
Objects: Objects are the products or services that demand a person's attention.
Objectives: Objectives are the purposes that these objects fulfill in an occupant's life.
Organizations: An organization develops certain missions & visions to understand the consumer behavior for a specific product or service.
Operations: Operations are the working strategies on which the organization operates to serve the consumers in a better way.
Occasions: Social events like birthdays, festivals, etc. are the occasions that influence the buying behavior of consumers.
Outlets: These are the stores, shops, or retailers from where the customers shop.
Importance of Consumer Behavior
Whenever we see an advertisement on TV or social media platforms, the first thing that comes to our mind is the relevancy of the product for us. For example, a 15-year-old will not be interested in the ad for sarees. Likewise, a 65-year-old will not pay attention to the new launches of the smartwatch.
The motive of giving these examples here is that if you are in the business field, it is really important for you to understand your target customers as per the services or products you offer. After you have marked your consumers, the next step is the analysis of their response toward your products & services.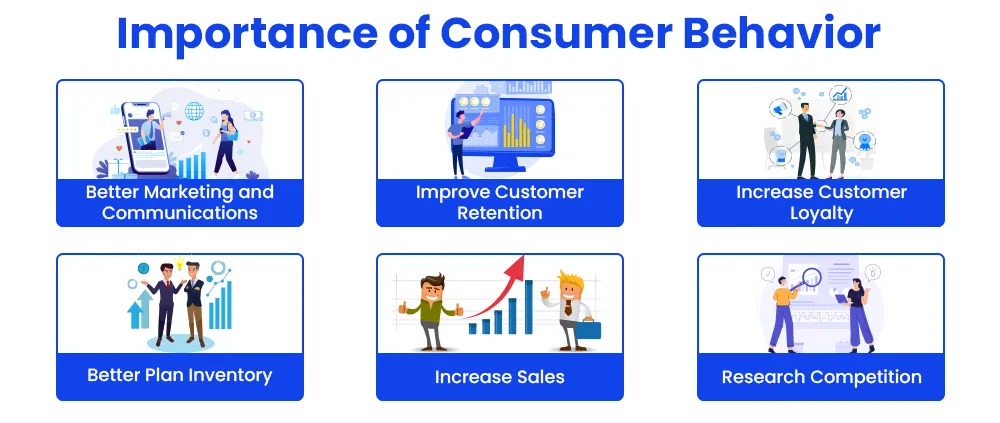 Understanding consumer behavior helps businesses improvise their strategies for a better reach to consumers. By emphasizing "WHY" & "HOW" about a product or service from the customer's perspective, business professionals can make better business decisions.
Role of Consumer Behavior in Business Growth
Consumer behavior is the prime factor that impacts business growth on a large scale. There are several strategies that can be used by businesses or organizations to improve their reach to consumers as well as create a positive impression on them.
1) Consumer Differentiation
After focusing on the target customers of your products, you can still differentiate them into different groups. These groups are made based on the requirements or their behavior towards the product. The groupings of consumers make the marketing specialists develop different strategies as per the needs of different groups. This will provide businesses to be more customized for their products or services as per the customer needs.
E.g., A middle-class customer will be more concerned about the quality of a product while an upper-class customer will be more focused on the quality & brand of the product. Thus, the marketing strategies for both customers need to be different depending on their needs.
2) Consumer Retention
Retaining old customers is as important as bringing in new customers. Designing & developing strategies aimed to retain old customers will help the businesses gain trust in the market. Happy customers are a point of attraction for new customers. Thus, the marketing strategies must be planned in a way that not only targets new customers but also focuses on making the existing customers satisfied with the services & products.
3) Developing New Marketing Strategies
Understanding the consumers will make you design new marketing strategies that are specifically made to target their needs. These strategies are quite useful in bringing in new customers that are interested or in search of products or services similar to yours.
4) Predicting the Nature of the Market
If you are familiar with the latest trends in the market, you can easily mold your business in the right direction. After getting an idea of the trending services or in-demand products among consumers, you can launch or introduce new products & services that get easily consumed. This will help you develop cost-effective strategies for maximized profits.
Do you know: According to the Harvard Business Review of 2022, 80% to 90% of new product launches fail every year depending on the type of the industry.
5) Identifying the Competition
The most difficult part of businesses is to survive the existing competition in the market. You can analyze the working pattern, marketing strategies, and customization techniques of your competitor and can develop better strategies with the knowledge of consumer behavior.
6) Introducing Innovative Products & Services
There are very rare chances of growing a business by just focusing on a single product or service for a longer time period. In the competitive trends of the market, it is really important to be innovative in your products & services to improvise the lifestyle of your existing customers and bring in new customers.
Do you know: Using consumer behavior analysis, Nike targeted mass audiences that includes professional athletes & many others striving to be like them. So, 2012 London Olympics, Nike ran a campaign called "Find Your Greatness." It involved aspiring individuals who want to be athletes with high-performing athletes irrespective of their physical capabilities.
7) Creating Relevancy in the Market
If you are familiar with consumer behavior, you can keep on developing & changing your services & products to match up with the continuously changing customer needs. This will make your business services relevant in the market & help you survive the competition in a better way.
8) Improvised Customer Services
After developing an understanding of customer responses, service providers or businesses can work on their customer services to build a better platform for customer satisfaction. This step will help you retain the old customers to a high extent & will also attract new customers.
Strategies That Influence Consumer Behavior
Marketing strategies of a brand or a company can hit the target consumer in the right way. After understanding the role of consumer responses in business growth, companies can develop new strategies of promotion or improvise the existing ones. These strategies convey the information & relevance of the services provided by a company to the consumers.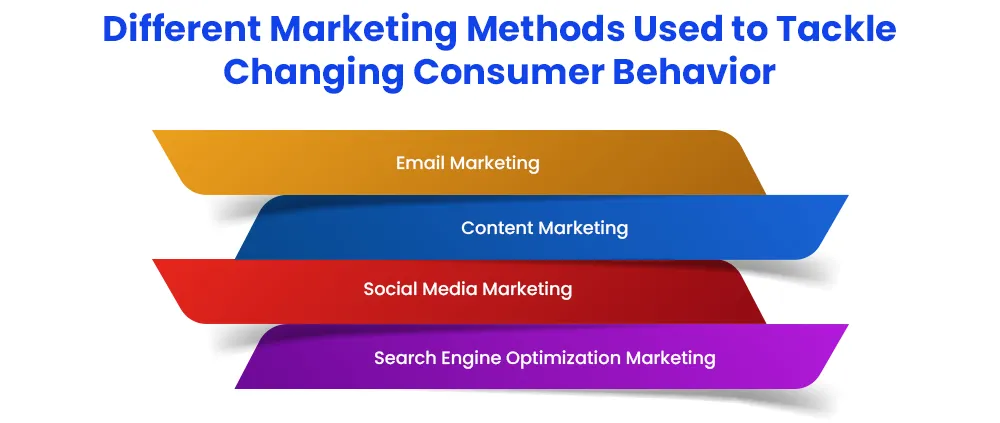 Development of Customer Insight Strategy
Customer insight strategies help in understanding your customers through the collection of data related to them. These data-driven strategies help in developing qualitative as well as quantitative methods to approach consumers. The qualitative methods are based on running ads & surveys while the quantitative approach is based on the data analysis of consumer responses.
The development of strategies focused on customer insights involves the latest technologies & relevant marketing methodologies that influence target consumers. The points to be involved while developing a customer insight strategy are mentioned here.
Collect customer data through digital surveys, campaigns, & other quantitative methods.
Analyze the trends of involvement of customers in your services or products & draw a pattern from the same for an understanding.
Use the information obtained from customer involvement trends to make marketing strategies for improvised customer services.
Review & update your business strategies as per the changing trends in customer responses for maintaining the relevancy of services or products in the market.
Models of Consumer Behavior
The study of consumer behavior for businesses has been made simpler through the use of certain tools. These tools are referred Consumer Behavior Tools & are now being widely used by organizations to analyze customer responses toward their products & services.
The AIDA Model
This model works on 4 stages of consumer behavior analysis, i.e., Attention, Interest, Desire, & Action (AIDA). This is a marketing model that engages customers in the ads or campaigns of the organization & makes them aware of the product.
Some of the top firms like CRED, Nykaa, Apple, Netflix, Adidas, etc. use the AIDA model of marketing.
The Customer Lifecycle Model
This model of consumer behavior aims to focus on a long association between customers & organizations. It is also a 4 step process and works on Awareness, Consideration, Purchase & Loyalty. This model makes the consumers know about your services or products and encourages them to consider the products. After the customers buy the product, the company works efficiently to earn their loyalty and make them repeat the purchase in the future.
The Purchase Funnel Model
This model makes the organizations work in a certain way to understand the processing of customers while purchasing a product. The 4 steps included in this model are Awareness, Interests, Evaluation, & Purchase. This model makes consumers aware of your product, makes them research it, makes them compare it with other available options in the market, & then finally influences them to buy it.
Online Courses That Influence Consumer Behavior
Individuals who are already a part of the business community or those who have just started their journey in the same field can opt for different online courses that will upskill their knowledge of tackling consumer behavior. There are diverse options of specializations in the management field (online marketing) that can make you an expert in the field of advertising, marketing analytics, digital marketing, customer relationship management (CRM), etc.
Top Trending Articles
Conclusion
The takeaway that you can get from this blog is that consumer behavior is the interpretation of thoughts that customers process while purchasing a product. The study of customer responses plays a vital role in growing or scaling up businesses. There are a lot of factors that influence the decisions of customers & those must be counted while developing a business strategy focusing on a specific group of target customers.
Customer behavior analysis is also useful in developing marketing strategies that enhance the interest of customers in the products. The analysis of consumer behavior is a data-driven process & certain tools based on different models are used for this purpose.