We all have heard the phrase "First Impression is the Last Impression." Well, this has become the marketing strategy for most brands and companies. In today's digital world, creative designs have their own space in the marketing and branding domain. Sometimes a powerful graphic is enough to hold a customer's eye on the product or services that the company provides. The visual impact is more powerful when it comes to engaging clients/customers towards a specific service/brand.
So, how and where will you get an eye-catching visual for your company? Who is responsible for creating an effective user interface? Some of these questions will be answered in this blog. Along with that, an attractive and in-demand job profile will be introduced that might be suited for you so read this blog to clear your doubts.
What is Graphic Designing?
Graphic designing is the art of presenting your idea in graphics or creative art forms using different types of tools. It is a way of communicating messages or ideas through visual arts. The process of graphic designing includes creating attractive and eye-catching visual art using the basic elements of color, design, font, shape, size, texture, etc. This way of conveying messages is used by organizations for promotional activities of their brands and services and thus, this technical profile has a separate space in the organizations.
Who is a Graphic Designer?
A graphic designer is someone who has professional skills and training in creating graphic designs and art from a different set of images, texts, and motion graphics. Graphic designers are responsible for communicating the idea through strong visuals on company websites, brochures, and social platforms.
These professional designers play a vital role in bringing new customers to the company through their engaging art forms. Their art forms are a creative mix of images and typographs that are aimed to communicate the desired information effectively to the target audience.
Video Source: Mister Classes
What are the Roles & Responsibilities of a Graphic Designer?
Graphic designers deliver powerful artistic visuals and design after combining several elements of technology and art. The graphic designer job description involves the entire process of development of the layout to finalizing the design.
The ultimate aim of these professional designers is to leave a mark of their company in the advertising field by using different elements of media. The platforms for which these eye-catching visuals are created by designers involve websites, posters, product packaging, advertising, books and magazines, displays, corporate banners, etc.
You May Interested In Online Courses
A graphic designer job description involves conceptualizing a creative idea as per the client's need, developing these ideas with the help of the latest tools and designing software, and then finally completing it within the deadline and cost structure as granted by the seniors. Some of the key responsibilities of a professional designer are mentioned here.
Understand the motto of the creative to deliver the desired info effectively.
Analyze the requirements of the project and provide the specific time slot in which the project will be completed.
Develop the blueprints of the idea and get it approved by the client to get a better understanding of their need.
Introduce fresh and interactive creatives in the design.
Try and be cost and time effective for the company.
Get the final designs approved by the managers first and make changes as per their suggestions.
Introduce engaging and computer-aided designs to keep up with the advancements in the field.
Connect with the writing team to get an impactful idea about the display text.
Get involved with the marketing team to make a purposeful design.
Review the design and deliver it to the client.
Implement changes as per the client's feedback.
How to Become a Succesful Graphic Designer?
An individual does not need a specific UG or PG degree to become a professional in graphic design. Any subject or course that involves an in-depth knowledge of printing techniques, art, and history can get you a well-paid job in the related field.
Academic Qualification
If you have a creative mindset and enjoy being surrounded by the latest tools and technologies, then graphic designing is something on which you can try your hands. Individuals with or without graduation are eligible to apply for this job role. However, relevant work experience is always demanded by employers if you have not gained any professional training in the multimedia domain.
Here is a list of some of the professional certification courses that one can complete after HSC or 12th to secure a graphic designer job.
| | |
| --- | --- |
| Certificate Course in Computer Animation & Graphics | Certificate Course in Animation & Graphics Design |
| Certificate Course in 3D Modeling & Software | Certificate Course in Communication & Graphics Design |
| Certificate Course in 3D Animation | Certificate Course in User Interface Design (UID) |
| Certificate Course in Advertising & Graphics | Certificate Course in Graphics & Web Design |
| Certificate Course in Graphic Designing, DTP & Video Editing | Certificate Course in Fundamentals of Visual Design |
| Certificate Course in Design for Digital | Certificate Course in Design for Print |
| Certificate Course in Graphic Design Specialization by CalArts | Certificate Course in Intro to Graphic Design with Photoshop |
| Certificate Course in The Language of Design: Form and Meaning | Certificate Course in Graphic Design |
Apart from these certification courses, candidates must get a minimum qualification of graduation to progress in their careers. An online bachelor's degree of BA/BBA/B.Sc/B.Com can be pursued by candidates in addition to the above-mentioned certificate programs to secure jobs as graphic designers in top industries. These online degrees make candidates acquire a side-by-side training or internship program in the design field to get relevant experience.
Online Graduate Degree Programs
Diploma Courses
Graduates of any stream with the required experience can get hired for a graphic designer job. Postgraduate candidates who want to change their field can also try this career option after earning knowledge of the related domain. Some online diploma courses in the specialized domain are quite helpful for candidates to get an entry-level job in the design field. One such diploma course is:
Technical Courses
To keep up with the competition in the industry, you must learn the latest tools and software in the graphic industry. There are a number of software that are used frequently while developing art or creatives. A complete understanding of these tools and software can be gained during the initial years of the job or an internship program. Some of the basic tools used in the design industry include:
Acrobat
Illustrator
Photoshop
Premiere Pro
After Effect
Coreldraw
Graphic Designing Courses
If you are planning to move ahead in your career with a professional degree in graphic design then you must get a diploma/certificate/graduation course that covers all the fundamental aspects of this field. Some of the courses offered at different institutions are listed here along with their fee structure.
| | | | |
| --- | --- | --- | --- |
| Course | Institution/University | Duration | Fees |
| UG Pathway in Graphics & Communication Design | Pearl Academy | 3 years | 6,00,000 INR/year |
| BDes Graphic Design | Apeejay Stay University | 4 years | 3,00,000 INR/year |
| BDes Graphic Design | Lingaya's Vidyapeeth | 4 years | 1,30,000 INR/year |
| Diploma in Animation & Multimedia | Maharishi University of Information Technology | 1 year | 1,00,000 INR/year |
| Certificate Course in Graphic Design | Silver Oak University | 3 months to 1 year | 60,000 INR |
| BDes Visual Communication | LJU Ahmedabad | 4 years | 4,80,000 INR |
| Certificate Course in Graphic Design | Skyblue Institute of Design | | 75,000 INR |
| PG Diploma in Graphic Design and Packaging | Apeejay Institute of Design | 1 year | 1,22,000 INR |
| BDes Graphic Design | Symbiosis Institute of Design Pune | 4 years | 4,20,000 INR/year |
| BDes Graphic Design | Ajeenkya DY Patil University Pune | 4 years | 3,50,000 INR/year |
Graphic Designing Online Courses
Individuals who want to pursue a technical certification or degree in graphic design along with their main fieldwork (job or study) can pursue an online course in the same specialization. There are a number of institutes/universities that offer online graphic design courses for a short span and at an affordable cost. A list of some of the online courses offered at different institutions is provided here.
| | | | |
| --- | --- | --- | --- |
| Course | Institution/University | Duration | Fees |
| Graphic Design Elements for Non Designer's specialisation | University of Colorado Boulder | 4 months | 45,000 INR |
| Graphic Design Masterclass | Udemy | 15 hours | 9,000 INR |
| Intro to Graphic Design | Udemy | 16 hours | 9,000 INR |
| UI and UX Design Orientation | Cal Arts | 4 months | 15,000 INR |
| Graphic Design Specialisation | Coursera | 6 months | 22,000 INR |
| Professional Logo Design using Adobe Illustrator CC 2020 | Udemy | 8 hours | 1,600 INR |
| Adobe CC Masterclass: Photoshop, Illustrator, XD & InDesign | Udemy | 13 hours | 9,000 INR |
| Ultimate Adobe Photoshop Training: From Beginner to Pro | Udemy | 15 hours | 9,000 INR |
| Illustrator 2021 MasterClass | Udemy | 13 hours | 9,000 INR |
| Graphic Design Bootcamp: Photoshop, Illustrator, Indesign | Udemy | 16 hours | 9,000 INR |
Key Skills of a Graphic Designer
For a successful career in any sector, only academic qualification is not enough. If you are really passionate about a designer profile then you need to have a positive and creative approach toward each task assigned to you. Some of the basic skills required to become an exceptional designer include:
Creative mindset
Communication skills
Positive approach toward feedback
Time management skills
Presentation skills
All these skill sets can be learned through internship programs or job training. Involvement in real projects gives an insight into the challenges one faces while completing a task. This field experience is quite helpful for candidates to build an impressive portfolio through which they can show their work to other clients or companies.
Salary Package of a Graphic Designer
Salary packages are the center of attraction for any profile and it varies as per the knowledge and experience of individuals in the related industry. A graphic designer's salary package ranges between 1.0 LPA to 4.0 LPA for a fresher. This package reaches a maximum of 6 to 7 LPA in 3 to 5 years of work experience. A professional designer with an experience of about 10 years can earn up to 9 to 10 LPA in India. These salary packages are not fixed and vary with the industry, location, and technical skills of the designer.
Career Scope for a Graphic Designer
A graphic designer with enough experience and a strong portfolio can easily get promoted to higher designations in the same firm or the other.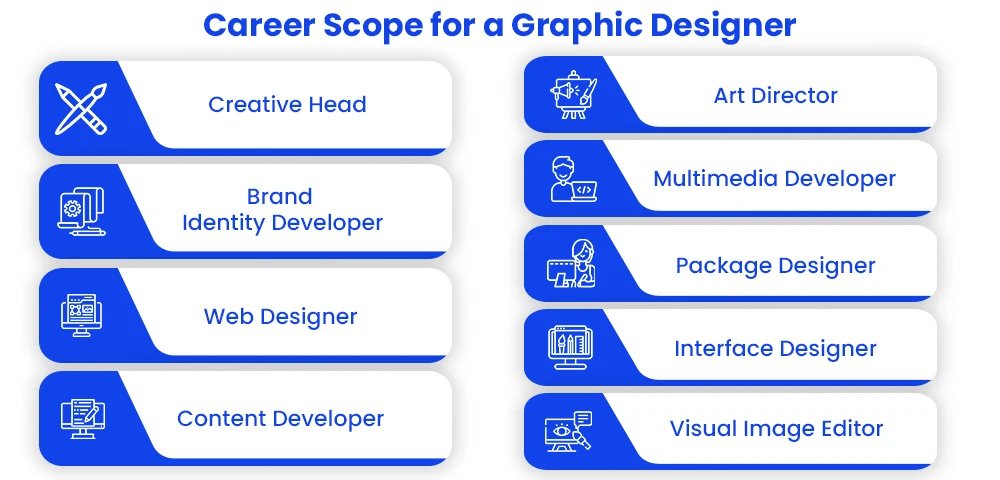 A few of the positions that can be acquired by designers within 2-3 years of work experience are elaborated here.
Creative Head: Gets to manage a team of designers and approves their designs for brand promotions, banners, campaigns, etc.
Brand Identity Developer: Gets to work on the brand formation and promotions for different organizations.
Web Designer: Gets to develop, finalize, and approve the visual content for the website.
Content Developer: Gets to develop a variety of multimedia-based content (Written, Audio, Video) as per the briefs.
Art Director: Gets to manage the coordination between production and creative teams and makes sure to finish the project on time.
Multimedia Developer: Enhances the video or audio content using multimedia skills and techniques.
Package Designer: Designs product packages as per the company's or brand's requirements.
Visual Journalist: Conveys the news or information through informational graphics or infographics.
Interface Designer: Responsible for developing and maintaining the user interface of the organizational websites.
Visual Image Editor: Creates art forms and designs using 3D modeling tools and image editors.
Workplaces of a Graphic Designer
Professional designers in most companies have become an integral part of the marketing team as they are responsible for creating the digital impression of the company. The work of a graphic designer is dependent on the workplace at which he/she chose to work. The options available for a graphic or multimedia designer include 3 major variations.
In-house Designer
Agency Designer
Freelance Designer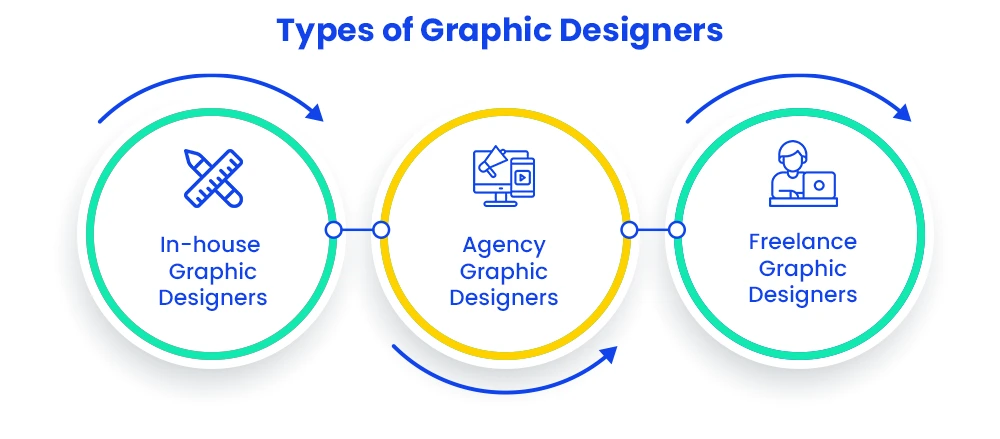 The detailed features of these workplaces with their pros and cons are listed here.
In-house Graphic Designers
A designer who gets to design and develop creatives for a single product or service as offered by the employer is an in-house designer. In this case, designers have to be very specific and thoughtful of their ideas as they need to involve the promotional or advertising aspects of the company in every creature. Also, they need to understand the motto of the company which should always be conveyed to the audiences through their designs. The pros and cons of in-house workplace for a designer are tabulated for a better understanding.
| | |
| --- | --- |
| Pros | Cons |
| There is a balance between personal & professional life. | There are some guideline restrictions while implementing new ideas. |
| There is a regular source of income & job security. | Sometimes, designers need to explain their idea to non-designers. |
| There is a chance of career growth by getting promoted to manager level. | Designers cannot go solo on any idea, they need to get the manager's approval first. |
Agency Graphic Designers
Designers of an agency are third-party designers who are allotted projects from clients and companies. These designers have to do promotional tasks and brand formation for various companies belonging to different sectors. The pros and cons of an agency environment for a designer are tabulated in this blog.
| | |
| --- | --- |
| Pros | Cons |
| There is a diversified range of projects that adds to the designer's knowledge. | Designers work on a contract basis for specific projects as per their duration. |
| New designers get to work with qualified professional designers. | There is pressure due to tight schedules and rigorous working hours. |
Freelance Graphic Designers
A new streamline of work is graphic designing freelancers. This field involves multitasking and a designer is not only limited to creative developments. They also take up the marketing strategies for their company or brand. The positive and negative aspects of this workplace of designers are mentioned in the table below.
| | |
| --- | --- |
| Pros | Cons |
| There are flexible working hours. | There are no teammates or coworkers to share your idea. |
| Designers can work from anywhere. | Designers need to find projects on their own. |
| There is creative flexibility and freedom to express your idea. | There are no company benefits & have unreliable pay. |
Perks of Being a Graphic Designer
Apart from the attractive salary packages, a lot of other benefits can be availed after becoming a graphic designer. These perks include a thorough knowledge of graphics and typography in the working environment of top firms. The job security one gets as a designer is at the top of its benefit lists. The technological aspects one learns in this work profile are of great value as it keeps you updated about the advanced tools and software of the graphic field.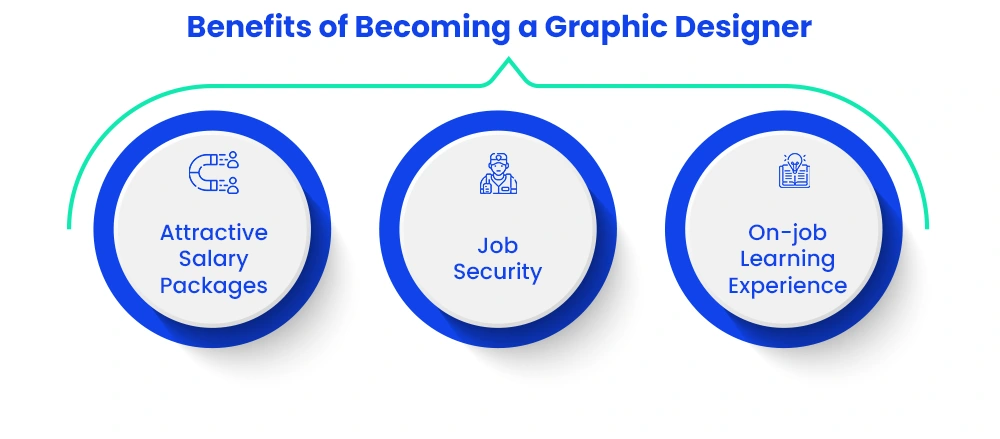 Is a Graphic Designer Profile Suitable for You?
Choosing the correct career path is quite an important decision that must be taken after considering your interest areas and skills. If you have a creative and expressive personality then this might be the correct career choice for you. To become a remarkable design professional, you must be someone who enjoys dealing with new ideas using technology. All the artistic individuals who are capable of expressing ideas or messages through their art and designs can become admirable graphic designers.
Top Trending Articles
Conclusion
Graphic designers are professionals who create visual designs using different sets of fonts, text, images, colors, art, etc. These professional designers promote the products or services of the companies on platforms like advertising, magazines, social platforms, websites, and others. Designers contribute to the company's growth by designing eye-catching and engaging creatives that bring in new customers to the company's network. The graphic professionals get to work with the digital marketing team, copywriters, web designers, and other departments to deliver an impactful design that spreads the message of the company to the target audience.
Graduates from any stream can become graphic designers with relevant certificate courses and work experience in the graphic domain. Diplomas and other technical courses add to the knowledge of individuals who want to explore the field of graphics and want to develop a career in it. The salary package for a fresher graphic designer is between 1.0 LPA to 4.0 LPA and this goes up to 10 LPA with relevant experience and knowledge of the field. Graphic designers can easily get promoted to the positions of creative head, web designer, art director, multimedia developer, etc within 2 to 3 years of work experience.
Designers equipped with graphic techniques can work in different environments. This categorizes them into in-house designers, agency designers, and freelance designers. There are certain advantages and disadvantages associated with all three workplaces as mentioned in this blog.