Industrial Safety Course Online (Diploma, Fees, Eligibility)
Jan 30, 2023 1.6K Reads
Listen us
Industrial safety is referred to as courses that are dealing with organisational safety maintenance. There are attractive courses and different genre specialisations offered to the students.The safety courses learning involves the learning of workstation functioning, danger zone and tackling of hazardous situations. Online is a new medium that is providing assistance to the working professionals as well as the students who want to complete their incomplete educational journey with a hustle free learning environment.
Industrial Safety Online Courses 2023
For the Online Courses intake students have a variety of courses under industrial safety which are available in Certificate, Bachelors, Diploma, Masters and as well as in PG Diploma Program. Also if a student wishes to pursue Industrial safety courses after completion of their 10th class then its possible, rather than that all other program types are available for students. These courses can be studied in online mode by matching specific industrial as well university eligibility criteria.
Key Features
Details
Courses
Industrial Safety Online Certificate Courses
Course Level
Diploma/Certificate
Approvals
NAAC & UGC
Duration
6 Months to 2 years
Programs Offered at Online Mode

Diploma in Health, Safety & Environment

Advance Diploma in Industrial Safety, Certificate in Fire Safety, PG Diploma in Industrial Safety.., etc

Fees (Approx )
30000/- to 105000/-
Mode of Classes
Online with LMS, Live Sessions + Guest Faculty assistance
Universities offering Course
Few in counts offering in India
Average Salary
4LPA to 6 LPA
Top Recruiters
Reliance, Tata Motors, Tech Mahindra.. Etc.
What is Industrial Safety?
Industrial Safety is related to the prevention of risk management techniques and throughout the process involves their cognitive approach in implementing a safezone environment in respective organisations. Using Tools, Understanding Employee Manual Task which is risky if the linean attitude is carried. Training sessions include theoretical topics for understanding the core concept about industrial safety.
There are also some of the practical assistance that is provided to the students by providing the exposure of the case studies and the incidents that are relevant to the subject. Industrial Safety is in demand from the point of realisation that there is a need for safety precautions at dangerous workstations.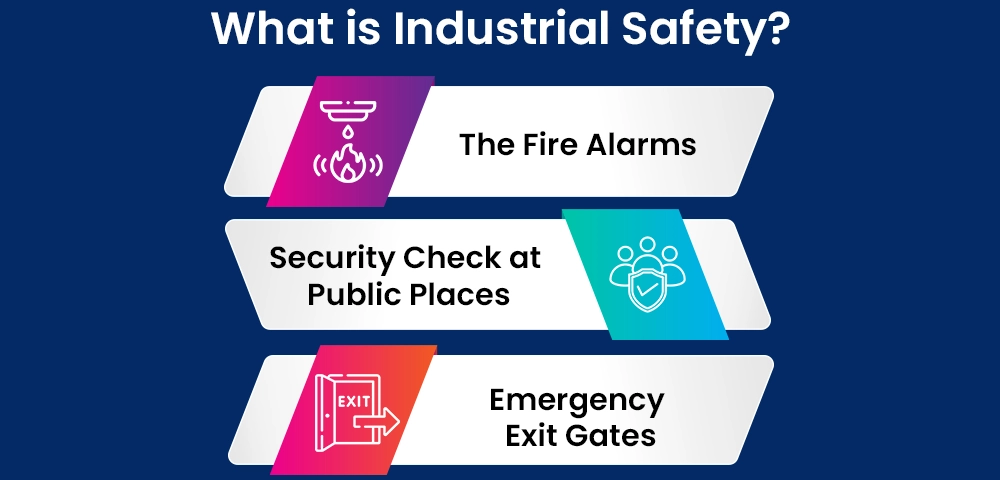 For the better understanding , The Fire Alarms, Security check at public places, Emergency exit gates, Safety tools invention are all Industrial Safety terms which are created by an Industrial Safety Specialist to avoid accidents.
To be such an inventor one requires to study in a relevant course and needs to prove their ability and the capability to fit in for the industrial safety positions. The process involves observation, analysis, Preparation and Execution and these things can be learned step by step.
Industrial Safety has challenging roles where one can explore as much as they want, because to keep a safe and smooth workstation is a tough task. While working on it an individual can come across thousands of examples and they can be updated with the recent industrial safety trends.
Trending Industrial Safety Program
Advance Diploma in Industrial Safety is a 1 year program offered to the students who are interested in Industrial safety measure training and want to have a lucrative career option in similar field study. Course is suitable for working professionals who have a basic knowledge of the subject and want to upgrade learning and knowledge skills.
The course is prepared through the safety preparation and implementation of new protocols. Concepts, necessity, Importance are some of the courses core learning topics that an individual learns. The Industrial trends and some case studies are showcased to understand some serious situations and danger zones.
Program is valid and it has UGC and NAAC approval through which a certificate will help for the future development. The need for safety precautions and the management unit is increasing day by day and such certifications are helping students/ professionals to avail some beneficial courses like Advance Diploma in Industrial Safety.
Course fee is approximately 30, 000/- to 60,000/- which can differ from university to university. The reason why the course is a trending one is because of the career prospects that are available after the program completion. Oil, Chemical, Engineering & Petroleum Industries are highly accepting the candidates who have opted for this course.
Advance Diploma in Industrial Safety Curriculum
Curriculum is the subject and the topics that are offered to the students throughout the duration of the course. Practical and some updated topics are added in the curriculum which helps for the educational training.
Safety, Health, and Environment Management.
Electrical Safety.
Safety, Health, and Environmental Laws.
Industrial Hygiene and Occupational Health.
Accidents Prevention & Emergency Preparedness.
Environmental Issues and Management
Eligibility
A candidate should be a graduate from any respective field.
Diploma Program Passout is also eligible for pursuing the course.
There is no age limit to apply at this course.
A 2 years of work experience is a must for the students admission.
Fees
The academic fee is around 30,000/- to 60,000/- rupees and also there is a EMI option which is beneficial for the candidates who are interested in the admissions but are lacking due to financial costing as they can pay through the monthly instalments procedures.
Top Universities Offering Industrial Safety Online Courses :
Online Learning is adopted by various universities to start with convenient learning for working professionals who can avail the comfort of educational learning. With the LMS and live session students can study from anywhere and anytime.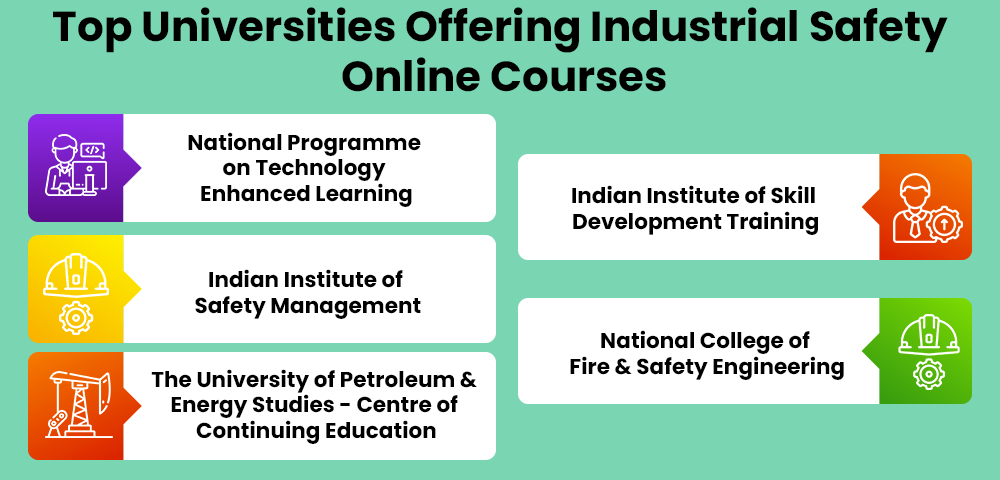 Check out the Universities List Jotted Below
| | | |
| --- | --- | --- |
| Universities | Courses | Approvals |
| National Programme on Technology Enhanced Learning | Industrial Safety Engineering | AICTE |
| Indian Institute of Safety Management | PG Diploma in Industrial Safety/ Advanced Diploma in Safety Management/ Advance Diploma in Industrial Safety | MSME |
| The University of Petroleum & Energy Studies - Centre of Continuing Education | Diploma in Health, Safety & Environment / Postgraduate Program in Industrial Safety | NAAC |
| National College of Fire & Safety Engineering | Diploma in Fire and Safety Management/ Diploma in Health, Safety and Environment/ | RTM Board of Lifelong Learning & Extension (Govt. University) |
Industrial Safety Online Courses (PGP) at UPES
UPES - University of Petroleum and Energy Studies has a Centre of Continuing Education which was started in 2003. This educational platform deals with the online session of learning some industry based courses and the best part is that the university is UGC approved and NAAC awarded.
The admissions are ongoing right now for the 2023 academic session. Also for detailed information have a look on the prospectus of the course that is designed by the university. Also Read: Is UPES online good or bad?
Courses like Diploma in Health, Safety & Environment (6 Months) and Post Graduation Program in Industrial Safety which is a 10 months long program offered to the students with an online LMS, Webinar and Live sessions by the expert faculties.
Program Facts :
For the working professionals the course of industrial safety is offered by UPES Online University.
Industrial and practical virtual assistance will be provided to the candidates who can study at their own pace.
There is no subject specification required as just a basic merit/ graduation completion is necessary.
Work Experience can help to secure a admission at UPES
LMS and classes with the Industrial Professionals are arranged.
University has professional relations with top recruiting brands which can help for exciting positions.
PGP In Industrial Safety
The course involves advanced learning of industrial safety, where the workstation management and risk-avoiding tactics are taught. Basically, the Professional Preparing Process is included in the course.
Understanding of Danger situations, Implementing some measures that are mostly precaution based requires to be followed. The lectures, classes, theoretical methods and some live examples will be helping an learner to observe and adapt the industrial safety terms
The curriculum of the Safety course in PG mode has been modified by implementing some live and recent case studies which can help students for evolving through the field activities. The Analysing, Optimising, Regularizing , Executing the Plans and managing the critical situation is the core learning motto of the program.
Key Facts of PGP in Industrial Safety
PGP in Industrial Safety program has advanced and professional training assistance provided to the students.
Organisation, Workstation Safety, Hygiene, Employee Safety, Industrial Trends, Case Studies are involved in this course.
The course is a 10 months course where the suitable time and comfortness is accepted for learning without any boundations.
After the course completion the chances to work with brand companies to achieve some great upgrades in your professional journey.
Industrial Experts are hired onboard for the online training.
The 24/7 lab assistance is provided to the students for the learning exposure.
Alumni Connection is also available for knowing the global industrial safety trends.
PGP in Industrial Safety Curriculum
Curriculum is the syllabus which is available for the study method and for the overview we have created a curriculum table for better understanding.
| | |
| --- | --- |
| Semester 1 | Semester 2 |
| Safety, Health and Environment Management | Safety Management and Engineering |
| Electrical safety | Understanding Applied Ergonomics |
| Safety, Health and Environmental Laws | Safety Engineering Management-I: Machine Operations and Safe use of Tools and Gadgets |
| Industrial Hygiene and Occupational Health | Fire Risk & Control |
| Accidents Prevention & Emergency Preparedness | Risk Analysis & Management |
| Environmental Issues and Management | |
Who Can Pursue PGP in Industrial Safety :
An individual who is fascinated about the course and the curriculum also should be interested in the functioning of tasks which will be key roles or responsibilities.
Eagerness to learn what will be the next activity and should be able to participate in class interactions.
Already a professional who is working in the same field can have a golden chance to upgrade their skills through the PGP mode.
Young Professionals are active in ideation and with basic technical knowledge can lead this field with a perfect dilemma.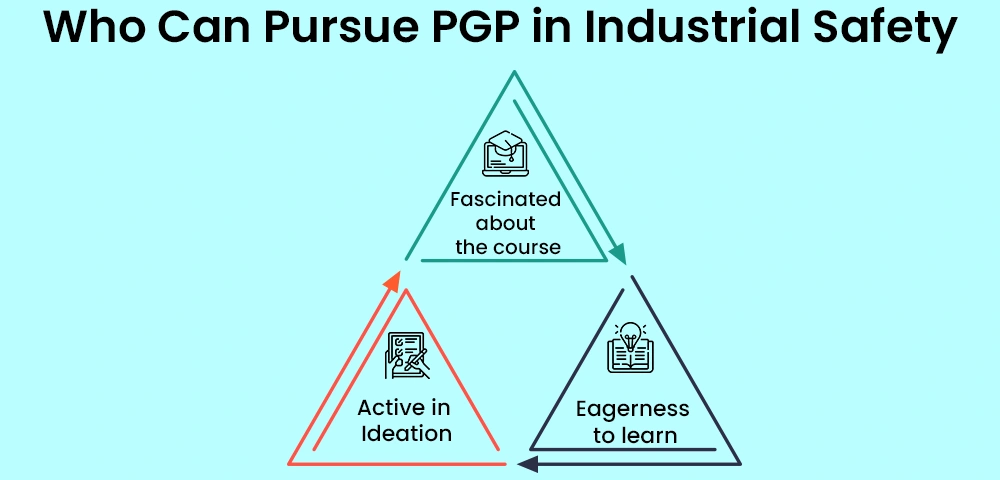 Skills Developed Through PGP in Industrial Safety
Communication Skills will be upgraded to improve professional conversation.
Organising Things in a proper manner will be a valuable skill a learner will adapt to.
Alertness and Activeness will enhance positive thinking skills.
Observing and Analysing skills will be polished during the course period.
Career Prospects For PGP in Industrial Safety
Career Prospects in dynamic fields are available after the course completion. These prospects are basically the career set up profiles in which a particular learner is interested for the future growth.
The career options are unlimited and there are ample fields available like Air, Water, and Soil) Officers, Environmental Protection Engineer, Consultant in HSE, HSE Audit Officer/Engineer, Industrial Safety Auditor.
Industrial trends are dynamic and they are creating a demand for some different and variant career responsibilities. The organisational, corporate or even public gathering places require the safety measures according to the situation.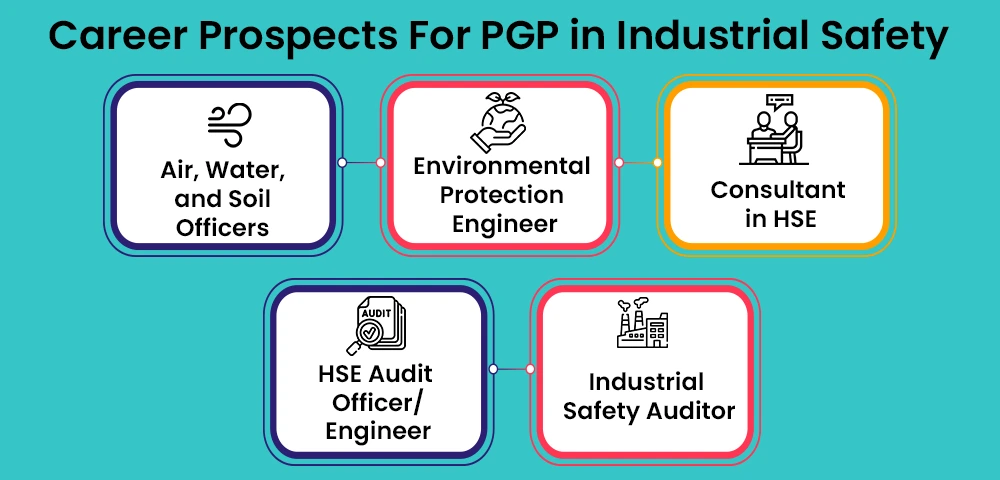 PGP in Industrial Safety Eligibility Criteria
Students for the enrollment need to have a Bachelor's degree in Engineering/Polytechnic or any other relevant field.
Marking criteria requires at least 50% for Eligibility criteria.
Minimum 1 to 3 years working experience is needed for the admission.
PGP in Industrial Safety Fees
The Post Graduation Program in Industrial Safety fee is 59490/-. For both the programs the No Cost EMI option is available for the students who want to avail the monthly EMI payment option.
PGP in Industrial Safety - 59490/-
Diploma in Health, Safety & Environment
Diploma in Health, Safety & Environment is a basic topic and issue which is fluttering in a serious worry attribution. In simple words the safety security of health, safety & Environment is non organised and for this the expert solution is must and there are some Safety field executives who are hired for maintaining it.
Course is highlighting the live and trending issues that are ongoing that are tackled by the implementation and executions. The course involves the identifying of major issues and then rectifying with the permanent solutions.
Cognitive Approach towards situation, Discussion and meeting organising to keep alert once the problem is observed, planning and creation of guidelines & protocols are course objectives through which study methods have been initiated.
Key Facts of Diploma in Health, Safety & Environment
Diploma in Health, Safety & Environment programs is for the working professionals who want to update their educational journey.
The short duration courses are offered with online LMS features and also some industrial faculty exposure is provided to the students.
Course deals with Medical Safety, Industrial Safety and waste control safety that is Environment safety.
It is a 6 months course where students can resume their educational learning through online methods.
Course Curriculum
| | |
| --- | --- |
| Safety, Health and Environment Management | Industrial Hygiene and Occupational Health |
| Electrical safety | Accidents Prevention & Emergency Preparedness |
| Safety, Health and Environmental Laws | Environmental Issues and Management |
Who Can Pursue Diploma in Health, Safety & Environment
An Individual with a critical thinking approach can pursue the course with all the industrial safety trend exposure.
One who not just involves a particular program but evolves themselves in the core of the subjects.
A flexible routine practice is a must who can manage tasks in dangerous situations.
Problem Solver, Idea Creator, Solution Generators are the best fit for the course.
High in energy and active in nature can experience a wide growth in their future steps.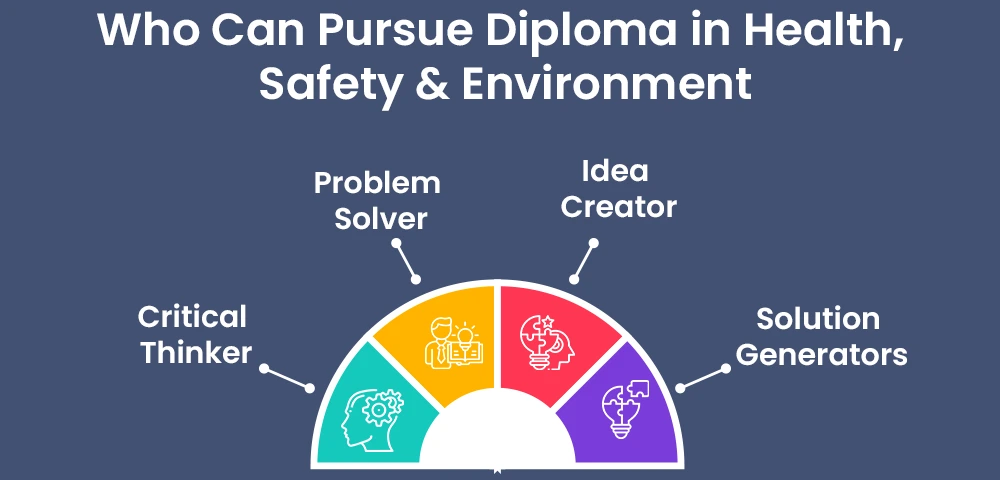 Skills Developed With Diploma in Health, Safety & Environment
Acquiring some effective skills are always better to enjoy in the workplace where the implementation can be executed.
Vocal Enhancement, this skill will definitely make you a half professional because a strong and effective vocal skill can help you for a tough personality.
Explaining with detailed pointers is an elaboration skill through which a skill of planning information with accurate research will boost.
Modifying according to the trends is also an important skill that a student inhabits during the course learning journey.
Career Prospects of Diploma in Health, Safety & Environment
Career Prospect is something which a student dreams for once they have invested their time and energy in particular field learning. The prospect has an overview which is definitely the glimpse of which options are on the path of professional journey.
Health and Environment is something that deals with the public safety and here the number count is not traceable so the safety measures are designed for the general prospect and the origination of it is the career prospect of the student who completes the certification in particular cost.
Industrial- Health- Executive, Manager, Guide, Consultant, Specialist, Experts are some of the attractive profiles where a student can focus for their future beginnings. The procedures and the initials can be challenging but once the foot is fixed the roles and responsibilities will excite an individual.
Diploma in Health, Safety & Environment Eligibility
Students who have completed their 10+2 with a minimum of 50% marks can enter this course.
Working students can be eligible as the course is designed in professional industrial safety.
1 to 3 years of work experience is recommended
No Entrance test is conducted for the course and the eligible marksheets scores are evaluated.
There is no Age Limit for applying.
Diploma in Health, Safety & Environment Fees
The course is structured for both Indians as well as international students who can enrol. The fee for the Indian Students is 40 thousand and for the International students the fee is rupees. Also there is an EMI option available for availing monthly payment.
Indian Students - 40,000/- (6 Months)
Foreign Students - 54,532/- (6 Months)
Admission Procedure
Online university portal is required to be accessed by students who want to enrol for Industrial Safety courses through online mode. University admission intake is ongoing for the 2023 academic session and students can start with the registrations. Applicants are required to go through steps that are jotted below.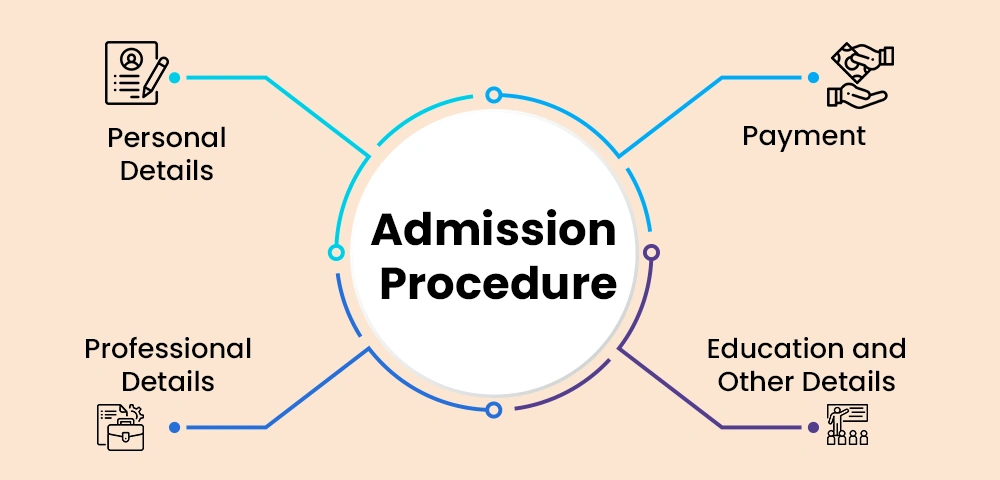 Visit the official website of University
Firstly decide a course which you want to select.
The Universities Homepage has an Apply Now Tab which needs to be clicked.
Click to Start a New Admission.
There are a total of 4 steps like Personal Details /Payment/Educational/Professional.
Insert all the details and cross check before submitting.
Once the submission is done download the status for the future reference.
Also for more detailed information students can visit the website of the university - UPES Online
Job Opportunities After Industrial Safety Online Courses :
Wide range of options are available for the students who choose Online courses for the educational upgrade. Career options are unlimited but few options are eye catching which an individual dreams and for this go through the small table given below.
| | | |
| --- | --- | --- |
| Safety Officer | Safety Supervisor | Environment Safety manager |
| Safety Instructor | Safety Auditor | Risk Management |
| Industrial Hygienist | Industrial Safety Consultant | Safety Engineer |
Salary After Industrial Safety Online Courses :
The main element of learning is the salary that an individual earns for beginning their career.At the initial stage being a fresher students can expect 4LPA to 6 LPA. Once a career begins and experience is building, the salary hike can be achieved.
Explore Some Career Related Article
Top Recruiters of Industrial Safety :
Recruiters are the ones who are looking to hire suitable candidates and we have researched some of the branded recruiters who are selecting candidates for the industrial safety profession. The University has a fantastic record of successful alumni who are placed in top and branded companies where they have scaled up with their positions as well as they are the advisor for the students who are entering in the Industrial safety field. The market trend is few and we have listed it below.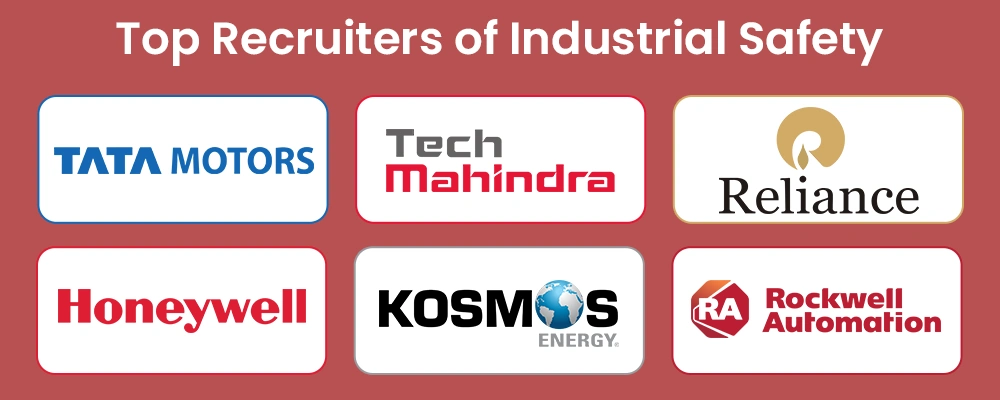 | | | |
| --- | --- | --- |
| Tata Motors | Tech Mahindra | Reliance |
| Honeywell | Kosmos Energies | Rockwell Automation |
Conclusion :
The courses are well available for the students. An Individual must select the right course and suitable program for their educational continuity. The demand is seriously increasing and the fact that the need of safety officers and industrial safety executives is in urgent need, so the professional training and theoretical practices will help for better growth in future. The dynamic nature of industrial safety will open ample options which can be proven for fantastic career details.
FAQs (Frequently Asked Questions)
Yes, the profile carries roles and responsibilities which is a tough one and if an individual survives in critical situations then the demand increases accordingly.
Not only worth it, but also they are UGC approved as the UGC has declared that the course will be having a similar status which a regular course carries, just the eligibility slab required to cross check for online mode.
It's an emerging course and we can observe a sudden boom in Environment and Health issues and this field can have lots of opportunities for the young professionals.
For the initial students can expect at least 4LPA to 6LPA and the amount can be increased once experience is gained.
Yes for the theoretical exposure there are various portals available where students can learn basics of the industrial safety courses.
Recommended for you
Home
Search
Suggest
University
Categories
VideoCounseling