A Work Experience Certificate, or an Employment Certificate, is an official document given to an employee by their employer after completing their work. The certificate contains information on the employee's job responsibilities, work performance, and other pertinent information that may be useful for future job prospects.
Fundamentally, it serves as evidence of your professional experience. Here are some of the essential components commonly included in a letter of experience:
Employee Information: The certificate will include your name, job title, and dates of employment.
Job Responsibilities: The certificate will detail your work responsibilities and obligations during your tenure with the firm. This section emphasises your talents and expertise earned over your stay.
Performance Evaluation: The certificate will also include your performance evaluation, which may include feedback on your work ethic, professionalism, and job-specific abilities. This part is essential for future employment since it informs potential employers about your skills.
Achievements: Your remarkable achievements throughout your employment will be noted in the certificate. This might include everything from specific tasks accomplished to prizes or recognitions earned.
Character Reference: The certificate may include a character reference from the employer in specific situations. This area is beneficial if you seek work in a new industry or a different job.
Contact Information: The certificate will also include the employer's or HR department's contact information in case future employers wish to verify your experience.
Ultimately, a Work Experience Certificate is necessary for anybody wishing to enhance their career or change employment. It gives a comprehensive summary of an employee's experience and performance, which might be helpful for future employment prospects. As a result, employees should obtain a certificate from their employer upon completion of their work.
What is the significance of an experience certificate?
First, it is frequently requested by potential employers when you apply for a new job. This is because it gives them a clear idea of your prior work experience, making it easier to determine whether you're a good match for the job.


Yet, a letter of experience is helpful for more than simply job searchers. Employers may also use it to recognise and thank their staff for their hard work and devotion. In addition, it is used to memorialise an employee's contributions to the organisation and to honour their accomplishments.
How can you obtain a letter of experience?
The first step is to request one from your employer. Many companies have a standard format for experience certificates, but if they don't, you may always provide them with a template to utilise.
While obtaining a certificate of experience, be sure to cross-check the information, such as the amount of time you worked for them, your job title, and a description of your responsibilities. This will make it easier for them to write a completion certificate. If you see any errors or omissions, please contact your employer so that they can be corrected.
Why is a letter of experience important?
A letter of experience is essential since it assures future employers of your job experience and performance. It demonstrates that you have held the roles indicated on your CV and can attest to your dependability, punctuality, ability to work independently, and capacity to cooperate and communicate well with others.
A powerful letter of experience will help you stand out from other candidates and boost your chances of being recruited in a competitive employment market. It gives potential employers useful information that might help them assess whether you are a good fit for their corporate culture and team dynamic.
Furthermore, a letter of experience may showcase your accomplishments, abilities, and favourable characteristics. This can assist potential employers in understanding your unique value proposition and what you will bring to the table if employed.
Ultimately, a letter of experience is a crucial document that may help job seekers stand out from the crowd and enhance their chances of finding their ideal job.
In Demand Online Degree Courses
Who writes a certificate of experience?
A work experience letter is generally produced by the individual requesting the letter's employer or supervisor. It is a formal confirmation of employment that includes information on the individual's work tasks, abilities, and performance.
What is the content of the working experience letter?
A letter of experience generally consists of:
Your job role/designation you were at.
The date of joining and the date of your last working with them.
Date of resignation
The skills and experience you gained at their company
Date of issue of the letter
Some of your credentials like employee ID, any pen name given by the company
We have also attached some experience letter samples below and take a brief how it looks and what it contains.
Letter of Experience Format, Sample & Main Details
A certificate of experience is a valuable document that may help you develop your work. Here is a standard format of a certificate of experience most employers use:
[Employee's name]

[Employee's organisation]

[Employee's address]

[Date of issuance]

[Recipient's organisation]

[Recipient's address]

Dear Sir/Madam,

This letter is to certify that [Employee's name] has worked in our organisation as [Employee's recent post]. He started working here from [Joining date] until [Leaving Date]. He had served for [total time of work] in our organisation.

During his tenure, he was a highly responsible and dedicated employee. He had enriched himself with many skills and work experiences that he utilised to benefit our organisation. His expertise and dedication were invaluable and contributed significantly to our growth. Some of his mind-blowing skills include [mention his best skills].

He had been paid [Employee's Salary] monthly, and his work was always of the highest quality. Apart from his love and devotion to work, he was also a very good and kind man who always maintained a good relationship. We are delighted to have such a generous personality among us.

We highly recommend [Employee's name] for any future job opportunities, and we are confident that he will be an asset to any organisation he joins. We wish him the best of his luck in his career.

Sincerely,

[Sender's Name]

[Sender's Designation]

[Sender's Address]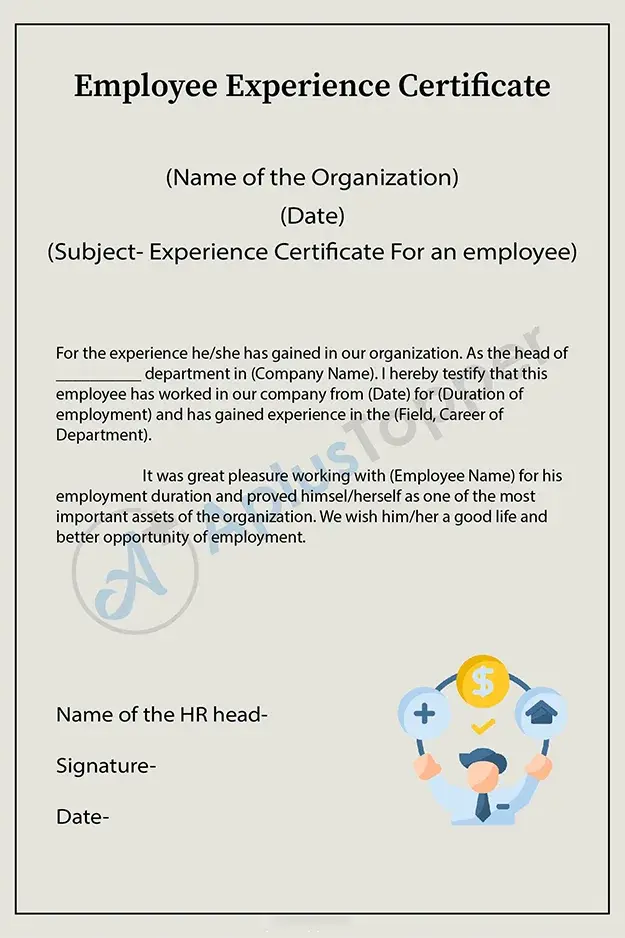 Difference between Relieving Letter and Certificate of experience
| | | |
| --- | --- | --- |
| | Working Experience Certificate | Relieving Letter |
| Purpose | A working experience certificate is provided to offer documentation of an employee's work history, position, and duties in a business. | When employees resign, a relieving letter is provided to legally relieve them of their obligations and responsibilities. |
| Content | A working experience certificate includes the employee's tenure and job duties, abilities, and achievements. | A relieving letter often Provides information such as the employee's final working day, the date of resignation, and proof that all outstanding debts have been paid. |
| Timing | A working experience certificate is often provided after an employee's employment with a company. | A relieving letter is usually given after an employee resigns or when their notice period expires. |
Top Trending Articles
Conclusion
Having a comprehensive record of your professional experience may make or break your career, whether you're just starting or want to advance. So don't be afraid to ask your company for one, and ensure it appropriately reflects your contributions to the organisation.
Finally, a letter of experience is a crucial document that proves an employee's work history, position, and duties inside a company. It is a great asset for an employee since it may help them advance in their careers and get better work possibilities in the future. The certificate should be well-written and contain pertinent information such as the employee's tenure, job duties, talents, and accomplishments. A well-crafted letter of experience may help build an employee's reputation and demonstrate their value in the job market. As a result, businesses must provide complete letter of experience to their workers to recognise and appreciate their achievements.