IGNOU MA course is 2 years and can be completed in 5 years. The course is subdivided into 4 semesters and each semester will take 6 months to complete. This article will help you to know all the detailed information about the course, eligibility criteria, placement, and detailed knowledge on how to get admission to IGNOU for the Distance MA course.
IGNOU July 2023 Session: Registration started; Check out the steps to apply and more. The last date to apply online for this session is 30th September 2023. Click here! Students can apply for various bachelor's, master's, diploma, postgraduate diploma, and certificate courses (both program and honours courses).
IGNOU Distance MA Course Highlights
| | |
| --- | --- |
| Course Level | Postgraduate Degree |
| Full-Form | Master of Arts |
| Duration | 2 Years |
| Admission process | Merit Basis |
| Eligibility | Aggregate 50% in graduation |
| Major Specializations | English, Education, History, Economics, Fine Arts, Psychology, Philosophy, Geography, Hindi, Maths, Anthropology, Gender Studies, Political Science, etc. |
| Course Fee | Rs. 37,800 |
| Average Salary Offered | Up to INR 4.3 LPA |
| Career Prospects | University Professor, R&D Managers, Administrative Officers, Correspondent, Social Worker, Consultant, Content Writer, Journalist, Political Analyst, Executives, Public Administrators, etc |
Master of Arts is a postgraduate course designed for the students who want to get the deep study the specializations of MA. The course can be pursued through a full-time or part-time mode of education.
Indira Gandhi Open National University is offering MA courses through distance and online modes of education. Distance MA is a great course for students who are seeking a postgraduate degree but are not able to attend regular classes due to some constraints.
What Are the Benefits of Doing MA from IGNOU through Distance Education Mode?
There are various benefits of pursuing a Distance MA course from IGNOU. IGNOU Distance degree is approved by the University Grant Commission and Distance Education Bureau.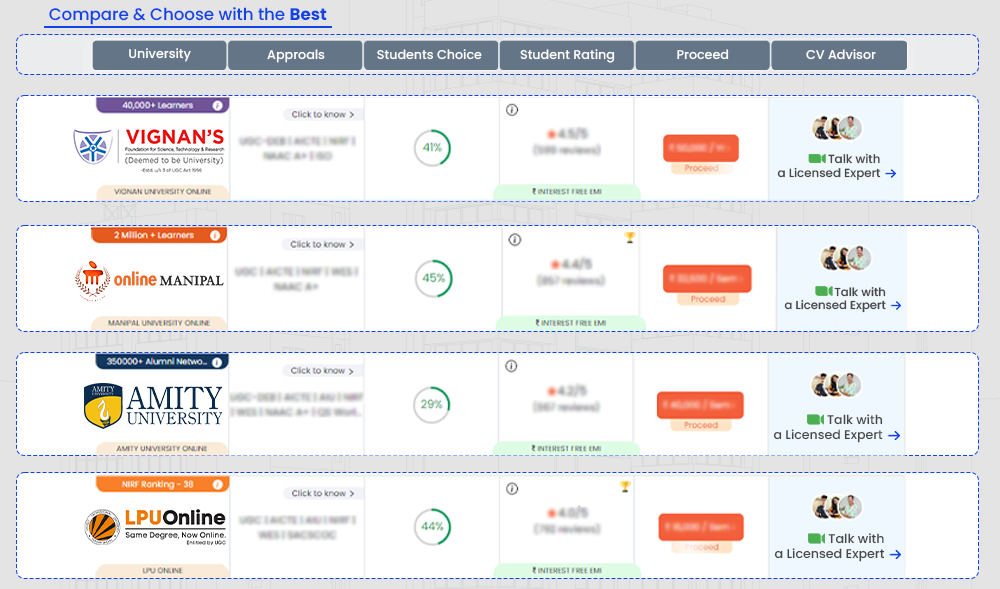 The university offers this course in many specializations that will make the IGNOU MA more famous throughout the world. Some other benefits of pursuing a distance MA from IGNOU are:
The degree of Distance MA is acceptable throughout the world due to the credibility of the IGNOU degree.
Students can pursue the distance MA course in Hindi or English language whichever is comfortable for them.
The IGNOU MA course is a multidisciplinary course. Students can choose one according to their preference and career goals.
There are options of online learning platforms like the IGNOU e-content app or the eGyanKosh portal.
The program is affordable and provides comprehensive learning.
What is the Eligibility & Fee Structure for IGNOU Distance & Online MA Course?
Eligibility Criteria
IGNOU has its own criteria to decide whether a candidate is fit for the distance MA program or not. Here are the eligibility criteria of distance MA in IGNOU to certain the eligibility of a candidate:
The candidate must have a graduation degree or a higher degree.
The graduation degree must have been issued from a UGC recognized university.
Fees Structure 2023
The fee structure of distance MA is as per the specialization which means the different specialization of MA course has a different fee structure. You can check the fee structure through this table:-
| | |
| --- | --- |
| Course | Fee Structure |
| MA History | Rs. 12,600 |
| MA Sociology | Rs. 12,600 |
| MA Psychology | Rs. 18,600 |
| MA Public Administration | Rs. 12,600 |
| MA Anthropology | Rs. 17,200 |
| MA Gandhi and Peace Studies | Rs. 9,600 |
​Read: MA In Distance Education!
How to Apply for Distance MA Course in IGNOU? – Admission Procedure 2023
The admission process for the Distance MA course at IGNOU can be followed online through your laptops, phones, etc. Here we will clarify how to apply online and offline for admission:-
Offline IGNOU Distance MA Admission 2023
Candidates must visit the closest regional centre of IGNOU for offline admission and buy the prospectus from the admission window. In this, prospectus the admission form is attached. The applicants must fill out precisely this form.
Join the form and forward the form to the admission office with all the appropriate self-tested papers, including 2 photos. The fee shall be charged by means of a Demand Draft drawn up in the name of Indira Gandhi National University. Read: MA Psychology In Distance Learning!
Online IGNOU Distance MA Admission 2023
For online admission every student needs to follow some steps mentioned below:-
To obtain all admission information, download the brochure or prospectus for January 2023.
Verify that you are admitted to the IGNOU Distance BCA Class.
For more admission please visit IGNOU's official website.
Go to the applicant's username and now you can register by clicking on the Register button.
Click on the submit button after completing the necessary data.
Your registered mobile phone number is forwarded via SMS to your username and password.
If you are a current user, please click the 'Sign in' button on the homepage, click the 'Login' button and link to a username and password on the Login screen.
Complete the personal data, programming, skills and letters.
Scanned photography and signature upload (less than 100KB) (less than 50 KB)
Debit/credit card (Master/Visa/Rupay) and net banking pay your Application Fee:
Click the next button after you upload your picture and signature. The Preview Form choice is available. For future reference, save/print your form.
Document Needed
Passport size photograph.
Photocopy of 10th, 12th Certificate.
Scanned Signature.
Photocopy of SC/ST and other regional certificates (For reserved students).
Photocopy of Age proof.
IGNOU Distance MA Prospectus 2023
IGNOU has different prospectuses for the different schools of studies in order to get detailed information about the courses. Students can also find the option of the common prospectus of 2023 on the official site of the IGNOU.
The common prospectus includes all the nitty-gritty regarding all the courses offered by IGNOU. The prospectus includes the information related to the admission process, fee structure, course structure, placement, and other relevant details. Read: Top Distance MA Colleges In India!
IGNOU Distance MA Placement
In 2005, the Campus Placement Cell was established by the National Open University of Indira Gandhi (IGNOU). The placement unit assists the student seeking appropriate employment and is responsible for all activities related to placement.
The cell was founded to offer on-campus placements to all students, including MA students, in all courses, as well as to solve investment problems.
Campus Placement Cell of IGNOU offers assistance to students who pursue a distance MA in every specialization. The campus cells of IGNOU are conducting placement campaigns, job exhibitions, and other activities in the regional centres, in order to boost the workforce. Read: IAS Officer Salary In India!
This encourages students who are unable to go to conventional universities to study their university by distance education at these fairs or placement courses. For instance, IGNOU is a well-known distance school that helps students get jobs in large companies.
Conclusion
IGNOU Distance MA is a great course for students who are willing to pursue post-graduation but due to some constraints, they are not able to attend regular classes. It is also a great option for working professionals who want to get a higher degree for a better future.
IGNOU MA is a recognized course by the UGC-DEB and the degree will be accepted throughout the world. This blog will provide you with all the information about IGNOU MA admission 2023.