Banking certificates have emerged as a vital tool for anyone seeking a fulfilling career in the financial industry in today's competitive employment market. These certificates give individuals specific knowledge, skill development, and industry recognition, allowing them to stand out among their peers. Whether you are a recent high school graduate, a college graduate or a working professional wishing to advance your banking career, acquiring banking certification courses may lead to various fascinating prospects.
This post will look at the benefits of banking certifications, the alternatives available, eligibility requirements, pricing ranges, durations, and commonly asked questions. Also Read: Top 10 B.Com Specialization In Demand.
What exactly are Banking certificates?
Banking certificates are specialist certifications given to those who have successfully finished a systematic program of study focusing on various facets of banking. These credentials certify the knowledge, abilities, and competencies necessary to flourish in specialised banking professions. In addition, they give industry recognition and boost the credibility of those looking for jobs in banking and finance.
Banking certification courses include various topics, including banking operations, financial products, risk management, compliance, customer service, lending, and investment banking. The curriculum of these certification programs is intended to provide students with a thorough grasp of the banking industry, including its operations, laws, and best practices.
These certifications are available at various educational levels, including postsecondary education, professional institutions, and industry groups. In addition, they are available through various learning methods, including full-time classroom programs, part-time evening courses, distance learning, and online learning.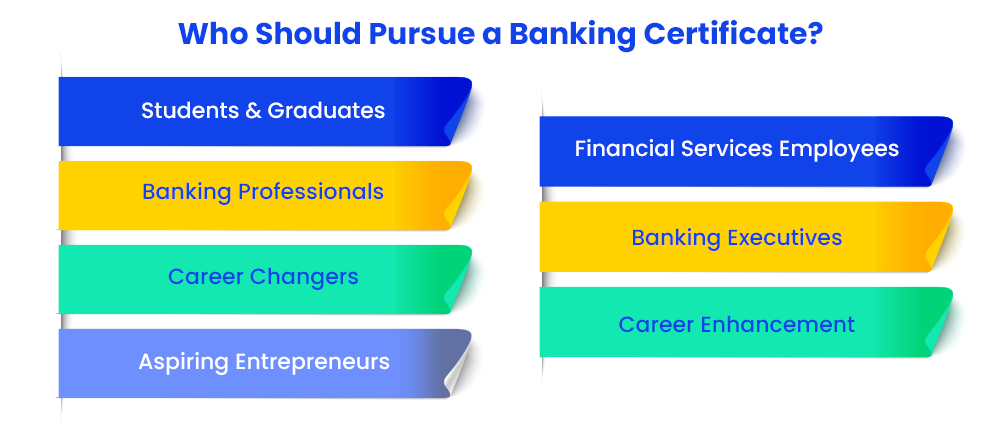 Why should working banking professionals take banking certificates?
If you are a working banker, you might consider earning banking certification courses for a variety of reasons, including:
Banking certifications give opportunities for job growth and success within the banking business. They broaden your knowledge and abilities, making you a valuable addition to your company. Certifications reflect your dedication to professional growth, which may lead to promotions, raises in pay, and entry into higher-level roles.
Banking certifications provide specialised training in a variety of areas of banking, such as risk management, compliance, financial analysis, and investment banking. You become more adaptable and capable of taking on varied positions and responsibilities within your firm by obtaining different skills and information through certifications.
Employers and industry experts recognise and appreciate banking certifications. They mark credibility and competence, verifying your talents and understanding in specialised financial sectors. This acknowledgement can help to improve your professional reputation and raise your exposure in the business.
The banking business is continually changing, with new technology, regulations, and best practices regularly introduced. Banking certification courses guarantee you are current on industry trends, technological advances, and regulatory changes. This allows you to respond to changing market circumstances and give your clients improved products and services.
Pursuing certifications in banking allows you to network with industry experts, fellow professionals, and thought leaders. Certification-related networking events, seminars, and online forums allow you to broaden your professional network and acquire useful insights from peers and industry veterans.
Banking qualifications set you apart from other candidates in a competitive work market. In addition, it indicates your dedication to lifelong learning and professional growth, making you a more appealing candidate for opportunities both within and outside of your present business.
Obtaining new information and abilities via certification in banking increases your confidence and self-esteem. It helps you to manage complicated issues, make educated decisions, and successfully contribute to the success of your business. In addition, personal growth and contentment that come with broadening your knowledge might improve your overall work happiness and career fulfilment.
Why should you pursue banking certification courses online?
Online banking certification courses allow you to study at your own pace from anywhere, allowing you to mix your studies with your job and personal obligations.
Because online courses sometimes offer cheaper tuition rates and remove expenditures such as transportation and lodging, they are a more reasonable choice for getting banking qualifications.
Reputable online courses provide well-structured modules, interactive learning materials, and industry-expert teachers, assuring a thorough and entertaining learning experience.
Industry professionals frequently teach online courses, adding real-world insights and worldwide views to the virtual classroom and improving your comprehension of banking principles.
Online courses allow you to communicate with other students, professors, and industry experts via virtual conversations and networking platforms, allowing you to grow your professional network and stimulate cooperation.
Online courses allow you to learn quickly, review difficult topics, devote more time to areas of interest, and speed through general concepts.
Reputable online banking certification programs are recognised and accepted worldwide, guaranteeing your certification has worth and credibility across borders and improves your professional opportunities.

List of Banking Courses Online
There are several Bakink courses online available for someone who wishes to pursue or switch their career to the banking industry. We have made a list of those courses according to your requirements and level of education.
Online Banking Courses After 12th
Following the 12th grade, there are a variety of banking courses accessible online, including a B.Com in Banking and Insurance, among others. Below are some courses that give specific information and skills for a banking job after your 12th:
Online Banking Courses After Graduation
Following graduation, a variety of online banking courses are available for those wishing to further their knowledge and abilities in the banking industry. Below you can find some courses that give comprehensive insights into numerous facets of banking and finance, preparing graduates for profitable positions in the financial industry:
Online Banking Certification Courses for Working Professionals
There are various online courses particularly developed for working individuals in the banking sector or adjacent industries to improve their skills and knowledge. These courses provide scheduling flexibility and allow professionals to upskill without affecting their job routines. We have mentioned some courses below that working professionals may pursue to advance their careers and remain up to speed on the latest trends and advancements in the banking industry:
Online Banking Diploma Courses
There are various diploma courses in banking accessible online that may be studied after 12th or graduation. These diploma programs give specialised knowledge and abilities in various banking fields. Individuals can increase their career chances and understanding of the financial business by completing a diploma in banking. Furthermore, these diploma courses frequently include practical training and internships to help students build the skills needed for a successful career in banking.
| | |
| --- | --- |
| Online Diploma in Business Management | Online Diploma in Financial Management |
| Online Diploma in Banking and Finance Management | Online Certificate in Wealth Management |
Eligibility Criteria for Banking Courses Online
Eligibility requirements for online certification in banking may differ based on the program or organisation. However, the following are some general guidelines:
1) Undergraduate Online Banking Courses
Candidates must have finished their 12th grade or equivalent from a recognised board or educational institution to be eligible.
Banking courses are available to students from any field without specific stream or topic prerequisites.
2) Postgraduate Online Banking Courses
Candidates must have a bachelor's degree in any subject from a recognised university or institution.
Banking courses are available to graduates from any area with no special academic prerequisites.
3) Online Banking Certification Courses
Professionals presently employed in the banking industry or associated industries are eligible.
Some programs may need a certain number of years of appropriate work experience, such as banking, finance, or accounting.
4) Online Diploma Programs in Banking
Eligibility criteria for diploma courses vary based on the program and institution.
Candidates must generally have finished their 12th grade or equivalent from a recognised board or educational institution.
Notably, the particular eligibility criteria for distinct online banking courses provided by different organisations or platforms may differ. Therefore, to confirm that the qualifying requirements are satisfied, it is advised that you review the course specifics published by the universities or platform presenting the program.
How Online Banking Certification Courses can boost your career?
Online banking certification courses can help you advance your profession in a variety of ways:
Enhance Knowledge and Skills: Banking certification courses give in-depth information and practical skills in a variety of areas of banking, including financial analysis, risk management, compliance, and customer service. This knowledge makes you a great asset to businesses and positions you for professional development.
Career Growth and Salary Potential: With the specific knowledge and abilities earned through banking certifications, you become eligible for prospects for career growth and promotion. Promotions, income increases, and advancement opportunities are regular results for workers who have recognised certificates.
Professional Credibility: Earning a banking certification shows your dedication to professional growth and lifelong learning. It demonstrates your commitment to remaining current on industry best practices, legislation, and emerging trends.
Competitive Advantage: With the banking business becoming more competitive, having a recognised banking qualification provides an advantage. It distinguishes you from other candidates by confirming your experience and ability in certain financial sectors. This can help you get more attractive work prospects and promotions.
Expanded Career Opportunities: Banking certificates offer the door to a wide range of professional prospects in the banking and finance sector. They prepare you for the risk manager, financial analyst, compliance officer, relationship manager, or investment banker positions. These positions frequently come with more responsibility, increased job satisfaction, and higher pay.
Industry Recognition: Employers, professionals, and regulatory authorities recognise and appreciate reputable banking certificates. They demonstrate your knowledge and abilities, making you a favoured prospect for organisations looking for competent banking experts. Certification can boost your professional reputation and raise your chances of landing preferred job possibilities.
Careers in Banking | Average Salary Pre and Post Certification
| | | |
| --- | --- | --- |
| JOB PROSPECT | AVERAGE SALARY BEFORE CERTIFICATION | AVERAGE SALARY AFTER CERTIFICATION |
| Bank Clerk | ₹2,00,000 to ₹3,50,000 per annum | ₹2,50,000 to ₹4,50,000 per annum |
| Relationship Manager (Retail Banking) | ₹4,00,000 to ₹8,00,000 per annum | ₹5,00,000 to ₹10,00,000 per annum |
| Risk Analyst | ₹5,00,000 to ₹9,00,000 per annum | ₹6,00,000 to ₹12,00,000 per annum |
| Financial Analyst | ₹4,00,000 to ₹8,00,000 per annum | ₹5,00,000 to ₹10,00,000 per annum |
| Loan Officer | ₹3,00,000 to ₹6,00,000 per annum | ₹4,00,000 to ₹8,00,000 per annum |
| | ₹8,00,000 to ₹15,00,000 per annum | ₹10,00,000 to ₹25,00,000+ per annum |
| Compliance Officer | ₹5,00,000 to ₹10,00,000 per annum | ₹6,00,000 to ₹12,00,000 per annum |
| Branch Manager | ₹8,00,000 to ₹15,00,000 per annum | ₹10,00,000 to ₹20,00,000+ per annum |
Top Trending Articles