Effective management is important in every aspect of our life whether we talk about our house, education institutes, or offices. Without effective management, it is quite impossible to achieve the desired goals. When it comes to organizations, management plays an important role in achieving its goals, helps in the efficient utilization of resources, and various other things. An organization cannot expand itself or earn a profit if they do not have an effective management system.
In this blog post, we will explore the various importance of management, its role in an organization, the essential skills to become a manager, and the challenges faced during this process. But before we move forward, let's get a brief overview of the term management.
What is Management In Business?
The term "Management" refers to a whole cycle of processes through which an organization's goals are achieved most effectively and efficiently possible. It is not only a word it includes many things like planning, organizing, staffing, directing, and controlling. All these together help in achieving the organization's goals and objectives by effectively managing the available resources that include the workforce, raw materials, and financial assets.
A management system in business involves various steps like making decisions, guiding the workforce to work towards their goal correctly, utilizing resources effectively, and coordinating & promoting teamwork within an organization. All these steps together ensure that an organization operates effectively and efficiently.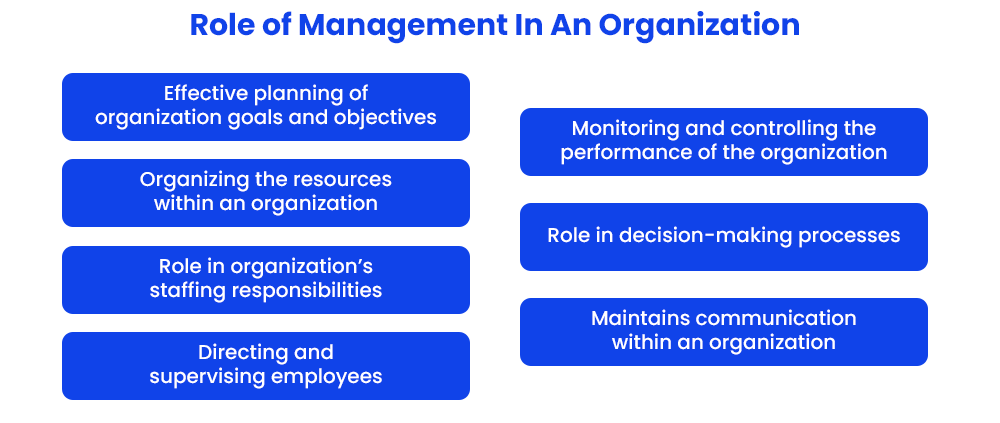 Management plays an important role within an organization, from setting goals to implementing strategies to achieve success, all this can only be achieved by an effective management system. To become a good manager, an individual must possess some skills like leadership, decision-maker, analytical thinking, problem-solving, etc.
Let us move forward and see how an effective management system can change the overall shape of an organization and lead to its success.
Importance/Concept of Management Within An Organization
Management is quite important for the effective working of the organization and in achieving its long-term goals and objectives. Having an effective management system within an organization can lead to its success, while a poor management system can lead to its failure.

Here we have tried to explain how important effective management is within an organization, and how it impacts its productivity, employee performance, etc.
Provides Guidance And Direction To The Employees
To ensure that the organization's workforce is working together towards its aims and objectives, effective management is needed. The management plays an important role in providing guidance and direction to its employees to effectively work towards the company's goals.
It is the manager's responsibility to tell the employees clearly about the company's goals, employees' responsibilities, and methods to achieve these goals. They need to ensure that all the employees have clear information about the same so that it does not have any impact on their productivity and efficiency.
Furthermore, having a clear vision of the organization's goals helps the employees to work in the right direction which ultimately results in the achievement of the organization's goals and objectives within a shorter period.
Efficient Utilization of Resources
Managers have the responsibility to allocate resources within an organization so that the resources are effectively utilized. The resources that are used within an organization include time, money, and manpower.
Efficient utilization of resources within an organization helps in improving productivity and enhancing cost-effectiveness. It also helps in reducing the probability of risks and failures, along with achieving the maximum profit from a venture. Therefore, it is crucial to have competent managers who possess the necessary skills to manage resources effectively and efficiently.
To understand it more clearly let's consider an example of a manufacturing industry. The industry purely depends on its raw materials and other resources to produce the product.
If there is a lack of management in the industry, then it could lead to severe problems like overproduction of goods, poor utilization of resources, higher costs, and less profit in the market. However, with effective management, an industry can overcome such problems and utilize its resources more effectively in the profit for the company.
Reduction of Cost Expenses
Having effective management is essential for cutting costs in an organization. A well-managed organization, for instance, will have definite financial goals and objectives that are consistent with its overarching business plan. The management team will frequently review and track the company's financial performance to find areas where costs can be cut without compromising the standard of the delivered goods or services.
Additionally, they will create and put into action cost-cutting strategies like refining production processes, negotiating better supplier agreements, and cutting waste. The management team can assist the company in cost management and financial stability through their proactive attitude and strategic planning.
Aids In The Decision-Making Process
Any organization's decision-making process heavily relies on management. It entails compiling and evaluating data, identifying possibilities, and deciding on the best course of action. Decisions must be taken quickly and effectively, and effective management gives the required leadership and direction.
The decision-making process is aided by the experience, knowledge, and judgment of managers, who help to reduce risks and maximize opportunities. Additionally, they encourage collaboration and communication across various departments and stakeholders, ensuring that everyone's feedback is taken into consideration.
In short, management is crucial for making good decisions, and businesses that invest in sound management procedures have a higher chance of achieving their objectives and dominating their particular markets.
Promotes Employee Engagement
Within an organization, management is vital in promoting employee engagement. A workplace environment that encourages collaboration, open communication, and trust can be created by effective management.
They can give employees a clear sense of direction and objectives, opportunities for personal and professional development, and recognition and compensation for their contributions. Management may foster a sense of ownership and loyalty among employees, which will enhance motivation and productivity, by investing in them and demonstrating their value and respect.
Positive workplace cultures are a result of good management practices, and these cultures are crucial for fostering employee engagement and overall organizational success.
For an organization to promote innovation, management must be effective. It involves creating an environment that values innovation, risk-taking, and experimentation. Collaboration across several teams is necessary for innovation in order to generate fresh concepts.
The resources and assistance required for this partnership are provided by good management practices. Management techniques that support innovation include clear communication, efficient resource allocation, and a commitment to ongoing development. Even the most creative ideas can fail to be properly implemented without the right management.
Planning and Role of Management
Role of management is an important aspect while performing managerial duties effectively in an organization. It helps the manager in various ways like planning all the to-do lists for a day, and also helps in deducing the ways to do a specific task.
So let's discuss some reasons pertaining to planning's importance or role of management in the organization:
Sets Direction and Goals: Planning and role of management helps determine the organization's goals and objectives. It also helps achieve the determined objectives and goals through effective planning strategies.
Resource Allocation: The planning process helps in identifying the resources that will be needed to achieve the goals of a company. Additionally, it helps in the allocation of resources effectively, which ensures that the resources are not getting wasted and used effectively.
Risk Management: For identification of the potential threats and risks, an effective planning strategy is necessary. These strategies help to resolve them effectively and also prepare an organization to become prepared for any unexpected scenarios.
Promotes Innovation: Planning and discussion always promote innovation in an organization. While working on a project, we always brainstorm ideas with our team members to come up with interesting and innovative ideas for our business and planning helps in coming up with this.
Aids in Decision-Making: The planning process helps the manager pick the most reliable alternative for the organization's benefit. It aids in the decision-making process by looking out n the previous scenario and evaluating the present one, then deciding which is the better one for our company.
Importance of Business Environment In Management
The business environment is the set of external factors that in some way affect a company's operations and activities. The business environment includes factors such as economic, social, political, and technological. Managers must understand these factors as they have a significant impact on an organization's performance and strategies.
Here are some of the reasons why the business environment is important in management:
To Identify Opportunities and Threats: The business environment can offer both opportunities and threats for an organization. Managers must identify the potential opportunities to take advantage of them and also mitigate the risks to rescue a company from going down.
For Formulation of Strategies: It is important for a manager to formulate their strategies according to the changing business environment around them. This includes identifying market trends, analyzing the competition, and valuing customer needs and preferences.
Innovation and Adaptation: For surviving in this competitive business environment, organizations always need to innovate and adapt themselves to the environment around them. If they don't do so they will no longer survive in the market. It is the manager's responsibility to work on these innovation plans and help a company to survive in the competitive market.
For Adhering to Regulations: The business environment includes legal and regulatory frameworks that affect the organization's operations. An organization must always adhere to the respective regulatory guidelines to avoid any legal disputes against their companies. For avoiding this, managers need to be aware of these regulations and comply with them to avoid legal or reputational risks.
Challenges In Maintaining Effective Management
We know that management is very important for an organization but there are various challenges that a manager faces while maintaining an effective management system within an organization.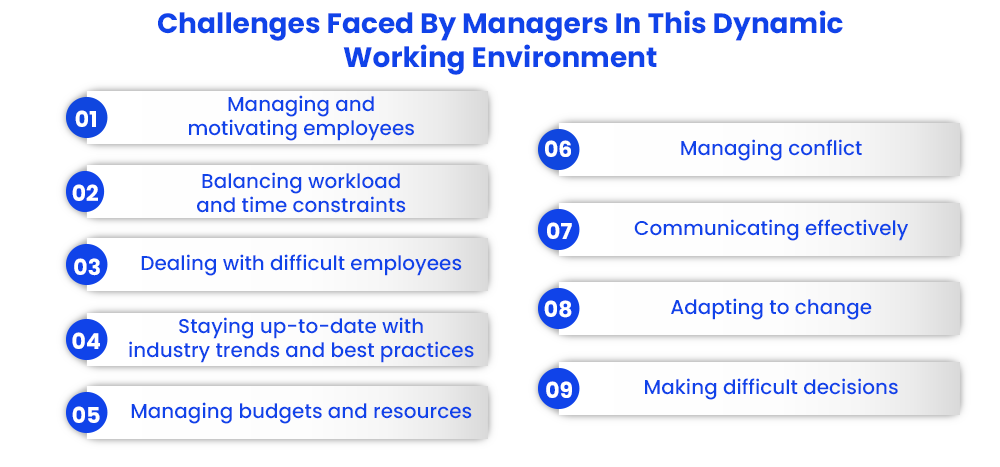 Here we have discussed some of the common challenges that occur while maintaining effective management:
Rigidity towards new change: Not everyone in an organization is happy to welcome new changes. It is often impossible to implement new strategies and changes within an organization due to the employees' resistance to new changes.
Communication Barriers: The lack of communication among team members and fellow employees can lead to conflict and issues within an organization. This miscommunication can cause obstacles in the way of achieving organizations' goals and objectives.
Time Management: Effective time management can be difficult for managers, especially when juggling multiple objectives and deadlines.
Employee Turnover: Having a high personnel turnover rate can make the workplace unstable and make it challenging for management to maintain continuity and consistency.
Technology: Keeping up with quickly evolving technology can be difficult for managers, especially in sectors where technology is highly used.
Resistance to Feedback: Some employees may be cautious of criticism or find it difficult to take it, which makes it challenging to solve problems and enhance performance.
Resource Constraints: Lack of resources, workforce, and monetary funds can cause a ruckus in the way of accomplishing organizational goals effectively.
External Factors: Sometimes, managers face challenges in the form of external factors that make it impossible to maintain successful management within an organization. The external factors that are challenging to managers include economic downturns, changes in market conditions, or regulatory changes.
Top Skills In Demand
Essential Skills for Effective Management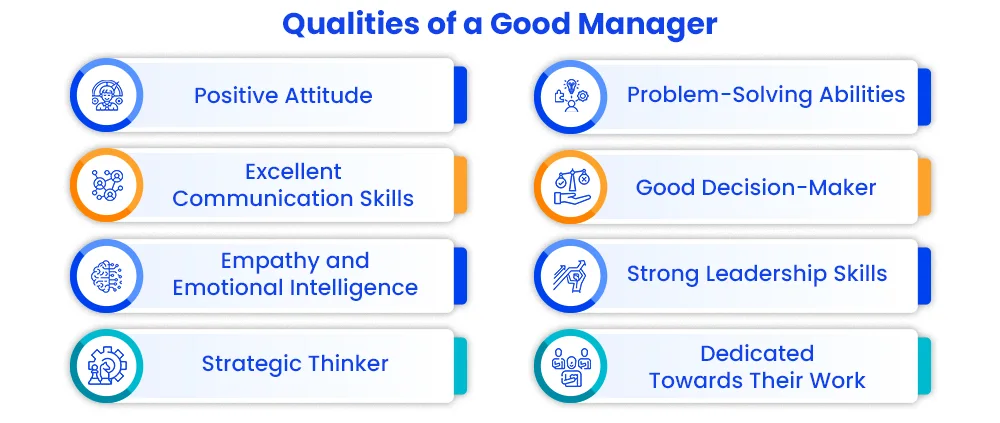 An individual must possess some basic skills to become a good manager. These skills help to manage an organization effectively and also promote an individual to grow in their careers ahead. Some of the essential skills that are needed for developing effective management are as follows:
Communication: In a manager, having effective communication skills is necessary. This helps them to communicate with their team and fellow employees resulting in reducing chaos and confusion among them.
Leadership: For maintaining effective management within an organization an individual must have good leadership skills. A good leader is someone who can inspire and motivate employees. They can give the employees the right direction and guidance so that they don't deviate from their responsibilities and goals.
Decision-Making: There are times when a manager has to make several decisions. So having good decision-making skills is a must, to cope with critical and hard situations arising in an organization. To become a good decision-maker, one must analyze the whole scenario, study all the merits and demerits of a situation, and also analyze what impact it will have on the company.
Time Management: Managing and completing all the tasks within mentioned time is a sign of a great manager. So one must have great time-management skills to ensure the company never lags in its commitment.
Problem-Solving: A good manager analyzes and solves the problem within an organization before it becomes a big mess. For having good problem-solving skills, one must have these additional qualities like a creative mind, analytical thinking, and a team player.
Adaptability: In this ever-changing world, nothing stays constant. So for surviving in this changing world, one should have an adaptable and flexible nature. This helps to go with the flow and changes that arise suddenly in an industry.
Learning Attitude: A great manager is constantly looking for opportunities to grow and improve both their teams and themselves. To stay abreast of market trends and advancements, they welcome criticism and constantly try to learn fresh knowledge and skills.
Techno-Friendly: A manager in any sector must be familiar with the technologies employed by that sector or company. Being technologically savvy makes them more capable of not only adapting to whatever new changes take place within the organization but also addressing issues that emerged as a result of a technology failure.
All these mentioned skills can help an individual to become a good manager and maintain an effective management system within an organization. But possessing these skills is enough to make a good manager, or there are any other requirements. Let us move forward and know more about the requirements to become a good manager.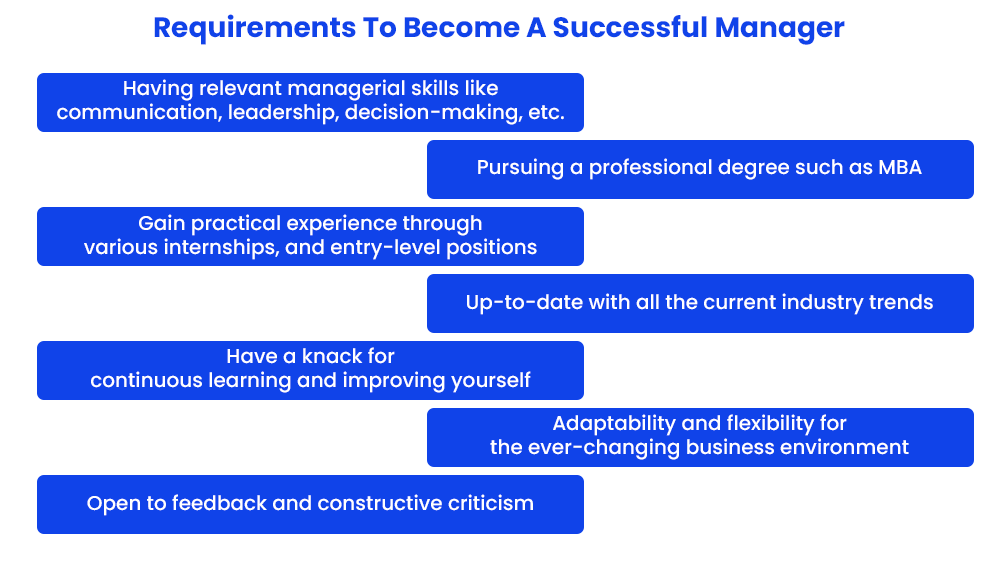 Top MBA Programs for Developing Effective Management Skills
Achieving success as a manager requires more than just essential skills. Pursuing a professional degree like online MBA or on-campus MBA is also necessary for individuals who aspire to become successful managers. An MBA is a 2 years long postgraduate program that helps the individual to learn about various facets of the management field. As per one's interests and career goals, one can choose from a wide range of MBA specializations available in the market. Here are some of the top online MBA programs that can help in developing effective management skills:
Why Effective Management is Necessary for an Organization?
We have discussed above how important is management within an organization. Without effective management, various problems and issues might arise within an organization. The companies might even suffer losses if there is a lack of proper management in the company.

To ensure that the organization is efficient, productive, and profitable there is always a need for good management in an organization. Here are some of the reasons that prove that management is necessary for an organization to run effectively:
Improves efficiency and profitability: Having a good management system in an organization makes it easier to motivate staff, simplify operations, and make sure that resources are used effectively.
Helps to adapt to changes: For adapting to the changes occurring in the business environment, effective management is necessary. During the COVID-19 pandemic, many organization has shifted from office to remote working. But only those organizations that have successfully managed this kind of working who have adapted to the changed conditions.
Creates a better workplace: Good management helps to build a workplace that promotes positivity among the employees, encourages them in their work, improves their performance, and increases job satisfaction among employees.
Risk Management: A good manager has a knack for identifying possible risks and threats to an organization. Having an effective management system helps to identify the various risks and manage them efficiently without suffering any loss to a company.
Improves communication: Communication within an organization is improved as well by effective management. This assures that everybody is on the same page and chasing the same objectives.
Top Trending Article
Conclusion
In the end, we can only say that management is an essential part of every organization, and its significance cannot be emphasized. An organization's objectives are met while its resources are used thanks to effective management. This is essential for boosting productivity, effective resource management, better decision-making, greater employee engagement, and happiness, and higher profitability and growth. Essential abilities including communication, decision-making, leadership, time management, and conflict resolution are necessary for a successful manager. Organizations can design and put into practice efficient management strategies to achieve long-term success by understanding the role, advantages, challenges, and necessary management abilities.