Online/Distance MBA in Uttarakhand is a 2-year postgraduate degree that consists of 4 semesters of 6 months each. Uttarakhand is the most beautiful city in India. The city is prominent for its beautiful valleys and great Himalayan views. Along with that Uttarakhand also provides the best education to the students. Everyone wants to have the best education at a preferable cost.
There is vast competition in almost every sector of education. So it is essential to get a reliable education from the best universities. Keeping this thing in mind Uttarakhand has stated both public and private universities. These universities are granting many courses to the students which will help them to upgrade their careers.
Online/Distance MBA Colleges Lists In Uttarakhand
There are around 14 MBA colleges located in Uttarakhand, both private and government colleges. Among these colleges provide Online / Distance and regular education of management specializations to the interested candidates who want to build up their career in the MBA programs. To ease your findings, we have shortlisted the top 07 Online / Distance Colleges that are providing such MBA courses in Uttarakhand to the aspirants.
#1 Kumaun University in Uttrakhand
Kumaun University is one oldest university in the Kumaun district of Uttrakhand. It is established in the year 1973 under the UP state universities ACT and has offered the tag to provide the undergraduate, postgraduate, and management courses through distance mode. It's a co-ed and private institute.
| | | | | |
| --- | --- | --- | --- | --- |
| Course Name | Fee Structure (INR) | Degree | Affiliation | Duration |
| MBA | INR 92,404 | Distance | UGC, DEB | 2 years |
#2 GKU (Gurukula Kangri University), Uttarakhand
Gurukula Kangri is a deemed university that was established in the year 1902 on 4th March by Swami Shraddhanandaji with the core aim is to set up the ancient Indian Gurukula education system on the banks of river Ganges. The institution was imparting the education in such Vedic and ancient related streams stuck as, Indian culture, research, Sciences, and Management courses.
| | | | | |
| --- | --- | --- | --- | --- |
| Course Name | Fee Structure (INR) | Degree | Affiliation | Duration |
| MBA | INR 60,000 | Distance | UGC/Govt. of India | 2 years |
#3 Uttarakhand Open University (UOU)
Uttarakhand Open University was founded in the year 2005, it is suited at the Haldwani, Nanital district of Uttrakhand. The university offers a total of 95 or more undergraduate, postgraduate or professional degree courses through the Distance learning mode. The university is also known as UOU and famous in whole Haldwani distract of UK. The university offers three MBA specializations as Finance Management, Marketing Management, and Resource Management.
| | | | | |
| --- | --- | --- | --- | --- |
| Course Name | Fee Structure (INR) | Degree | Affiliation | Duration |
| MBA | INR 32,000- 35,000 | Distance | UGC, AIU, DEC | 2 years |
#4 UIHMT Group of Colleges- Best Hotel Management College in Dehradun, Uttrakhand
UIHMT college, Dehradun is established in the year 2012. Their aim is to provide and commit strive a quality of education with the healthy and productive environment a student can sense it in the campus of all the resources. University provides education in the vocational programs in different fields such as Paramedical, Hospitality, Management, Information Technology, and Tourism.
| | | | | |
| --- | --- | --- | --- | --- |
| Course Name | Fee Structure (INR) | Degree | Affiliation | Duration |
| MBA | INR 70,000 | Distance | UGC, AIU, DEC | 2 years |
#5 MATS (Mahaveer Academy of Technology and Science University) – Distance Education
| | | | | |
| --- | --- | --- | --- | --- |
| Course Name | Fee Structure (INR) | Degree | Affiliation | Duration |
| MBA | INR 42,500 | Distance | UGC | 2 years |
MATS is a private university that is established in the year 2006, in Raipur Chhattisgarh. It has spread its institutional branches to different locations within India. MATS has approved or gained the tag by NAAC with B++, AICTE, New Delhi & NBC by University Grant Commission (UGC), New Delhi. The university integrated with undergraduate, postgraduate, diploma and other diploma courses of different streams of Management, Fashion, Technology, Science and etc.
#6 Indira Gandhi National Open University (IGNOU), Uttrakhand
Indira Gandhi National Open University (IGNOU), is a pioneer university within India, it is established its roots in the year 1985 through the ACT passed by the Parliament of India. Presently, IGNOU has become one of the popular universities all over India that is established more than 21 schools of studies, 67 regional centers, 2,667 learning support and it is ranging almost a total of 228 courses from certificate to doctoral programs.
| | | | | |
| --- | --- | --- | --- | --- |
| Course Name | Fee Structure (INR) | Degree | Affiliation | Duration |
| MBA | INR 37,800 | Distance | UGC, DEC | 2 years |
#7 Narsee Monjee Institute of Management Studies, (NMIMS)
NMIMS SVKMs is a private university, it has set up its roots in the year 1994. Currently with more than 55,000 active students in different undergraduate and post-graduation courses and have an alumni base of over 9,500 students. The university is deemed to be considered one of the excellent centres for distance education in whole India and within Uttrakhand. Click here for Online NMIMS Programs!
| | | | | |
| --- | --- | --- | --- | --- |
| Course Name | Fee Structure (INR) | Degree | Affiliation | Duration |
| MBA | INR 86,000 | Online / Distance | AITCE,UGC | 2 years |
Online / Distance MBA is one of the noted courses among all the courses in Uttarakhand. Many of the students pursue this course after completing their graduation from the well-known universities of Uttarakhand. The aspirant must have a bachelor's degree in any discipline from a recognized university to pursue the Online / Distance MBA course. The duration of the online / distance MBA course is 2 years which is further divided into 4 semesters.
Online MBA Colleges In Other States/Cities
There are many specialization courses available for the aspirants. Aspirants can choose any of the specializations of Online / Distance MBA according to their interests and preferences. The capital of Uttarakhand, Dehradun facilitates many online/ distance MBA universities. Other cities like Roorkee, Garwal, Nainital, etc are also the educational hubs of Uttarakhand.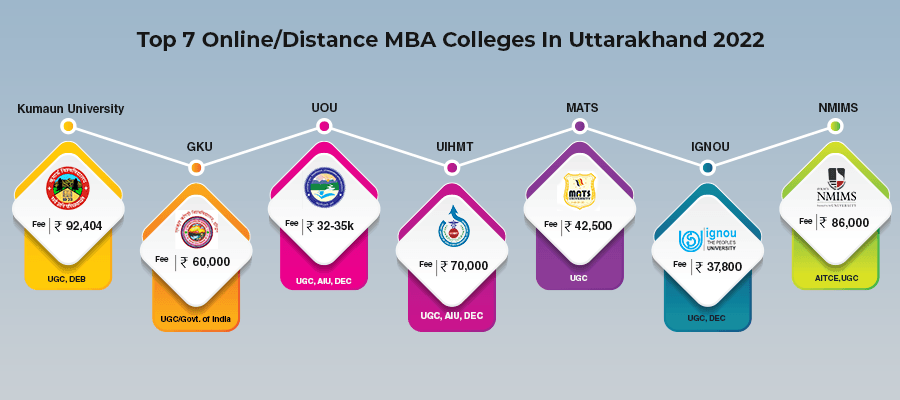 Online/ Distance MBA Eligibility Criteria
To take admission in the Online / Distance MBA, a student must cross the basic eligibility to pursue their career in this field. Apart from this, eligibility criteria vary from university to college. Students are required to pass the entrance test which is applicable by some of the universities. Here are the basic eligibility criteria for most of the universities to take admission in the Online / Distance MBA course:
Students are required to pass the examination of bachelor's in any stream with a minimum percentage of 50%

Students need to make sure that they have issued their graduation/Bachelor degree from a UGC recognized university

Students must belong from the commerce background in their 12th boards either in their graduation degree.
How Can You Choose One Perfect Online / Distance MBA College For You?
Students who are belonging to the land hills to study online/distance MBA, for them a student need to set their parameters to select a university or college that offers online/distance MBA for their excellent studies of the course.
Uttarakhand students can not only select the college blindly, as college's academic and other resources help a student to build an all over persona with updated skills and knowledge of the management, business and the finance course study related MBA.
Academics: This is an essential and core objective while picking any of the universities that offers online/distance education in the state of Uttarakhand. A resourceful healthy environment plays a budding role in developing the knowledge of students related to their field of MBA specializations.
Placement Assistance: A good placement opportunity in the student's life plays a crucial role in assisting them into a reputed organization at higher positions. A final year student can enjoy the placement opportunity to set their career through placement drive available at the campus for the students.
Read: How much salary do we get after MBA in India?
Online / Distance MBA Popular Specializations in Uttarakhand
MBA (Masters in Business Administration Via Online / Distance mode, offers varied specializations to the students to make their career in different fields as per their choice of interest. Hence, students get the choice to study in different areas of MBA specializations. Here are some of the popular MBA courses which you a pursue in an Online / Distance mode are:
| | | | | |
| --- | --- | --- | --- | --- |
| MBA Business Management | MBA Retail Management | MBA Logistics & Supply Chain | MBA International Finance | MBA Data Science And Analytics |
| MBA Operations Management | MBA IT & Systems Management | MBA Banking Finance | MBA Finance And Leadership | MBA Digital Marketing E-Commerce |
| MBA International Trade Management | MBA Information Technology | MBA Financial Markets | MBA International Marketing | MBA Fintech |
Online / Distance MBA Career Opportunities
After completing Online / Distance MBA specializations as students can make their careers in these respective fields and working profiles/ positions. Check out what positions are these:
| | | | |
| --- | --- | --- | --- |
| ​Business Development Manager | Business adviser​ | Brand Manager​ | ​Marketing Strategist​ |
| Market Research Analyst | Sales Manager​ | Supply Chain Manager | Management Consultant​ |
| ​​Product Manager​ | Accounting Head | ​​Inventory Control Manager​ | ​Vendor Managed Inventory Coordinator​ |
| ​Warehouse Operations Manager​ | ​Material Manager​ | Logistics Manager​ | System Support Manager​ |
| ​Transportation Manager​ | — | — | — |
Top MBA Colleges in Uttarakhand Based on NIRF Ranking
NIRF rankings are necessary for a regular college to score minimum grade or percentage released by the MHRD (Ministry of Human Resource Development). They can give the ranks on the basis of the assistance of colleges/universities, through campus location, academic responses, study material, faculty staff, and other such basic parameters set by the MHRD to give the NIRF ranking.
What is NIRF Ranking?
NIRF National Institutional Ranking Framework ranks the Indian institutions and universities through their respective parameters task which check the university of their knowledge, education system, campus facility, placement drive, and other such relevant frameworks.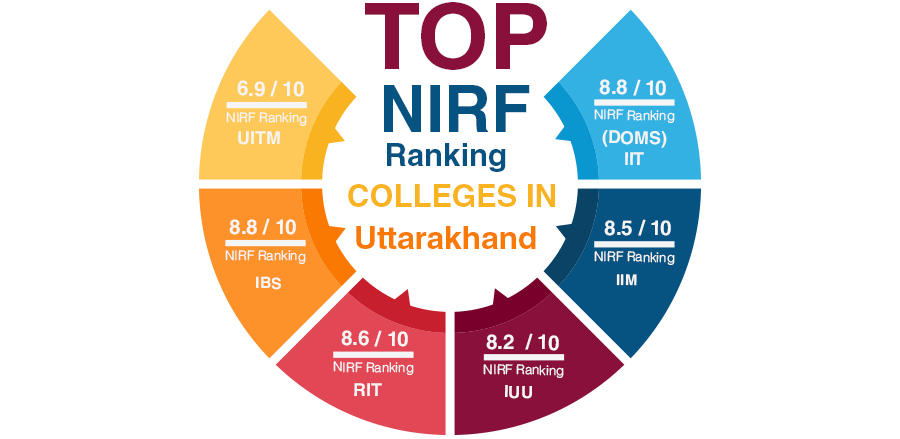 The NIRF ranking is spread objective to promote competitive excellence in the higher educational institutions/ universities or colleges. Through NIRF ranking system benefits the aspirants to pursue higher education with the right choice and best choice of MBA colleges in India.
Read: How Effective Is IIM Ahmedabad Distance MBA?
Mentioned below are some of the top NIRF ranking colleges in Uttarakhand:
| | |
| --- | --- |
| Regular MBA Universities / Colleges | NIRF Ranking |
| Department of Management Studies (DOMS), IIT Roorkee, Uttarakhand | 8.8 / 10 |
| Indian Institute of Management (IIM), Kashipur, Uttrakhand | 8.5 / 10 |
| IMS Unison University (IUU), Dehradun, Uttrakhand | 8.2 / 10 |
| Doon Business School (DBS), Dehradun, Uttrakhand | 7.7 / 10 |
| Roorkee Institute of Technology (RIT), Roorkee, Uttrakhand | 8.6 / 10 |
| IBS Dehradun, Uttrakhand | 8.8 / 10 |
| Uttrakhand Institute of Management, Dehradun | 6.9 / 10 |
Conclusion
We have concluded a list of colleges in this blog. Where a student gets an overview regarding online/distance MBA colleges situated in the land of mountains "Uttarakhand". Through this writeup, a student can get information about the eligibility requirement, key highlights, specializations, career opportunities, and much more information about the online/distance MBA. students can enjoy the benefit of taking classes online on Online education and offline through distance education-based universities.