Online / Distance MBA in Bihar is a postgraduate degree in business administration which is of a 2-years time span. Bihar, is the third-largest state in India when it comes to talking about the population, and twelfth in number by territory. We have some of the major cultural regions in Bihar such as Magadh, Mithila, and Bhojpur. The numbers of youngsters in Bihar are 58% that are most aspiring for the program MBA. As the youngest generations are there in Bihar, they look for better insights for their upcoming career and future.
Read: What Is the Full form of MBA?
Online/Distance MBA Colleges Lists In Bihar
There are around 14 MBA colleges located in Bihar, both private and government colleges. Among these colleges provide Online / Distance and regular education of management specializations to the interested candidates who want to build up their career in the MBA programs. To ease your findings, we have shortlisted the top 6 Online / Distance Colleges that are providing such MBA courses in Bihar to the aspirants.
#1. Catalyst Institute of Management and Advance Global Excellence (CIMAGE), Patna, Bihar
The institute has established its roots in the year 2009, it is one of the prestigious institutes located in Patna. Its offers all the professional UG/ PG level courses such as BBA, B.Com, BBM, MBA, and other specialized courses. To date, the institution has the highest salary package goes up to 10LPA after completing the education from CIMAGE.
| | | | | |
| --- | --- | --- | --- | --- |
| Course Name | Fee Structure (INR) | Degree | Affiliation | Duration |
| MBA | INR 235,000 | Distance | UGC, DEB | 2 years |
#2. Indira Gandhi National Open University, Bihar
The university was established in the year 1985 through the Act passed by the parliament of India. Currently, IGNOU is the largest university that offers distance and online education to its students. IGNOU has more than 228 courses ranging from certificate to doctoral level courses.
Course Name
Fee Structure (INR)
Degree
Affiliation
Duration

MBA

INR 37,800

Distance Mode

UGC, DEC

2 years

MBA's Specializations Name

MBA Finance

MBA Operations

MBA Marketing

MBA HR
#3. Nalanda Open University, NOU, Bihar
NOU was established in the year 1987, it is a state university located in the center of Bihar. The university has around 153 active centers that are dedicated to giving education through distance mode to their students. NOU operates 12 schools offering 105 courses of undergraduate or postgraduate level programs. NOU Patna also provides short-term to PhD-level courses across 10 streams.
Course Name
Fee Structure (INR)
Degree
Affiliation
Duration

MBA

INR

5,500-Rs 7,300 per semesters

Distance

AICTE, UGC, DEB, ICDE, AAOU, ODL

2 years
#4. Directorate of Distance Education Patna University, Patna, Bihar
Directorate of Distance Education Patna University was established in 1917 to provide quality education at the higher level. The primary aim of the institute is to provide education to the economically weaker section, backward class, and others to get equal education in terms of their rights. The university focuses on the transformation of a student by developing skilled-based learning and giving the university student-centric learning.
Course Name
Fee Structure (INR)
Degree
Affiliation
Duration

MBA

INR

20,000

Distance

UGC, DEB,

2 years
#5. Directorate of Distance Education Jai Prakash University, Patna Bihar
The university was established in the year 1990 to provide a high-quality education to the localities of Bihar. The university offers open and distance learning courses to the students to belong to remote areas or are unable to reach the central education centers. Distance Education, JPU is a member of AIU and has affiliation from the UGC. Institute provides UG and PG level courses in the open and distance mode through innovative updated technical skills.
| | | | | |
| --- | --- | --- | --- | --- |
| Course Name | Fee Structure (INR) | Degree | Affiliation | Duration |
| MBA | | Distance | UGC, DEB, | 2 years |
#6. Indian School of Business Management & Administration, (ISBMA), Patna
ISBMA is a private institute that is established in the year 1992 by a well-known NGO Aeren Foundation. The institute is ranked amongst the top ten business schools in providing education through distance mode. It is accredited by the national development agency and has more than 100 professional specializations and management courses.
| | | | | |
| --- | --- | --- | --- | --- |
| Course Name | Fee Structure (INR) | Degree | Affiliation | Duration |
| MBA | INR 23.9 thousands – 49.9 thousands | Distance | DEB, | 2 years |
MBA through Online / Distance is something that plays a crucial role in the part of making a bright future. We saw that the absence of top B-Schools in Bihar is the reason that the best suitable course for them is online / distance MBA. The Online / Distance Universities offering MBA in Bihar offer various specializations which include marketing, Human resources, Operation, and others. Online / Distance MBA has also become the most opted course we see from years in general.
Online MBA Colleges In Other States/Cities
As time passes people get illuminated with the advancement, and digitization of various domains in education and even in the career. We see the aspirants of Bihar are to be considered as the most inspiring hard-working students. We found them all over the world be it in India or abroad by holding a good position amongst their peers. Also, some of the best institutes in Bihar are offering online/ distance MBA for students who are looking to get a higher degree in order to get a top profession.
By opting for an online/ distance MBA, you will get a lot of advantages. There is the flexibility of time and money and also you will be learning updated and revising the latest curriculum. Gaining knowledge with experience is a win-win situation. The specializations of online/ distance MBA like marketing, HR, Banking and Finance, International Business, etc. enable opportunities in top-notch industries of both India and abroad.
Read: What Is Part Time MBA?

Online/Distance MBA Eligibility Criteria
To take admission in the Online / Distance MBA, a student must cross the basic eligibility to pursue their career in this field. Apart from this, eligibility criteria vary from university to college. Students are required to pass the entrance test which is applicable by some of the universities. Here are the basic eligibility criteria for most of the universities to take admission in the Online / Distance MBA course:
Students are required to pass the examination of bachelor's in any stream with a minimum percentage of 50%

Students need to make sure that they have issued their graduation/Bachelor degree from a UGC recognized university

Students must belong from the commerce background in their 12th boards either in their graduation degree.
How Can You Choose One Perfect Online / Distance MBA College For You?
There are different parameters to judge or select a university or college for your study which would be the best choice for you. You cannot pick a university randomly, all your career depends upon it. Here are basic variables factors which you can keep in mind while selecting a university/college for an Online / Distance MBA study.
Academics: Through good resources of education provided to the student by the college/university, they can build up their career in a more productive way. Through proper training added to the curriculum of a course. A student is able to grasp and train their young minds in a creative and managing way.
Placement Drive: Placement drive in students' life of a college plays an essential role in giving the advantage to step into the real world of the corporate world. if a student can get right job as per their MBA course of study, then they can grow and perform best in the specialized fields.
Read: MBA Salary Based on Specialization
Online / Distance MBA Popular Specializations in Bihar
MBA (Masters in Business Administration Via Online / Distance mode, offers varied specializations to the students to make their career in different fields as per their choice of interest. Hence, students get the choice to study in different areas of MBA specializations. Here are some of the popular MBA courses which you a pursue in an Online / Distance mode are:
| | | | |
| --- | --- | --- | --- |
| MBA Investment Banking Equity Research | MBA (Project Management) | MBA (Strategic Marketing) | MBA (Business Intelligence And Analytics) |
| MBA Strategic Finance | MBA (Healthcare Management) | MBA (Strategic HR Management) | MBA ( Business Intelligence & AI ) |
| MBA (Advertising and Branding) | MBA (Real Estate Management) | MBA (HRM And Finance Management) | MBA (Entrepreneurship and Leadership) |
Online / Distance MBA Career Opportunities
After completing Online / Distance MBA specializations as students can make their careers in these respective fields and working profiles/ positions. Check out what positions are these:
| | | | |
| --- | --- | --- | --- |
| ​Business Development Manager | Business adviser​ | Brand Manager​ | ​Marketing Strategist​ |
| Market Research Analyst | Sales Manager​ | Supply Chain Manager | Management Consultant​ |
| ​​Product Manager​ | Accounting Head | ​​Inventory Control Manager​ | ​Vendor Managed Inventory Coordinator​ |
| ​Warehouse Operations Manager​ | ​Material Manager​ | Logistics Manager​ | System Support Manager​ |
| ​Transportation Manager​ | — | — | — |
Top MBA Colleges in Bihar Based on NIRF Ranking
Every year NIRF ranking is done by the Ministry of Human Resource Development (MHRD). The best rankers in the college/university offer the quality of education with plenty of perks to the students who belong from the respective college or university. So, you must be thinking that what is the NIRF ranking system, how it works, why is it important for a university/ college to earn that badge from the NIRF ranking for full-time regular colleges.
What is NIRF Ranking?
NIRF National Institutional Ranking Framework ranks the Indian institutions and universities through their respective parameters task which check the university of their knowledge, education system, campus facility, placement drive, and other such relevant frameworks.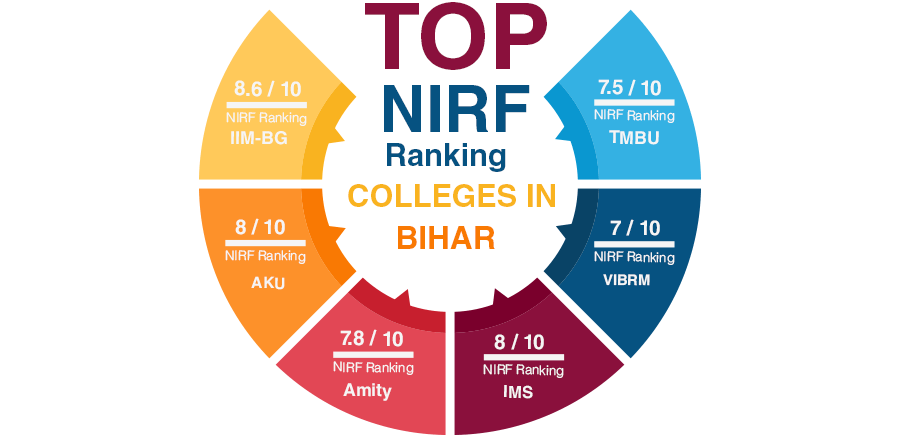 The NIRF ranking is spread objective to promote competitive excellence in the higher educational institutions/ universities or colleges. Through NIRF ranking system benefits the aspirants to pursue higher education with the right choice and best choice of MBA colleges in India. Mentioned below are some of the top NIRF ranking colleges in Bihar:
| | |
| --- | --- |
| Regular MBA Universities / Colleges | NIRF Ranking |
| Tilka Manjhi Bhagalpur University (TMBU) | 7.5 / 10 |
| Vaishali Institute Of Business And Rural Management – [VIBRM], Muzaffarpur, Bihar | 7 / 10 |
| International School of Management (IMS), Patna | 8 / 10 |
| Lalit Narayan Mishra Institute Of Economic Development And Social Change – [LNMI], Patna | 7.5 / 10 |
| Sandip University, Madhuban, Bihar | 8.4 / 10 |
| Amity University, Patna, Bihar | 7.8 / 10 |
| Aryabhatta Knowledge University (AKU), Patna, Bihar | 8 / 10 |
| Indian Institute of Management – [IIM-BG] Bodh Gaya, Bihar | 8.6 / 10 |
Conclusion
Students who are searching regarding the choice of selecting the best MBA colleges for online/distance learning should read this blog to full to the end. This blog has included a list of top MBA colleges in India, all are ranked by the NIRF (National Institutional Ranking Framework) ranking system that has been released by the MHRD every year.
It also included MBA specializations, for online/distance MBA, career opportunities, and tips to select any university or college for MBA in Bihar. Some of the colleges have their study centers where students can submit or take classes through an offline mode of education.