Distance MBA is a 2-year postgraduate degree that is UGC approved and makes you study management and business tactics. In the education sector, Hyderabad is one of the popular places that is providing the best courses on various levels like certificates, diplomas, UG, and PG. There are various famous universities and institutions that are established in the city of Hyderabad.
Students from all parts of the country come and take admission in this city as it also provides various job opportunities for career aspirants. Hyderabad is surely an important spot of learning in the southern part of India. Hyderabad city has two central universities along with three deemed universities. Also, there are six state universities established in Hyderabad.
Top Online/Distance MBA Universities/Colleges List In Hyderabad
Here, we are talking about the MBA course available in the mode of distance learning. MBA is also becoming the first choice of the students and this is the reason that it has become one of the most chosen programs after the completion of the graduation program. Online MBA course is a 2-year course that is available for the students who want to work as the chief managers in some big organizations and who look forward to getting a better understanding of the business administration field.
There are around 14 MBA colleges located in Hyderabad, both private and government colleges. Among these colleges provide online/distance and regular education of management specializations to the interested candidates who want to build up their career in the MBA programs. To ease your findings, we have shortlisted the top 11 Online/ Distance Colleges that are providing such MBA courses in Maharashtra to the aspirants.
#1 BR Ambedkar Open University (BRAOU) For Distance Education, Hyderabad
BRAOU was established in the year 1982. It's a public university recognized by the Government of India. It aims to provide education to each and every student who belongs to any community, caste, or religion of India. The university provides distance education through the online mode of all the courses.
| | | | |
| --- | --- | --- | --- |
| Course Name | Fee Structure (INR) | Degree | Duration |
| MBA | INR 30,000 | Distance Degree | 2 years |
#2 University of Hyderabad (UOHYD), Hyderabad
UOHYD is a university that offers Distance education in Management specializations. It is a centralized university by the Govt. of Hyderabad in the state of Telangana, India. It is established in 1974 with all its MBA programmes.
| | | | |
| --- | --- | --- | --- |
| Course Name | Fee Structure (INR) | Degree | Duration |
| MBA | INR 16000- 40000 | Distance Degree | 2 years |
#3 ICFAI For Distance MBA
ICFAI is a private institution that is one of the national influenced universities in whole India. However, the university is the best in providing the best education in terms of Distance learning. They had set up their roots in the year 2004. Though the ICFAI has its main headquarters in the capital of India "New Delhi". It has spread its educational institutions all over India at different locations.
| | | | | |
| --- | --- | --- | --- | --- |
| Course Name | Fee Structure (INR) | Degree | Affiliation | Duration |
| MBA | INR 55,000 | Distance Mode | NAAC B, UGC, AIU | 2 years |
#4 IGNOU Distance, Hyderabad
Indira Gandhi National Open University (IGNOU) is an honored university that is established in the year 1985 by the ACT Passed by the Parliament of India. Presently it is the largest university in India that offers distance education within India from rural to urban metro cities. IGNOU has consisted of more than 21schools of studies, 2,667 learner support centers, 67 regional centers, and 29 overseas partner institutes. IGNOU offers 228 UG, PG, Diploma, or Certificate courses even to the Doctoral level programs. Click here!
Course Name
Fee Structure (INR)
Degree
Affiliation
Duration

MBA

INR 37,800

Distance Mode

UGC, DEC

2 years

MBA's Specializations Name

MBA Finance

MBA Operations

MBA Marketing

MBA HR
#5 Symbiosis Centre for Distance Learning (SCDL) For Distance MBA
Symbiosis Distance Learning was established in the year 2001, it has the largest distance learning education in India that offers Distance education. Symbiosis programs are also for the working professionals to provide the UG, PG, PG Diploma Courses, Certificate programs across the industry.
Course Name
Fee Structure (INR)
Degree
Affiliation
Duration

MBA

INR

50,000

Distance Mode

UGC, DEC

2 years

MBA's Specializations Name

HR Management

Supply Chain Management

Operation Management

Retail Management

Banking and Finance Management

Marketing Management
#6 Sikkim Manipal University (SMU) For Distance MBA
Sikkim Manipal University- Distance Education (SMU- DE), the university set up their root in the year 2001 in Gangtok. All the Undergraduation/ Postgraduation or other courses are being forwarded through the distance mode. Through this distance education, working professionals easily is able to continue with their studies along with manage their working life.
| | | | |
| --- | --- | --- | --- |
| Course Name | Fee Structure (INR) | Degree | Duration |
| MBA | INR 20000 | Distance Degree | 2 years |
#7 Jiwaji University For Distance MBA
Jiwaji University is a private university that provides education through online and offline mode as well by distance learning. The University offers many courses for Undergraduate, Postgraduate, Certificates, and Diploma courses via distance mode of learning. They had established their roots in the year 1964
| | | | |
| --- | --- | --- | --- |
| Course Name | Fee Structure (INR) | Degree | Duration |
| MBA | INR 12,000- 23,000 | Distance Degree | 2 years |
#8 Venkateshwara Open University (VOU) For Distance MBA
Venkateshwara Open University (VOU) is a private university that focuses to offer a high level of education to their students of all Postgraduate, Graduate, or other courses. They had set up their roots in the year 2012 with excellent faculty staff, study material, and campus resources.
| | | | |
| --- | --- | --- | --- |
| Course Name | Fee Structure (INR) | Degree | Duration |
| MBA | INR 55,000 | Distance Degree | 2 years |
The course of distance MBA is also catching the attention of the aspirants in Hyderabad city. There are various specializations that you can choose in the MBA as your branch and some of them are operations, marketing, hospitality, international business, etc.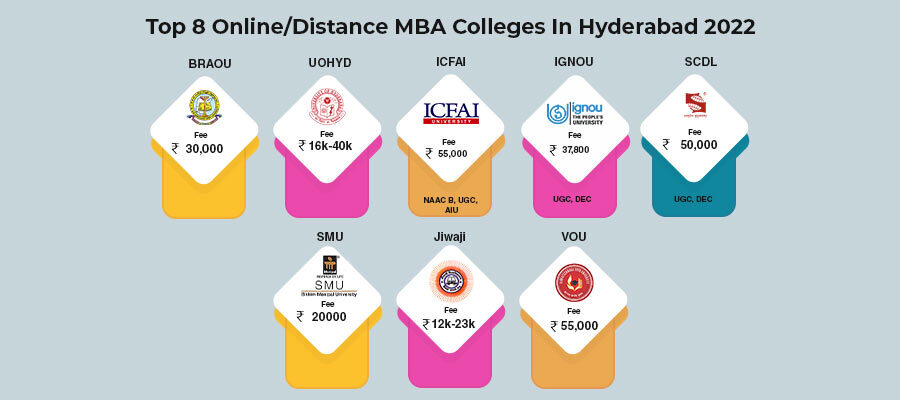 Online MBA Colleges In Other States/Cities
Online/Distance MBA Eligibility Criteria
To take admission in the Online / Distance MBA, a student must cross the basic eligibility to pursue their career in this field. Apart from this, eligibility criteria vary from university to college. Students are required to pass the entrance test which is applicable by some of the universities. Here are the basic eligibility criteria for most of the universities to take admission in the Online / Distance MBA course:
Students are required to pass the examination of bachelor's in any stream with a minimum percentage of 50%

Students need to make sure that they have issued their graduation/Bachelor's degree from a UGC recognized university

Students must belong from the commerce background in their 12th boards or in their graduation degree.
How Can You Choose One Perfect Online / Distance MBA College For You?
While selecting any online/distance MBA colleges or universities in Hyderabad. Students will keep these below mentioned basic variables factors in their mind at the time of enrolling admission to their desired MBA specialisations.
Course Study: It is important to go through with the basics to check with the academics of the college in which you are going to take admissions. A healthy environmental study helps students to develop their set of skills with updated trends, methods, traditions, and the knowledge of the selected MBA course.
Placement Drive: Placement assistance available at the campus helps a student in finding the best career option in their specialised MBA field through the placement drive of the college. A final year student of the respective college will be able to apply to the corporate world through placement assistance.
Location: Before applying to any of the Hyderabad-based colleges or universities, students must check the college location from their located address. If the college is within a 20-30km radius, it would be fine to take admission to the respective college in Hyderabad.
Read: What to Do After MBA?
Online/Distance MBA Popular Specializations In Hyderabad
MBA (Masters in Business Administration Via Online / Distance mode, offers varied specializations to the students to make their career in different fields as per their choice of interest. Hence, students get the choice to study in different areas of MBA specializations. Here are some of the popular MBA courses which you a pursue in an Online / Distance mode are:
| | | | | |
| --- | --- | --- | --- | --- |
| MBA Entrepreneurship and Leadership | MBA Business Intelligence & AI | MBA HRM And Finance Management | MBA Business Intelligence And Analytics | MBA International Marketing |
| MBA Strategic Marketing | MBA Project Management | MBA Financial Markets | MBA Real Estate Management | MBA Logistics & Supply Chain |
| MBA Banking Finance | MBA International Finance | MBA Data Science And Analytics | MBA Fintech | MBA Investment Banking Equity Research |
These specializations are being picked even by the working professionals to build their careers into the more competitive way of a skilled candidate. Candidates can pick their MBA specialization course as per their working field to learn and adopt a new set of skills of communicative, management, analytical, reasoning, and logical thinking into their selected course.
Online/Distance MBA Career Opportunities
After completing Online / Distance MBA specializations as students can make their careers in these respective fields and working profiles/ positions. Check out what positions are these:
| | | | |
| --- | --- | --- | --- |
| ​Business Development Manager | Business adviser​ | Brand Manager​ | ​Marketing Strategist​ |
| Market Research Analyst | Sales Manager​ | Supply Chain Manager | Management Consultant​ |
| ​​Product Manager​ | Accounting Head | ​​Inventory Control Manager​ | ​Vendor Managed Inventory Coordinator​ |
| ​Warehouse Operations Manager​ | ​Material Manager​ | Logistics Manager​ | System Support Manager​ |
| ​Transportation Manager​ | — | — | — |
Top MBA Colleges in Hyderabad Based on NIRF Ranking
NIRF ranking plays a crucial role for a student while selecting the desired and the best college or university for themselves for the regular study (full-time) of the MBA (Masters of Business) in Hyderabad. Check out the below-mentioned high-rated NIRF-based best colleges suited to the "City of Pearls". Before jumping to the tabulate first know what is NIRF Ranking system?
What is NIRF Ranking?
NIRF National Institutional Ranking Framework ranks the Indian institutions and universities through their respective parameters task which check the university of their knowledge, education system, campus facility, placement drive, and other such relevant frameworks.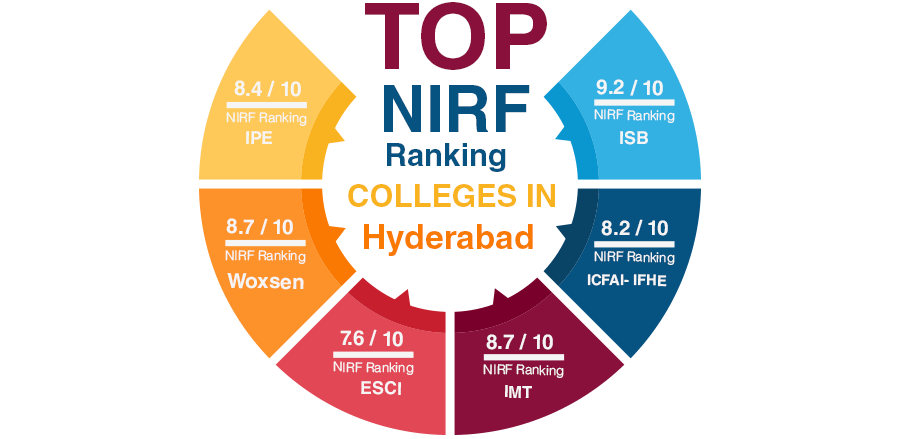 The NIRF ranking is spread objective to promote competitive excellence in the higher educational institutions/ universities or colleges. Through NIRF ranking system benefits the aspirants to pursue higher education with the right choice and best choice of MBA colleges in India. Mentioned below are some of the top NIRF ranking colleges in Hyderabad:
| | |
| --- | --- |
| Regular MBA Universities / Colleges | NIRF Ranking |
| Indian School of Business (ISB) | 9.2 / 10 |
| Institute of Chartered Financial Analysts of India (ICFAI- IFHE), Hyderabad | 8.2 / 10 |
| Institute of Management Technology (IMT), Hyderabad | 8.7 / 10 |
| Engineering Staff College Of India, Hyderabad | 7.6 / 10 |
| Woxsen University, Hyderabad | 8.7 / 10 |
| Institute of Public Enterprise (IPE), Hyderabad) | 8.4 / 10 |
Conclusion
Online/Distance MBA is a professional lucrative degree course for that a student needs the best college for their excellent growth related to skills and stand confidently in the corporate world of finance, banking, or management sectors. This blog has a list of colleges that offers Online/Distance MBA specializations in the city of Hyderabad. You can even get information regarding the MBA specializations, eligibility, career after compilation of MBA degree and tips to choose suitable MBA colleges in Hyderabad.