Distance/Online MBA Courses in Uttar Pradesh is a 2-year postgraduate degree that inculcates business skills to make a career in the industry. The population of Uttar Pradesh is the largest in India, so is the population of students in Uttar Pradesh. Major cities like Noida, Ghaziabad, Lucknow are major centres of hundreds of enterprises and companies. All these companies are required to run properly for MBA online graduates.
Online/Distance MBA Colleges Lists In UP
There are quire choices to take if you are searching for an MBA in online/distance mode in Uttar Pradesh. Some of the best Online/Distance MBA institutes are located in Uttar Pradesh. There are around 13 MBA colleges located in UP, both private and government colleges. Among these colleges provide online/distance and regular education of management specializations to the interested candidates who want to build up their career in the online MBA programs In India.
To ease your findings, we have shortlisted the top 06 Online/ Distance Colleges that are providing such MBA courses in UP to the aspirants.
#1 Indira Gandhi National Open University (IGNOU) MBA, UP
IGNOU is a prestigious university that is established in the year 1985 through the Act passed by the Indian Parliament with the aim to provide education through online or distance modes of learning. IGNOU in year may 2010 has extended its branches of education in UP. currently, it has more than 56 regional centres suited only in Uttar Pradesh such as Lucknow, Kanpur, Aligarh, or other places in UP for the localities or the migrated students of urban, rural, or remote areas of the region.
Course Name
Fee Structure (INR)
Degree
Affiliation
Duration

MBA

INR 37,800

Distance Mode

UGC, DEC

2 years

MBA's Specializations Name

MBA Finance

MBA Operations

MBA Marketing

MBA HR
#2 Symbiosis Centre for Distance Learning (SCDL) MBA, UP
SCDL was founded in the year 2001 at Pune that offers Postgraduation, Certificate, Diploma and other specialized programs of various streams such as Management, Finance, Administration, Business or other MBA programs. SCDL has a total of 10 regional centres suited in the cities of UP are, Agra, Aligarh, Allahabad, Bareilly, Gorakhpur, Lucknow, Meerut, Muzaffarnagar, Varanasi, Noida, and Saharanpur.
Course Name
Fee Structure (INR)
Degree
Affiliation
Duration

MBA

INR

50,000

Distance Mode

UGC, DEC

2 years

MBA's Specializations Name

HR Management

Supply Chain Management

Operation Management

Retail Management

Banking and Finance Management

Marketing Management
#3 Aligarh Muslim University Distance Learning MBA, Aligarh, UP
Aligarh Muslim University (AMU), was established in the year 1920, It is a public university and ranked one of the best universities to offer quality education to all over in UP. It is accredited with the NAAC by the 'A' Grade. AMU offers a total of 300 courses of UG or PG level under the 13 departments such as Science, Humanities, Medicine, Engineering, and Management among other sectors of the course study. The university has spread over 1,155 acres of the land of campus with all the resources for the students, faculty, and non-teaching staff.
| | | | | |
| --- | --- | --- | --- | --- |
| Course Name | Fee Structure (INR) | Degree | Affiliation | Duration |
| MBA | INR 9,000 per semester | Distance Mode | UGC, AICTE | 2 years |
#4 Amity University Online Learning MBA, Noida, UP
Amity ODL is a private-based university that came into existence in the year 2005 with the aim to provide both regular and distance-based education to the students who are highly interested to build their respective careers in management or MBA specializations. Management of AODL offers webinars, audio-visual study material, personal contact programs for the growth of the student to adapt all the skills related to the MBA programs. Click here!
Course Name
Fee Structure (INR)
Degree
Affiliation
Duration

MBA

INR 3,50,000

Online and Distance

AICTE, UGC, DEB,NAAC , BCI , AIU , NCTE

2 years

MBA's Specializations Name

MBA Digital Marketing Management

MBA HR Analytics

MBA Data Science

MBA Business Analytics
#5 Dayalbagh Educational Institute, Distance (DEI-DEP) MBA, Agra, UP
Dayalbagh institutional is a public deemed university that established its roots in the year 1917 i.e, located in Agra, Uttar Pradesh. Later on in the year 2004, DEI Distance education was founded by the university and it also gets recognition by the DEC, to offer Undergraduate, Postgraduate, Diploma programs of Commerce, Arts, Management and other specialized streams.
| | | | | |
| --- | --- | --- | --- | --- |
| Course Name | Fee Structure (INR) | Degree | Affiliation | Duration |
| MBA | INR 11,000 | Distance/ Online Mode | UGC , DEB | 3 years |
#6 Birla Institute of Management Technology- (BIMTECH) MBA, Greater Noida, UP
BIMTECH is a private institution that was established in the year 1998 under the aegis of Birla Academy of Art and Culture and was supported by the Birla Group of Companies. In the year 2020, the institution came up with the online course studies programs of UG, PG, or Professional level programs.
| | | | | |
| --- | --- | --- | --- | --- |
| Course Name | Fee Structure (INR) | Degree | Affiliation | Duration |
| MBA | INR 17000 | Online Mode | UGC | 3 years |
The most attended higher degree by the working professional and who want to improve their essence of handling roles is Online/Distance MBA. MBA through Online/Distance Education gives the position and salary significant growth to the working professionals. MBA is an opening for a constantly expanding career, as you need not give up and research. You get the degree and the experience in your competitor's job while seeking an Online/Distance MBA.
Online MBA Colleges In Other States/Cities
Online/Distance MBA offers various additional benefits compared to regular MBA. Online/Distance MBA has a curriculum revised in the sector, and faculties are in the proportion of professors and industry experts, thereby making the MBA online/distance a job-focused management course. Also Read: Top Highest Paying Jobs in India with Average Salary.
Online/Distance MBA in Uttar Pradesh has a broader range of different specializations including HR, marketing, IT Management, Finance Management, International Management, etc. With so many Human Resources in Uttar Pradesh, MBA through online/distance learning is viably the best degree for a career in top-notch corporates and MNCs.
Online/Distance MBA is the way to start your career in Uttar Pradesh. There are numerous online/distance leading universities in Online/Distance which have a good reputation and importance in the job market and provide affiliated MBA. Let's see the best of the Online/Distance MBA prospects in Uttar Pradesh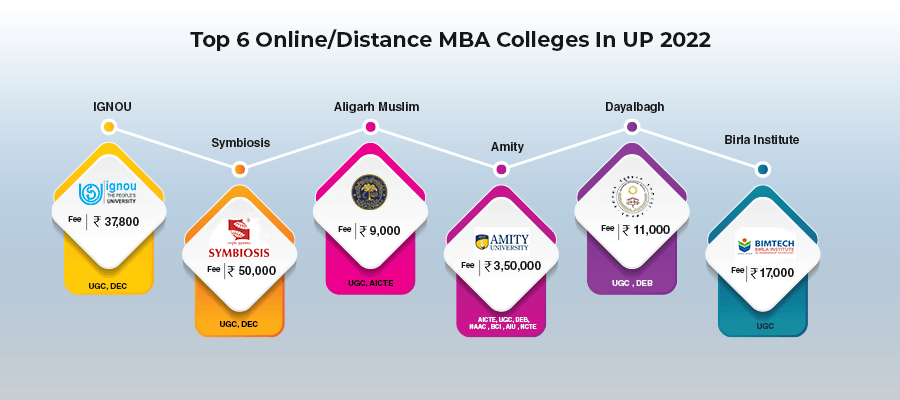 Online/Distance MBA Eligibility Criteria
To take admission in the Online / Distance MBA, a student must cross the basic eligibility to pursue their career in this field. Apart from this, eligibility criteria vary from university to college. Students are required to pass the entrance test which is applicable by some of the universities. Here are the basic eligibility criteria for most of the universities to take admission in the Online / Distance MBA course:
Students are required to pass the examination of bachelor's in any stream with a minimum percentage of 50%

Students need to make sure that they have issued their graduation/Bachelor's degree from a UGC recognized university

Students must belong from the commerce background in their 12th boards or in their graduation degree.
How Can You Choose One Perfect Online / Distance MBA College For You?
There are different parameters to judge or select a university or college for your study which would be the best choice for you. You cannot pick a university randomly, all your career depends upon it. Here are basic variables factors which you can keep in mind while selecting a university/college for an Online / Distance MBA study.
Academics: While selecting any of the regular, distance, or online universities or colleges for Online/ Distance MBA, students must go through their official website to check the academic prospectus of the official website where they are going to take admission for online and distance MBA course study.
A healthy resourceful academic environment nurtures the whole persona of a student with the ability, skills, and knowledge related to their MBA specializations such as Finance, Management, Administration, Human Resources, Power Management, International Finance and so forth MBA programs.
Placement Drive: As most of the colleges have their inbuild placement cells in campus or universities for providing the best job opportunities to their final year students in the good firms at higher positions. It is a golden opportunity for a student to be get placed in respectful organizations by their campus placement itself.
Read: What Is the Full Form of MBA?
Online/ Distance MBA Popular Specializations In UP
MBA (Masters in Business Administration Via Online / Distance mode, offers varied specializations to the students to make their career in different fields as per their choice of interest. Hence, students get the choice to study in different areas of MBA specializations. Here are some of the popular MBA courses which you a pursue in an Online / Distance mode are:
| | | | |
| --- | --- | --- | --- |
| MBA Aviation Management | MBA Financial Markets | MBA Data Science And Analytics | MBA Strategic Finance |
| MBA Information Technology | MBA International Finance | MBA Digital Marketing E-Commerce | MBA Advertising and Branding |
| MBA Logistics & Supply Chain | MBA Finance And Leadership | MBA Fintech | MBA Project Management |
| MBA Banking Finance | MBA International Marketing | MBA Investment Banking Equity Research | MBA Healthcare Management |
These specializations are being picked even by the working professionals to build their careers into the more competitive way of a skilled candidate. Candidates can pick their MBA specialization course as per their working field to learn and adopt a new set of skills of communicative, management, analytical, reasoning, and logical thinking into their selected course. Read: What Is PGDM?
Online / Distance MBA Career Opportunities
After completing Online / Distance MBA specializations, students can make their careers in these respective fields and working profiles/ positions. Check out what positions are these:
| | | | |
| --- | --- | --- | --- |
| ​Business Development Manager | Business adviser​ | Brand Manager​ | ​Marketing Strategist​ |
| Market Research Analyst | Sales Manager​ | Supply Chain Manager | Management Consultant​ |
| ​​Product Manager​ | Accounting Head | ​​Inventory Control Manager​ | ​Vendor Managed Inventory Coordinator​ |
| ​Warehouse Operations Manager​ | ​Material Manager​ | Logistics Manager​ | System Support Manager​ |
| ​Transportation Manager​ | — | — | — |
Top MBA Colleges in UP Based on NIRF Ranking
Every year, MHRD (Ministry of Human Resource Development) releases the NIRF ranking of the colleges or universities in the country on the basis of some parameters. Candidates who are looking for the best colleges in the UP, then they should consider NIRF rankings to shortlist their respective colleges or universities in the state.
Maybe you are wondering what NIRF ranking is?, why is it important for a university to earn the tag? Also, here you can check the names of some top regular MBA colleges which offer regular full-time MBA degree programs. Also Read MBA Salary In India Per Month.
What is NIRF Ranking?
NIRF National Institutional Ranking Framework ranks the Indian institutions and universities through their respective parameters task which check the university of their knowledge, education system, campus facility, placement drive, and other such relevant frameworks.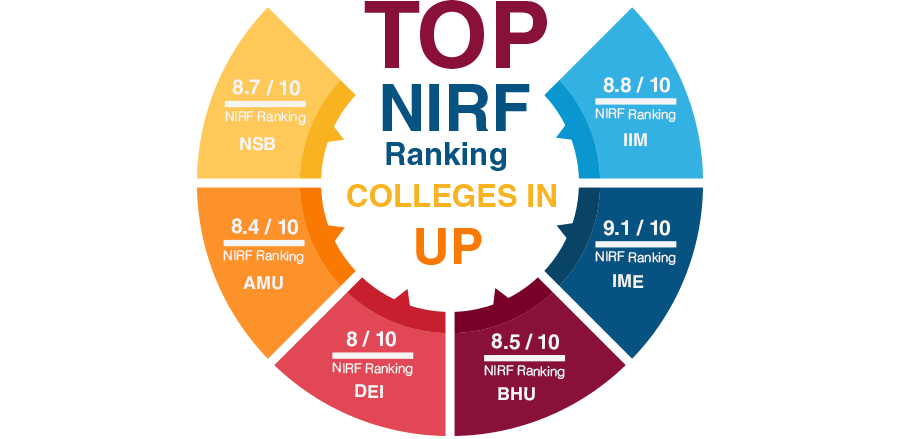 The NIRF ranking has spread an objective to promote competitive excellence in higher educational institutions/ universities or colleges. The NIRF ranking system benefits the aspirants to pursue higher education with the right choice and best choice of MBA colleges in India. Mentioned below are some of the top NIRF ranking colleges in UP:
| | |
| --- | --- |
| Regular MBA Universities / Colleges | NIRF Ranking |
| Indian Institute of Management (IIM), Lucknow | 8.8 / 10 |
| Industrial and Management Engineering (IME), Kanpur | 9.1 / 10 |
| Institute of Management Studies, Banaras Hindu University, Varanasi | 8.5 / 10 |
| Dayalbagh Educational Institute Agra | 8 / 10 |
| Aligarh Muslim University (AMU), Aligarh | 8.4 / 10 |
| NTPC School of Business (NSB), Noida | 8.7 / 10 |
| Amity Business School (ABS), Noida | 8.4 / 10 |
Conclusion
Online/Distance MBA is a profitable professional degree course. It develops to offer higher jobs in most of the engaging, creative, and imparting manner to a distinct community of the students. The blog contains all the colleges lists that offer Online, Distance, or Regular degree courses of MBA in UP itself. Students can enjoy their respective MBA classes or assignment submission in a distance mode of education through study centres assigned to them at the time of admission.