We all are familiar with the level of commitment & dedication, Military officers or defence professionals have for their job. Wouldn't that be great if the corporates of India have the chance to hire such personnel?
Armed forces are one of the most prestigious & respected fields in the Country. It takes a lot to take up & survive the services in the Defence field. The level of commitment, discipline, & courage they have is unmatched. They dedicate 15-20 good years of their lives to serving the country with high enthusiasm & commitment one can only think of.
Why Do the Armed Forces Need Online Courses?
The minimum qualification needed to join the armed forces is quite basic & based on the marks of 10+2 or equivalent. A major portion of military officers has only that basic educational qualification. Also, the full-time commitment to their jobs does not allow them to attend a regular UG or PG course & that limitation is one of the major obstacles in their career growth in & outside the military world. Also, after completing their service years, they do not have much scope in the corporate world due to the lack of educational qualifications & required skills.
Well, Thanks to the distance & online modes of education that have made it possible for military officers or armed officers to earn a higher education. The BOOM of Online Education has benefited millions of masses in completing their higher education. Defence professionals are also among the beneficiaries who got a chance to pursue & complete their education through online courses.
How Online Courses Have Benefitted Armed Forces?
There are numerous benefits of online courses for students, working professionals, Housewives, & others. But for defence officers online courses are game changers that can help them during & after their services.
1) To Climb up the Professional Ladder
The accessibility of educational services through online learning has made it possible for defence professionals to complete their graduation during their service years. This will help them be eligible for promotions in their fields after relevant years of experience in the services.
Also, graduate officers can pursue their master's degree through online postgraduate degree courses & be eligible to avail of higher posts after completing the required years of their service.
Online learning not only makes army officers acquire higher educational degrees but also provides them with a productive way to utilize their free time. The online study materials & online exams have made it way more feasible for defence professionals to complete their higher studies even in unfavorable climate conditions.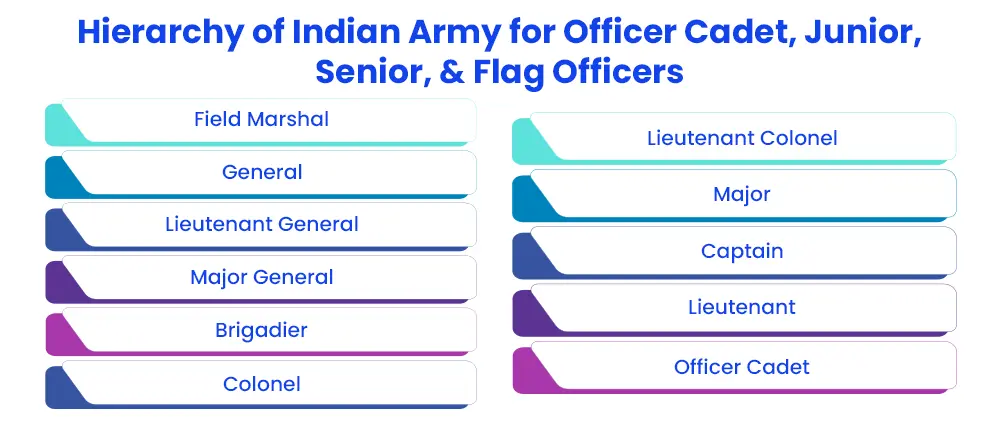 2) For Post-Retirement Earning
Most military officers retire at an early age of around 35-40 years but unfortunately, the financial needs of their families do not take an early retirement!
Military officers have the potential of fulfilling their family's requirements but in doing so they need to have a regular income source which is a tough task for them. In this digitized era of industries, it is quite difficult for an army officer to secure a well-paid job. However, learning some technical skills through online courses can make them earn a decent salary package in top firms in the country & can make their post-retirement life easy.
3) An Investment for Post-Retirement Life
If you are a defence professional (on-service or retired), you must have been frightened by the idleness of your after-retirement life which we are sure is quite demotivating. So, have you planned anything yet for that phase of life?
Not yet? Well, Let's figure out the solution to this problem together. After all, your sincerity & skills are not only useful for you but can be highly profitable for the corporate arena of the world.
During the service years, defence professionals live in their world surrounded by their tasks & duties but after the completion of their service, it is quite difficult for them to understand the trends & methodologies being used in the industry.
It is quite challenging for professionals of the armed forces to make a space for themselves in this technology-driven world. But it is not IMPOSSIBLE…
Apart from the UG & PG online courses, several upskilling programs are being offered in the online mode of learning & some of these trending online courses can be taken by military officers either during their service years or post-service to become competent in a world outside the Defence Services.
In-Demand Online Courses
Let's give a brief of all of the above-mentioned programs to help you choose the one that fulfills your professional desires.
Online Bachelor of Arts (BA)
Online BA is a UG degree program that can be pursued right after the 12th. This program helps you gain knowledge in different fields with a diversified range of specializations. You can opt for any of the specializations as per your interest from the list of History, Political Science, Psychology, Geography, Economics, etc.
After completing this 3-year-long degree course, you can even apply for reputed government jobs like UPSC, SSC, etc. Moreover, getting a UGC-approved graduation degree at the end of this program can help you climb up the hierarchical ladder of the armed forces. Also available in other modes -
Online Bachelor of Computer Applications (BCA)
If you have an interest in the software technologies of computer science, an online BCA can help you accelerate your career in the right direction. This particular UG program has a duration of 3 years which is sufficient to equip you with the foundational knowledge of programming languages, database management, network security, etc.
With the software-related learnings of this program, you can even move to the technical department of Defence Services. A government-recognized degree earned at the end of this program will make this transition seamless for you. Also available in other modes -
Online Bachelor of Commerce (B.Com)
Do the perks of the commerce field attract you? You can explore the benefits of the same with an online B.Com degree. In this UG degree program, you will learn about Accounting, Economics, Taxation, Insurance, Business Law, and Management which will help you build the basic foundation of commerce knowledge in you.
Post-completion of this program, you will get a UGC-approved bachelor's degree that will serve as a firm backup after your service years in the Armed Forces. Moreover, you can even switch to the finance & commerce department of the forces during your service years. Also available in other modes -
Online Bachelor of Science (B.Sc)
If you have studied the science stream at the 10+2 level or are interested in pursuing it at a higher level, an online B.Sc might serve the purpose. This program is 3 years long & makes you expertise in the field of science & technology. The variety of specializations available in this program helps you master a specific field with detailed knowledge. You can choose the specializations of Physics, Computer Science, Chemistry, Biology, Mathematics, etc. as per your interest.
After successful completion of the program, the industry-recognized degree you get is not only beneficial in uplifting your career during the service years but it also makes you explore career choices outside the Armed Forces after the completion of your service years. Also available in other modes -
Online Bachelor of Business Administration (BBA)
An online BBA is a foundational program that makes you aware of the different business aspects & their impact on the real world. In this UG program, you will learn some basic business skills that will not only help you to understand the conceptual knowledge of the management field but make you implement them for the benefit of the organizations.
This UG degree will be vital in deciding your career in the business domain after the completion of your service years. Moreover, the topics of Accounting Principles, Business Ethics, Business Finance, Human Resources Management, Introduction to Statistics & others can help you rise in the hierarchical position during your service years in the Armed Forces. Also available in other modes -
Online Master of Arts (MA)
Pursuing an online master's program of 2 years in MA can help you upgrade your career in defence services. With a variety of specialization choices of languages, humanities, etc. you can master a specific domain as per your interest area. The knowledge of psychology, management, social studies, and politics earned through this program even makes you eligible to apply for higher positions during your service years. Above all, this UGC-approved degree can secure your post-service career outside the Armed Forces. Also available in other modes -
Online Master of Computer Applications (MCA)
An online MCA is a 2-year PG program that can be pursued after completing graduation in any discipline with mathematics as one of the main subjects. This program will help you gain advanced-level knowledge of computer programs, computer architecture, application software, operating systems, and many other topics.
A government-approved degree in the technical field of MCA earned upon completion of this program can help you excel in the world of technologies inside & outside the Armed Forces. Also available in other modes -
Online Master of Commerce (M.Com)
Master the field of commerce with an online M.Com program of 2 years & plan for a purposeful career in a variety of sectors including accounting, investment, financial service, banking, investment as well as economics and marketing. This program helps you gain knowledge of emerging technologies in the commerce field in addition to the basic concepts.
An online M.Com degree is not just meant to help you decide your career path after the service years but also qualifies you to apply for higher roles in the forces. Also available in other modes -
Online Master of Science (M.Sc)
As the name suggests an online M.Sc is a master's program designed to equip you with advanced topics of the science & related field in 2 years. The specialization options of Chemistry, Mathematics, Microbiology, Physics, Biology, Botany, Bio-Technology, Life Sciences & others help you gain expertise in the specific domain as per your interest.
This scientific degree is vital in providing you with rewarding career opportunities in your current services & even after that in the technical domain of the industry. Also available in other modes -
Online Master of Business Administration (MBA)
An online MBA is one of the most popular choices among professionals & freshers who want to give their career a boost of business & management skills. This 2 -year-long program does not have any specific eligibility criteria & is thus, opted by individuals of different backgrounds. This PG program not only increases the existing salary packages of the learners but provides them with a long list of career opportunities in different sectors. Also Available: 1 Year Online MBA!
An online MBA degree can help you progress in your career by moving up through the ranks in your service years. Moreover, you can join or run a business with the knowledge gained through this degree after completion of your service in the Armed Forces. Also available in other modes -
Top Online Upskilling Certificate Course in Demand
Some specific certificate programs can be highly beneficial for armed officers to face the challenges of the corporate world.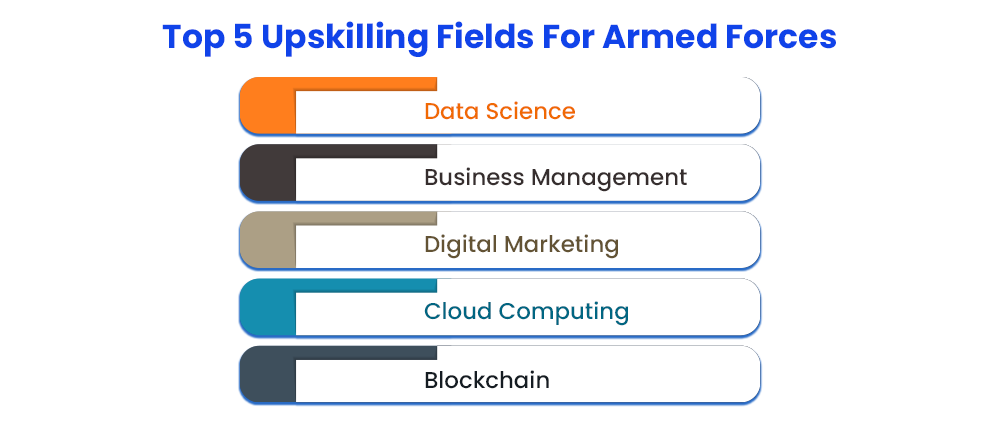 A professional certificate program in the specializations of the above-mentioned topics can make military officers or ex-military officers, to be more appropriate, achieve professional breakthroughs in the different sectors of the industry.
Conclusion
Online education has changed so many lives but the impact it creates on the professional cycle of military officers is beyond our imagination. By providing the chance of completing their education, online courses have been a career booster for defence professionals. The improvised earning package of armed officers during & after the defence services is something that can only be made possible just because of the availability of several courses in online learning mode.
So, create your opportunities with online courses & become a Starter in this world full of Backups!