Distance B.Sc programs are 3 years undergraduate programs meant to give quality education in various scientific areas, including physics, chemistry, mathematics, biology, computer science, and environmental science. To provide a holistic learning experience, these programs employ new distance learning approaches that combine online resources, study materials, virtual laboratories, and interactive platforms.
Distance B.Sc programs are interactive learning platforms. They encourage debates, collaborative projects, and interactive learning environments. Utilising virtual labs and simulations guarantees students the ability to apply theoretical principles to real-world situations.
Distance B.Sc programs provide students with a wide selection of specialities, allowing them to customise their degrees to their individual interests and professional aspirations. There is a speciality accessible for everyone interested in physics, chemistry, mathematics, biology, or computer science. This adaptability guarantees that students can advance into their chosen profession and build competence.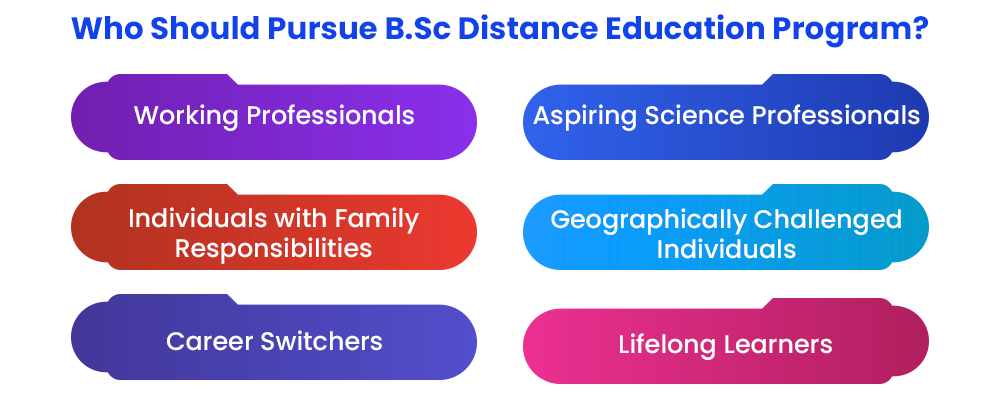 Completing a Distance B.Sc degree provides various professional options in research and development, healthcare, pharmaceuticals, education, technology, environmental sciences, and others. Graduates can work as research assistants, data analysts, quality control officers, and scientific instructors or continue their education and specialise in their chosen subjects. A strong foundation in scientific ideas, critical thinking abilities, and analytical reasoning gained via a Distance B.Sc degree prepare graduates to contribute to advances in scientific research and innovation.
Distance B.Sc or B.Sc Distance Education program offers a flexible and accessible route to obtaining a quality education in science. It provides several benefits to those unable to attend regular on-campus programs. A Distance B.Sc program equips students for successful employment in numerous scientific areas through interactive learning platforms, diverse specialisations, skilled teachers, and industry recognition.
Key Highlights of the B.Sc Distance Education Program
There are several key highlights of the B.Sc in Distance Education. Here are some of them:
Even though it is a distance education program, it emphasises practical learning experiences. Virtual laboratories, simulation tools, and practical projects may be available to students.
The programs are planned and delivered by experienced faculty members specialising in their respective professions.
The curriculum of B.Sc Distance Education programs covers topical concepts and practical skills in high demand in the labour market, equipping students for various professional paths.
B.Sc Distance Education programs are offered by reputable colleges and institutes, guaranteeing that students graduate with a recognised degree.
The degree is valuable and is recognised by businesses and educational institutions as a prerequisite for further study.
The B.Sc Distance Education program provides students with various learning alternatives that allow them to study quickly and conveniently.
Students can engage with peers, instructors, and experts in the industry through online discussion forums, virtual events, and networking platforms, even if they are not physically present on campus.
Online quizzes, assignments, and project work are common forms of continuous assessment, allowing students to track their progress and receive regular teacher feedback throughout the program.
The program offers a wide selection of specialities in scientific subjects such as physics, chemistry, biology, mathematics, computer science, environmental science, and others.
Many B.Sc. Distance Education programs include career services such as job placement aid, resume workshops, and career counselling.
B.Sc Distance Education programs encourage students to continue improving their knowledge and abilities after completing the degree.
Syllabus of the B.Sc Distance Education Programs
The curriculum of B.Sc Distance Education programs may differ based on the specialization and the university that offers the program. However, the following topics are often included in B.Sc Distance Education programs:
| | |
| --- | --- |
| Foundation Courses | Core Subjects |
| Elective Subjects | Laboratory Work |
| Mathematics and Statistics | Computer Science |
| Environmental Science | Project Work |
Top Specialisation for B.Sc Programs
Eligibility of Distance B.Sc Programs
The qualifying requirements for Distance B.Sc programs may differ based on the university or institution that offers the degree. However, the following are some typical qualifying requirements:
Candidates must have finished their 10+2 education from a recognized board or institution with a minimum percentage ranging from 45% to 50%.
They must have passed the qualifying examination with the university's minimum needed percentage.
Candidates may be needed to have studied specified topics at the 10+2 level, depending on the specialty chosen within B.Sc. pursuing example, applicants pursuing a B.Sc in Physics may be required to have completed Physics, Chemistry, and Mathematics as part of their 10+2 curriculum.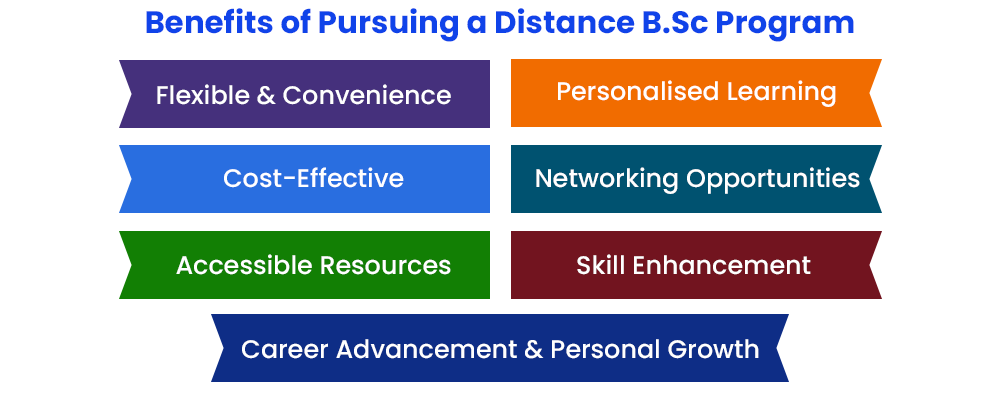 Universities may consider individuals with relevant job experience even if they do not have the necessary educational requirements in some instances. It should be noted that qualifying standards differ between colleges and are subject to change. Prospective applicants are thus recommended to visit the official websites of the universities or institutions offering the Distance B.Sc programs in which they are interested in obtaining accurate and up-to-date information about the qualifying requirements.
Duration of the Distance Education B.Sc Course
The length of a Distance B.Sc degree varies according to the university or institution that offers the program and the same specialization chosen. A Distance B.Sc program, like a traditional on-campus B.Sc degree, typically lasts 3 years.
Some institutions, however, may provide accelerated or extended programs, allowing students to earn their B.Sc degree quicker or longer. The time may also be affected by factors such as the number of credits necessary, the program's flexibility, and the rate at which students finish their curriculum.
Other Types of B.Sc Degree Courses
Admission Process of the Distance Education B.Sc
Step 1: Find colleges or institutes that offer Distance B.Sc programs in your preferred specialization.
Step 2: Examine the eligibility requirements for the Distance B.Sc program, including educational credentials, age limitations (if applicable), and any particular prerequisites.
Step 3: Obtain the application form online or by visiting the institution's admissions office or authorized centers.
Step 4: Fill in the needed data accurately and supply all required documents following the instructions.
Step 5: Gather and attach supporting papers such as educational certificates, mark sheets, identification evidence, pictures, and other documents requested.
Step 6: Pay the application fee, given in the application form, either online or by the specified payment methods.
Step 7: Submit the completed application form with the accompanying papers, either online or by mail, according to the university's requirements.
Step 8: The institution will analyze your application and accompanying papers to evaluate your eligibility for the Distance B.Sc program.
Step 9: Once your application has been examined and accepted, the institution will send you an admission confirmation letter or email. This will include information about additional enrollment procedures.
Step 10: Complete the enrollment requirements, which may involve payment of fees, document verification, and other processes as directed by the university.
Career Opportunities After Distance B.Sc
Pursuing a Distance B.Sc program opens you multiple job options in various industries. Employers highly favour graduates with a solid scientific foundation, analytical ability, and problem-solving talents. Biology, chemistry, physics, mathematics, and computer science knowledge and competence provide doors to a wide range of occupations.
Graduates can pursue careers as research scientists, where they can perform experiments and analyse data to contribute to scientific discoveries. Data analysis, where B.Sc graduates may use their analytical talents to understand and extract insights from massive databases, aiding data-driven decisions. Some of the best job prospects are mentioned below:
| | |
| --- | --- |
| Research Scientist | Data Analyst |
| Science Writer/Communicator | Quality Assurance Analyst |
| Biotechnologist | Data Scientist |
| Laboratory Technician | Pharmaceutical Sales Representative |
| Project Coordinator | Supply Chain Analyst |
| Entrepreneur | Management Consultant |
Explore Top Colleges/Universities for B.Sc Distance Learning