Bachelor of Arts (BA) is an undergraduate degree course pursued by candidates who wish to explore the field of social & literature fields. Being one of the most popular courses in the Arts stream, this degree program makes you aware of the impact created by businesses & other organizational activities on society at a large scale.
Distance BA is usually taken up by students who did not get a chance to enroll in a regular college or by those who cannot afford to give a full-time commitment to studies. The career prospects after this distance program are quite wide that can be explored by acquiring the latest technicalities in this field.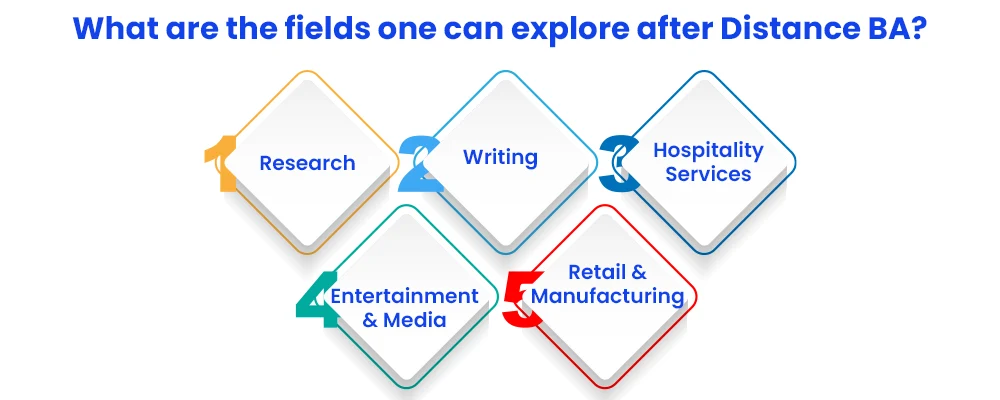 The curriculum design of distance BA is similar to that of a regular BA course. The latest additions to this program make you fulfill & understand the needs of society by imparting you with research-based knowledge. The innovative thinking developed through this course helps you explore different work cultures & succeed in them.
The placement assistance services offered in this program help you achieve career advancements in your relevant field of work. The personality development training services prepare you to face the interviews of top-notch corporates in India.
Key Highlights of the BA Distance Education Program
Earn a graduate degree in a flexible learning mode with a distance BA program.

Learn the latest methodologies & theories developed in the past few years with an updated course curriculum.

Acquire essential skills to work in multiple sectors of the industry via industry-relevant training services.

Clear your doubts & develop an in-depth understanding of society's needs via expert-led online live classes.

Enhance your learning with an integrated LMS portal to access the digitized academic resources including past projects, recorded lectures, & other related study materials.

Learn at your pace & avail of a stretched course duration that makes the overall course period to be 3-6 years.

Avail of the benefit of writing the exam in your preferred languages by choosing among the options of Hindi, English, or Punjabi.

Explore multiple career opportunities with job assistance services that involve virtual job fairs, mock interviews, resume building, etc.

Get a BA degree at the end of the program that holds equal weightage in the industry to an on-campus BA degree.
Syllabus of the BA Distance Education Program
The course curriculum of distance BA is similar to the one offered in a regular program. The exact number & name of the subjects involved in the course curriculum of a distance BA program are based on the specialization chosen.
The specialization areas that you can choose in this distance course include Economics, History, Political Science, Sociology, English, Hindi, & Punjabi. Some of the general topics of the distance BA syllabus are listed below.
| | |
| --- | --- |
| Understanding Prose | Understanding Poetry |
| Understanding Drama | Reading the Novel |
| From Language to Literature | History of the Language |
| Communication Skills | Foundation Course |
Top Specialisation for BA Programs
Eligibility Criteria of the BA Distance Education Program
The eligibility criteria to pursue this distance program are quite simple but they do vary from university to university. Some of the basic requirements that universities demand to apply for this program are mentioned here:
10+2 from any discipline from a recognized university.

A minimum of 50-55% marks in the last qualifying exam.

Proficient fluency in Hindi/English/Punjabi languages.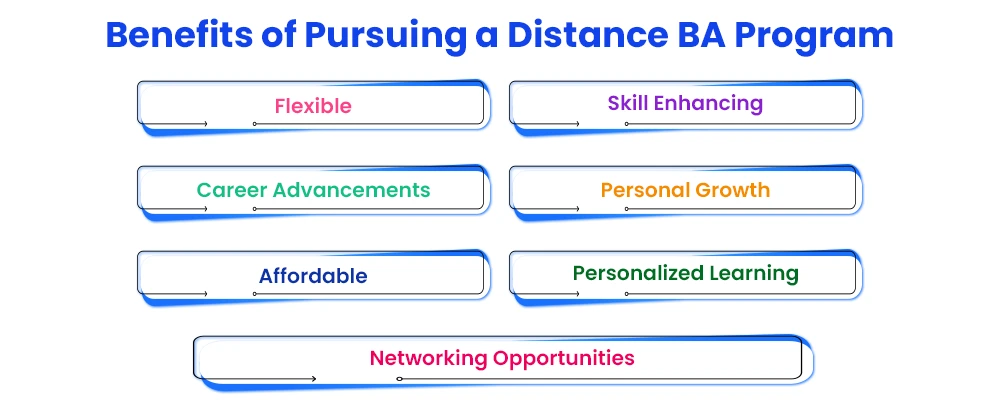 Duration of the BA Distance Education Program
The minimum duration of a distance BA program is similar to that of an on-campus course in the same major, i.e., 3 years. However, an extension period of 3 additional years is provided by most universities to add to the flexibility of this course. Thus, the overall period in which you can complete your distance graduation program is 3-6 years.
Other Types of BA Degree Courses
Admission Process of the BA Distance Education Program
The admission procedure to a distance BA course is university-specific & can be confirmed by visiting the official university website. Thus, to opt for this course you first need to finalize the university. Some of the common steps that can be followed to complete the admission process for distance BA are mentioned below:
Step 1: Visit the official university's website & access the selected course page. Click on the "Apply Now" tab available on that page to access the admission portal.
Step 2: Fill out the online application form with your personal and educational information. Make sure to add the correct order & spelling as mentioned in your academic certificates to avoid any rejection of the application form.
Step 3: Attach the relevant documents as asked by the university along with the form. These documents include academic certifications, mark sheets, address proof, ID proof, passport-sized photographs, & others to complete your admission form.
Step 4: After shortlisting your application, the university will send you a notification to proceed further. After receiving that notification, make the fee payment using your choice of payment method.
Step 5: After completing all formalities, download the confirmation slip & save it for future reference.
Some universities may conduct entrance exams & require you to sit for and pass those admission entrance exams to be eligible for this distance program. Besides, most universities offer direct or merit-based admission to applicants.
Career Opportunities After BA Distance Education Program
A BA degree earned through distance mode is recognized equally as a regular degree in the same domain. Thus, after completion of this distance course, you can either opt for higher education like MA, MBA, etc., or can explore the job opportunities available in multiple sectors of the industry. The industry insights developed through this distance course prepare you to face industry challenges & resolve them with an innovative approach. A detailed understanding of the core topics of this program make you secure rewarding job positions in the top-notch organizations in the country.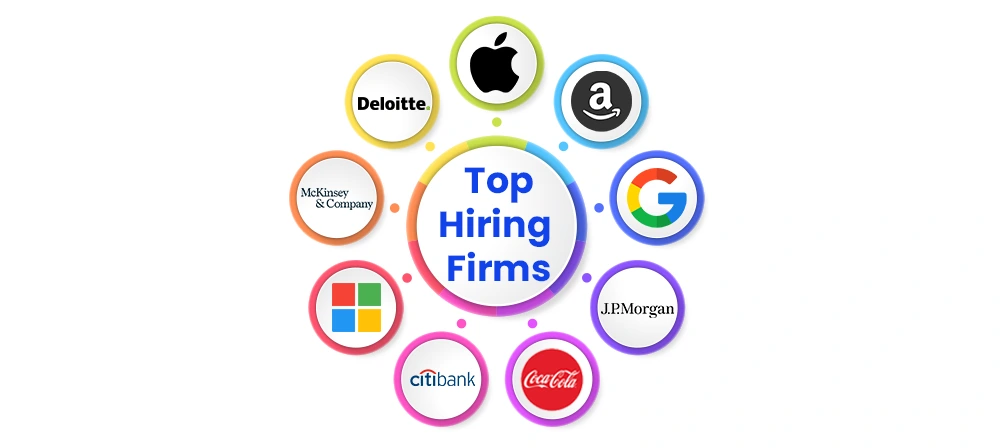 With the rapid growth in businesses, the demand for trained professionals is also increasing. This creates multiple job offers for professionals in the industry at some decent company perks. Some of the rewarding job titles available after completion of a distance BA are provided here:
| | |
| --- | --- |
| Researcher | Educator |
| Historian | Editor |
| Writer | Social Worker |
| Public Relations Office | Project Technical Officer |
| Executive Assistant | Executive Assistant |
Explore Top Colleges/Universities for BA Distance Learning