BCA (Bachelor of Computer Application) distance education is now emerging as the most valued and demanding degree in the market. The whole world is getting on the computers and the language of the computer in the future.
BCA Distance Education Course In India 2023
BCA distance education course is a 3-year undergraduate program for working professional course that is designed for students who have an interest in learning about computers in theory as well as practical. BCA distance program provides you with a thorough knowledge of computer language, programming in a different language, database management, networking, and others.
Distance BCA is a viable option to choose for those who are already working but want a professional degree on their back. Distance BCA opens up great set opportunities for professionals who are interested in computers and working on their own without any formal degree.
With their technical aptitude, they are working as coders, backend developers, and IT professionals but are without any degrees in computer education. Distance BCA is a boon to them. By pursuing distance BCA they can attain a formal degree in computers without leaving their job.
The agenda of the distance BCA program is fabricated according to the needs of working professionals. The course is structured in such a way that it imparts an advanced level of theoretical and practical knowledge and makes them competent in this world.
The best part of distance BCA is that you can apply the knowledge you gained in the job that you are pursuing. Distance BCA also opens up chances to pursue higher education in computers. One can pursue MCA after completing distance BCA and amplifying his career in the rapidly growing IT sector in India.
If you are a programmer in a company or a freelance coder and don't want to get an engineering degree because of the job, distance BCA is the perfect choice for you. The flexibility of distance BCA enables you to be a computer graduate without hampering your job and earning.
As distance BCA is as valuable as regular BCA, after completion there is a vast field for you to explore. The IT sector is getting bigger and bigger every day thus is a pool of opportunities for you. BCA graduates get handsome packages after completing their degrees.
The ease of accessibility of distance BCA opens up new horizons for those who craved to study but couldn't due to the restriction posed by the regular mode. The online accessibility of distance BCA has helped many professionals, dropouts, and housewives to fulfil their unfinished dreams. The relevancy and affordability of distance BCA have enabled many candidates to enhance their education.
Best BCA Distance Education Colleges with Fee Details In India 2023
Distance BCA has gained popularity and is one of the most pursued courses in the past decade. There are ample government and private institutions that award the degree of BCA.
Here are some best distance learning institutes that provide distance BCA degrees:-
| | | |
| --- | --- | --- |
| Institute/University for BCA Distance Course | Eligibility | BCA Distance Course Fees |
| IGNOU | 10+2 with Maths | Rs. 40,200/- |
| Jamia Hamdard University | 50% marks in 10+2 with any stream | Rs.54,000/- |
| Tamil Nadu Open University | 10+2 with any stream | Rs. 25,200 |
| University of Madras | 10+2 with any stream | Rs. 25,370 |
| Nalanda Open University | 10+2 with Maths | Rs. 18,000 |
| Punjab Technical University | 10+2 with any stream | Rs. 27,000 |
| Andhra University of Distance Education | 10+2 with Maths compulsory | Rs. 45,000 |
| Sikkim Manipal University | 10+2 with any stream | Rs. 97,500 |
| Amity University | 10+2 with any stream | Rs. 165,000 |
| Madurai Kamaraj University | 10+2 with any stream | Rs. 30,000 |
| University of Kerala | 10+2 with Maths | |
| Karnataka State Open University | 10+2 with any stream | Rs. 48,000 |
| Jaipur National University | 10+2 with any stream | Rs. 36,750 |
| Mahatma Gandhi University | 10+2 with any stream | Rs. 42,000 |
| NIMS University | 10+2 with Maths as a compulsory subject | Rs. 72,000 |
The courses that have been offered by distance BCA are related to computer Applications. In the course, you study various topics of BCA such as hardware, database, software, python, cloud computing, oracle, and various other computer languages.
Distance BCA also includes some of the other study topics which are networking, data structure, core programming languages, software engineering, object-oriented programming, web scripting, and development. These topics have been covered in the time span of 3-years of complete BCA courses.
​BCA Distance Education Eligibility
The main benefit of the distance BCA program is the minimum criteria for eligibility to pursue it.
The only eligibility criteria to go for distance BCA is that the candidate must have completed 10+2 schooling with a minimum percentage criterion with Maths as a compulsory subject.
Some distance BCA universities require a science stream in the intermediate but generally, any stream can opt for it.
The percentage qualifying criterion depends on universities to universities which range from 50% to 65%.
There are no such entrance exams taken by any university in India be it government, semi-government or private to enroll in the distance BCA degree.
​Distance BCA Course Curriculum And Subjects
The distance BCA course is divided into 3 years to 6 years over six semesters. The whole curriculum of distance BCA is meticulously planned to inculcate knowledge about computer skills.
Distance BCA courses are constructed to provide a wide knowledge of computer languages such as C++, Python, and databases along with networking. Here is the list of subject spread over six semesters:-
Semester 1
Semester 2
Hardware Lab (CIA Only)
Case Tools Lab (CIA Only)
Creative English
Communicative English
Foundational Mathematics
Basic Discrete Mathematics
Statistics I For BCA
Operating Systems
Digital Computer Fundamentals
Data Structures
Introduction To Programming Using C
Data Structures Lab
C Programming Lab
Visual Programming Lab
PC Software Lab
Semester 3
Semester 4
Interpersonal Communication
Professional English
Introductory Algebra
Financial Management
Financial Accounting
Computer Networks
Software Engineering
Programming In Java
Database Management Systems
Java Programming Lab
Object-Oriented Programming Using C++
DBMS Project Lab
C++ Lab
Web Technology Lab
Oracle Lab
Language Lab(CIA Only)
Domain Lab (Cia Only)
Semester 5
Semester 6
Unix Programming
Design And Analysis Of Algorithms
OOAD Using UML
Client-Server Computing
User Interface Design
Computer Architecture
Graphics And Animation
Cloud Computing
Python Programming
Multimedia Applications
Business Intelligence
Introduction To Soft Computing
Unix Lab
Advanced Database Management System
Web Designing Project
—
Graphics And Animation Lab
Python Programming Lab
Business Intelligence Lab
​Which Types Of Colleges Authorized To Offer Distance BCA Degrees?
There are three types of authorized universities that offer distance BCA degrees that have been categorized into National, State, and Private universities.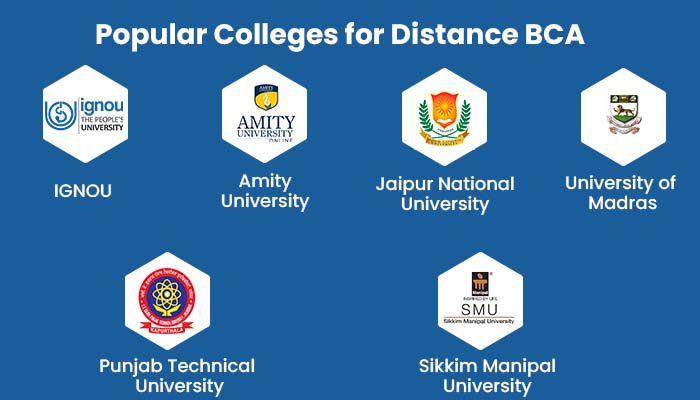 Some of the universities under these categories providing distance education are mentioned below.
National University- Indira Gandhi National Open University (IGNOU), is the 1st ever National open university in India providing distance programs, and earned itself a position in the education market. It is one of the best universities providing distance BCA programs.
State Universities – Dr. Bhim Rao Ambedkar University is a state university providing all the courses for years. It was named after a great leader late. Dr. Bhimrao Ambedkar, one who brought the constitution of India.
Delhi University- DU is also a state university that is providing all the courses. It has been offering both regular and distance learning programs.
Private Universities- Chandigarh University is also an authorized private university providing distance education. It has grown throughout the years by doing hard work in the education industry. It even has its own admission examination criteria known as the CUCET examination.
Jaipur National University- Jaipur National University has set a standard in the field of education. It has been providing almost all the distance learning courses. It offers all the technical as well as non-technical courses.
​BCA Distance Education Key Benefits
The key benefit of distance BCA is that one can pursue two of the courses at the same time with distance learning mode.
Distance BCA is about learning online that inculcates many of the technical skills through online learning.
Distance BCA allows you to earn experience along with the degree. As you work as well as earn with distance education.
Distance education is cost-effective as it has the same value and syllabus as the regular one with less investment. The distance BCA course is quite less in an amount that is also favorable for the aspirants who don't have much to spend on.
Distance education is something one can do anytime anywhere. You can even take the classes at night or on weekends at your convenience.
​Distance BCA Scope, Top Companies & Salary
The IT sector has grown up to $200-250 billion in 2020-2021. This figure is growing at 7.7%, so you have an idea of what is the scope of BCA in India.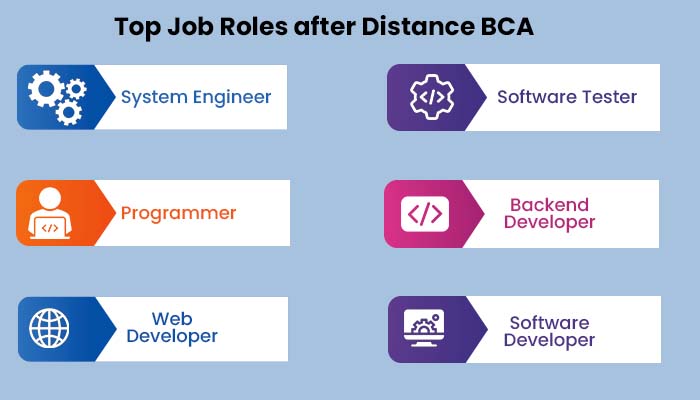 The scope of distance BCA is increasing day by day and with IT hubs developed at Bengaluru, Hyderabad, Noida, and Pune it is now at its peak. Distance BCA graduates can go on the profiles of the following:-
| | |
| --- | --- |
| System Engineer | Web Developer |
| Software Tester | Software Developer |
| Programmer | System Administrator |
| Backend Developer | |
System Engineer– It's the engineer who manages and monitors all the systems of an existing company. It works on installing, configuring, testing, and maintaining operating systems, other application software, and management tools. It works on system management infrastructure.
Software Tester-The work of a software tester is to check the quality of software development and deployment. to check it one has to conduct automated manual testing to assurity of not having any bugs or issues while working. It works for the good quality of software services.
Programmer- the work of programmers is to write codes for computer programming and mobiles. It works for the maintenance of software to make it work smoothly.
Backend Developer– They work with front-end developers and provide server-side algorithms. It works to create logics so that web applications function correctly.
Web Developer- Web developers work on the website of how it looks. they work on graphic designing and other website content. web developers work on web designing and computer languages.
Software Developer– The work of a Software Developer is to analyze the need of customers over design and software and they work accordingly. They upgrade the software and design each one with the need.
System Administrator– The work of system administrator is to install and configure software, and hardware networks. One needs to have a technical and organized mind with deep computer knowledge, and good communication skills.
There are many MNCs that hire distance BCA graduates such as TCS, HCL, WIPRO, Infosys, Microsoft, Cisco, Cognizant, and many others.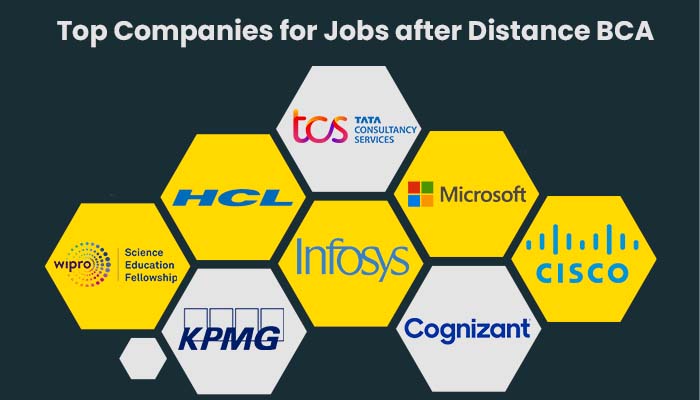 For a fresher, the salary offered is between Rs. 25000 to Rs. 40,000. But due to the ever-growing IT sector in India there is an easy way up for the distance BCA holders.
Not only in private firms but Distance BCA graduates are also required in the government sector. Every year the government releases vacancies of BCA graduates in PSUs, Indian Air Force, Indian Navy, and Banks.
After graduating from BCA there are options for higher studies. Apart from MCA, you can also go for:-
Masters Degree in Information Management (MIM)
Masters in Computer Management (MCM)
Post-Graduate Program in Corporate Studies (PGPCS)
Information Security Management (ISM)
Master of Business Administration (MBA)