After imparting their educational services in offline mode, Vignan has established their learning services in online mode also through Vignan Online University. The university has been imparting its excellent services in the education field since 2008. The offline campus of this university is situated in the Guntur district of Andhra Pradesh. The university offers several BBA, MBA, BCA, and MCA programs in different specializations through online mode. The university established its name, especially in the field of science and technology, and contributed to the education industry for the last 45 years. Let's know more about this university in detail and decide whether Vignan Online is good or bad for the students.
About Vignan University Online
Vignan Online as the name imparts is an online university offering various management and computer application-related courses.
It is a branch or we can say an online version of Vignan's Foundation for Science, Technology, and Research (VFSTR) that is deemed to be a university.
After 45 years of educational services offered offline, Vignan has now upgraded its technologies and put forward a step in the genre of online education.
Established in 2008, Vignan has started its educational services in Guntur District, Andhra Pradesh.
The university is well accredited and approved by UGC-DEB, NIRF, AICTE, ISO, and NAAC A+.
With its excellent upgraded technologies and learning pedagogy, Vignan Online offers education for all the students present worldwide.
For enabling the students to learn at their own pace, online education is provided through the help of a Learning Management System.
Still have doubts that whether this university is good or bad, let's check out more factors to compare whether Vignan Online is good or bad.
Choosing an online university-Factors to be considered
Whenever we decide to pursue education from any college or university several doubts come to our mind whether it is an online or offline university. But in the case of online universities, these doubts increase more.
This is because in the case of online universities, the trust factor among the students is less, all of us have the thought in mind that online is not valid or good for us. But that is so not true, in the past few years the online education industry has boomed significantly. The reason is the array of benefits that online learning provides.
But how to clear your doubts regarding an online university? It's just simple. By looking at several key factors in an online university we can find out whether a particular university is good for us or not. These factors are
| | |
| --- | --- |
| Approvals and Accreditations | LMS |
| Courses Offered | Examination and Evaluation procedure |
| Fees affordability | Student Support |
| Online Faculties | Placement Assistance |

Accreditations and Approvals
The most important factor to be considered while choosing an online university is whether the concerned university is well accredited and approved or not.
Do approvals and accreditations play a major role in choosing an online university?
The answer is yes it does because if a university does not have the necessary approvals and accreditations, then the degree awarded by that university will not be considered valid anywhere in the world. And also some necessary approvals that are only related to a course should be checked while choosing an online university. As for providing technical courses, AICTE approval is necessary so, it must be checked if enrolling in a technical course like MBA.
Coming to Vignan Online university, it has gotten all the necessary approval and accreditations required to offer courses in online mode.
List of approvals and accreditations that Vignan Online has gotten:
University Grant Commission-Distance Education Board (UGC-DEB).
AIl India Council for Technical Education (AICTE).
National Institutional Ranking Framework (NIRF)- Ranked amongst the top 100 universities.
National Assessment and Accreditation Council (NAAC)-Got NAAC A+ grade.
International Organization for Standardization (ISO 9001:2015) approved.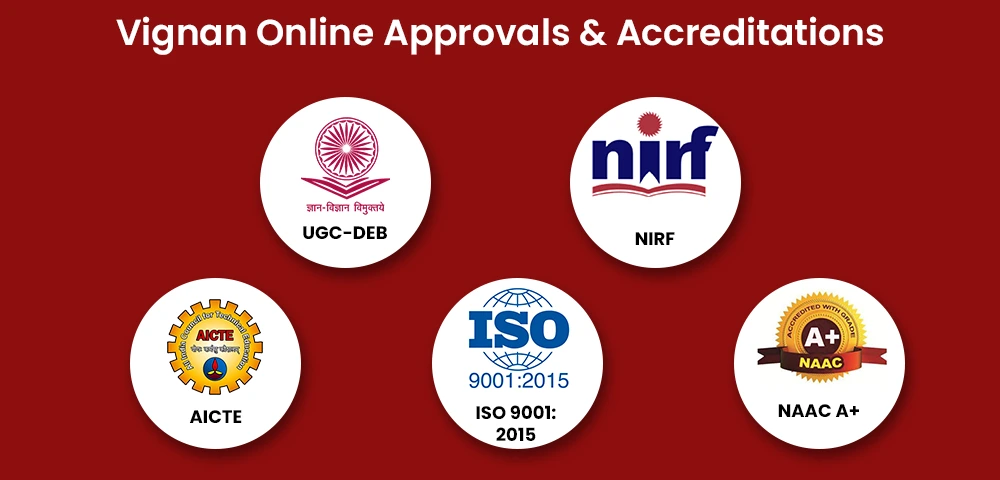 So, there is no doubt that Vignan Online is well-accredited and approved. So, the degree awarded by this university will be valid and will be recognized everywhere across the globe.
Courses Offered by Vignan University Online
Now coming to the next factor that students must be aware of while choosing an online or any other university. Courses and specializations offered by that particular university are necessary to know while choosing a university. Because if the courses and specializations provided by a university are not what you are looking for then whether it is a good or bad university it is of no worth to you.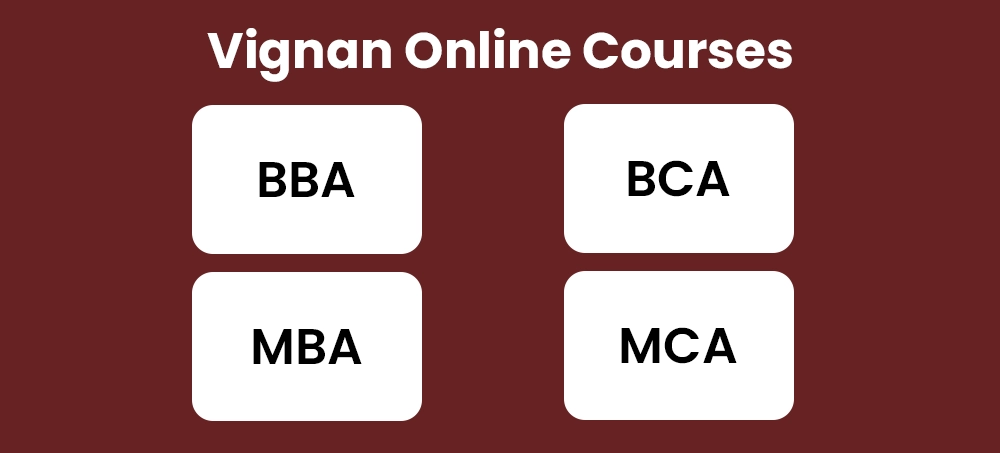 Vignan Online offers various courses and specializations in the field of management, IT & computer applications. Courses are provided at both undergraduate and postgraduate levels. There are a variety of specializations available for the student to choose from.
Courses and specializations offered at Vignan Online are listed below:
Courses

Specializations

Bachelor in Business Administration (BBA)

BBA in Marketing
BBA in Finance
BBA in Human Resource

Bachelor in Computer Applications (BCA)

BCA in Computer Science and IT
BCA in Data Science
BCA in Cloud Computing

Master in Business Administration (MBA)

MBA in Finance
MBA in Human Resource
MBA in Marketing
MBA in Business Analytics
MBA in Finance and Human Resource
MBA in Healthcare Management
MBA in Information Technology
MBA in Logistics and Supply Chain Management
MBA in Marketing and Human Resource
MBA in Operations

Masters in Computer Applications (MCA)

MCA in Computer Science and IT
MCA in Data Science
Explorer Some Popular Programs at College Vidya
Courses Affordability and Fees
The university courses fee is always an important factor that is considered while pursuing admission to a college or university. This is because what if the university has several benefits available but if we cannot afford the course fees then it is of no use.
It is seen that the online course fee is more affordable as compared to the regular course fee. Even the lodging and transportation charges got saved due to the opportunity to learn from our comfort and place. And actually, this is the best benefit or we can say the key benefit that online education provides to students.
Isn't it great for the students who cannot afford or pay the course fee in one go? Definitely, so let's check out Vignan Online courses and their fees.
| | |
| --- | --- |
| Courses | Course Fee (General) |
| Bachelor in Business Administration (BBA) | Rs. 17,500 per semester |
| Bachelor in Computer Applications (BCA) | Rs. 17,500 per semester |
| Master in Business Administration (MBA) | Rs. 20,000- Rs. 22,500 per semester |
| Masters in Computer Applications (MCA) | Rs. 25,000 per semester |
In terms of affordability of courses, Vignan Online is providing a quite affordable course fee to the students.
Explorer Some Career Related Article
Faculties On Board
Teachers or we can say faculties are an important parameter when choosing any educational institute. Because great teachers shape the future of the students. While comparing the teaching faculties we look at several factors whether they are well qualified or not, and their teaching experience sometimes.
But in the case of online universities, one more factor is considered which is how efficiently the faculty uses the learning management system and virtual technologies for delivering education to the students. As online learning is purely based on the LMS and technology used for virtual learning.
Let's know about the teaching faculties present at VIgnan Online is worth it or not:
Faculties offering online courses at Vignan Online are well qualified and efficient in using the LMS and the virtual teaching technology. They are proficient in using tech-enabled tools while teaching or solving the doubts and queries of the students.
Several academic experts are always available on board for resolving students' doubts and guiding them throughout their learning journey.
Not only Vignan teaching faculties but also the university gives students exposure to various industry experts whom they can learn from and get updated with the latest industry trends.
We can say in terms of teaching faculties Vignan Online would prove a better choice for the student.
Learning Management System (LMS)
The Learning Management System is the backbone of the online education system, without it, online education cannot survive. So while researching for an online university the LMS factor should be taken into careful consideration. This is because through LMS only all the teaching deliverables are provided to the student. Whether we talk about the learning materials or the lectures or monitoring the student performance all these are done through the Learning Management System (LMS). It is a kind of LMS on which students can log in with unique login credentials as provided by the university at the time of admission, and can access all the services provided by the LMS.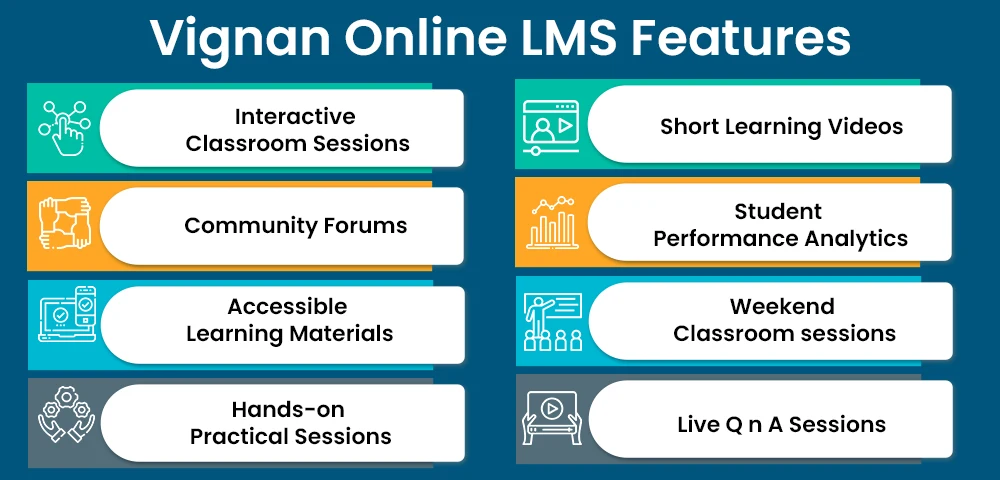 Vignan Online LMS is embedded with a lot of helpful features that are beneficial for students during their online learning journey. The university LMS provides a great learning experience to the students like near to classroom experience, Live and recorded lectures, and even pre-recorded lectures. A chat feature is present there for resolving all the student's doubts and queries. Easily accessible and self-paced learning material is present there for student comfort.
Several other things are present in the Vignan Online LMS, let's check it out:
Vignan Online LMS and Learning Pedagogy

Interactive classroom sessions-Both audio and video

Live Q & A sessions for doubt resolution

Community Forums

Easily accessible learning materials

Hands-on Practical Sessions

Student Performance Analytics

Short learning videos for quick revision of concepts

Weekend Classroom sessions
Examination and Evaluation Procedure
While looking for an online university kindly check how students get evaluated during the course. This is because, unlike regular universities, online universities have a slightly different kind of assessment procedure. So one must look out for these insights while choosing an online university.
Now talking about Vignan Online, the examination and evaluation procedure is based on assignments, projects, and term-end online examinations. Vignan conducts online examinations for the evaluation of students' knowledge and understanding. Let's check out how Vignan evaluates the student:
Vignan Online Assessment Methods

Based on Term-end Exams and assignments.

AI-based technology helps in the fair conduct of examinations.

Online proctored exams are being held by the semester's end.

MCQ pattern assignments are provided to the student for evaluation.

Students are provided with 3 assignments for their evaluation.

Out of 3 assignments- 2 are optional and 1 is mandatory for a student to pass.

A minimum of 40% marks are required to pass the term-end exams.

A Marks Card is issued at the end of the program to acknowledge the student's academic excellence.
In short Vignan Online follows a transparent and effective framework to evaluate the student's performance. And this evaluation helps to learn the student's learning engagement and understanding throughout the program.
Student Support Facilities
The student support facilities of an online university should be checked thoroughly. As in the case of online learning, there is no offline option present to the student to clear their doubts or queries. So due to this reason, the student support facilities must be present there to not only solve the doubts of the student but also to support the student throughout their learning journey.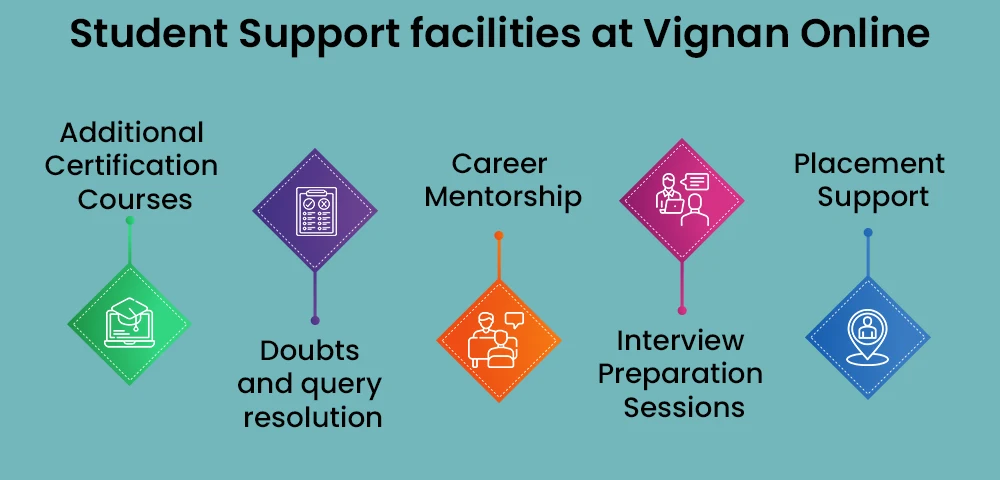 Vignan Online is equipped with great student support facilities that are available anytime and anywhere for the student's doubts and queries. Let's get a brief about the student support facilities provided at Vignan Online.
Vignan Online Student Support

Acess to free online certification courses

Chat and message feature for student queries and doubts

Placement Support

Interview Preparation Sessions

Career Mentorship by Industry experts

Career counseling sessions for further studies
Placement Assistance
The major doubt or we can say the major concern that comes across the student's mind while pursuing an online education is, whether they will get placed after pursuing this online course or not. In the case of online education, several people have this same doubt. So for clearing this doubt, one should gather information about the placement support of the concerned university.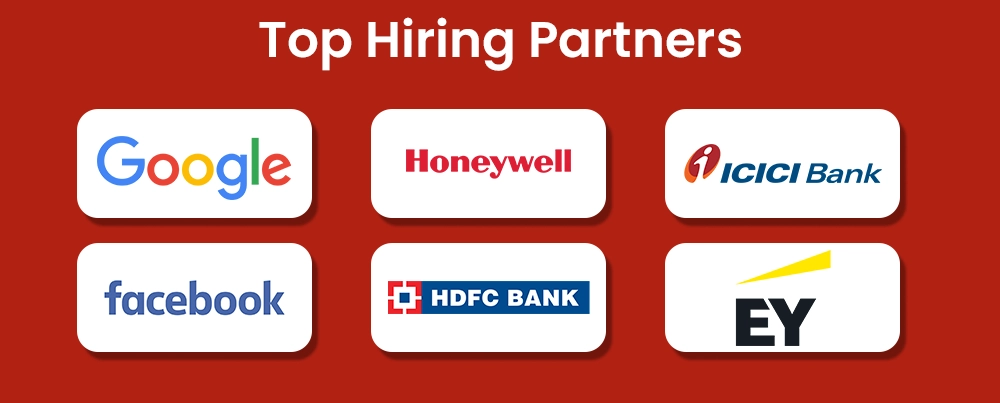 Let's come to Vignan Online university for placement assistance, the university provides placement support to its student even in online learning mode. The university has a dedicated team that specially focuses on providing career support to the student. The team helps the student with effective resume-building skills along with interview preparation sessions. The student gets career guidance through various experts available on board. Vignan has also tie-up with various companies for providing placement assistance to the students after successful completion of the course.
Some of the top recruiters associated with Vignan Online for placement assistance are
Top Hiring Partners

Google

Facebook

Honeywell

HDFC Bank

ICICI Bank

Ernst and Young
So we can say obviously that Vignan Online provides great placement support and assistance to the student. Not only due to the industry tie-ups but also due to the career support guidance provided by the university. Students get exposure to young entrepreneurs that guides and inspires the student in career aspects. These features help Vignan Online to stand out among the other online universities.
Explorer Some Other University Reviews
Conclusion-Is Vignan Online Good or Bad?
Here comes the question of whether the university is good or bad. So taking all the factors into consideration we can conclude that Vignan Online is a great university to move forward with your education. It has gotten all the necessary accreditations and approvals along with effective LMS and placement support.
Reasons, why Vignan Online is a great choice for students:
UGC-accredited Online University
NAAC A+ accredited
Ranked among top 100 universities in NIRF ranking
Various electives to choose from
Budget-Friendly Course fees with flexible and easy EMI options
Well-qualified academic experts
LMS embedded with several features
Great student support facilities
Placement Assistance
Career mentorship and guidance