LPU Online is the division of the well-known Lovely Professional University (LPU), Punjab, that extends educational support to students through virtual means. It is a UGC and AICTE-approved university and offers courses such as MBA, MCA, BCA, B.Com, M.Com, M.Sc., B.A and M.A. The university is a popular name in the world of academics and corporate firms, so if you are considering pursuing a course from the university, read further to find the complete review of the university based on various factors.
About LPU Online University
LPU Online was started as a division of the Lovely Professional University (LPU), established in 2005. Lovely Professional University (LPU), a renowned educational institution with over 15 years of experience in providing higher educational degrees and courses to students, and has now ventured to extend the same educational support facilities to students across the nation and abroad through the use of virtual learning platforms.
It has recognitions and approvals from the major accreditation bodies of India such as the UGC, AICTE, WES, NIRF etc. It provides undergraduate and postgraduate degrees in the fields of business management, commerce, arts, computer applications etc. It delivers the courses in the online mode through the use of a Learning Management System (LMS) which can be accessed by students from anywhere at any time for self-paced learning.
Important Considerations for Choosing an Online University
Amid the numerous choices for online universities available at one's disposal today, it might understandably be tough to arrive at the single, most suitable university for taking your educational journey further. But there are some important questions that you can ask while choosing an online university that will enable a well-informed and all-round decision.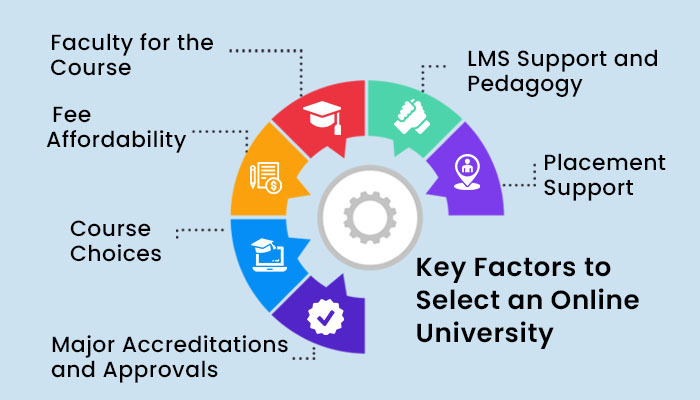 This evaluation is very necessary since the choice of a university and course is an irreversible choice in one's educational journey. Given below are the key factors you need to take into account while choosing an online university and a review of LPU Online based on such factors.
#1 What are the University's Accreditaitons and Approvals
While choosing an online university, one of the first things to take into account is to check if the university has the important credentials and approvals of the statutory bodies of the nation as these make the degrees/ diplomas/ certificates obtained from that university valid and recognized in the professional and academic spheres. The university must have the approval of authorized accrediting bodies of India to provide online education such as the UGC, AICTE etc. If a university has the approval of these bodies, it can be considered a credible and valid university to pursue an online course from.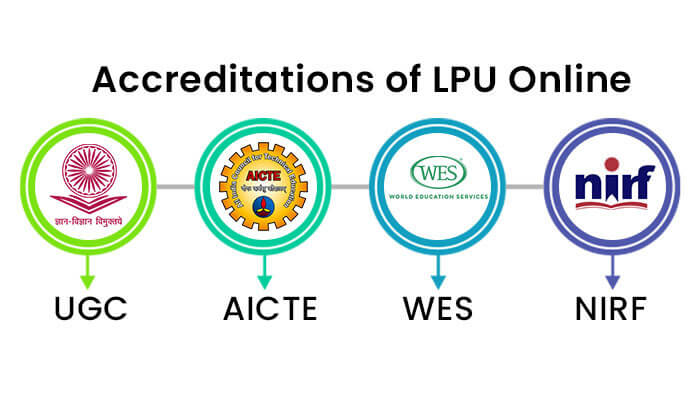 LPU has provided quality higher education to students over decades and now, its online division, LPU Online has also gone on to receive major accreditations and approvals of the accreditation bodies of India and abroad such as:
University Grants Commission-

UGC

All India Council for Technical Education –

AICTE

(for technical courses: MBA, MCA)

World Education Services-

WES

National Institutional Ranking Framework –

NIRF

(Ranked in Top 70 Universities Overall)

THE University Rankings 2022 (Ranked Among Top 50 Universities of India)
So, LPU Online is well-accredited and approved. It is a completely credible educational institute to pursue your higher education from, and can be a valuable addition to your educational profile since it has a good repute in India.
#2 What Courses does the University Offer?
Before evaluating other factors of the university, it is understandably very essential to check that the university offers the course you want to pursue or if it offers courses that you would be interested in developing a career in.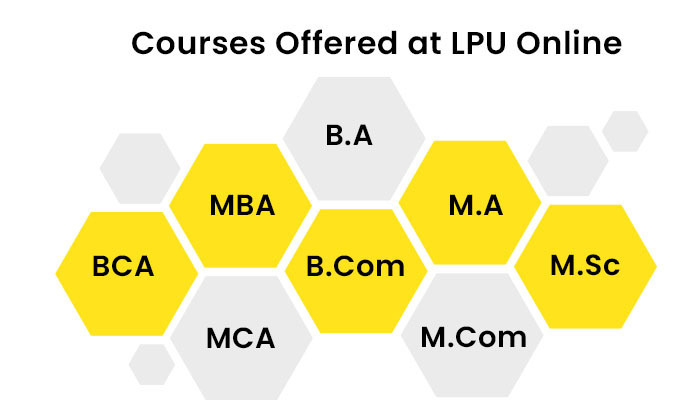 LPU Online offers courses in all the major disciplines, including humanities, sciences, computer applications, management and commerce. There are both undergraduate and postgraduate degree courses offered so that the student/ interested applicant can choose the course of their interest that fits their academic and career goals.
The courses offered by LPU Online have been listed below:
#3 How Affordable Are the Courses?
Online courses are generally more affordable for students as compared to regular courses which need to be pursued at the college campus. Moreover, these colleges also allow students to learn at their own pace and hence pursue any professional engagements simultaneously, leading to a good value for money. This is one of the key advantages that students opt for courses in the virtual mode. While choosing an online course for oneself, students should also make a consideration about the course fee to match it with one's financial circumstance.
LPU Online brings courses to students' disposal that allows them to continue their higher education through affordable means and without any hassles. The course fees are in a reasonable range, which can be afforded by students from different financial backgrounds, with financing options i.e. in the form of semester mode of payment which allows students to make payments in installments. There are certain added benefits for students such as a discounted course fee in case of a single payment or an early admission to the university. This allows students to pursue courses from LPU Online easily.
The basic course-wise fee details at LPU Online have been given below:
Fee Structure for Major Courses at LPU Online

Course
Course Fee (General)

MBA

INR 1,56,000

BCA

INR 1,74,000

MCA

INR 1,16,000

B.Com

INR 1,44,000

M.Com

INR 96,000

B.A

INR 1,14,000

M.A (English, History, Sociology, Political Science, Economics)

INR 76,000

M.Sc (Mathematics)

INR 76,000
The above mentioned fees are for the Indian and SAARC nationals who choose the semester mode of fee payment. The fee amounts for Non- SAARC International students are separate. Students can get a compensatory discount on the course fee amount if they make an early decision to enrol in the courses or make the entire course fee in a single installment.
So, the courses at LPU Online University are quite affordable for students.
#4 Is the Faculty Qualified and Well-Experienced?
The faculty of the online course is a very important aspect for any University, especially for online universities, where the faculty needs not only to be qualified in terms of academics, but also experienced in delivering education effectively through virtual LMS means, which is significantly unlike the conventional classroom setting. So, while choosing your online university, it is important to appraise the faculty of the university.
At LPU Online, the university is dedicated to ensuring that students receive the best-in-class education which is at par with offline, regular degrees. To ensure this, there is a very well-qualified faculty, which helps students to gain detailed understanding of the concepts and course content.

Moreover, to enhance the learning experience of students, there are additional facilities of webinars and interaction sessions with eminent industrialists, professional experts etc. The main aim is to provide students with exposure to practical real-life issues and situations to apply the learnt concepts to. This also helps develop them professionally.
So, faculty-wsie, LPU Online can be a good option for you as there is a well-qualified and experienced faculty which is supportive and can be reached out to in cases of concerns, doubt clarifications etc.
#5 What is the LMS Support of the University?
LMS or the Learning Management System is the software that can be accessed by users virtually and provides all information, materials and tools for learning and course completion at a single spot. It can be delivered through an application by use of unique login credentials. This is the main mode of education delivery in an online course, and hence it is extremely important for students to check and learn more about the LMS support of the university before enrolling. An efficient and robust LMS enables students access to lectures (live/recorded), provisions to get clarifications for their doubts, learning material etc.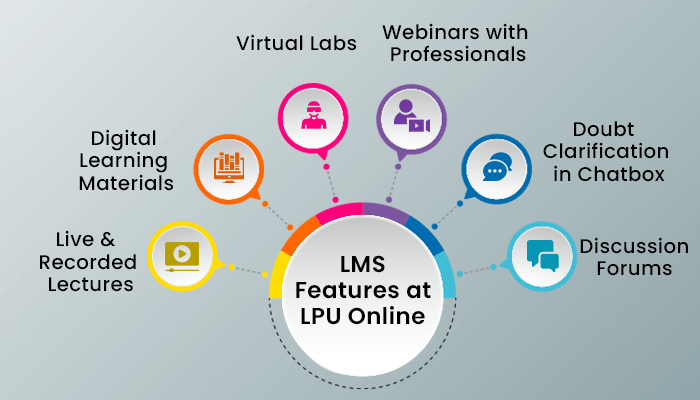 LPU Online has a certified LMS that has been awarded for its unique and effective tools and learning facilities. It has been designed specially to make the learning experience of students convenient, insightful and interesting, so that they can experience an all-round learning environment that allows them to learn at their own pace and make the most out of the course. The major LMS features and academic pedagogy of the university have been listed below:
LMS Features at LPU Online

Digital Learning Resources (Jourmals, Articles, Case Studies, e-books etc)

Research Facilities

Virtual Labs

Webinars with Professional Experts

Live and Recorded Lectures Available on the LMS

Chat Facilities for Doubt Clarifications

Discussion Forums to Enhance Exchange of Ideas

Access to Free Online Certification Courses
The examination and evaluation facilities are also effectively carried out in the online mode, through proctored mode. The examinations are supervised by using advanced Artificial Intelligence technology and enable students to appear for exams conveniently from a location of their choice.
#6 What Student Support Facilities are Available?
Student support facilities are important in an online course since the students don't usually have the scope to visit the campus for resolution of concerns. So there should be a functional student support framework in place to ensure that their queries, concerns etc. are effectively attended to and resolved. Students should check this aspect while evaluating an online university too since it is important for future concerns that they may face during the course of their degree.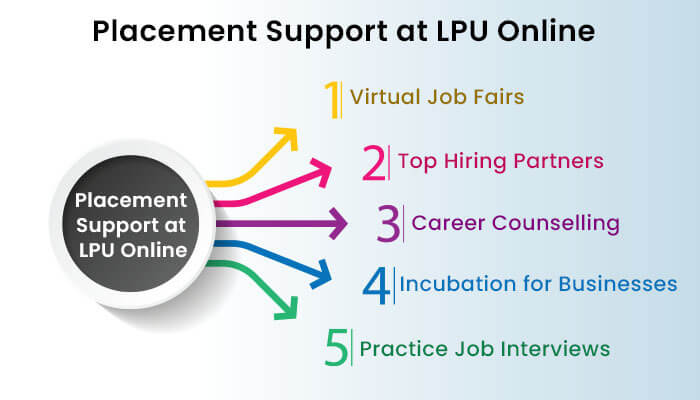 At LPU Online, student support is an emphasized area to ensure the overall resolution of students' concerns as well as overall development for future pursuits. Some of the major areas in which the support is extended by the university have been listed below:
Student Support Facilities at LPU Online

Access to Free Online Certification Courses

Personalized Mentorship for Students on a Weekly Basis

Placement Support

Professional Grooming and Assistance

Toll-Free Contact Numbers for Easy Communication

Incubation Centres to Extend Infrastructural Support to Professionals and Businesses
#7 What are the Placement Facilities at the University?
Another very important factor for any university, online or offline, is placement services are essential to ensure that students pursuing courses from the university are able to get good placement opportunities that they can explore after course completion. It helps to give a good boost to a person's career after completion of education, helping them find their place in the professional world.

Placement and professional services are a major focus area at LPU Online, with a large number of professional service facilities provided to students. The university conducts virtual placement drives, and has facilities such as personalized mentoring for students, career counselling facilities, incubator facilities to boost one's existing business etc.
Some of the major professional assistance facilities that are offered by LPU Online are:
Placement and Professional Support at LPU Online

Virtual Placement Drives

Career Counselling

Incubation for Businesses

Guidance to Pursue Careers Abroad, Crack Government Examinations, etc.

CV Building Webinars and Workshops

Interaction with Professional Experts

Mock Job Interviews

Professional Enhancement Programme
Some of the top recruiters at LPU Online are:
Hiring Partners of LPU Online

Amazon

WIPRO

Mindtree

PayTM

HCL

Xiaomi

IBM

Accenture

Byju's

Cognizant

Deloitte

India Today

HP

The Times of India

–
So, LPU Online is one of the top online universities in the category of placement, with a variety of professional support facilities for students, not only in terms of placement in a firm/organization but also providing assistance to boost one's business, start-ups, pursue careers outside India, crack government examinations, etc. This holistic professional support distinguishes LPU Online from many other online universities.
Similar Accredited Online Universities in India
Some other accredited and approved Online Universities in India have been mentioned below:
Top Online Universities in India
University
Location
Approvals and Recognitions

Dr. D. Y. Patil University-Centre for Online Learning

Pune

UGC-DEB, AICTE, AIU, ACU, ISO, WES

Chandigarh University

Chandigarh

UGC-DEB, NAAC

NMIMS Global Access School for Continuing Education

Mumbai

UGC, NAAC, NIRF, AICTE

Hindustan University- Centre for Open and Digital Education (CODE)

Chennai

UGC-DEB, AICTE, NAAC, NIRF

Amity Online University

Noida

UGC, NAAC, AIU, ACU, BCI, WES

UPES

Dehradun

UGC-DEB, NAAC A, NIRF

Jain Online University

Bangalore

UGC, AICTE

ICFAI

Hyderabad

UGC, NAAC, NIRF, ACU

Online Manipal

Jaipur

UGC, NAAC, AICTE, WES, ACU
Conclusion: Is LPU Online Good or Bad?
Taking an overall consideration of all factors and infrastructural facilities provided by the university, it can be said that LPU Online is a good option among the top online universities in India. It has major accreditations, approvals of statutory bodies of India, has an efficient LMS and good placement support. The top key features of the university have been listed below, which can make it a good choice for you to pursue a degree from:
UGC-accredited Online University

Recognized by WES, AICTE, AIU etc.

Large number of UG and PG Courses Offered

Affordable Fee Range with Attractive Fee Concessions Facilities

Well-Qualified In-House and Guest Faculty

Efficient LMS

All-Round Professional and Placement Support
Other Online University Reviews