BITS Pilani is one of India's premier institutions of higher education. It's WILP initiative, or Work Integrated Learning Programme provides undergraduate and postgraduate courses to working professionals to pursue while continuing their jobs. WILP courses are an emerging area of education and while looking for the best WILP course for oneself, a careful evaluation is needed.

Find the full detailed review of BITS Pilani WILP programmes here.
About BITS Pilani WILP
BITS Pilani is one of the top educational institutions in India and is a prestigious name on any student's education profile. BITS Pilani also extends the support of WILP courses to working professionals interested in pursuing higher education. A WILP course includes a course and curriculum designed so as to enable a professional employed in a full-time job to simultaneously complete an educational course.
WILP courses are created with the aim of enabling those engaged in professional obligations to also continue further education. BITS Pilani WILP courses include undergraduate, and postgraduate programmes, in either the form of degree courses, certificate courses, or diplomas. BITS Pilani is known for its excellence in providing courses in domains pertaining to technology, science etc. It is approved by two of the top bodies of accreditations in India, UGC and NAAC. It is a NAAC-rated 'A' university and a large number of students turn to the university every year for admission.
If you are a working professional looking for an appropriate course that can add value to your education and are considering BITS Pilani as one of your options, read the detailed review below to find out more about the university.
Key Factors While Choosing a WILP Course
As already described above, a Work Integrated Learning Programme (WILP) is a specialized course designed to enable working professionals to pursue education further. A number of universities today are offering WILP courses through remote means, enabling interested people to pursue the courses through online means at their convenient time and location, i.e. in a truly work-integrated format.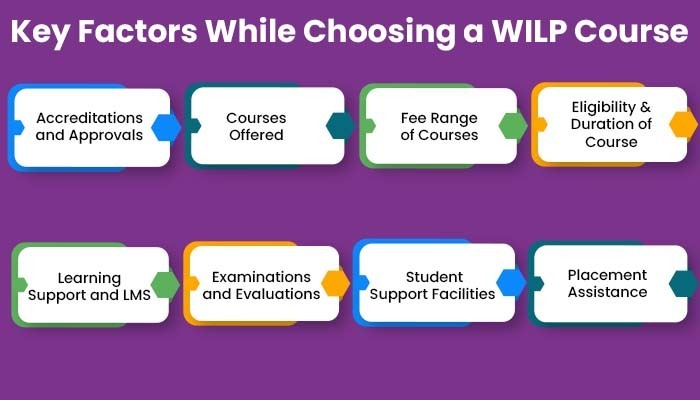 However, there are important considerations to be made before enrolling in a WILP course, especially with regard to the university you choose. BITS Pilani also provides a large number of WILP courses. Here is a review of the WILP courses offered by the university on the basis of some of the most relevant factors for choosing an online university.
#1 Accreditations and Approvals
This is a very important factor for choosing a WILP course since pursuing a course from a non-accredited university/institute can lead to complete invalidity of the degree/certificate/diploma. So checking the accreditations of the university you are considering is the first step to choosing the right institute and course for yourself.
BITS Pilani has the approval of UGC to provide WILP courses to students completely through the online mode of learning. It has also been rated as an 'A' grade university by the NAAC. So in terms of accreditations, it is a reliable institute for your higher education needs. The degree/diploma/certificate that you get after course completion is not only a valid but also a prestigious credential.
#2 Courses Offered in WILP Framework
Another factor in choosing an online university is whether there are ample choices of courses and specializations offered by the university. A university that offers a large number of courses, both in terms of degrees, diplomas and certificates as well as the disciplines, gives an advantage to professionals as those from a variety of needs and backgrounds can find the appropriate courses for them. WILP courses are offered mainly in the technical and professional domains.
One of the main factors that make the WILP courses at BITS Pilani stand out from others is the wide range of courses offered by them. There are a number of degree programmes, diplomas and certificate programmes offered by the institute, the details of which are provided here:
WILP Courses Offered at BITS Pilani

Course Type
Course
Specialization

Undergraduate Degree Course

B.Tech

–

Engineering Technology




–

Process Engineering

Postgraduate Degree Course

M.Sc

– Business Analytics




– Information Systems

M.Tech

– Software System




– Software Engineering




– Computing Systems & Infrastructure




– Embedded Systems




– Microelectronics




– Digital Manufacturing




– Design Engineering




– Automotive Engineering




– Automotive Electronics




– Manufacturing Management




– Quality Management




– Pharmaceutical Management & Operations




– Environmental Engineering




– Sanitation Science, Technology & Management

MBA

–

Digital Business




–

Business Analytics




–

FinTech




–

Consultancy Management




–

Manufacturing Management




–

Quality Management




–

Finance




–

Hospitals and Health Systems Management

Postgraduate Diploma Programme

Postgraduate Diploma in Business Analytics

–

Postgraduate Diploma in FinTech

–

Postgraduate Diploma in Finance

–

Postgraduate Certificate Programme

Postgraduate Programme in Full Stack Engineering

–

Postgraduate Programme in Artificial Intelligence & Machine Learning

–

Postgraduate Programme in Internet of Things

–
So, as can be seen from the table above, there are a large number of courses that students can choose from based on their area of specialization and interest.
#3 Course Fee Range
The course fee range is an important consideration to make while choosing any higher education course, as it is a valuable investment of resources that can't be undone. The fee range for WILP courses tends to be higher than the regular courses owing to the comprehensive nature of the courses as well as being designed for individuals who have already established themselves to some degree in their professional careers. However, the interested candidate must still evaluate the course fees carefully, especially in comparison to the learning and student support services offered to the students.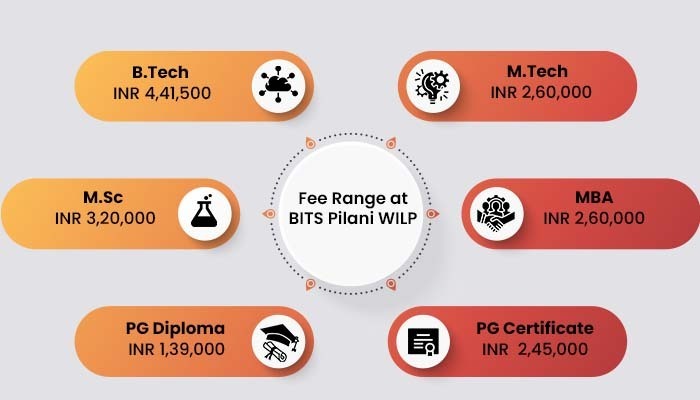 Candidates can also look for scholarship facilities if available.
At BITS Pilani, the courses are offered at fee rates considerably higher than other WILP universities. However, considering the expenses of relocation, lodging etc. saved by the student along with the convenience of continuing one's job, the course fees can be considered to be reasonable. This also holds up considering the comprehensive learning support offered by the institute.
For admission to the course, students are required to make the following compulsory payments:
Application Fee: INR 1500

Admission Fee: INR 16,500
The fee details for the various courses have been given below:
Fee Details at BITS Pilani WILP

Course
Fee Range

B.Tech

INR 4,41,500

M.Tech

INR 2,60,000

MBA

INR 2,60,000

M.Sc

INR 3,20,000

Postgraduate Diploma Programme

INR 1,39,000

Postgraduate Certificate Programme

INR 2,45,000
It must be noted that all the above fee amounts paid to the institute shall remain non-refundable. However, the fee amount can be paid through semester-wise instalments.
So considering the fee range of the university, BITS Pilani is higher than many others offering WILP courses. So a student can check the detailed fee structure of the courses available on the official website of the university, and then choose if it is the appropriate choice for them accordingly.
#4 Eligibility for the Courses and Duration of Course
Designed for the working population, the WILP courses have considerably different eligibility requirements and course durations than regular courses. As a result, it is essential to thoroughly enquire about the eligibility criteria to ensure that a candidate is indeed eligible to apply. One relevant area to check is the number of years of required professional experience for the course, as almost all WILP courses require the candidate to have some work experience in the relevant field.
Another area of concern is the duration of courses. WILP courses may be a little bit longer than the regular academic courses owing to the online mode of course completion and the time restrictions on course completion due to work hours. So, before applying to the course, one must check the course duration and consider its fit with their personal career goals and objectives.
At BITS Pilani, there are some basic eligibility requirements which have been given below:
The candidate should have minimum relevant qualifications for the course (Graduation or Post Graduation course depending on the Course Level)

The candidate must score at least 60% aggregate marks or an equivalent grade at the required qualification.

The candidate is required to have at least 1 to 2 years of professional experience in their relevant field.
So, as can be seen, the eligibility criteria for the courses are minimal and people who have ventured into professional domains recently can also easily apply for the courses to continue their education.

The details for the various course durations are given below:
Course Duration of WILP Courses at BITS Pilani

Course
Duration

B.Tech

3.5 Years (7 Semesters)

M.Tech

2 Years (4 Semesters)

M.Sc

2.5 Years (5 Semesters)

MBA

2 Years (4 Semesters)

Postgraduate Diploma Programme

1 Year (2 Semesters)

Postgraduate Certificate Programme

11 Months
So, the WILP courses aren't much longer than other courses offered in the form of regular or online degrees.
So, if you are a working professional and are considering choosing BITS Pilani WILP for your further education, you can enquire about the details of the course and accordingly see if it fits with your career objectives.
#5 Learning Support and LMS
The learning support for any WILP course is very essential since most of these courses are completed either through online means or through a blended mode of education. As a result, checking the learning facilities offered by the university for the course and learning is important. Learning support ensures that there are sufficient provisions and tools for students to understand the course and reap the full benefits of the programme.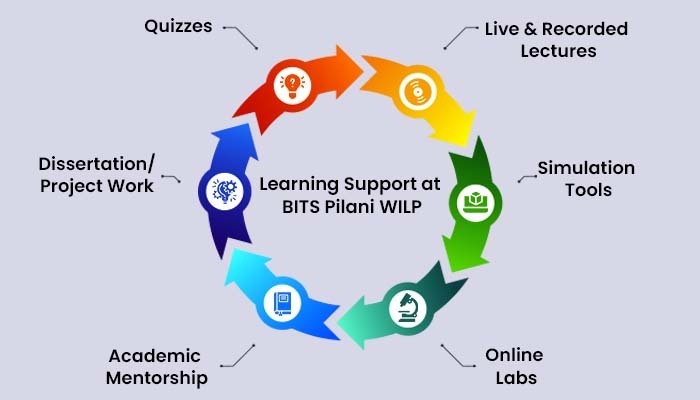 BITS Pilani has taken a number of steps in this direction including LMS facilities, dissertations and projects etc. Major considerations are made to ensure that learning is not hampered by the professional duties of a person, based on which classes are conducted either after business hours or on weekends and holidays. Some of the key learning support features available at BITS Pilani WILP courses include:
Learning Support at BITS Pilani WILP

Live Interactive Lectures

Recorded Lectures

Simulation Tools

Online & Remote Labs

Academic Mentorship

Dissertation/ Project Work

Quizzes

Choice Offered in Online or Offline Exams
Considering the large number of pedagogical facilities and tools available to enrolled students, BITS Pilani can be said to be having an all-round and efficient learning support framework.
Also Read | What Is Learning Management System?
#6 Examinations and Evaluation for WILP Courses
While choosing a professional course such as WILP it is of utmost importance to confirm the evaluation and examination procedure at the university, as the framework must be suitable for their professional schedule as well. So, the procedure of examination becomes even more important.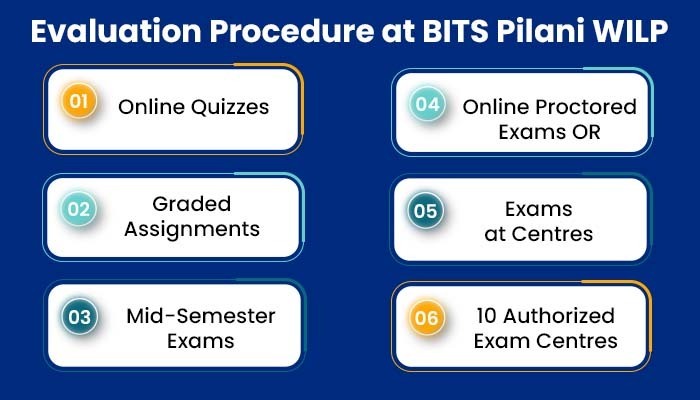 At BITS Pilani WILP, the students are given the choice of the mode of examination.
The evaluation procedure of the university taps on the overall, consistent performance of the student. There are continuous assessment facilities and the end-semester exam framework.

The continuous evaluation is done through online assessments, graded tests, quizzes and mid-semester tests.

Students can choose to appear for the end-semester examination online from their home or through a designated examination centre.

Students appearing for the exam through online mode will be proctored and need access to a stable internet connection and two web-cam enabled smart devices.

Students can also appear for the examination through the designated examination centre in case the university offers this alternative.
So, it can be said that BITS Pilani provides students with sufficient flexibility in the form of self-evaluation as well as examinations. Working professionals can conveniently balance between their job schedule and academic involvement.
#7 Student Support Facilities
The availability of a student support framework in a university means the students have an authority or body who they can contact in case of inconvenience and grievances. So a student support body is absolutely important for a WILP course too considering students can only reach out or contact the university through correspondence. Therefore, before you enrol yourself on a university for a WILP course, check the student support facilities for the course of your choice.
At BITS Pilani WILP, apart from the regular admission and complaint bodies, students are offered a unique facility- an individual mentor, who is an academic coach and guide to the student. Students are required to choose a mentor from the same organization or from another organization, who will monitor the progress of the student as well as address their concerns and supervise them on matters related to course completion.
So BITS Pilani WILP's student support is robust and individualized, which allows the student to get easy query clarifications and issues redressal.
#8 Placement Support
Considering the fact that a WILP course is designed especially for working individuals, it is only understandable to expect the course to be able to enhance the career scope of the student. Thus, it is useful to check if there are placement support features available at the university.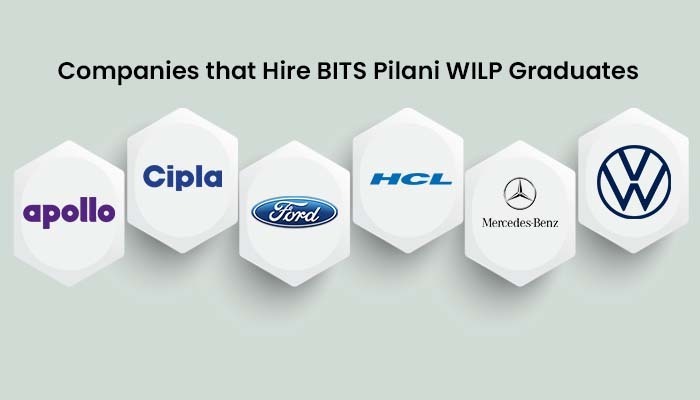 In BITS Pilani WILP, the focus is on enabling the students to upgrade their knowledge and skill domain so as to get better job prospects and have a better scope of career development. BITS Pilani is a well-known name in India for excellent academic courses, and so, having completed a course from BITS Pilani WILP definitely gives a professional advantage for career growth to the student.
With the practically-oriented curriculum and ample assignments, practicals and dissertation, students are encouraged to apply the course principles in real-life situations. All such factors account for a greater chance of BITS Pilani alumni of excelling in their careers.
Also Read | How Universities Conduct Online Degree Exams In India 2022
Over the years, BITS Pilani graduates have gone on to get placed in numerous well-known organizations and MNCs.
Some of the top companies where students from BITS Pilani WILP work include:
Top Companies that Hire BITS Pilani WILP Graduates

Apollo

Cipla

ADP

Ford

HCL

Mercedes-Benz

ITC

Pfizer

Volkswagen

Schneider Electric

ABB

Essar Steels
So, with the high placement rates that WILP graduates from BITS Pilani, students choosing this institute for higher education can benefit much professionally to say the least.
Other Accredited WILP Universities in India
Some other accredited and approved universities offering courses in the WILP format which you can pursue are listed below:
Accredited WILP Universities in India

University
Location
Accreditations & Approvals

Shri Venkateshwara University WILP (SVU WILP)

Gajraula, Uttar Pradesh

UGC, AICTE, BCI. PCI

Lingaya's Vidyapeeth WILP

Nacholi, Haryana

UGC, AICTE, NAAC

Mangalayatan University Aligarh

Aligarh, Uttar Pradesh

UGC, AICTE, AIU, BCI, NCTE

Mewar University

Gangarar, Rajasthan

UGC, AICTE, AIU
Conclusion: Is BITS Pilani WILP Good or Bad?
To conclude the review, it can be said that BITS Pilani WILP courses can be a good step towards career development for a working professional. With its excellent learning support, course range, repute of the institute and major accreditations, BITS Pilani provides quality education in a work-friendly manner to students. This can be an excellent opportunity for those already having begun their professional journey to pursue their education simultaneously.
Some of the key features that can make BITS Pilani WILP suitable for your educational pursuits include:
Very Well-Reputed Organization for Higher Education

All Courses Approved from UGC

NAAC-Rated 'A' University

Open to National and International Candidates

Wide Range of Courses

Degree, Certification and Diploma Courses Available

Easy Installments with 0% Interest Rates Available for Fee Payment

Efficient Learning Support & LMS Facilities

High Placement Records
Other Online University Reviews