MSc after Bcom or Master of Science is a 2 years postgraduate program that people seek after they have completed their bachelor's degree. An MSc program is intended to give comprehensive knowledge, advanced abilities, and specialized competence in a certain scientific or technological discipline. The degree denotes greater expertise and certification in the subject of study, qualifying individuals for advanced job options, research positions, and additional academic endeavours.
MSc after BCom gives a wide foundation in business concepts and allows you to dive further into particular sectors of the business environment. While a BCom provides students with a fundamental understanding of accounting, finance, marketing, and management, an MSc provides in-depth information in finance, marketing analytics, international business, and more.
MSc after BCom programs are intended to cognitively challenge students and broaden their grasp of complicated business ideas. These programs frequently feature challenging coursework, research projects, and hands-on experiences that develop critical thinking and analytical abilities. As a result, graduates get greater competence, making them valuable assets in the business sector.
There are two options for an MSc after BCom: online and on-campus MSc programs. Because of their flexibility and accessibility, online MSc programs have grown in popularity. They allow BCom graduates to continue their studies without regard to geography, which is especially beneficial for working professionals and those with prior commitments.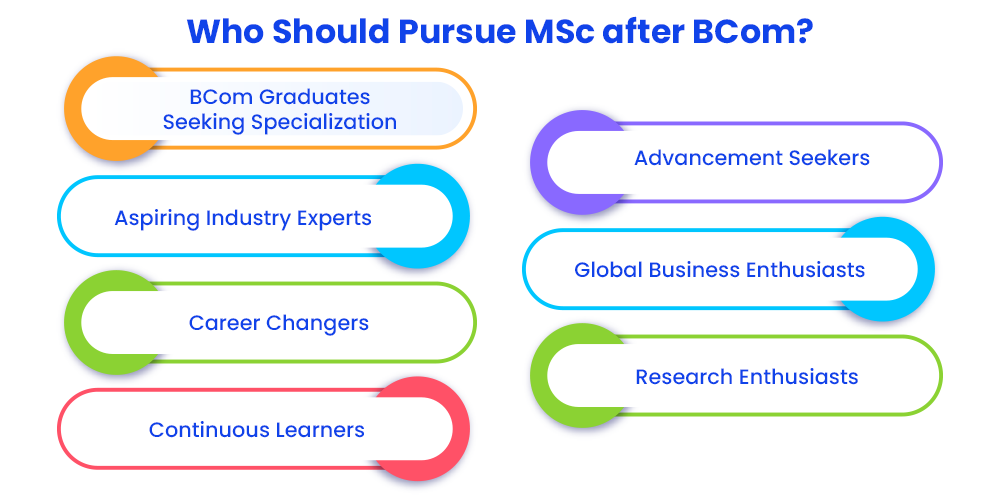 Online MSc programs frequently include a wide selection of specializations that appeal to many corporate fields, guaranteeing that students may get advanced information and abilities while efficiently managing their schedules. This style of education offers a dynamic and accessible path to improving professional opportunities and knowledge in business-related subjects.
MSc after BCom programs include various specializations that appeal to various business areas. For example, if you enjoy studying data, a specialty in Business Analytics may teach you how to extract insights from large datasets. On the other hand, a speciality in International Business might give insights into cross-border operations and cultural subtleties if you're interested in global markets.