B Com Distance Education is beneficial in its own way. In this blog, here is more information about distance learning in B.Com. Read the whole blog for interesting information.
The world is always in the mode of transaction. With the rapidly growing market, commercial activities are now part and parcel of our lives. Big companies, firms require fresh graduates with a degree from B com to work for them.
It is an undergraduate course that is pursued by the students who have passed Higher Secondary Examinations with a commerce stream. Students who study B.com get knowledge of general business with in-depth knowledge of finance and accounting.
The students also get a chance to learn a little bit of management, taxation, banking, statistics, and other segments in this field of study. The course is pursued in two modes i.e. Regular mode and distance mode.
B Com Distance Education Course In India 2023
B Com distance education is a 2-year undergraduate course. As per the norms of UGC, the value of Regular and distance degrees has the same value when evaluated, distance B. Com seems to be a viable option to opt for. Distance B.Com (B.Com distance education) is an advantageous career alternative for those who cannot pursue a full-time regular B.COM program.
The distance B.com program has the same subjects as the regular B. Com program and is pursued partially or fully in online mode. Commerce stream disciplines who want to pursue CA, CWA, CSS, and other courses have a very easy way to get a degree through distance B.Com.
The individuals who started working after completing their school or people who didn't have the chance to go to regular universities have a fair and easy chance to acquire knowledge, skill, and degree of B.com through distance learning. Many housemakers, mothers can go distance B.com and later decide to make a career of it.
B Com Distance Education Course Fees
The fee of Distance B Com varies from 7000/- to 25000/- per annum varying from university to university. The government college providing the distance B Com is slightly on the lesser side than the private universities and institutions.
Best Colleges/Universities for B Com Distance Education In India 2023
B Com distance education gives everyone to boost their skills and knowledge without facing the rigidity of a regular B Com. Distance B Com/correspondence B Com gives flexibility to the students to attend the class anytime and anywhere they want. Pursuing B Com through distance mode widens the job opportunity for the students as many companies go for the fresher B. Com graduate to fill the vacancies. B Com graduates go on the profile such as Auditor, Cost Estimator, Budget Analyst, Financial Executive, and many others.
In India distance B Com is offered by a large number of universities be it a government or private institutes. Here are some top universities that offer distance B Com degree programs:-
| | | |
| --- | --- | --- |
| S.No. | Top Colleges For Distance B Com Degree Course | Location |
| 1. | Jaipur National University | Rajasthan |
| 2. | Manav Rachna University | Haryana |
| 3. | NMIMS Global Access for Continuing Education (NMIMS) | Mumbai |
| 4. | Karnataka State Open University | Karnataka |
| 5. | Amity University | Uttar Pradesh |
| 6. | University of Mumbai | Mumbai |
| 7. | Alagappa University | Tamil Nadu |
| 8. | Madurai Kamaraj University | Tamil Nadu |
| 9. | Tamil Nadu Open University | Tamil Nadu |
| 10. | Punjab University | Punjab |
| 11. | Dr. BR Ambedkar Open University | Ghaziabad |
| 12. | Kurukshetra University | Haryana |
| 13. | Gujarat University | Gujarat |
| 14. | Delhi University | Delhi |
| 15. | JECRC University | Jaipur |
| 16. | Bangalore University | Bangalore |
| 17. | Indira Gandhi National Open University (IGNOU) | Delhi |
| 18. | Chandigarh University | Chandigarh |
Distance B Com Eligibility & Entrance Exams
The eligibility criteria for opting for distance B Com is as flexible as the mode of study. The only eligibility criteria to go for distance B.com is that the candidate must have completed 10+2 schooling with a minimum percentage criterion from commerce stream with Maths as a compulsory subject.
The percentage qualifying criterion depends on universities to universities which generally ranges from 50% to 65%. The eligibility criteria also depend on the specialization you are opting for and whether you are pursuing an Honors degree or not.
There are no such entrance exams taken by any university in India be it government, semi-government or private to enroll in the distance B. Com degree. The only need is that you must be 10+2 passed either by intermediate or a diploma after high school in the commerce stream and you are eligible to take admission in the distance B. Com courses.
B Com Distance Education Specialization 2023
B Com like other professional courses has various specializations and each specialization empowers the student with unique knowledge and skill sets. These are some specialization courses that are available in B. Com.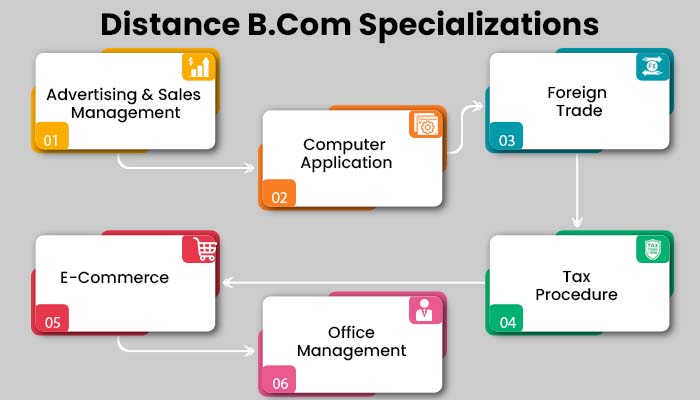 The availability of the courses depends on the university to university so when you decide to pursue a university lookout for the specialization it provides or not.
| | |
| --- | --- |
| B. Com in Advertising and Sales Management | B. Com in Honours |
| B. Com in Computer Application | B. Com in Office Management |
| B. Com in Foreign Trade | B. Com in Tax Procedure |
| B. Com in E-Commerce | |
​Key Benefits of Distance B Com Course In India
You can pursue a job while you complete your graduation. This unique ability of distance B. Com helps the working professionals to continue their further education which they left when due to unavoidable circumstances. So, distance B. Com is a boon to the students who have completed 10+2 from a commerce background and are unable to continue higher education.
The distance B Com degree has the same value but is offered at comparably low rates. As per the norms of UGC-DEB, the values, and recognition of distance degree is the same as the regular ones. And if you are pursuing distance degrees, your home becomes a classroom thus the programs are cheaper than the regular courses. Apart from Tuition fees, overhead expenses of traveling, boarding, lodging are cut to zero. So you are getting a degree that has the same demand in the market and is economically viable.
You can pursue other exams such as CA, CWA, CSS while you will have a degree of B. Com. The learn anywhere, anytime feature of distance B.Com facilitates you to dedicate your precious time in various exams that will pave your future to the brighter side. Class timings are flexible so you can go through the classes at your own will. This helps you to manage your time without any flexibility.
With you having distance B. Com from open learning, you pursue other courses. Other certification courses can be done by the student to give him an extra edge over the others. These courses help him get preference over other competitors who only have B. Com as a degree.
You can invest in your postgraduate program as distance B. Com is less expensive.
Study at your convenience, time, and place. This ability provided to students is the key feature that is making distance education popular among the students. It gives freedom from rigid lecture schedules, uncomfortable classes, etc.
​Distance B.Com Subjects 2023
Covering various fundamentals of commerce such as accounting, taxes, business law, and economics are covered in the subjects of Distance B.Com. The students of B. Com go through rigorous study of the subjects and curriculum to get deep knowledge of the commerce fields. Here is the list of subjects that are studied by a student of B. Com:-
| | |
| --- | --- |
| Course Year | Subjects |
| Year 1 | Environmental Studies, Financial Accounting, Business Organization and Management, Principles of Microeconomics (Elective), New Venture Planning (Elective), Language [English/Hindi/Modern Indian Language], Business Laws, Business Mathematics & Statistics, Principles of Macroeconomics (Elective), Economics of Regulation of Domestic and Foreign Exchange Markets (Elective) |
| Year 2 | Income Tax Laws (Elective), Indian Economy (Elective), Financial Markets and Institutions, Banking and Insurance, Corporate Accounting, Human Resource Management (Elective), Industrial Laws (Elective), E-Commerce |
| Year 3 | Auditing and Corporate Governance, Cost Accounting, Principles of Marketing (Elective), Training and Development (Elective), Computer Applications in Business, Principles of Marketing (Elective), Training and Development (Elective), Computer Applications in Business, Advertising, Fundamentals to Financial Management, Business Communication, Personal Selling, and Salesmanship, Cyber Crimes and Laws, International Business, Consumer Affairs, and Customer Care |
​Distance B.Com Syllabus 2023
The curriculum of distance B. Com is divided into six semesters in three years. Though each specialization has some minor changes the general syllabus remains the same. Here are the subjects that will be taught in the distance B. Com:-​
B.Com Syllabus – Semester 1

B.Com Syllabus – Semester 2

1
English and Business Communication
1
English and Business Communication
2
Interdisciplinary Psychology for Managers
2
Interdisciplinary e-Commerce
3
Business Economics – I
3
Business Economics – II
4
Principles of Financial Accounting
4
Corporate Accounting
5
Commercial Laws
5
Business Laws
6
Principles and Practices of Management
6
Human Resource Management
—
7
Environment, Road

B.Com Syllabus – Semester 3

B.Com Syllabus – Semester 4

1
Interdisciplinary Issues in Indian Commerce
1
Interdisciplinary Security Analysis and Portfolio Management
2
Cost Accounting
2
Advanced Accounting
3
Company Law
3
Auditing and Secretarial Practice
4
Business Mathematics and Statistics
4
Cost Management
5
Banking and Insurance
5
Marketing Management
6
Indirect Tax Laws

6
Quantitative Techniques and Methods

B.Com Syllabus – Semester 5

B.Com Syllabus – Semester 6

1
Income Tax Law
1
Direct Tax Laws
2
Management Accounting
2
Financial Management
3
Indian Economy
3
Issues in Financial Reporting
4
Production and Operation Management
4
Social and Business Ethics
5
Entrepreneurship and Small Business
5
Operational Research
6
Financial Markets and Services
6
Sectoral Aspects of Indian Economy
​Distance B.Com Scope, Top Companies, and Salary
As the distance, B. Com is the same as the regular B. Com there is an abundance of job profiles available in the market. Companies like Tata, Reliance JSW steelworks, HDFC, and many other top companies have vacancies for the graduates of B. Com. Many accounting firms go for the freshers of B. Com to work for their companies.
Some of the profiles that one can get are:-
Auditors: Distance B. Com graduates have knowledge of accountancy, so many firms hire graduates who have knowledge of accountancy. The job of Auditors is the find discrepancy in the balance sheets of the company accounts. Many accounting firms hire them for the purpose of auditing the accounts of companies and find the error in them.
Actuaries: The job of actuaries is quite interesting. They use the knowledge of B.Com and Statistics to access the profitability and probability of a financial event. Every insurance company has need of an Actuary, thus distance B.Com graduates are required.
Book Keepers: Distance B. Com graduates appointed as book Keepers handle the account book of a company. This includes posting account journals, managing purchase orders, invoices, cash receipts, etc.
Budget Analysts: As a student of B. Com, they can be appointed as the analyst of companies. They make budgeting decisions for companies and provide solutions to compensate for the budgets of the companies.
Tax Consultants: In the syllabus of B. Com, taxes hold an important role. Thus, students can work as tax consultants in accounting firms where are given the tasks to plan and Compliance taxes such that tax liability is minimal for the clients.
​Other Profiles that Are Pursued by the Distance B.Com Graduates
| | |
| --- | --- |
| Business Operation Manager | Investment Banker |
| Certified Public Accountant | Account Executive |
| Chartered Management Accountant | Commodity Trader |
| Chief Financial Officer | Stock Brokers |
| Cost Estimators | Bank PO |
| Investment Broker | Business Development Trainee |
A graduate of B. Com can get an average package up to 4.5 LPA after pursuing the distance B. Com. Apart from that CA, CWA, and CSA aspirants get a degree while focusing on the exams.
Also going for higher education is another option. Post Graduate Degrees such as MBA and M.Com can also be pursued by the student who has done B.Com in distance mode.