Online Executive MBA is a 1 year program, undoubtedly one of the best options to hone your management and entrepreneurial skills. An Executive MBA was established with the sole aim to catalyse an already established career to help working professionals reach greater heights. Hence, working professionals with 5-7 years of experience are the ideal applicants for an Executive MBA program.

Online Executive MBA Overview 2023
The popularity of an online Executive MBA has been sky high in recent times but for all the valid reasons. For a regular Executive MBA degree, applicants have to leave their jobs for an entire year to study, which is something many people are hesitant of as it is a risky gamble.
You might not get the expected ROI and you lose your salary worth an entire year. Hence, the concept of an online Executive MBA has been highly anticipated by working executives from all walks of professions.
This blog discusses in detail any and every thing about an online Executive MBA in 2023. Read further to know all their pros, cons, fee, ROI, eligibility, and the best universities offering this program. Read: Online MBA Degree
Online Executive MBA Pros and Cons 2023
Online Executive MBA pros and cons are usually subjective as every person has different requirements and demands from the program. Check out the following points and make an informed decision of whether you would like your Executive MBA program online or offline.
Pros
The biggest perk of going with an online executive program is as discussed above that you do not have to quit your current job. You can pursue the course and hone your skills while still working. This helps you to apply what you learn to practise immediately in the real-world. The benefit is that you know the practical results of your theoretical learnings in real-time which gives you the opportunity to analyse them and make the most out of them.
The next advantage is the program fee needed for an online Executive MBA. The fee is much less in comparison with the regular Executive MBA. You save on other expenses as well such as accommodation/hostel, travel/living expenses etc. The USP is that you are still earning since you don't have to quit your job. So the cost-effectiveness that an online Executive MBA degree brings makes it an amazing choice for working professionals.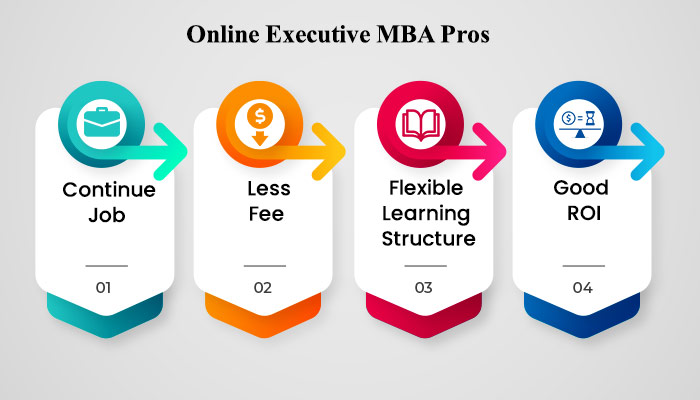 The flexibility that an online program offers is not new. It is in fact one of the primary reasons why people are switching from offline to online mode of education. The same goes for the online Executive MBA program. You have access to video lectures and study material so that you can view them anytime. Also, the most important aspect of flexibility is that you can complete your program at your own pace and even beyond the period of 1 year.
The Return on Investments (ROI) of an online Executive MBA is similar to a regular Executive MBA degree. You get promotion from your current designation as soon as you have the Executive MBA degree. And a promotion of course means a hike in your salary. There is an additional benefit of an online executive MBA over the regular one. During the one year of the program, the students of the online program have the benefit of earning because they can keep their jobs. The students of the regular program however, can not earn during this period as they have to attend regular offline classes at the college. Read: Online MBA Advantages
Cons
The only disadvantage of an online Executive MBA that can be observed is that the interaction amongst the peers and with professors is limited as everything happens virtually. The only way to interact is either during live online lectures or through discussion forums. Such ways of interactions might lead to breaks between the conversations and communication gaps as people interact according to their own individual schedules.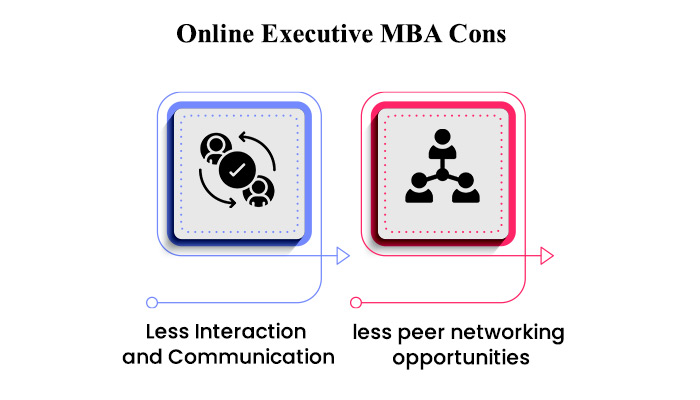 However, this disadvantage is not something that can't be eliminated. With a little more dedication and effort, you can easily overcome this barrier. In fact, you can even get an edge over regular executive MBA students as you can easily connect with people in other parts of the world virtually. Read: Types of MBA and Difference
Online Executive MBA Eligibility 2023
The eligibility requirements for an Executive MBA online are different from General MBA as work experience becomes the compulsory factor here. The detailed eligibility is as follows:
The applicant must have scored at least 50% marks in 10+2 as well as in graduation, from a recognised institute of education.
The applicant must have a minimum of 2 years of full-time work experience in relevant industries. Part-time work or internships are not considered. This criteria may vary as a few universities also ask for a minimum of 5 years of work experience. So it is really important to check the eligibility criteria before applying to a particular university.
There are usually no age restrictions to apply for an online Executive MBA program. However, in a few universities the age of the applicant should not be more than 27 years.
Online Executive MBA Admission Process 2023
Unlike the General online MBA, for the online Executive MBA, students have to go through an entrance exam followed by various evaluation criteria like personal interview, SOP, group discussion etc. The selection criteria for the admission entirely depends upon the university. The university might consider only a written test or there might be several other kinds of evaluations. Irrespective of the selection procedure, the admission process remains the same which is described in the steps below.
Step 1- The first and the foremost step is to apply online through the registration/application form present on the official website of the university (online). Applicants must carefully choose their specialisation while filling up this form.
Step 2- After filling up all the basic details, applicants have to now upload all the necessary personal, academic, and professional documents in original.
Step 3- Further, applicants have to appear for the entrance examination. Some universities consider scores from other national level entrances, while others conduct their own entrance exam. If you pass the entrance exam, then depending upon the selection criteria of the university, applicants might have to go through other evaluation tests such as Written Ability Test (Essay writing/long ques-answer) or group discussion or personal interview, or all of them.
Step 4- The final step is the confirmation and fee payment. If you pass through all the evaluation tests, then you will be notified of your admission confirmation via email. Once you get the confirmation, you will have to pay the program fee within a prescribed period of time.
Read: What Is MBA Distance Learning?
Online Executive MBA Fee 2023
The fee for the online Executive MBA program may be as low as INR 4 lakh and as high as INR 13 lakh. This completely depends upon the university you choose to pursue your online degree from. The program fee for two of the most sought after universities in India for online executive MBA is given in the table below.
| | | |
| --- | --- | --- |
| University | SP Jain | NMIMS |
| Registration Fee | INR 1.14 lakh | INR 1500 |
| Tuition Fee | INR 11.82 lakh | INR 4 lakh |
| Total Program Fee | INR 12.96 lakh | INR 4,01,500 |
Online Executive MBA ROI
An online Executive MBA degree essentially helps you multiply your prospects thereby providing incredible Return on your investments (ROI). The online program enhances the ROI as you are making money along with completing your post-graduate degree.
In many cases, the organisation you work for finances your online executive MBA as the knowledge you gain through this degree would be a great asset to the organisation. And of course you get a promotion once you have the degree in hand.
In case you do not wish to continue with your current organisation, you can switch to a different organisation. In this case you definitely get a raise in your salary because you have both the degree as well as work experience (a year more than regular Executive MBA students). Read: Is Online MBA Worth It?
Best Online Universities for Executive MBA Online
After some research, we have narrowed down to two universities in India that offer a world-class curriculum for their online Executive MBA programs. Let us check all the details about them.

1. SP Jain School of Global Management
SP Jain School of Global Management is an Australian private business school with campuses globally, including one in Mumbai, India. It is ranked as one of the top B-schools in the world. Their online Executive MBA program was given the award for 'New age institutions providing online degree' by Entrepreneur India.
Here are a few details about the online Executive MBA program at SP Jain School of Global Management.
Program Fee
INR 12.96 lakh approx

INR 12 lakh approx if paid lumpsum

Eligibility

Undergraduate degree from a recognised/approved institute of education
Minimum 3 years of full-time work experience in relevant industry
Minimum scores required for English proficiency: IELTS-6.5, TOEFL iBT-70, PTE-60.

Selection Criteria
Merit in any of the following Aptitude/Entrance tests-

Entrance test is followed by an Essay writing and personal interview.

Program Structure
Total 3 Terms:

Term 1- 16 Credit Points

Term 2- 11 Credit Points

Term 3- 9 Credit Points

Specialisations

Marketing
Finance
Operations
Entrepreneurship
2. NMIMS Global Access School For Continuing Education
NMIMS was India's top distance-learning institution of the 20th century and has now ventured into online education as well. NMIMS offers a blended Online-Distance Learning (ODL) mode of education. It has been awarded A+ Grade by NAAC and is also UGC-DEB approved. With its up-to-date technology, NMIMS offers an excellent curriculum for its online executive MBA program.
Here are a few details about the online Executive MBA program at NMIMS Global Access School for Continuing Education.
Program Fee
INR 4 lakh

(Application Fee- INR 1500/-)

Eligibility

Undergraduate degree in any stream with at least 55% marks from a recognised/approved institute of education
Minimum 3 years of full-time work experience in relevant industry

OR

Undergraduate and postgraduate degrees with minimum 55% marks each along with minimum 2 years of full-time work experience.

Selection Criteria
Merit in the selection test conducted by NMIMS.

Selection test might be followed by an online personal interview as per university rules at the time.

Program Structure
Total 5 Terms
Specialisations

Marketing
Digital Marketing
Leadership and Strategy
Operations and Supply Chain
Applied Finance
Read: Best Online MBA Colleges In India
Online Executive MBA From IIM
Indian Institute of Management (IIM) is the best institution in India for Management Studies. Every year, all the campuses of IIM rank in the top 20 best B-schools of India. Few of these campuses offer online Executive MBA degrees in various specialisations. Not all campuses necessarily offer these programs in completely online mode. Most of them offer them in blended mode with online and offline classes together.
Given below are the IIM campuses and the online Executive Programs that they offer in various specialisations.
IIM Lucknow
IIM Lucknow, a premier Management institute of India offers a vast range of online Executive Management Programs. Given below is the list of the 21 specialisations offered by IIM Lucknow for the online Executive Program.
Executive Program in Strategic Marketing for Business Success
Executive Program in Strategic HR Management
Executive Program in Project Management
Executive Program in Strategic Finance
Executive Program in Digital Marketing: Applications and Analysis
Executive Program in FinTech, Banking & Applied Risk Management
Executive Program in Digital Marketing and Social Media Analytics
Executive Program in Digital Transformation
Executive Program in Business Management
Executive Program in Data Science
Executive Program in Strategic Operations Management & Supply Chain Analytics
Executive Program in Data Driven Product Management
Executive Program in Design Thinking for Innovation and Business Transformation
Executive Program in HR Analytics
Executive Program in Supply Chain Management during Uncertain Times
Executive Program in Sales & Marketing
Executive Program in Healthcare Management
Executive Program in Marketing Strategy
Executive Program in Strategic Marketing in Digital Era
Executive Program in Strategic Management
Executive Program in Applied Finance
IIM Indore
The Management programs at IIM Indore are designed carefully so that working professionals can fulfil the needs of the current business scenarios. IIM Indore offers the online Executive MBA Program in the following 6 major specialisations.
Executive Program in Digital Transformation
Executive Program in Advanced Marketing Management
Executive Program in Operations & Supply Chain Management
Executive Program in Global Business Management
Executive Program in Strategic Sales Management
Executive Program in Sales & Marketing
IIM Raipur
IIM Raipur, another premier campus of the IIM family offers the 2-year Executive Post Graduate Programme in Management (ePGP) for working executives. This program prepares its students to be great leaders in their respective organisations. Also, the program aims at transforming working executives into entrepreneurs. Hence, if you aspire to start your own business, this course is for you.
Conclusion
Online Executive MBA is an extremely advantageous and wise option if done properly and from an appropriate university. Hope this blog was able to help you with your queries regarding online Executive MBA. If you still have doubts, you can visit the College Vidya website and read more about the same.